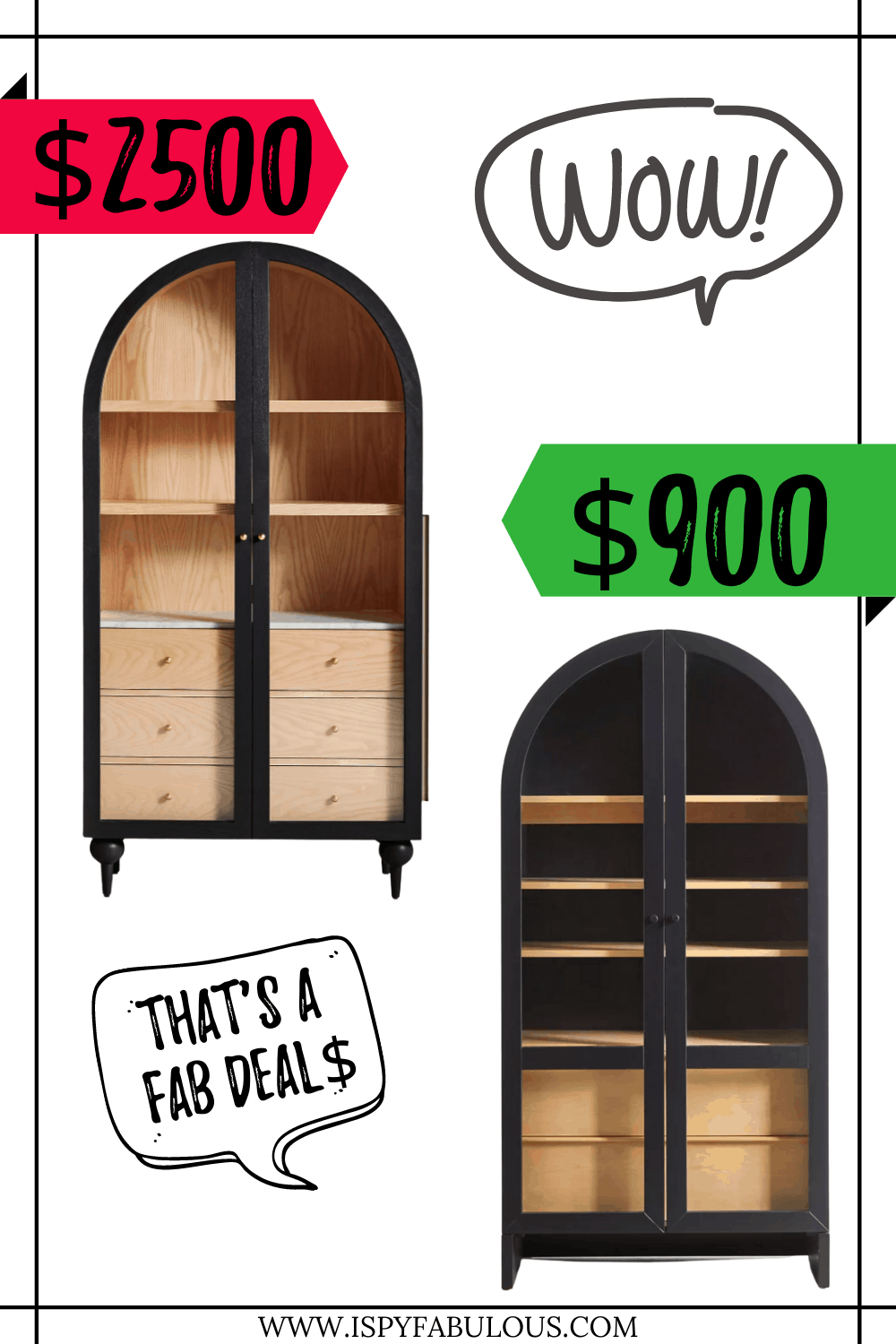 Man, I love a good dupe. This two-tone, rounded top Fern storage cabinet by Anthropologie is one of the most gorgeous designs I have ever seen. I've actually loved it for a long time. I'm clearly not the only one – it continues to sell out and people still keep ordering it, often waiting months for it to come back in stock again.
So, when I spotted this pretty incredible lookalike – I knew it was a must for the Fab Deal$ column. And, it might be one of the biggest savings of all of them, with well over $1000 price difference between the two.
Then, recently, I spotted ANOTHER gorgeous cabinet that seemed very much inspired by the Fern – for under $500!
Let's take a closer look at them to see if one of them should be shipped straight to your door. Just prepare yourself – because both of these are gorgeous and they're about to give you some serious cabinet envy.
Yes, that's a real thing.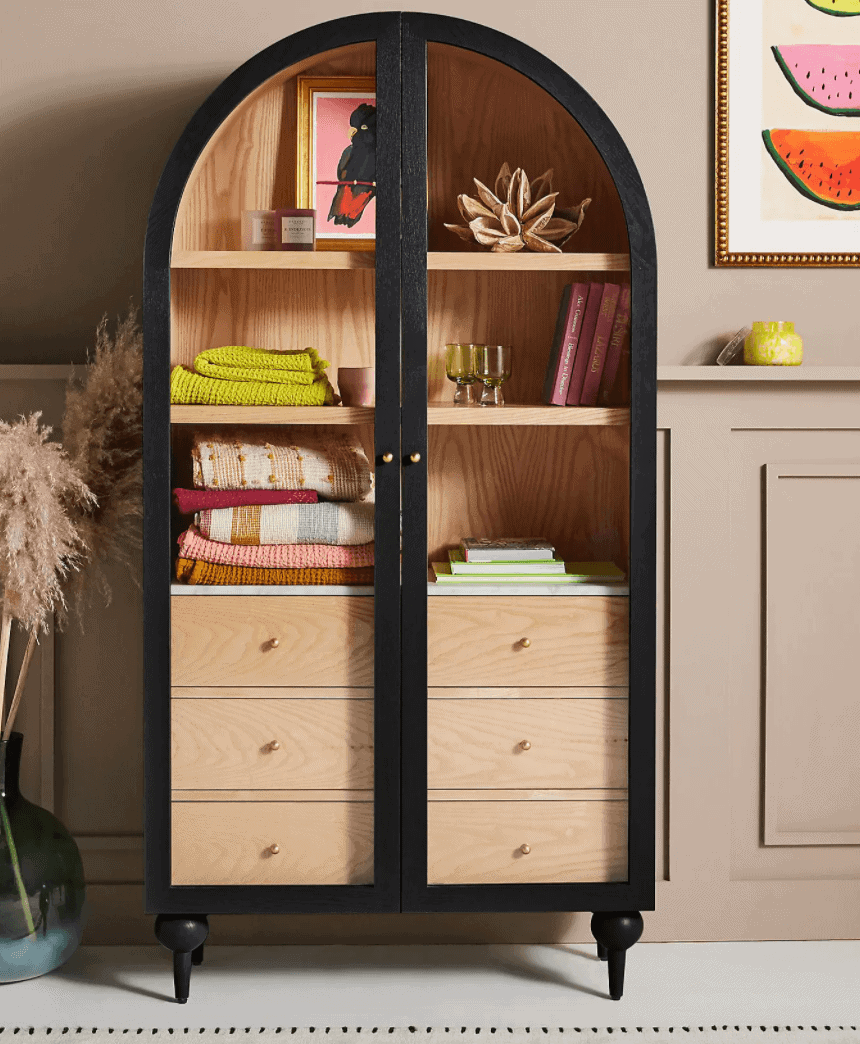 Clocking in at just under $2500, this cabinet is a splurge – but many say it's well worth it. I have to admit, I've tried to justify buying it myself several times.
The dimensions make this a substantial piece, it's 74″H, 38″W, 16.5″D. Constructed with ash wood, tempered glass, marble-topped drawers, brass-finished aluminum hardware and sealed with lacquer for protection and a lovely sheen.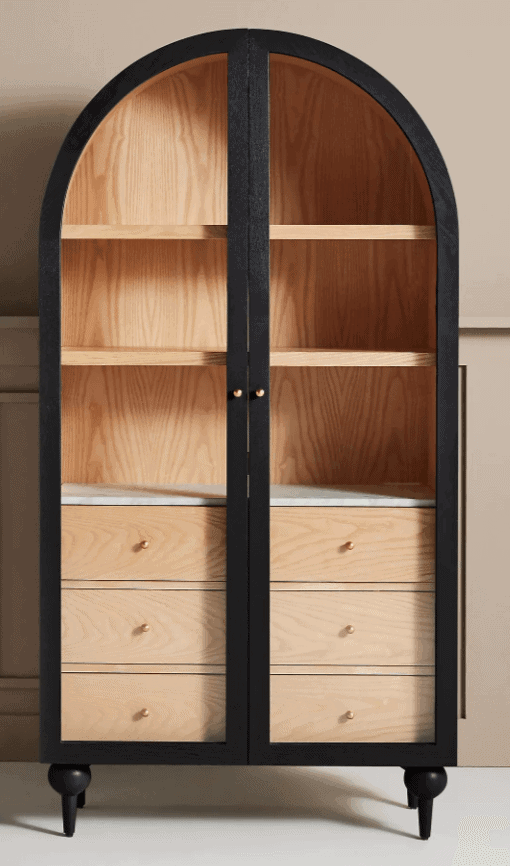 The legs are removable (but why would you remove them, seriously?) and the entire thing arrives assembled. Please join me in shouting a big, "HURRAH!" over that one!
But, before you pull the trigger on the Anthropologie Fern Cabinet and pick up one of these beauties for yourself, take a couple of seconds to look at this crazy lookalike: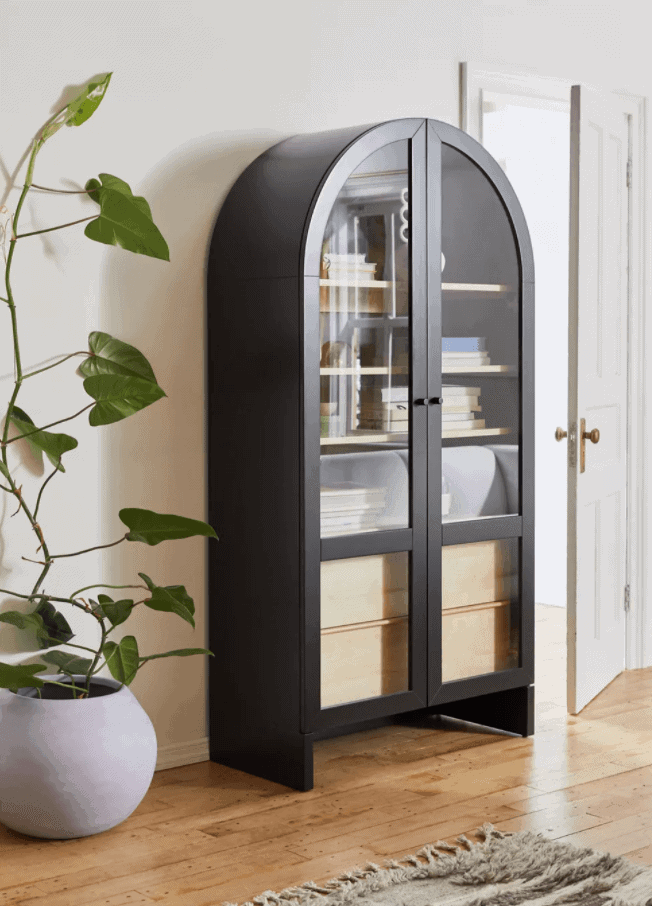 YAAAASSSSSS! Look at this gorgeous piece! It has just enough of its own vibe to not be a direct knock-off, while still adopting some of the best features of the Fern, such as the arched top.
Here are some more deets on this beauty: 36"l x 16.75"w x 72"h. Made with MDF and birch wood veneer, wooden door glides, an arched silhouette and a combination of open shelves and drawers, this is one piece that will make a room come together.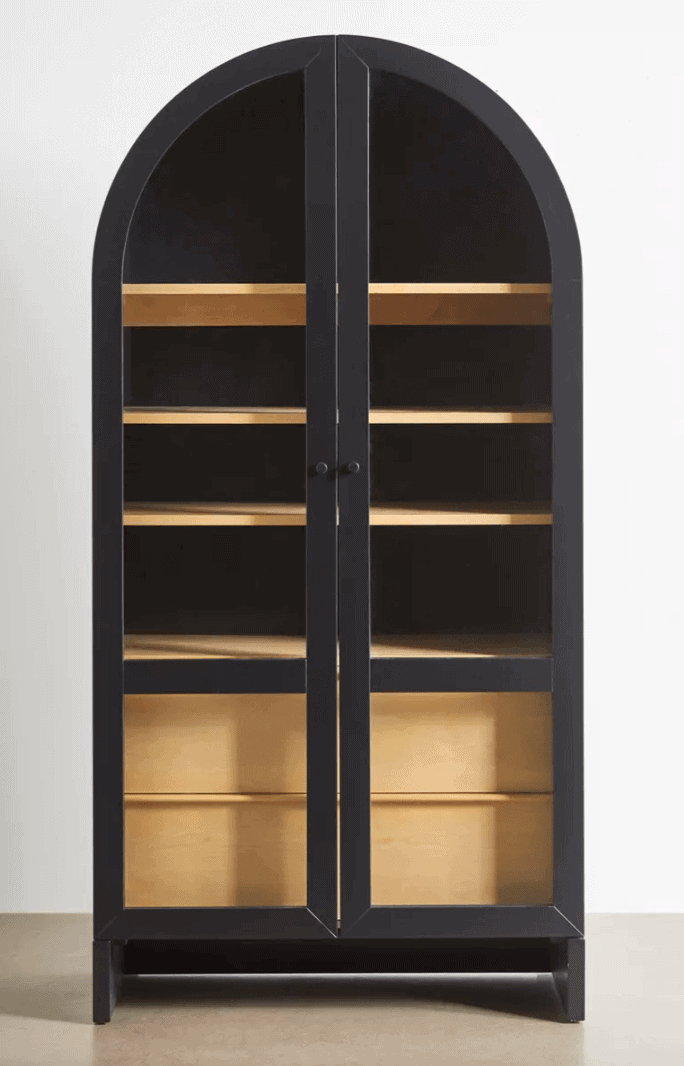 The design is a bit more modern, with slightly cleaner lines, particularly in the base and legs and streamlined drawers with no pulls.
So, maybe you love the Fern, but your home is a bit more edgy and modern – well, then this one is going to be a better fit AND a big savings. Winning!
**Sometimes, this cabinet is out of stock. I wrote another post with 10 gorgeous cabinets in a variety of price points and there are a few that have a similar vibe to the Fern in that post.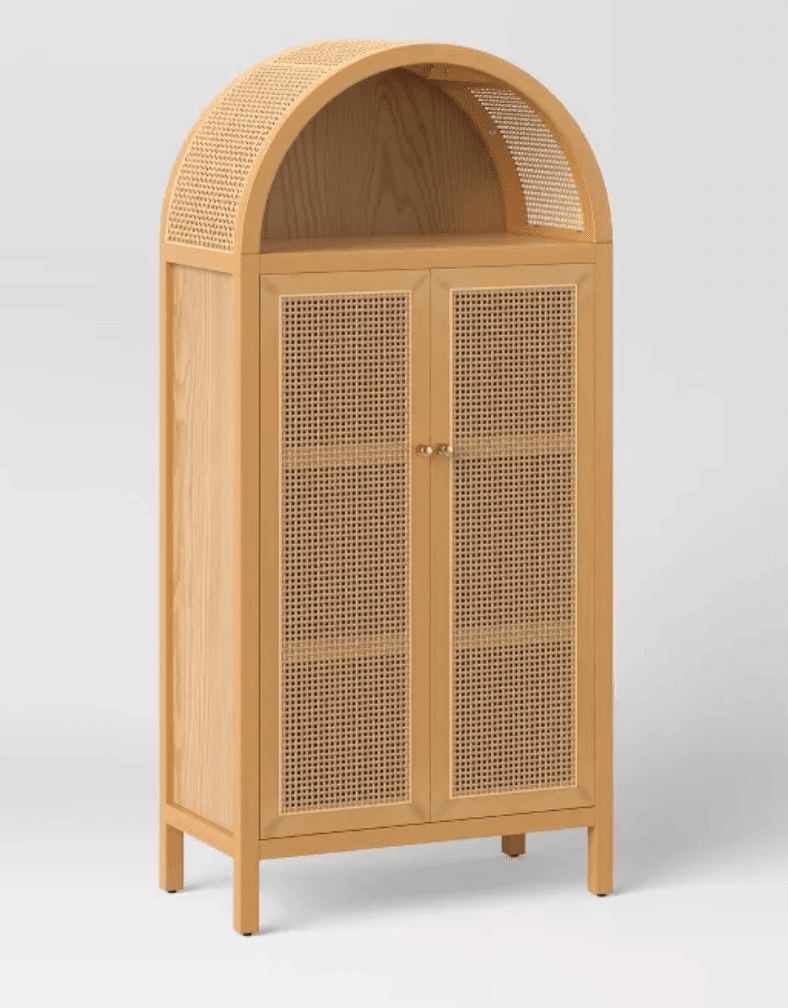 This one has a slightly different feel and is only available in this natural wood option, but wowza! Doesn't this look like a high-end piece from Serena & Lily or something?
I can't believe the price. I've been trying to convince everybody I know who has a place for this to buy it. At $430, it's a friggin' steal.
The lattice design and wood frame are all certified by the Forest Stewardship Council, which I love, too. Let's all look for easy ways to be more sustainable.
The dimensions of this coastal chic beauty are 60H x 28W x 15D. That's a great size cabinet!
Whichever storage cabinet you choose, you're getting a show-stopping piece that is going to make the compliments roll in. And, for even more gorgeous storage cabinet ideas – check out this post with 10 storage cabinets ranging in price from $500 and up!
I love being able to find fab deals – but it can also be really fun to save up and grab that super special, one-of-a-kind piece, too.
Which of these do you like more? Would you buy an arched cabinet?
How To Save More Money on Home Decor:
No doubt about it: decorating a home is expensive. One way I save money on almost every purchase I make is by using Rakuten. I've gotten over $500 cash back in just the last year on purchases I was going to make anyway. So, don't forget to use Rakuten if you're making purchases online. They also run deals for new referrals where you can get $30 cash back after making your first purchase of $30 or more, so you can save even more if you're new to using them. Sign up here.
More Anthropologie Dupes:
If you love high/low deals like this, check out these other posts in this series:
Have a fabulous day,
E