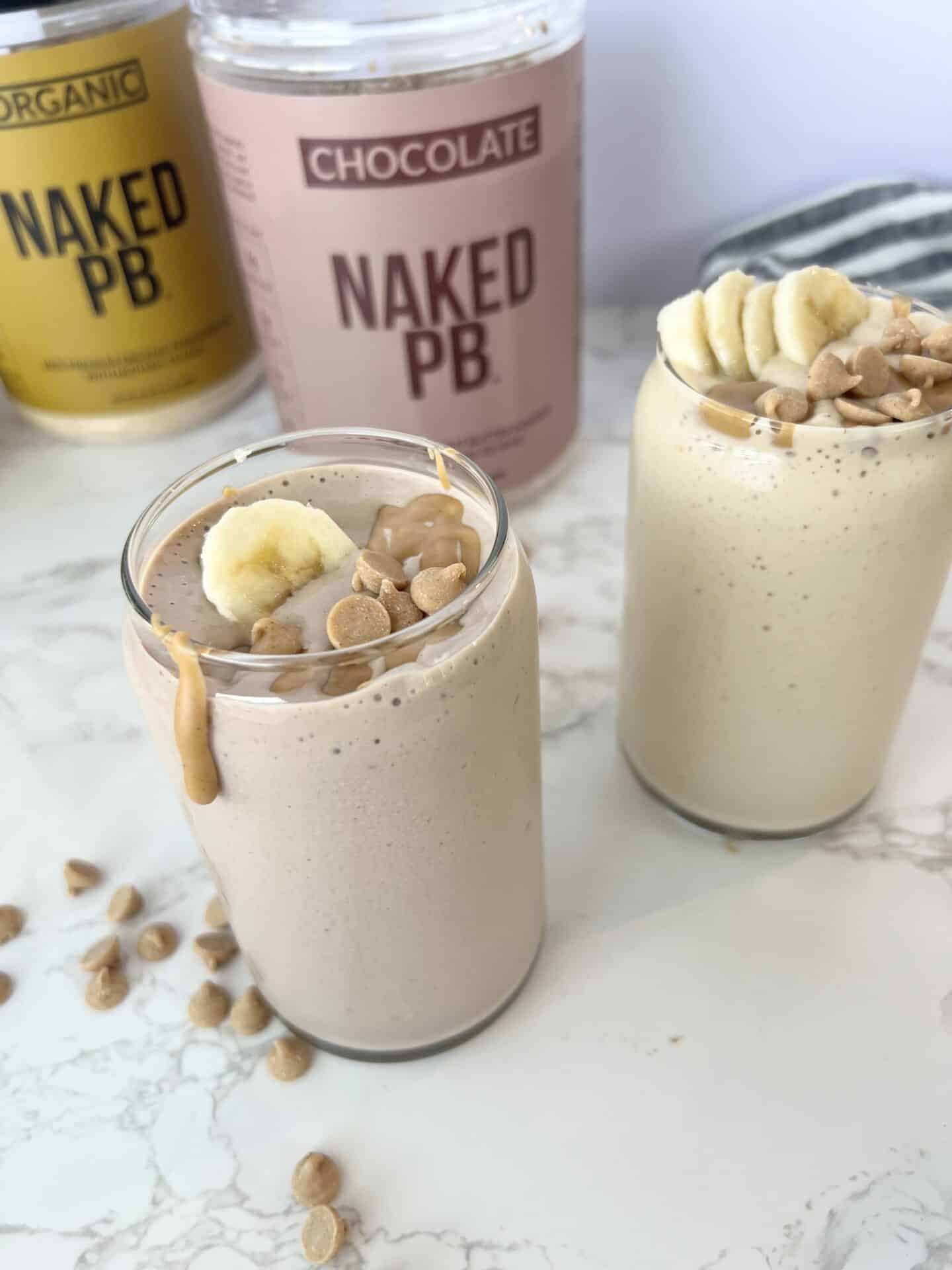 Oh boy, I've got a good recipe to share with you today. I've been drinking this chocolate peanut butter banana smoothie over the last couple of weeks and making tweaks to get it just right. Since I have both plain peanut butter powder and chocolate peanut butter powder, I make it both ways – with and without chocolate. The recipes are just slightly different for each of them, but they are both totally delicious.
Seriously, 30 grams of protein never tasted so good. Plus, there are no crazy ingredients, unless you want to add them in, and there are ways to reduce carbs and calories if that's your thing, too.
The stars of the show here are the Naked Peanut Butter Powder and Naked Chocolate Peanut Butter Powder. I really love this brand and have already shared about their Ella Chocolate Beauty Protein Powder in a post with another delicious smoothie recipe (with coffee!), so I was excited to try out these new products.
Why Naked Chocolate & Peanut Butter Powders: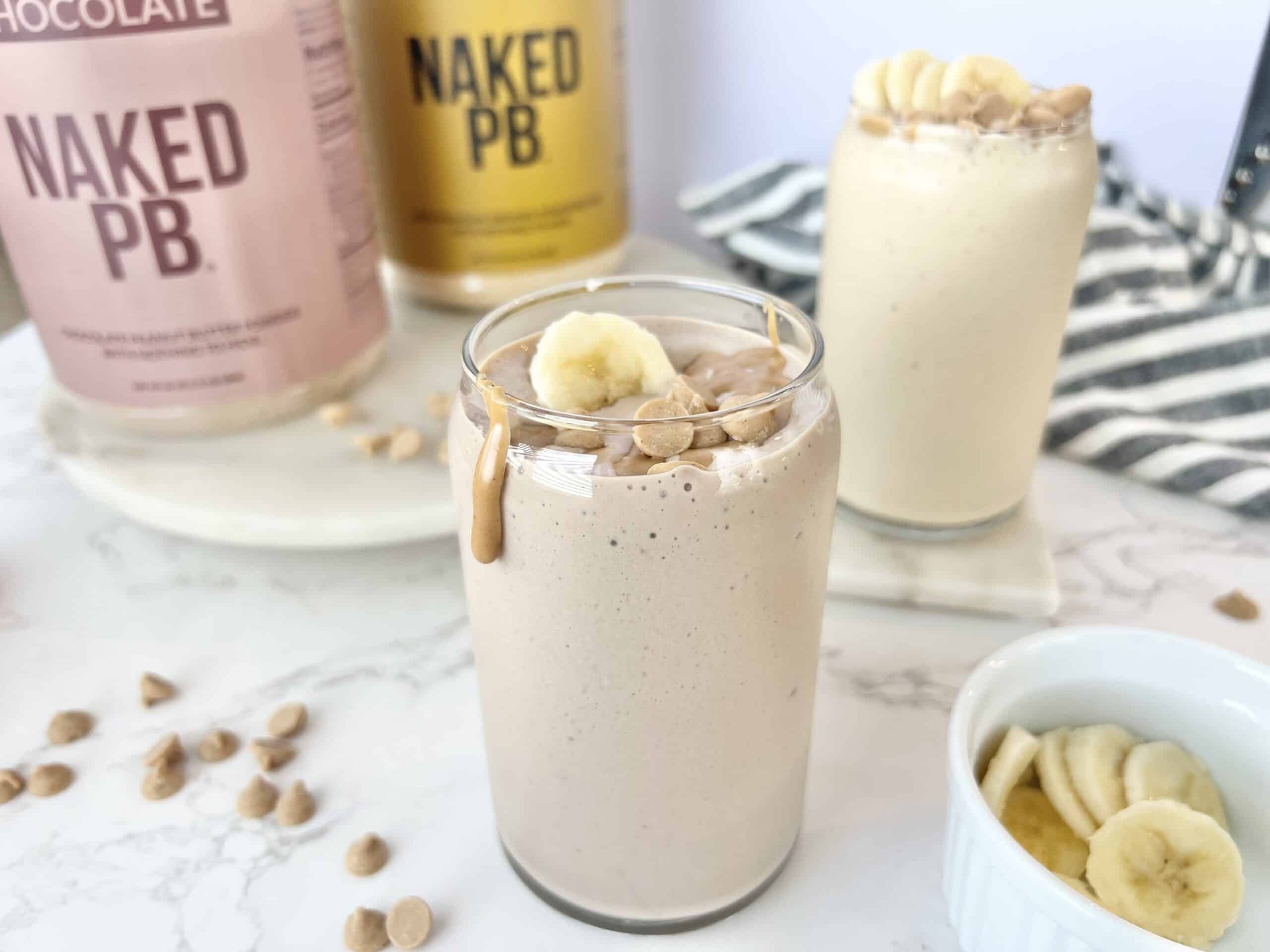 Why use peanut butter powder instead of regular peanut butter? It's simple: it is lower in fat and calories, and has less additives, than peanut butter. Plus, it often has more protein. These peanut butter powders are packed with great ingredients and are super high quality, too.
The Naked Difference means that these products have super short ingredient lists. The Naked Organic PB powder has just one ingredient: organic roasted peanuts. The Naked Chocolate PB has 4 ingredients: peanut flour, alkalized cocoa, sea salt, and fermented cane sugar. I don't do fake sugars or sugar alternatives, so I was glad to see that if it's sweetened, it's fermented cane sugar.
In addition to the simple ingredients, Naked uses exclusively US based farms, certified vegan and gluten-free products, no soy, dairy or preservatives, and have their products tested by independent third parties for heavy metals. So, you get high quality, clean products for an affordable price. I mean, these containers have 1.5 pounds of powder in them for under $20?! What?!
*Affiliate links are used here, which means at no cost to you, I may receive a commission if you make a purchase through my links. Naked is one of my favorite brands and I'm so glad they sent me their new PB powders to try. Cheers!
The Chocolate or Plain Peanut Butter Banana Smoothie: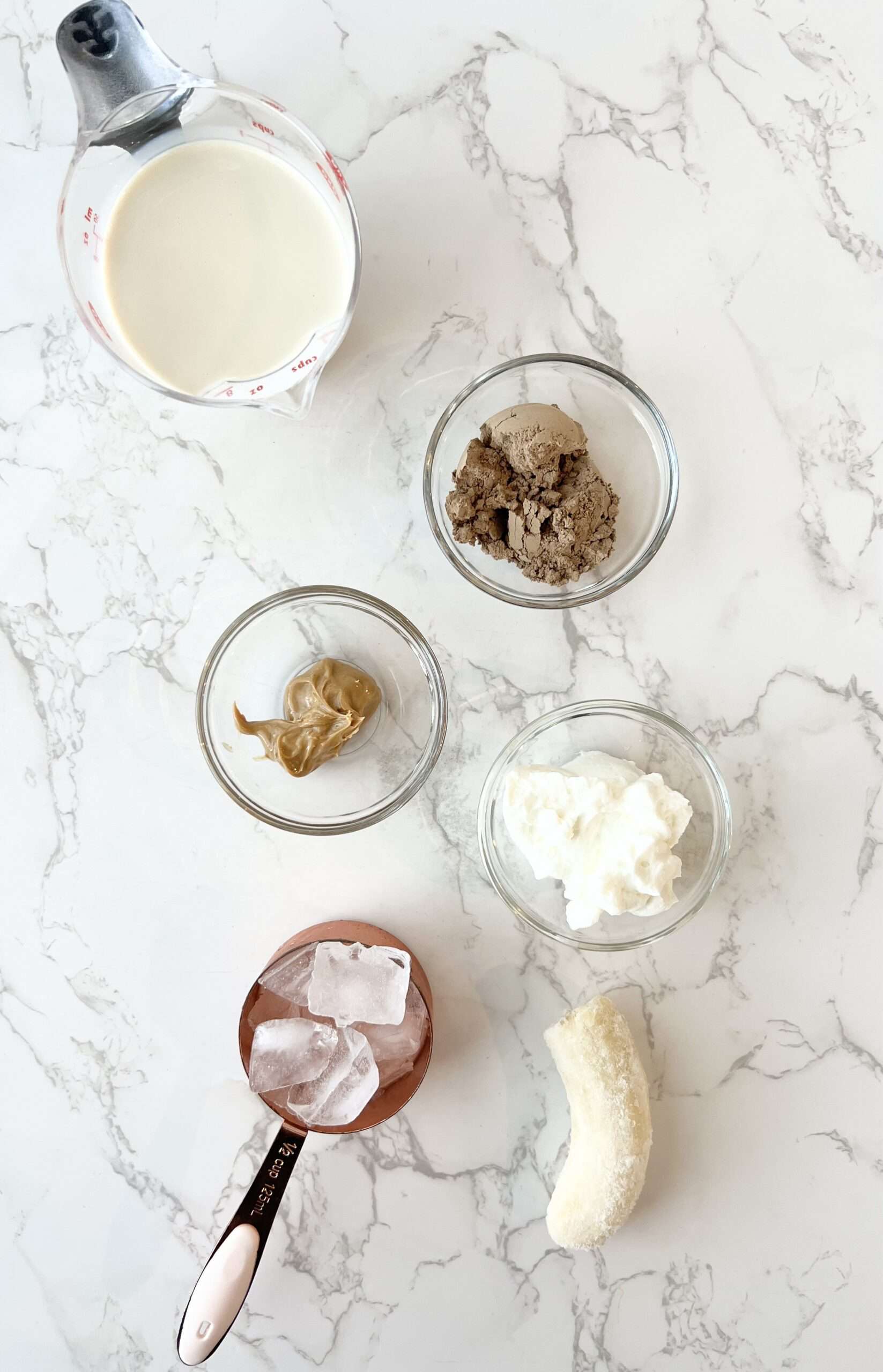 I have perfected this recipe using both powders. Since the chocolate has some added sweetener, it doesn't need anything else added The peanut butter really tastes best with a little squeeze of honey or agave (honey is my preference, agave is my husband's). It's fine without it, but that honey brings out those flavors perfectly. Cut this if you're reducing sweeteners. I'll also share more customization options after the recipes.
Peanut Butter Banana Smoothie Recipe: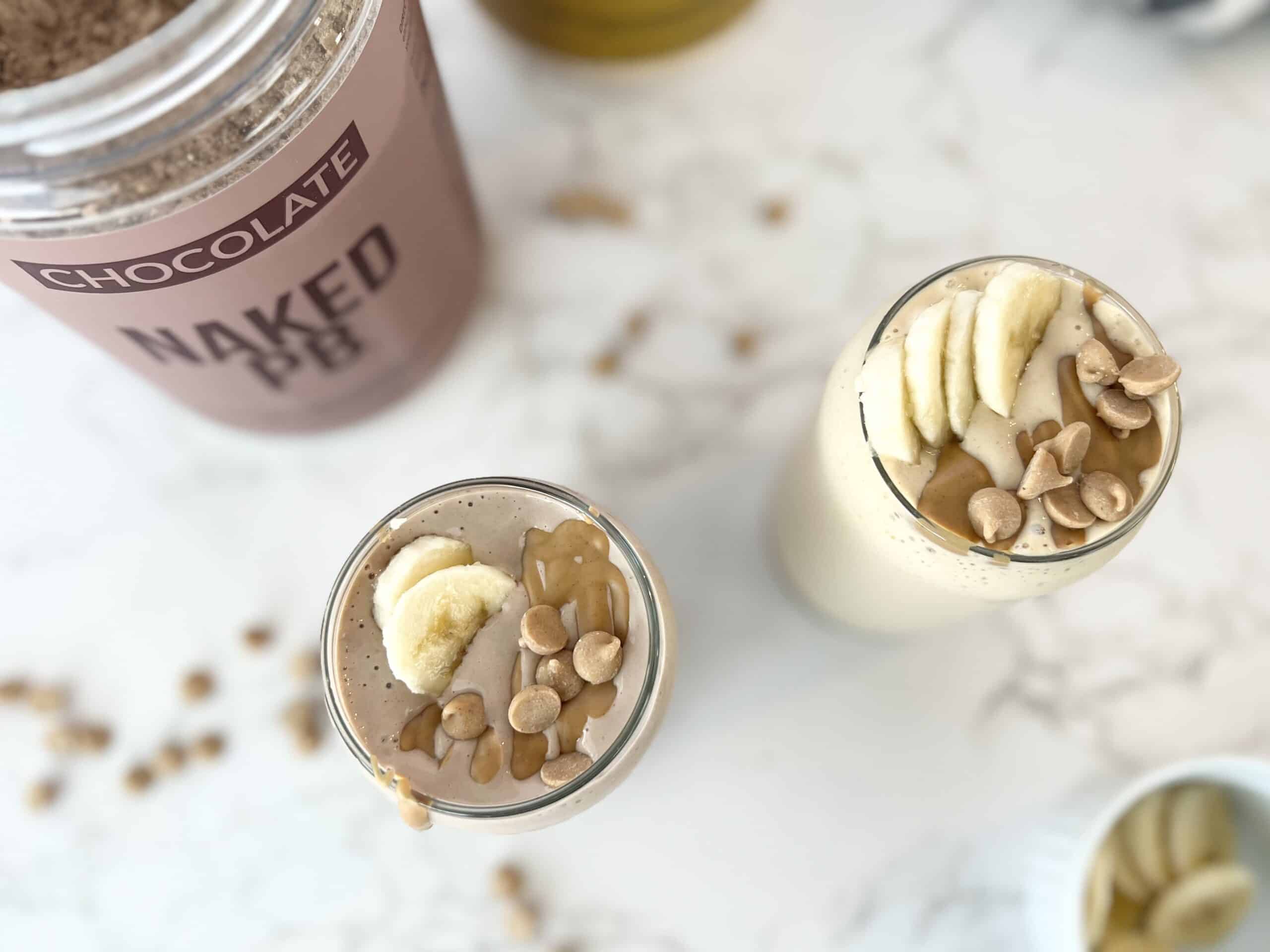 Here's what you'll need to put this together:
2 tbsp Naked Organic PB powder
1 tbsp peanut butter
1 cup oatmilk/almond milk etc.
1 tbsp. or a squeeze of Agave or honey (I prefer honey)
3 tbsp. Greek yogurt, I use 2% Fage Greek yogurt
1/2 frozen banana
1/2 cup ice
It doesn't need the additional peanut butter for flavor, but the fat binds the ingredients together in a nice, smooth way. You can cut this if you like, but I wouldn't cut the peanut butter and the honey, because they both help to smooth it out.
There is just a small tweak to the chocolate version:
Chocolate Peanut Butter Banana Smoothie:
This is the one I filmed for my Instagram video. It's super easy to make. Check out the video here.
2 tbsp Naked chocolate PB powder
1 tbsp peanut butter
1 cup oatmilk/almond milk etc.
3 tbsp. Greek yogurt
1/2 frozen banana
1/2 cup ice
The added sweetener to the chocolate is enough for me, especially with the banana.
Ways To Customize Your Smoothie: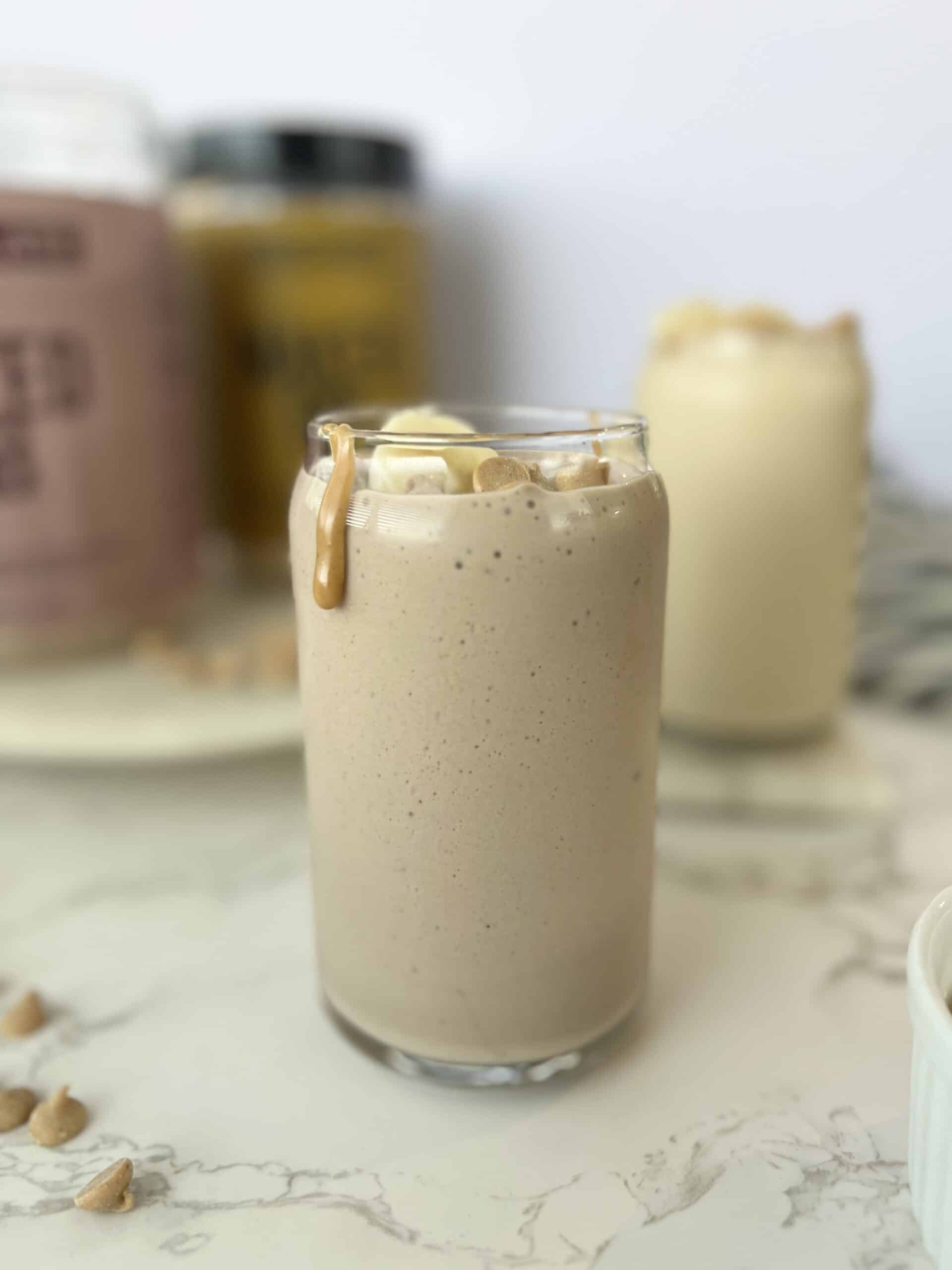 I'm a big fan of add-ins. I use a lot of supplements to reduce inflammation in my body and joints. They also pack a little protein, too.
1 tsp hemp seeds (subtle flavor change if you add more than this)
1 tsp – 1 tbsp chia seeds (no flavor, so you can add more)
1 tsp flax seeds
Collagen powder
If you're looking to make swaps to reduce fat/carbs, here are some tips. Be aware that most of these are going to change the texture and/or taste.
Swap out the frozen banana for frozen cauliflower rice
Use all peanut butter powder and no regular peanut butter
Skip agave and honey
Use the Naked PB powder and not the chocolate one
Use almond milk since it's the lowest carb milk option
Topping options:
I melted some peanut butter for 45 seconds in the microwave and drizzled it on top
I sliced some bananas and added those to the top
I used some peanut butter chips on top, too. Delicious.
Cinnamon would also be great on this.
Plus, definitely make swaps for any dietary preferences and allergies.
HEALTH BENEFITS OF THE Peanut Butter Banana SMOOTHIE: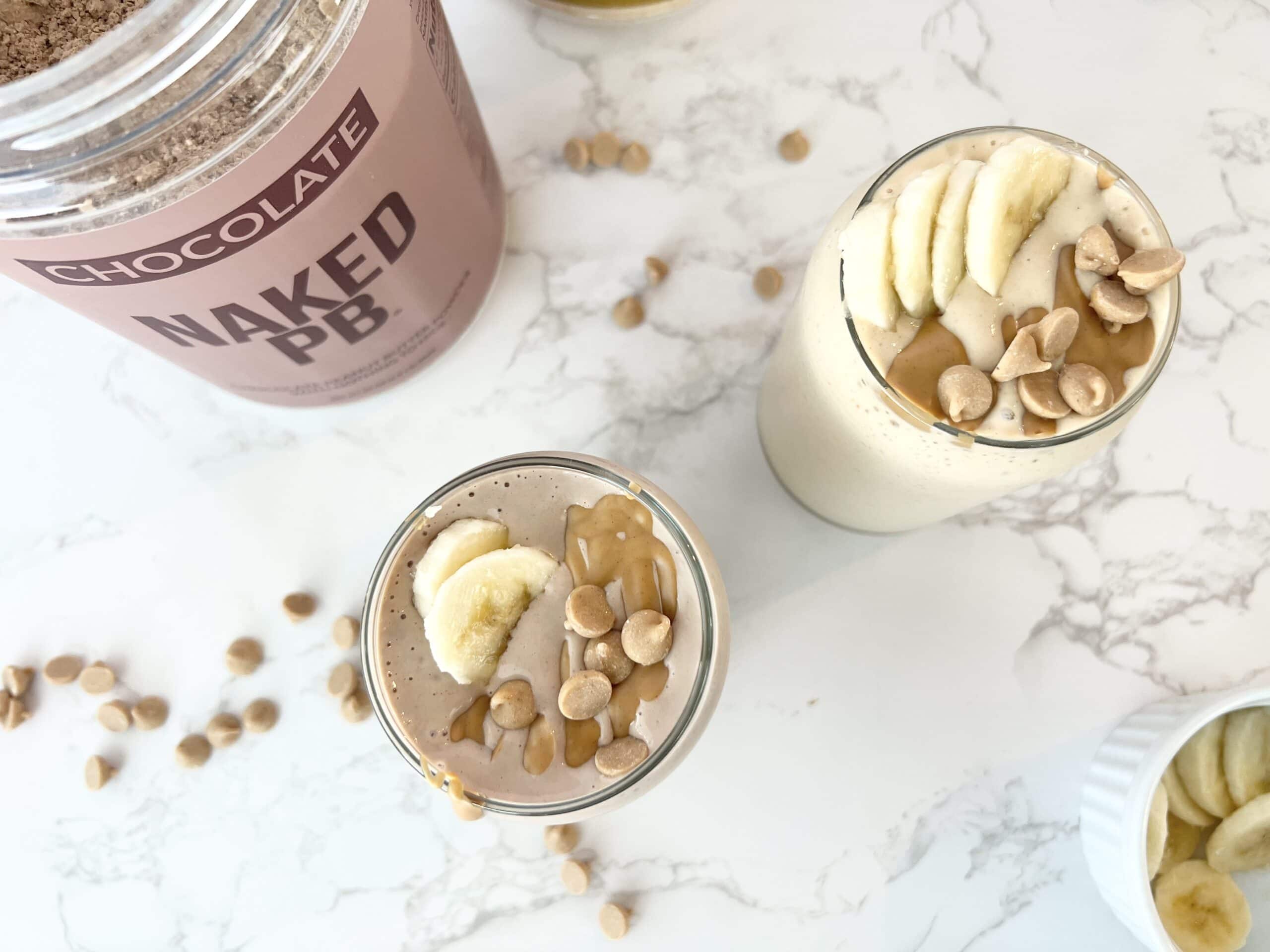 Because this smoothie is packed with a little of everything: protein, carbs, healthy fats, fiber, anti-inflammatory seeds, etc., it'll be filling and energizing, without being heavy and weighing you down.
For me, I've noticed a huge difference when I'm getting enough protein in my diet. It helps with everything. Since I'm not a huge meat eater, I need to get the protein in other ways, like this.
Also, don't be afraid of healthy carbs. SO many powerful anti-inflammatory foods have a lot of carbs, but they're healthy and good for you. I once tried a keto similar diet and realized really quickly how important a lot of those foods were to balancing my health.
If you're dealing with chronic pain, fatigue, body aches and pains, phantom symptoms that come and go, check out some of my other posts on battling inflammation and autoimmune diseases. They are some of my most popular and they might give you something new to look into or try.
Taking care of yourself, eating healthy, getting enough protein, hydrating, walking, gentle exercise, mindset work, these are all the things that are going to help you take your power back if you're feeling depleted by stress, life, and/or health issues.
I hope you'll try out this peanut butter banana smoothie or be inspired to make your own. Check out Naked Chocolate PB Powder or Naked PB powder. It's my new favorite.
Have a fabulous day,
E