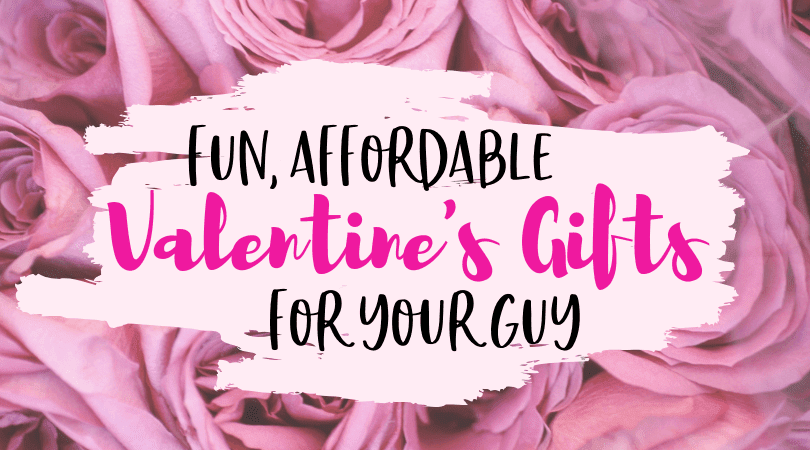 Valentine's Day is less than two weeks away! Wait, what?!
That's right. You barely have enough time to order something online, unless it's on Amazon – and then #PRIME it, baby.
But, first, let's talk about shopping for that sweet significant other in your life. You know the one.
They are the one that says they don't want anything. The one that already buys themselves the things they really want. The one that says they don't really like Valentine's Day – and then they turn around ….
AND BUY YOU A BIG GIANT GIFT! Or plan some ridiculously sweet gesture – and you're sitting there with your hands open and empty, going….
It's not a good feeling.
And, I happen to be married to the worst one of them all.
We will set price limits, we will even discuss NOT. DOING. GIFTS. for this or that holiday. Then, every time, without fail, BAM, he's standing proud by a stack of gifts and I'm …. thankful that I always buy something, too. No matter what.
But, Valentine's Day is a tricky one. You want it to be fun, thoughtful, affordable, and preferably something he'll use.
Because we all reach an age where you just don't want any more silly crap in your house. you know what I'm saying?
So, let's take a look at those gift ideas for the guy in your life.
None of these are designer or super high end. None of them are over $30 or require a payment plan. This gift guide is all about the small, sweet, gestures that he will actually use.
#BOOM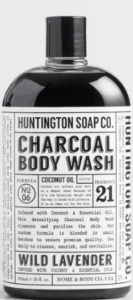 This is a manly body wash. He can scrub-a-dub-dub with his charcoal, black-bottled body wash, but still get that lavender fresh scent we all know he wants.
Oh, just my husband?
Come on now. Everyone likes to smell like a lavender field. He just wouldn't buy it for himself.
And, since we avoid synthetic fragrances in this house – the highly cologned soaps are not an option. Bam – Charcoal Body Wash to the rescue.
#Sexy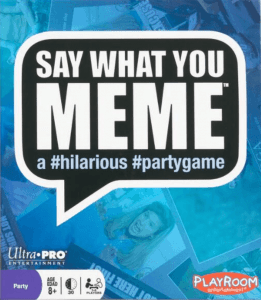 I saw this while browsing at Cost Plus and I just couldn't resist.
Does anyone else talk in memes and gifs via text?
#GUILTY
When I saw this hilarious game based on this very obsession, and there was no thinking – there was just buying.
Can't wait to play this with my guy when the kids go to sleep.
Because sometimes you need to mix up the Netflix & Chill portion of the evening #AmIRight?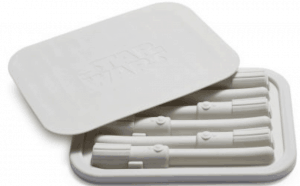 Grabbed this as a stocking stuffer and it was a big hit. Bonus – it actually works. It creates these cool lightsaber ice wands that stand up in your drinks and melt pretty slowly.
The boys in the house are big fans.
So, if you know any big Star Wars fans – consider this is a win.
Or, you can grab this Star Trek pizza cutter for the Trekky. I've given it as a gift twice and both times got a really fun reaction.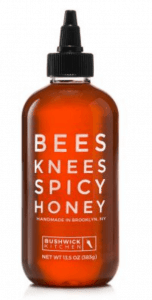 Love a big-time foodie? Me too. He loves everything – from spicy food to rare honeys.
Literally, he loves rare honeys.
I know, he's a funny guy. But, he does most of the cooking around here, so he can have all the honey he wants.
Which is why I bought this as soon as I saw it. A spicy honey?
Cute packaging, cute message, fun twist on honey.
#SOLD
A book is a great gift.  This is a suspenseful thriller co-written with Bill Clinton that quickly became a bestseller.
I love that Patterson brought in a real former president to write this one – it gives it a fun twist. But, really, any book will do.
Back when I was teaching, I went to work on my birthday and walked into my classroom to find a beautifully wrapped, hardbound book sitting on my desk with a sweet card. It was, quite literally, one of my favorite surprises of all time. I've always remembered that sweet gesture from a coworker and have returned the favor many times since.
When you give a book as a gift, you're also giving the gift of quiet me-time.
And nobody can argue with that.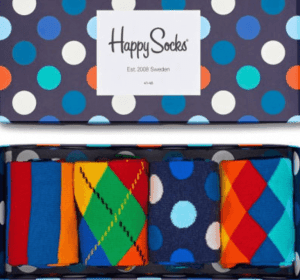 This company  makes the cutest socks. Colorful, fun, bright, and super soft.
And, since most guys pants go well over the socks – they can really have some fun without anyone knowing.
I have 3 brothers, a husband and son and all of them appreciate a nice pair of socks.
Who can blame them? I do, too.
With single socks starting from $8-12 and then boxed sets in the $20s, you're definitely looking at a really cute, fun, affordable gift.
And guess what – Happy Socks just went on sale 30% off!
**UPDATE: A kind reader let me know that these links are sending you to the main B&N page. No matter what I do, I cannot stop B&N links from doing this. I do not want to send you to another site because they are cheapest at B&N, so I would recommend just putting "Happy Socks" in the search bar and pulling up the socks. Hope this helps**
****
There you go! 6 quirky, fun, affordable gifts that will get you started – or even finish – your Valentine's Day shopping for the guy in your life.
Now, what you're wearing when you give him said small, sweet gift is entirely up to you 😉
Have a fabulous day,
E