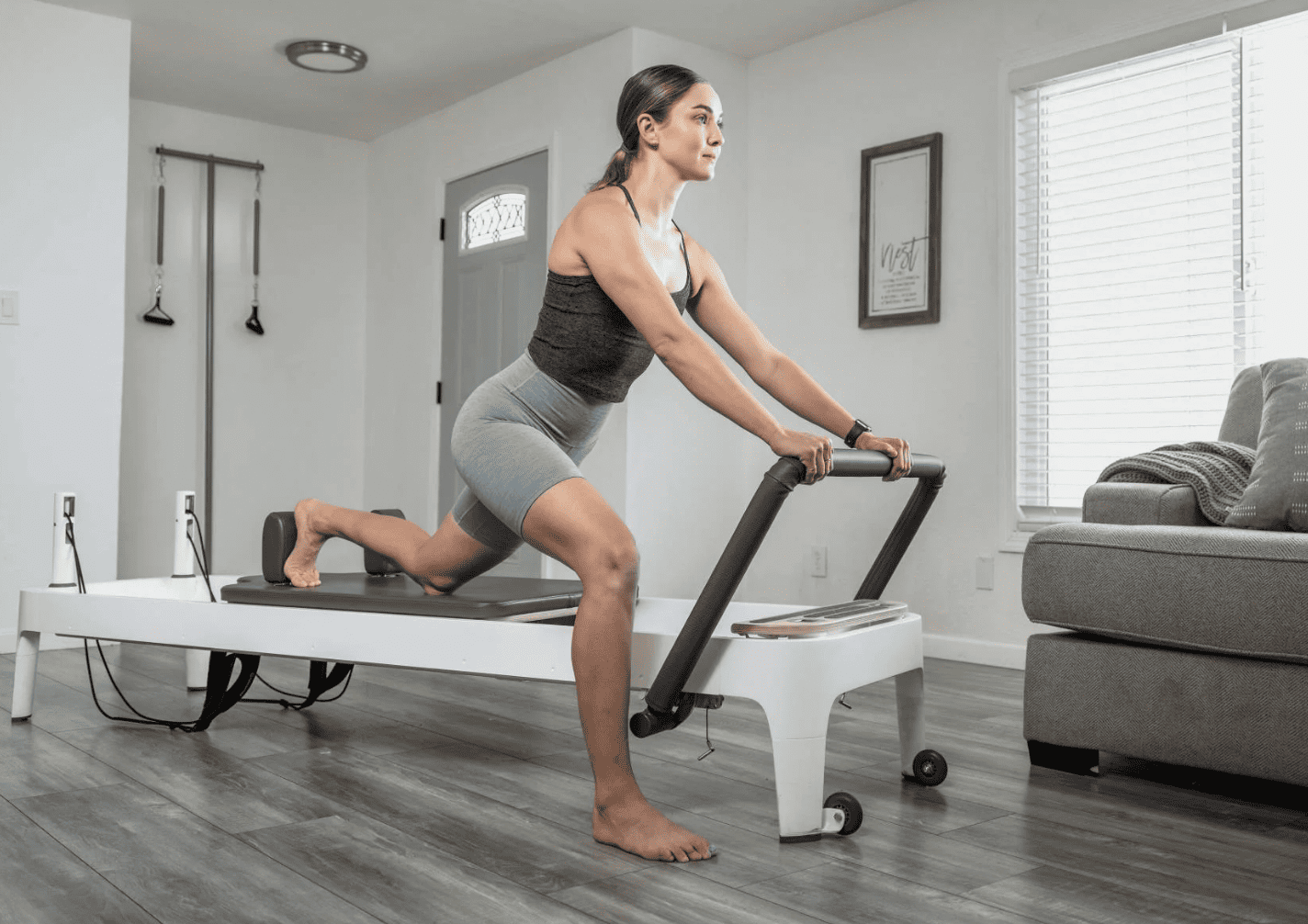 It's no secret that I'm a big fan of pilates. My post on Club Pilates has really resonated with a lot of my readers who have also gotten bit by the pilates bug or are just starting out on their journey. After more than three years of regular attendance at my local pilates studio, I've started to think…should I get a pilates reformer to use at home?
While I love the routine of leaving the house (great for a freelance writer who works from home), going to a class, experiencing the challenge of working out with a small group (always encourages me to push myself) and not knowing what the teacher is going to ask us to do, there's definitely upsides to building out my own pilates home gym for the days when I can't, or just don't want to, go to the gym.
And, good news, there are more options than ever when shopping for that pilates reformer for your home. Many of them are compact, fold up, and tuck away out of sight, while others offer lots of options, from jump boards for pilates cardio to padded straps to protect your hands.
Even if I invest in one of these, I still see myself enjoying classes at Club Pilates, but this would give me the freedom to really hone my practice on specific areas that I like or need to work on. And, after years of classes, that's something that actually makes me excited. So, as I shop around for the right pilates reformer machine for me, I wanted to share my top picks with you. I've broken up the list into various options, from overall best to most compact as a way to help me organize my research. Make sure to read to the bottom where I share the most bougee pilates reformer ever. I hope this list helps you!
Best All-Around Pilates Reformer for Home: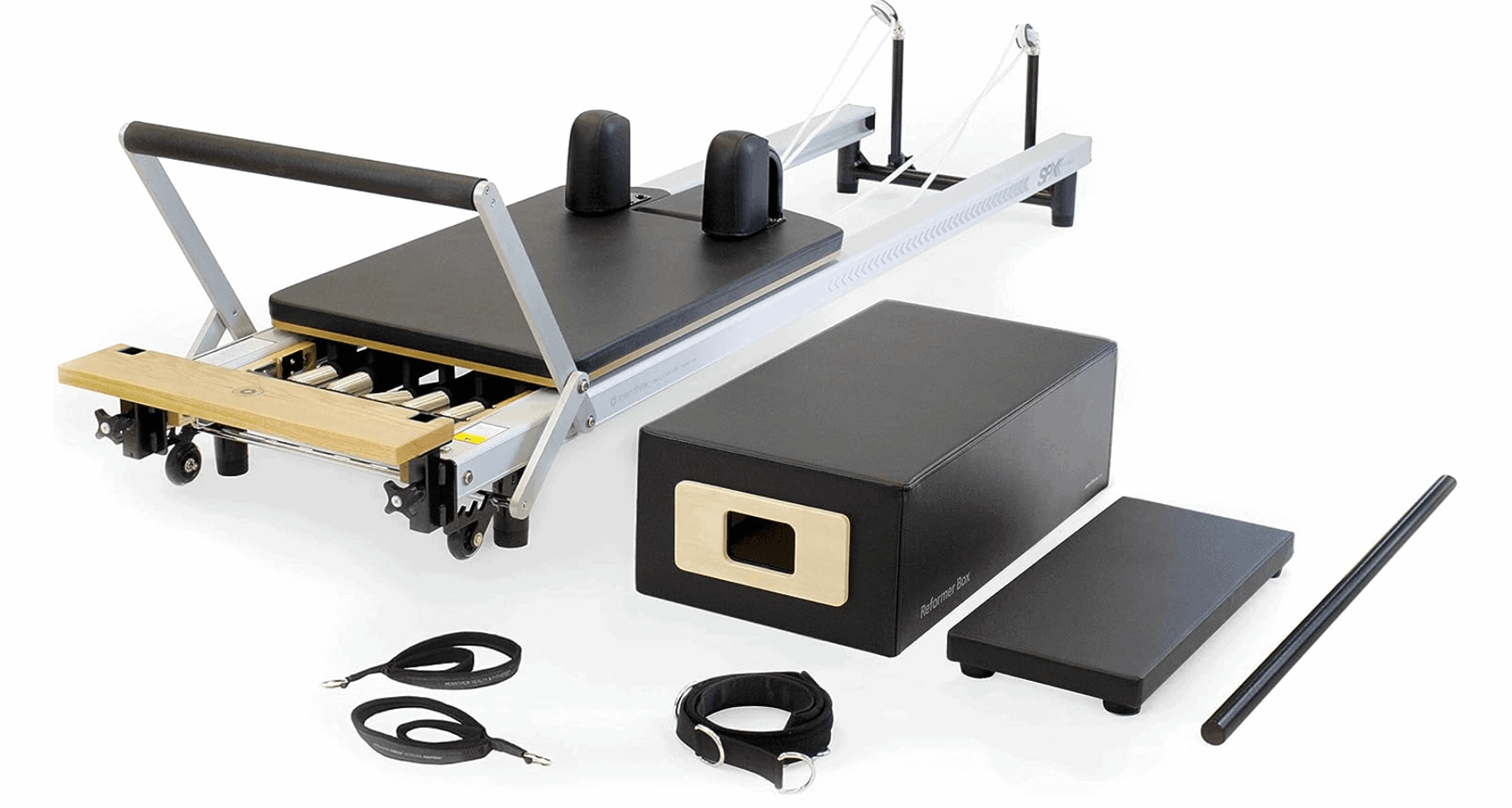 There are a lot of things I like about this reformer and why it's a highly rated. Merrithew is a major player in pilates equipment and this is going to be a reformer that will give you all the same options and control that you would get on a studio reformer. It comes with a lot of the accessories that you need for most pilates workouts, and you can upgrade to get additions like a TRX rack. You do need to buy the jump board separately, but I really love the Merrithew jump tramp, both how it looks and functions. It has a bit of a trampoline style, so you're going to get the lymphatic benefits of rebounding. You can also get a true jump board style as well, if you like.
Other things I really like about this reformer include:
The minimalistic, light colored vibe. You don't have a heavy black machine here. This has gorgeous light wood tones.
The construction is solid,
6 carriage stopping positions for many heights
Adjustable footbar
Enhanced spring package (your reformer is really only as good as its springs)
Adjustable headrest
UVA Foam Padded carriage (important)
Padded platform extender – I wish our studio reformers had this, because it would make side, standing leg work so much more comfortable than putting the ball of our foot on the small platform.
Whisper glide technology – a jerky reformer is going to cause injuries
2 workout videos included
I love this reformer and to me, it's worth the price. I pay $200 a month for my pilates membership and have gone for years. Just one year of classes would pay this off and it's going to last a long time. Reviewers say it is very easy to assemble and use right away, too, which I love. An incredibly well made reformer that is going to give you a studio level experience at home.
Best Looking, Studio Quality Pilates Reformer: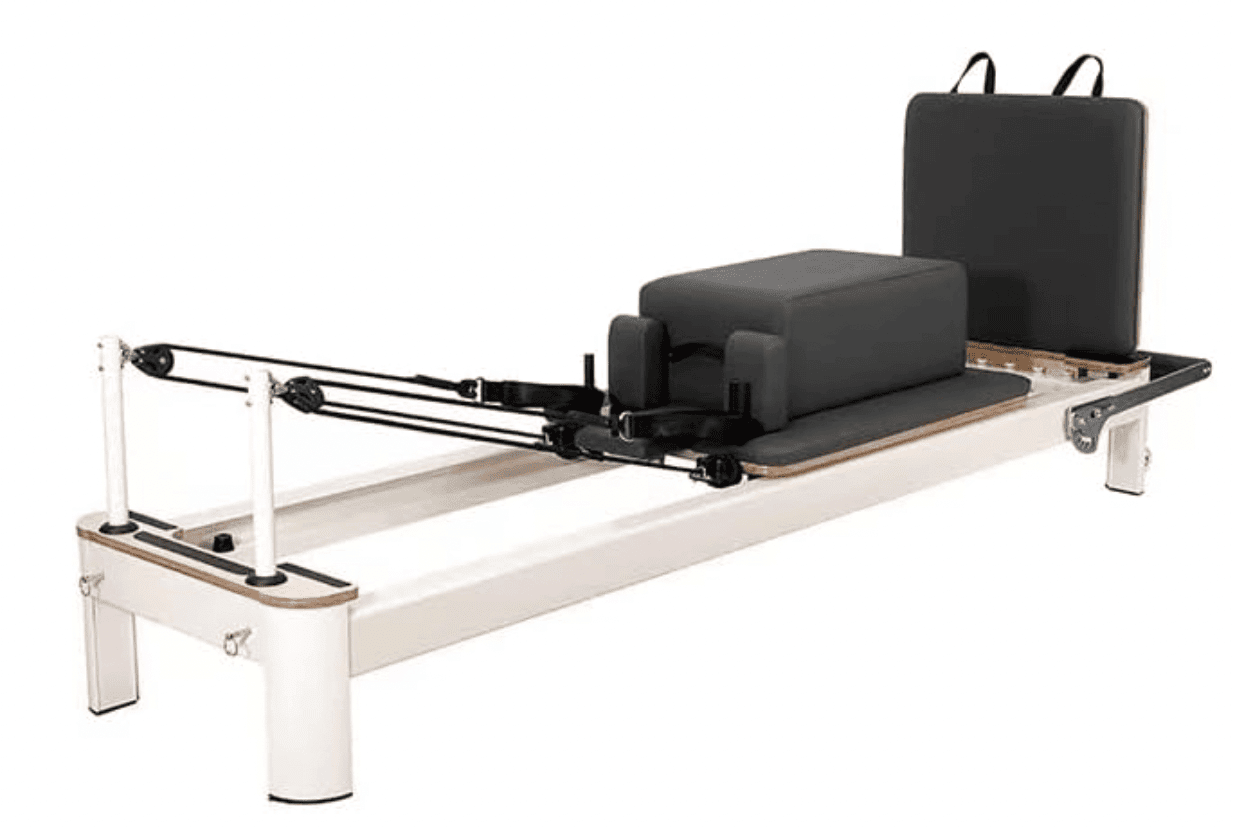 Do aesthetics matter? They sure do. And for some people, it's high on the list of priorities, especially if you have a home gym that you've put a lot of effort into. I see people investing in certain high-end rowing machines, simply because the aesthetic matches their home gym. I don't blame you at all. I find that I want to do things when the space around me looks nice. For me, this is the most attractive, studio quality pilates reformer on the market. I absolutely love the design and the white color. So chic. Must better looking than the darker reformers at my pilates studio. In fact, if I were opening a pilates studio or offering privates sessions at a home gym like some instructors do, I would also highly consider this one.
It comes with a great list of accessories and offers similar quality to the Merrithew:
5 position spring lever
Standing platform pads (I loooove this)
Padded jumpboards – yes, please!!!!
Padded box
Paddes traps
and much more! There are several other reformers offered by Faittd and you might just see another one pop up on this list.
Best Affordable Pilates Reformer: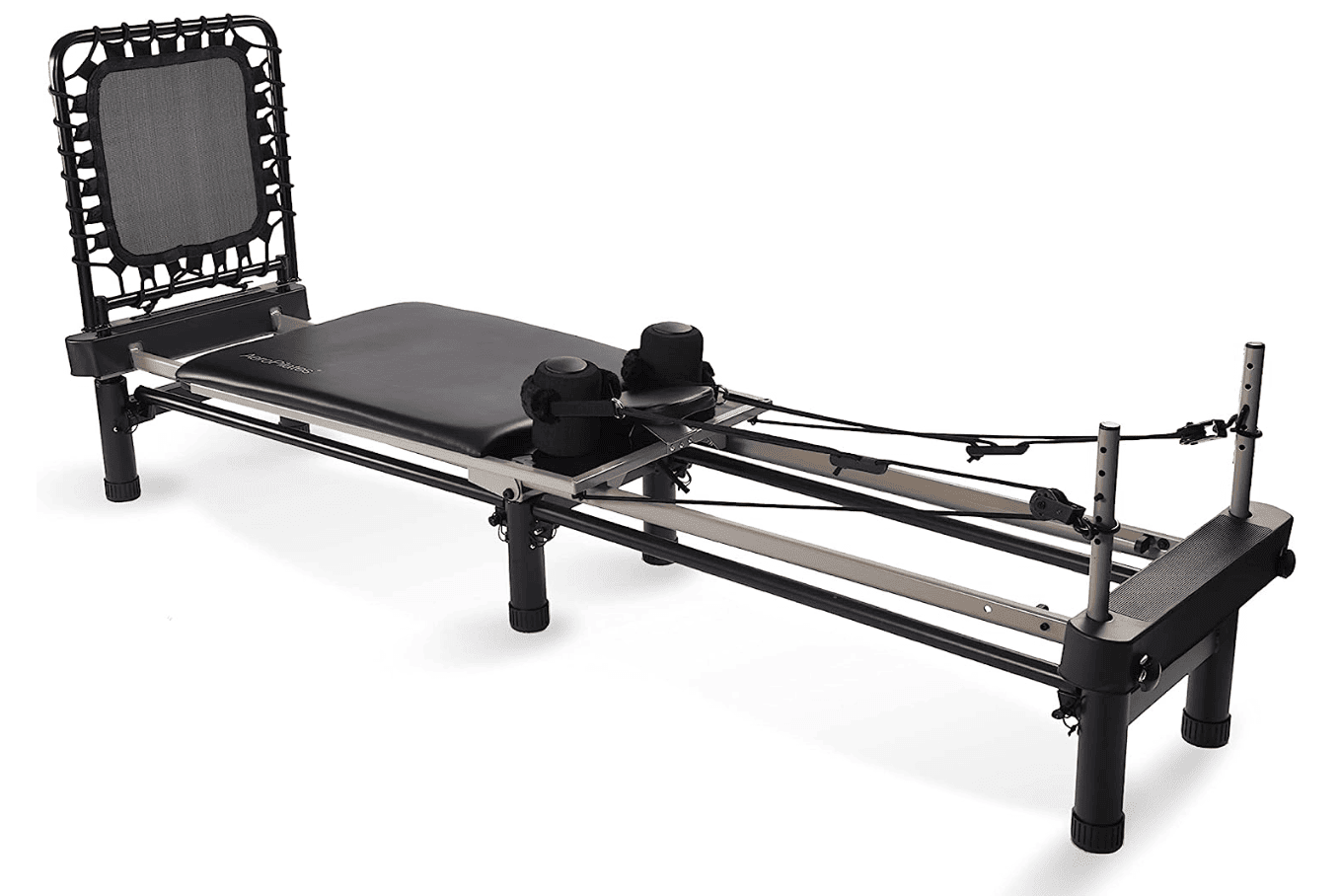 If you're new to pilates or are not interested in doing higher level moves, then this popular reformer is going to be a great fit. It's also more affordable, too, which is a win win. I could pay this thing off with just 4-5 months of classes, and that's if it's not on sale, which is amazing. I also see a very similar jump tramp to the Merrithew, which really peaks my interest. This one has a lot of great features that are going to make the beginner to intermediate (and even some advanced) users very happy.
Durable steel frame
Padded, wider platform
Comes with rebounder (YES!)
Head and neck support pillow
Padded, wider footbar (I LOVE THIS SO MUCH)
Furry hand and foot straps (THANK YOU AERO!)
Foldable frame
Built-in wheels (HURRAH!)
Good for up to 300 lb. weight
and much more
Honestly, this is a really solid reformer built for a home gym, the kind where you need to move things out of the way or store them to the side (like mine, where my workout space doubles as an office and guest room…that's just life for us). I really think Aeropilates nailed it with this one and thinking about what the typical person wants in their home gym.
Most Affordable Pilates Reformer on Amazon: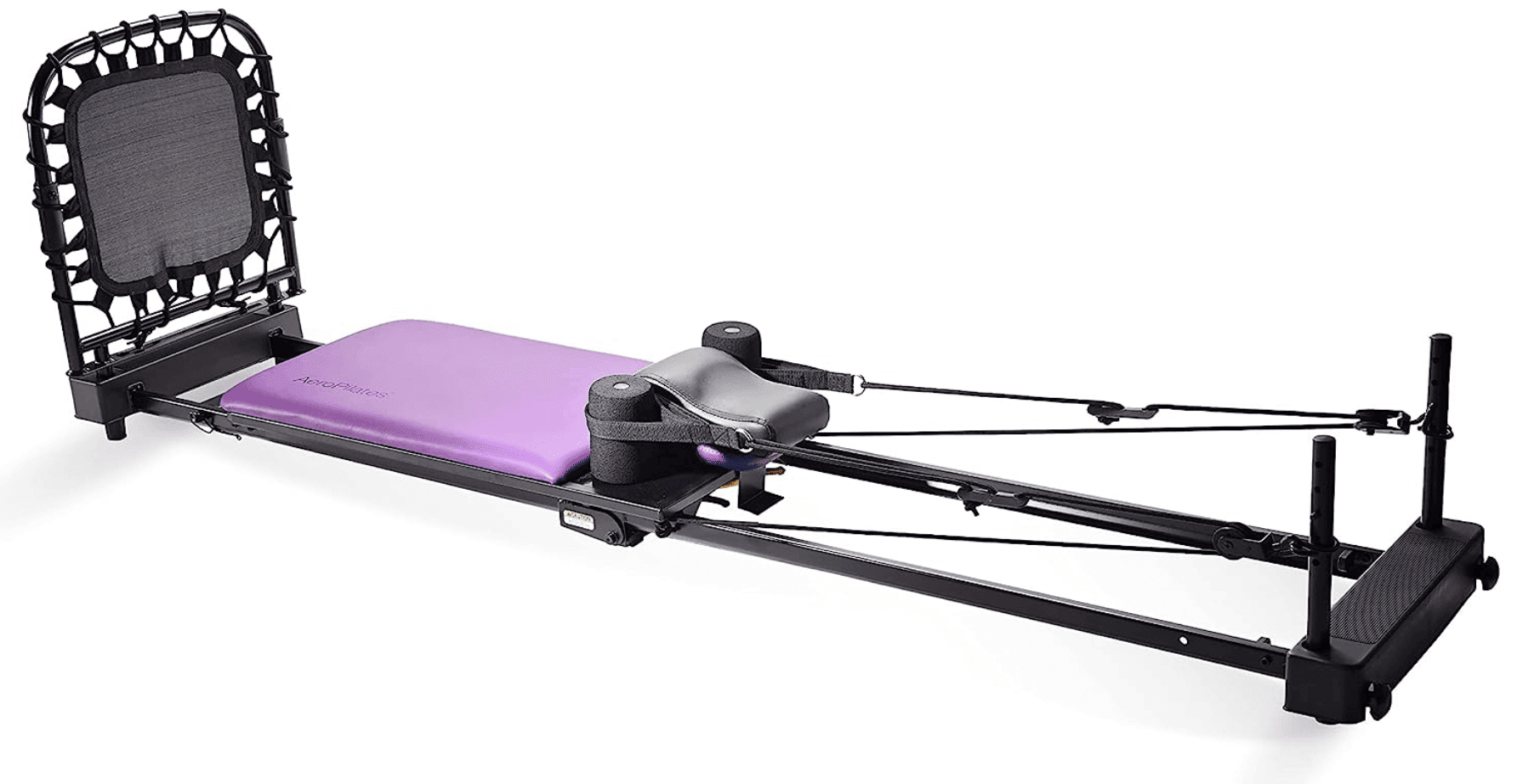 If budget is your main concern, you can still get a highly rated, solid reformer for a great price. This is a slightly lower grade Aeropilates model that is going to save you a couple more hundred dollars if you're comfortable losing some of the functionality of the Premier model. I can't tell you the exact price (Amazon's rules), but it's less than 3 months of my pilates membership. Very affordable, when it comes to pilates reformers and still highly rated.
Here are some of the features:
Comes with the cardio jump tramp!
Comes with 2 workout DVDS
High density shoulder pads
Neck pillow and padded foot bar
Eleven intensity options
Great from heights 4'9 to 6'4
Works for up to 300 lb. weight
Padded hand and foot straps!
You're going to get a solid reformer here for a great price. Definitely an awesome starting point or a reformer for those of us that are still planning to go to a studio regularly and just need something at home when we need it.
Best Foldable Pilates Reformer: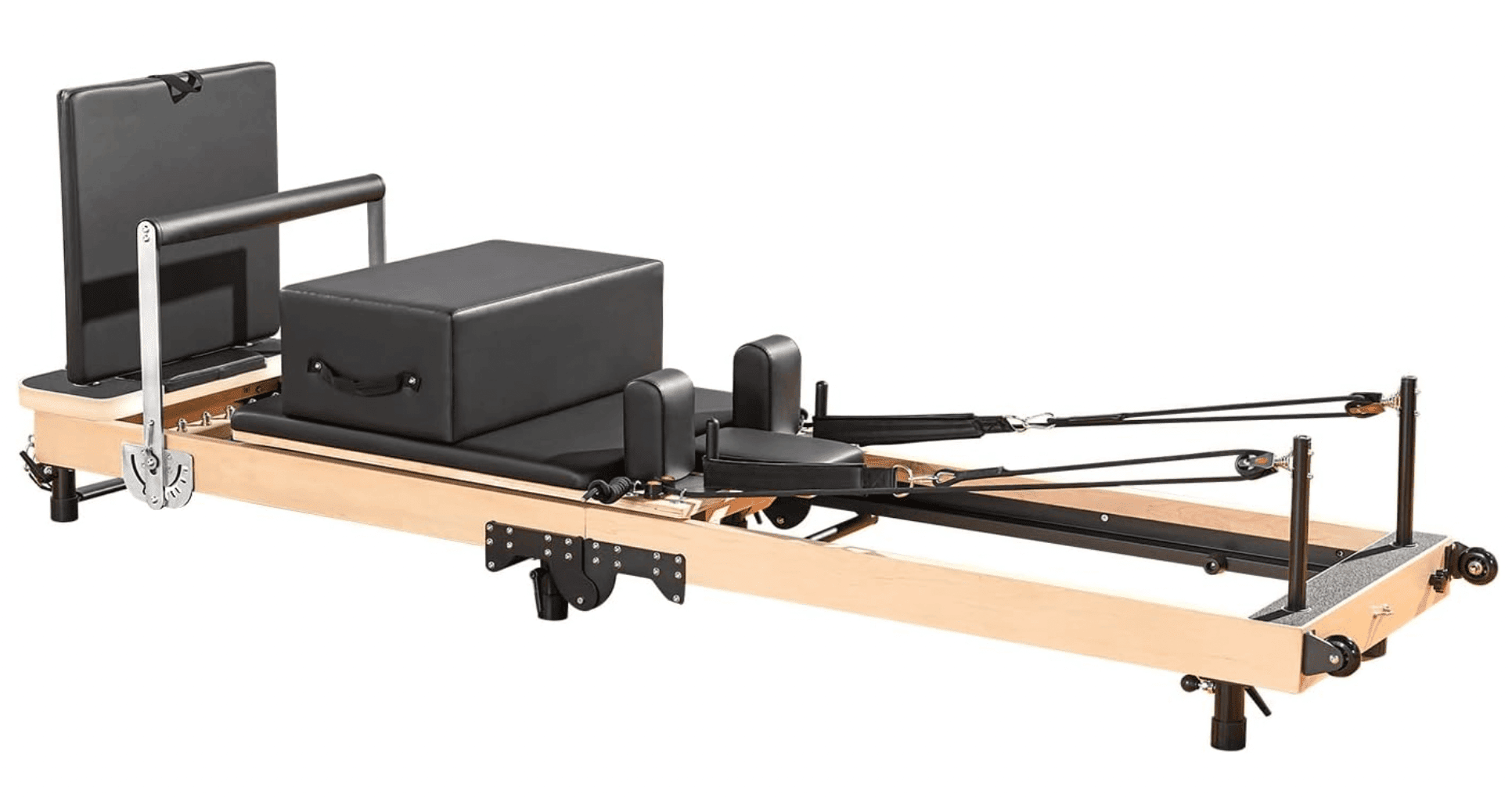 Need to be able to fold it and slip it in a closet or garage? I feel you. My home office is sort of a catch-all room and I don't have space for a reformer to be left out all the time, no matter how pretty it is. If that's you, then this is the best foldable pilates reformer option that I found. I really like this reformer and it has so many of the features I've liked on others. Here's what you can look forward to:
Solid construction
Padded carriage
Padded jumpboard
Heavy duty hardware
6 position spring bars
Ergonomically designed
Easily moved with wheels
Folds in half
Comes with accessories like the box
It's just as feature rich as the other Faiitd and higher end reformers, but it's going to fold in half and store in a closet easily. Looks fantastic folded.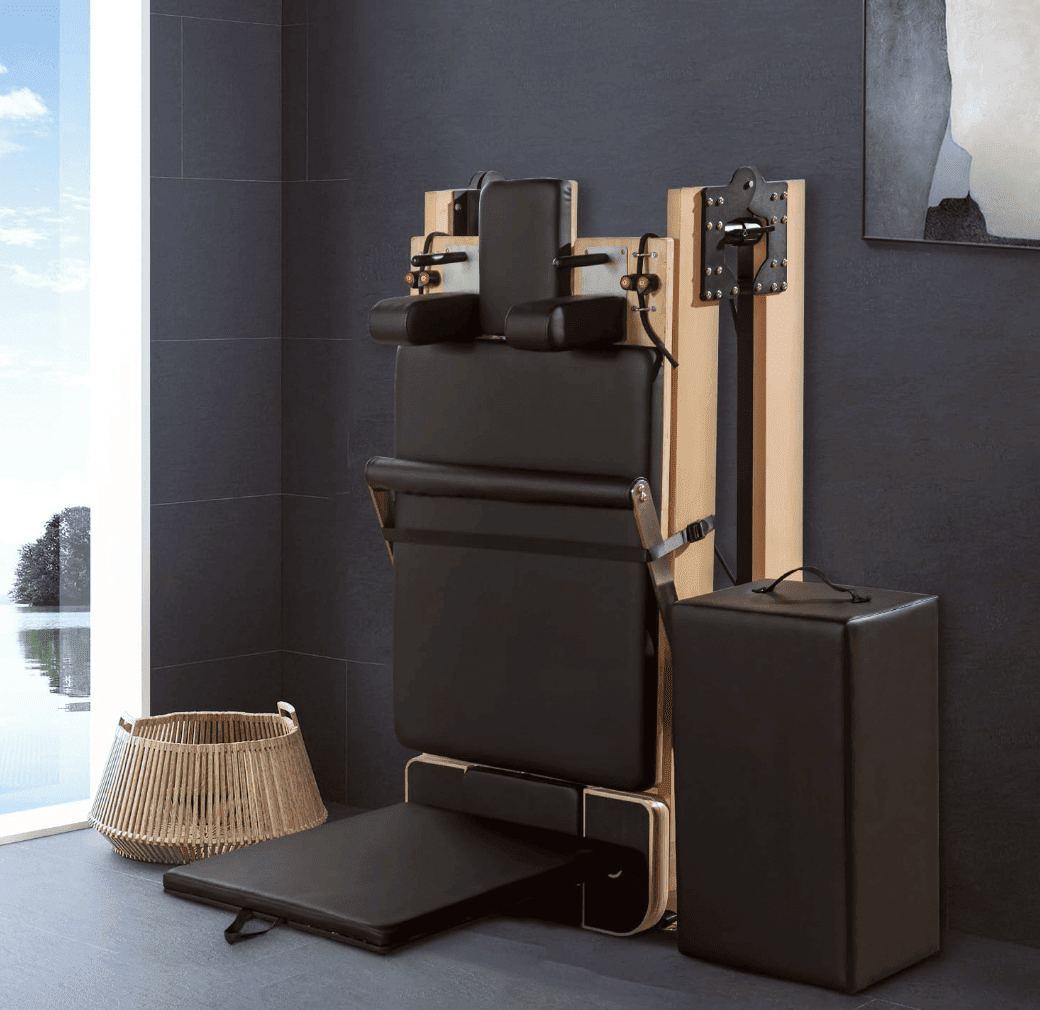 Keep in mind, the board and box won't fold, so you'll need to set those in front of it. A great option for the compact home gym space.
Best High End, Expert Level Pilates Reformer: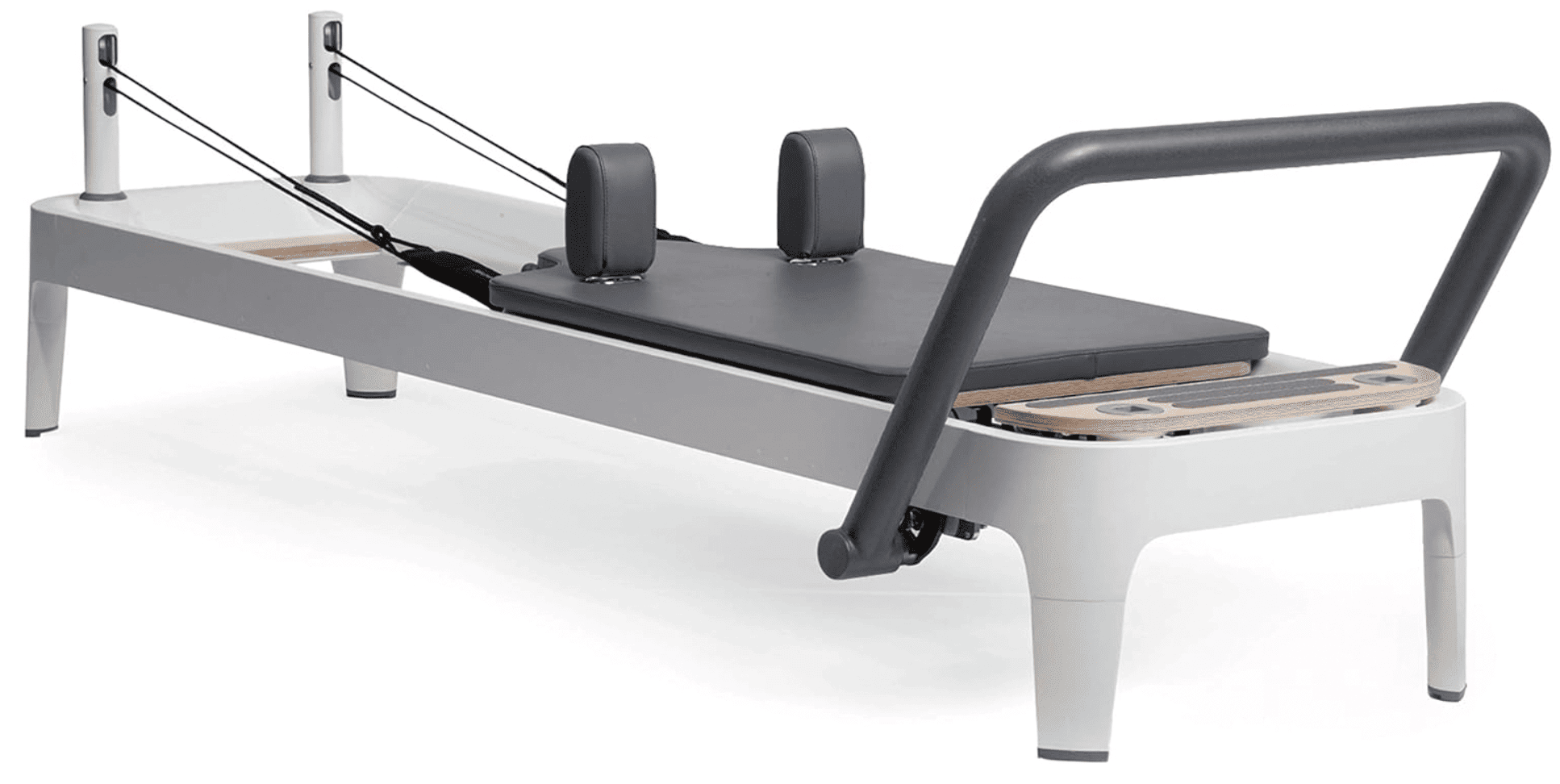 We use Balanced Body reformers at our studio and while they are not as pretty as this one, they are extremely solid and well-made. They are whisper quiet and super smooth (usually…although all reformers need maintenance at some point). This one is perfect for the advanced pilates instructor or user or even for a studio that you're opening up. The Allegra is well known as one of the best reformers made and on the market today. You'll see the almost perfect reviews where people rave about their Allegro, including how beautifully it's packaged and shipped to you, from how it really supports and improves your pilates practice.
The features are rich, but the ones that stand out to me are:
Padded, rounded foot bar. It's a thing of beauty, really.
Removable and adjustable shoulder rests for the perfect fit.
Integrated, seamless carriage.
Made in the USA
Soft touch rope system
Top of the line commerical level durability
Designed for home or studio use
Talk about a gorgeous piece of workout equipment. The Allegro is going to take your pilates practice to the next level.
More Pilates Posts:
If you love pilates as much as I do, you might also like to read these posts:
Hope you found what you're looking for today!
Have a fabulous day,
E