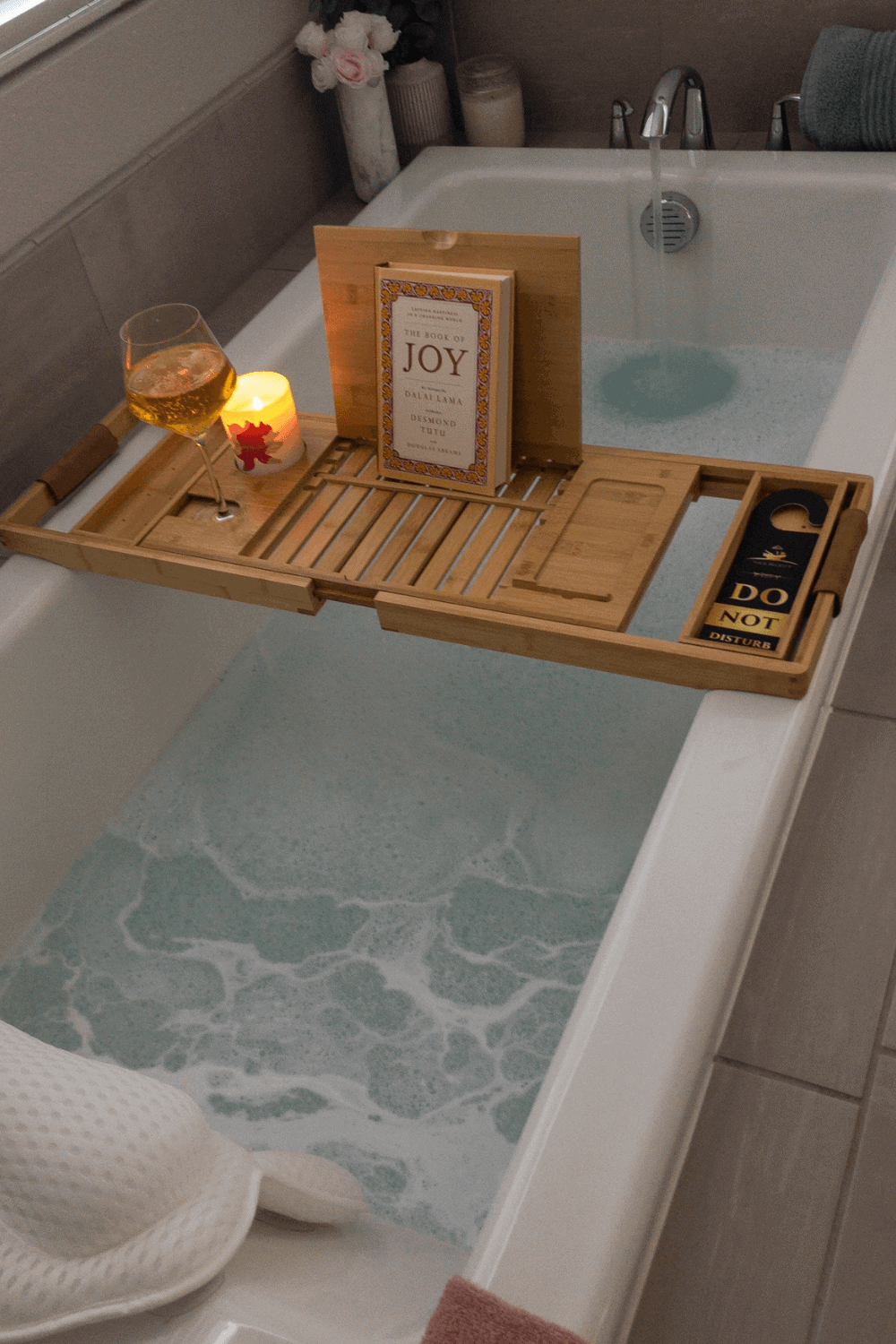 I have a confession to make: I didn't use to like baths. Even though we moved a few years ago and our new home had a luxuriously large bathtub that we joke could be a small swimming pool – I never used it. I just … didn't have the time or see the point in just sitting in a bath.
Fast forward a few years and my kids are getting older. I'm starting to really relish the moments where I get to fully relax, put the work away, and practice some self-care.
So, I thought, it's high time I figure out how to make the best bath ever and put this bathtub to good use!
The Best Bath Accessories: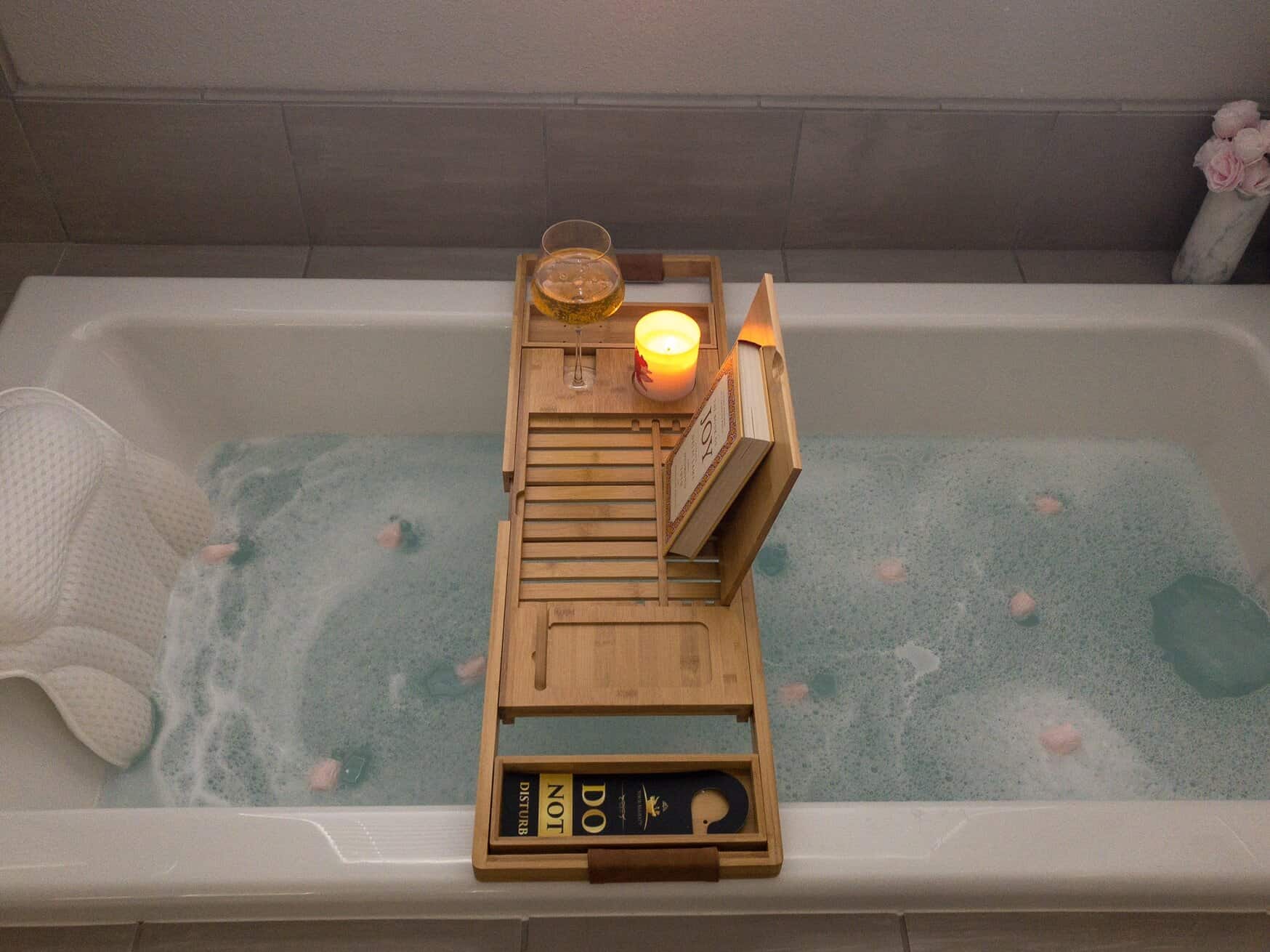 I did a little research into popular bath accessories as I planned for my first epic bath. I knew I wanted to try a bath bomb – since every body keeps talking about them – and I was loving all of these tub trays and pillows I was seeing.
Turns out, while I was raising kids, the art of the bath was becoming a big thing. Who knew?
So, I ordered a bunch of things and tried different bath accessories out before settling on this perfect combo of bath accessories to really create that spa-like bath ambience at home, for a fraction of the price.
These are the 7 bath accessories that make up the perfect bath. I'm going to share a little more about them and why they are a must – but you should know that I bought them with my own money and none of these companies sponsored this post. That being said, they are affiliate links, which means at no cost to you I'll receive a small commission if you decide to buy one for yourself. And, you totally should, because I am only recommending products I use and love.
7 Best Bath Accessories: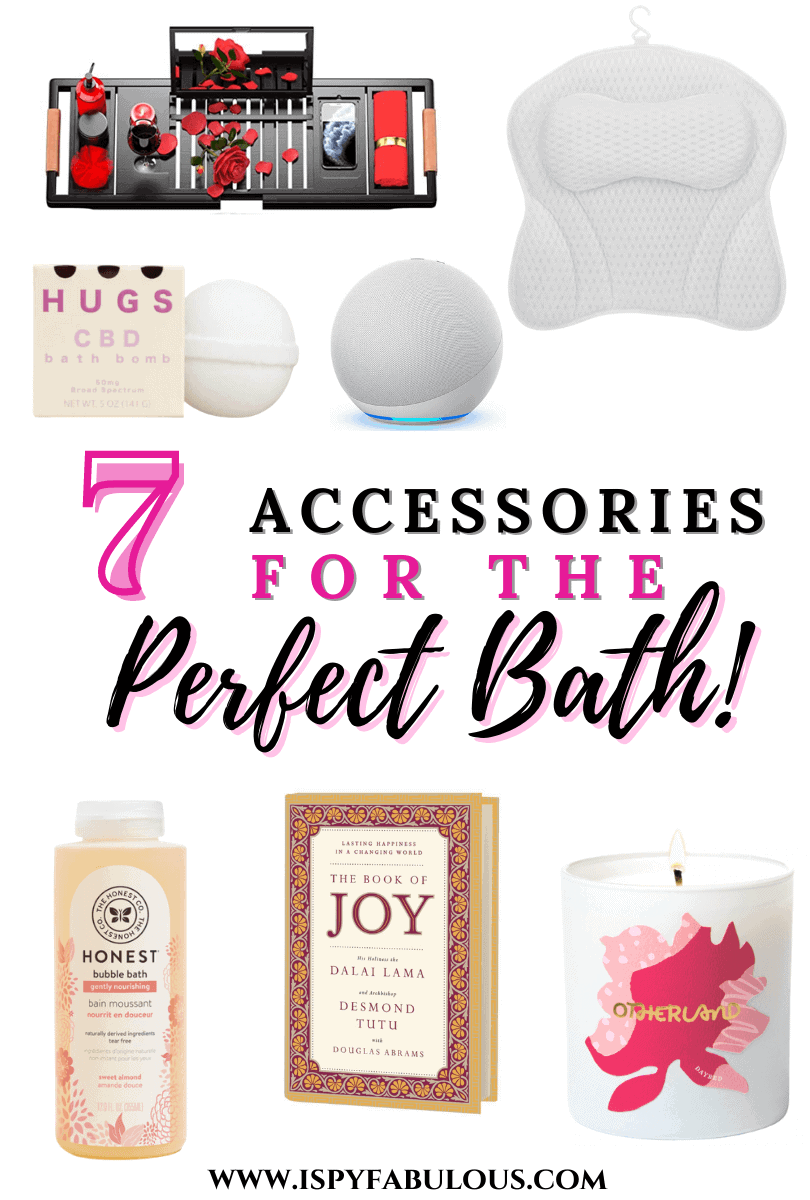 I kept seeing these things all over the internet and decided to take the plunge. Boy was this worth it! No more fumbling with wet hands to get all the things you need while you're trying to soak. Nope, just light that candle, slide in your glass, get that book or tablet or phone for entertainment, hang up your do not disturb sign and relaaaaaaaax.
I loved that this one had leather wraps on the ends to really keep it in place. It was totally stable and did not move at all. There were more spaces than I even needed on this one – including a space for a TV Remote! That gave me some serious ideas for the future of this bathroom….
I don't know about you, but a lovely smelling, non-toxic candle is a big win for setting the mood. I love these ones by Otherland and this Daybed Rose Vegan Candle is one of my faves. Highly recommend.
3. The Bath Bomb:
This was my first time using a bath bomb and I'm here to say – I loved it! The one I used had CBD and lavender, for a super soothing, extra relaxing experience. The packaging really hit home for me: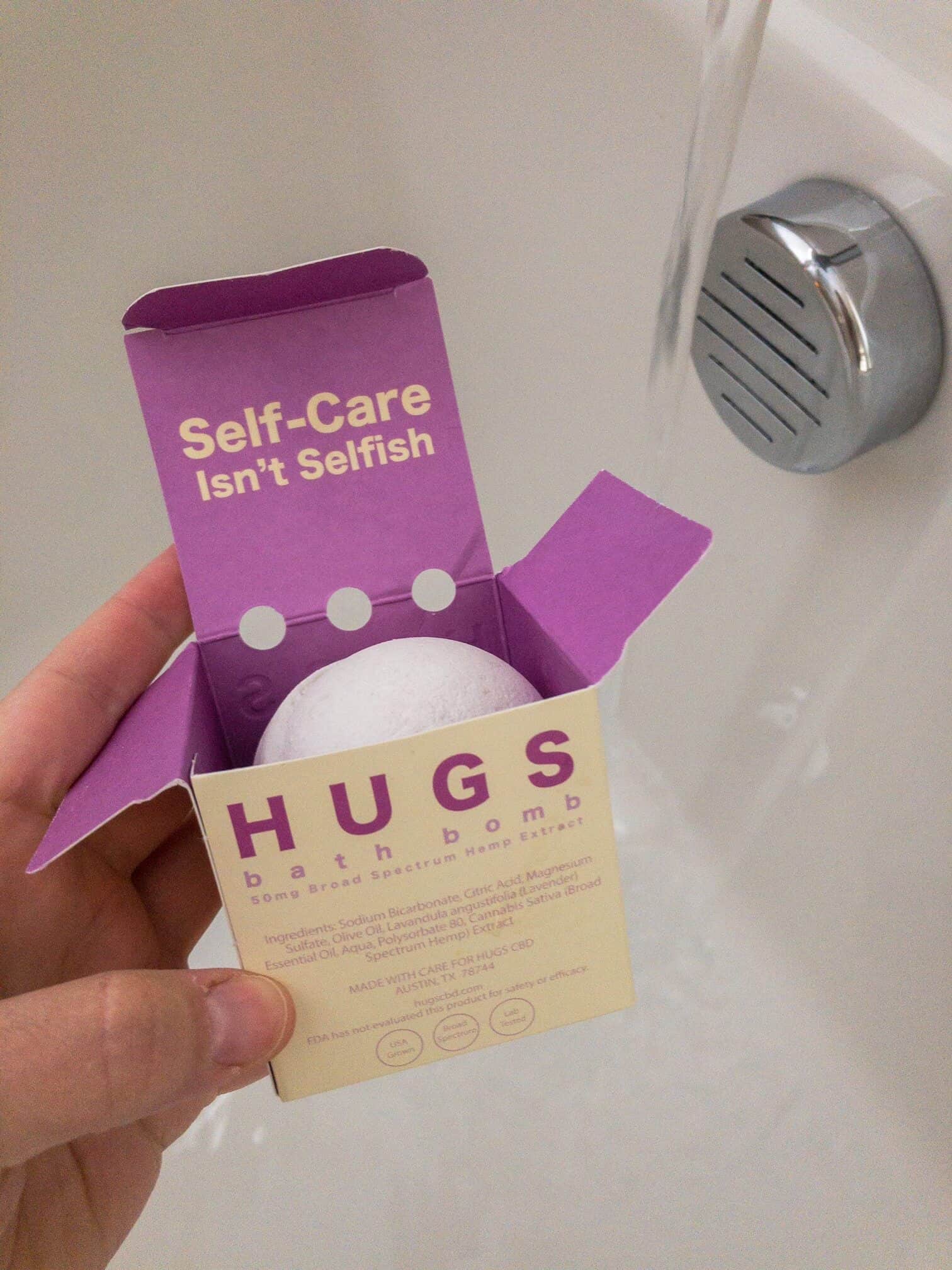 And, it immediately started dissolving and lathering under warm water.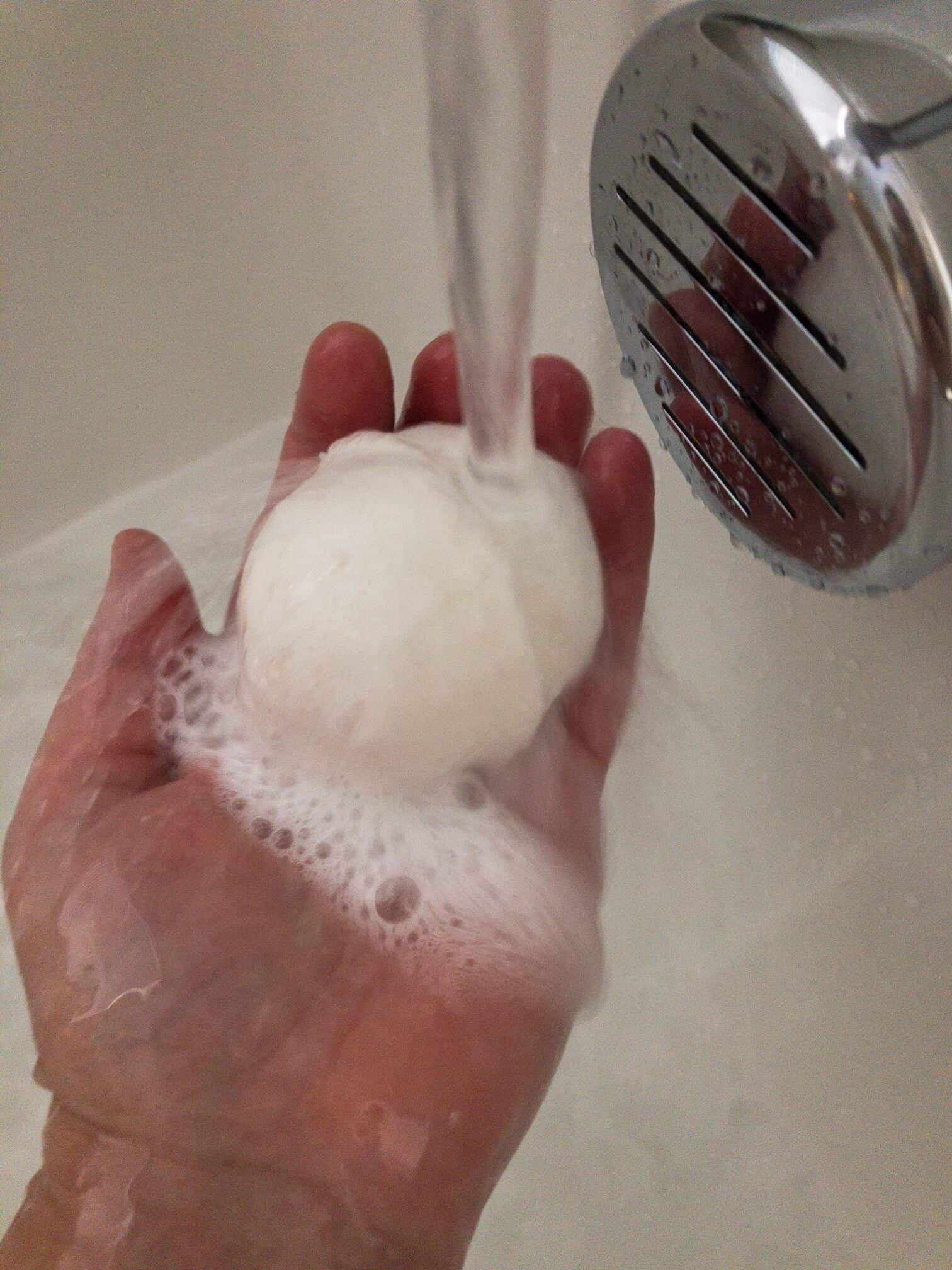 I had no issues with it dissolving very quickly and it made the water very soothing and moisturizing. Plus CBD…ahhhhhh.
Okay, this was my first time using a bath pillow and all I have to say is: WHERE YOU BEEN ALL MY LIFE? This thing hit the perfect spot in my neck and was sooooo niiiiiice. Plus the padding down my upper back was so great. I almost fell asleep!
I loved this one because it has a hook for drying and even a washing bag for throwing it in the washing machine! Score!
One must have some tunes while bathing and I have been obsessed with my Amazon Echo for awhile. This new one also shows the time and has a more modern shape. I use it every morning while I get ready and it was already there and ready to go when it was bath time. Big fan.
I feel pretty strongly that every bath should have bubbles. I am obsessed with the smell and super moisturizing properties of this sweet almond oil one from Honest Co. I use it for my kids, too, and snuck it into my room for bath time.
Love, love, love.
I'll admit that I didn't get much reading done this time, but I've been working my way through The Book of Joy. It's an easy, relaxing read focusing on all matters of happiness and joy. I find it to be a perfect book for what's going on in the world right now and helping to establish a baseline of happiness, despite external circumstances. 10/10 would recommend.
*******
That's it! What do you think? Are you a bath person? What do you love using for your baths?
If you're looking to do some more relaxing, too, you might also love these posts:
Thanks for reading!
Have a fabulous day,
E