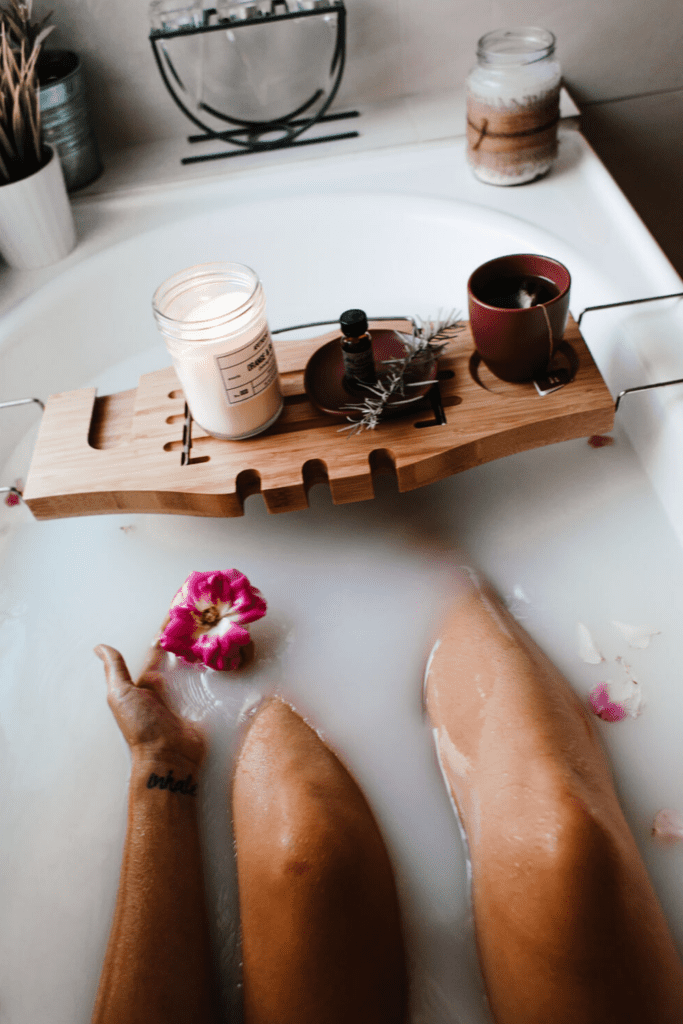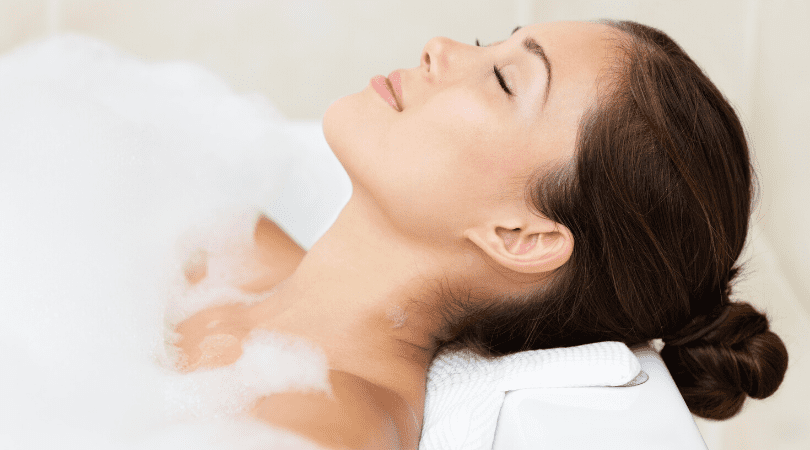 Listen, I do not have a ton of time to take baths. With three young kids around, I'm lucky to get a quick shower in.
However, I have personally experienced the incredible relaxation and pain relieving qualities of a goooood detox bath – and I feel like now more than ever, we are all in need of a good soak.
You feel me?
The Perfect Detox Bath:
Since I'll just assume that you're not drawing yourself a bath on the reg either, let's make sure that we make this detox bath one heckuva par-tay, mmkay?
It's a pretty simple lineup for sure success. All of these steps play a role in increasing your body's natural ability to:
Detox heavy metals and toxins
Drain the lymphatic system and increase circulation
Reduce inflammation, joint stiffness and pain
Encourage stress relief and promote serious relaxation
Give you some serious, much needed self-care
So, do some light stretches and then get ready to soak your troubles away.
You deserve it.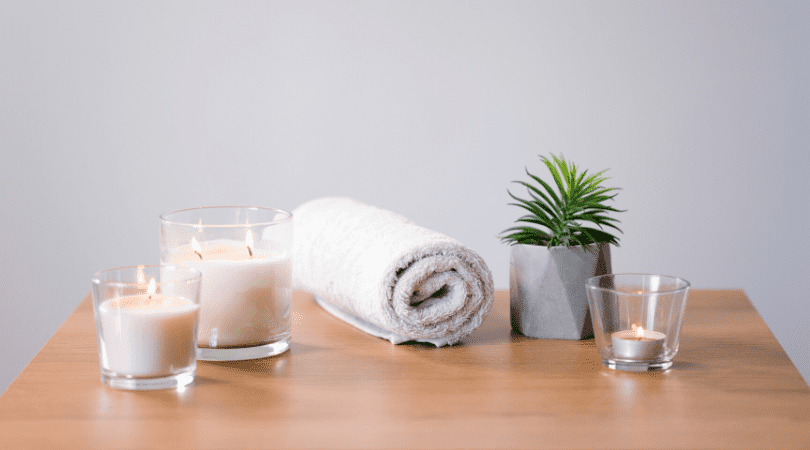 Check! If you aren't sure if your candles are non-toxic, check out my most recent post on my 5 faves.
Light that bad boy to set the moooooood.
Simply lowering the lights can help reduce stress levels and increase relaxation.
Sure, you could use a candle that has perfumes and paraffin wax – but the goal is to detox here, so go gentle on your body 😉
2. Prepare the Bath: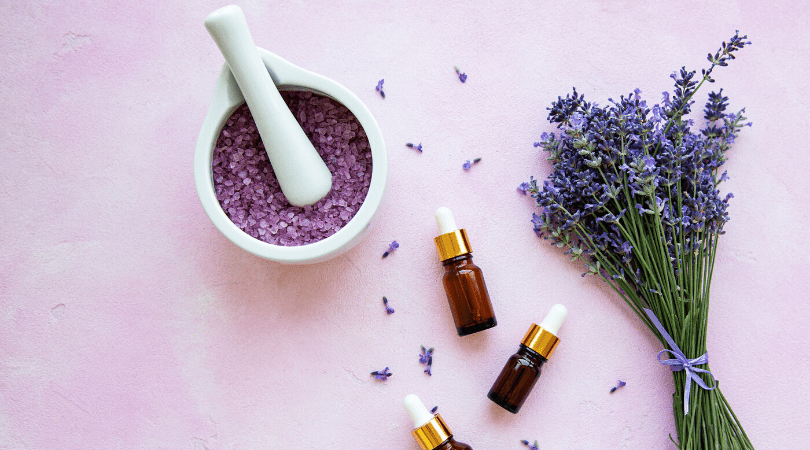 It's time to run that bath. Experts say the perfect temperature is around 92-100 degrees F. Obvi don't use a thermometer, simply feel the water and make sure it's right for you.
If it's on the warmer side, it'll help your detox bath salts dissolve, though, so think about that.
There are several types of detox baths you can do here. The idea for all of them is the same – typically it involves epsom salt, which infuses your body with magnesium (similar to swimming in the ocean) and increases relaxation and reduces stiffness and cramps in muscles, joints, etc.
For product suggestions below, some are affiliate links. I only recommend what I use and brands I trust.
I love magnesium so much, I wrote about how magnesium lotion is one of the 10 supplements I take every day for my autoimmune diseases.
For me, I like to keep it easy and grab one of these ready to go solutions with epsom salt, essential oils and everything prepared:


You can easily whip up your own recipe at home if you're a big DIYer and here's a quick recipe to customize:
1/4 cup epsom salt
1/4 cup baking soda
1/4 cup sea salt
Relaxing essential oils such as lavender, chamomile, frankincense eucalyptus or any other EO that is relaxing for you (up to 10 drops or so total). I love this anti-anxiety essential oil blend.
Some also add apple cider vinegar, but I find the smell distracting. Your choice here.
Or, if you are so inclined, take it up a notch, with a CBD oil infused bath bomb. I love this one from Hugs Wellness: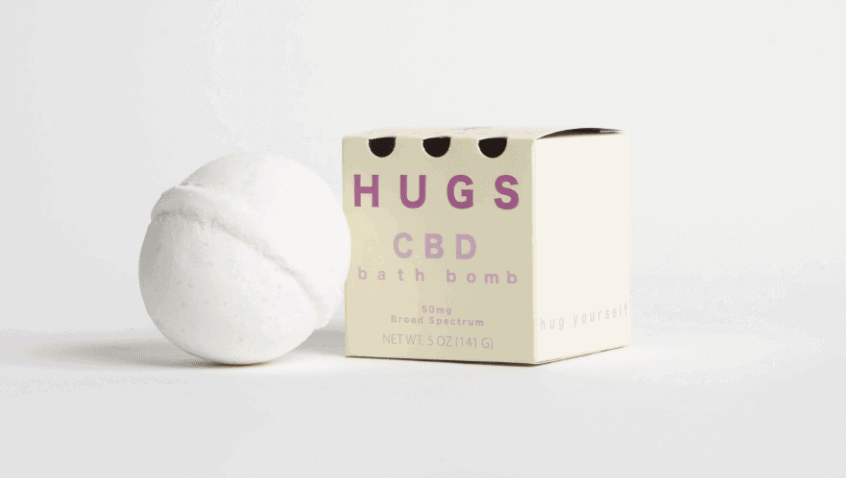 You can add a gentle bubble bath, too, if that's your thing. Here's my absolute favorite and the almond smell is DIVINE.

3. Dry Brush:
While the water is running, grab your dry brush and do a quick 2-3 minute rub down using the dry brush method. Basically, you brush in short strokes moving from the farthest parts of your body towards the heart.
Don't use it on your face, unless you have a face dry brush. Here's a post on how to dry brush your face.
I wrote a whole post on the benefits of dry brushing and how it opens the lymphatic system, encouraging your body to naturally expel toxins.
It's great for reducing inflammation, increasing circulation, and refreshing skin.
4. Face Mask: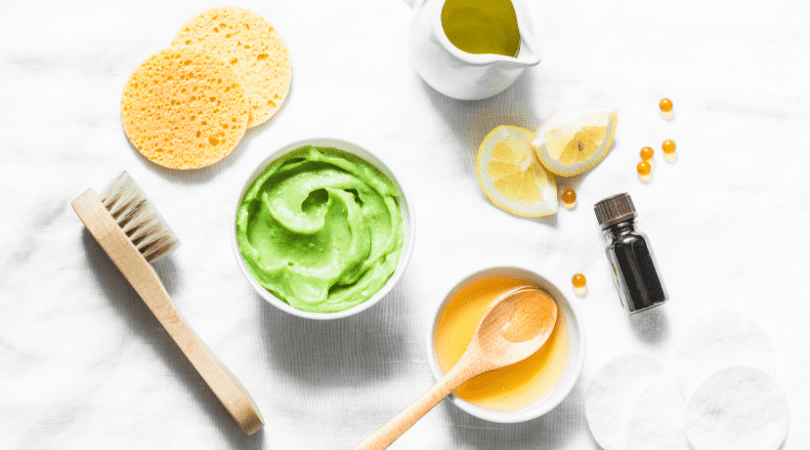 Time to get yo face mask on girl. You can put this on while the water is running and then let it sit until you're almost ready to get out.
If you have a favorite face mask, grab it.
Or, whip up one of these homemade face masks for clear skin!
I have a bit of a thing for face masks, so you're welcome to also check out this post on Peter Thomas Roth face masks or grab one of these blissful Bliss face masks on Amazon. Hurrah.
And, if you're already checking out on Hugs, you could throw their chamomile clay mask on, which has charcoal, glacial clay, and broad spectrum hemp extract for ultimate relaxation.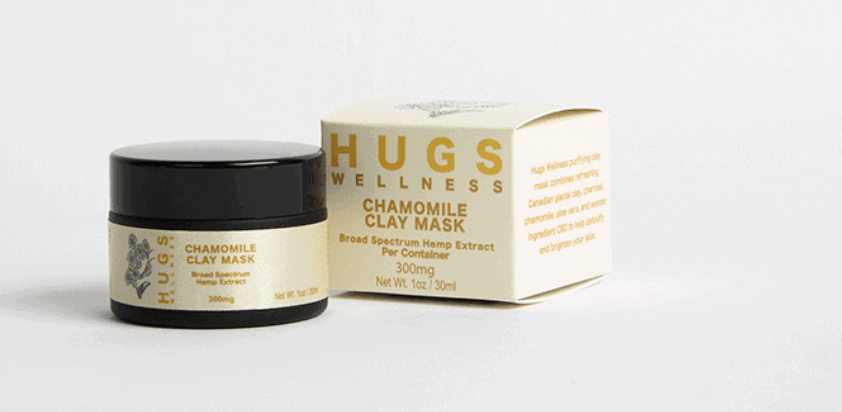 5. Meditations or Music: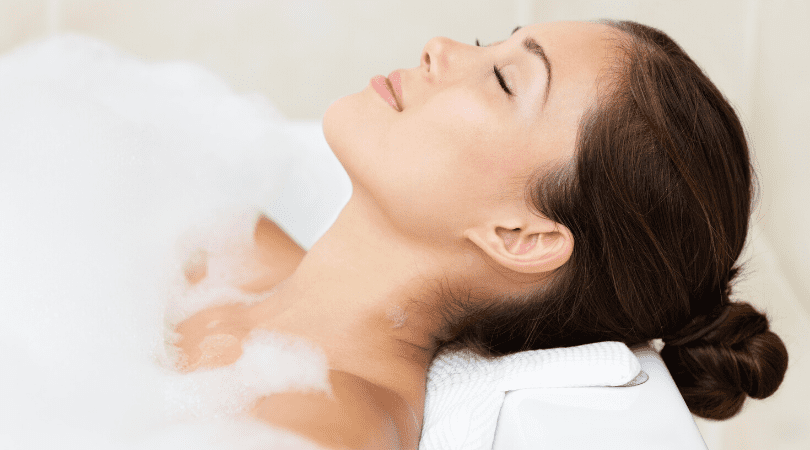 Consider your mental headspace. Would you benefit from a guided meditation? I have been exploring all of the apps in my post on the best meditation apps for guided breathing and they have really been helping with sleep and reducing anxiety.
Or, maybe just play some sound tracks of rain, ocean waves, or another relaxing sound. You can also do music, too, if that is what is most relaxing for you. Here are my favorite relaxing music soundtracks.
And, hey, no judgement if you just want the sweet, sweet sound of silence.
****
That's it! So easy! You probably have most of these things at home or can Amazon prime them in anticipation for your much needed moment of self-care.
Ideally, you'll have at least 20 minutes to soak for the full benefits. And, when you start to get out, make sure to take it slowly. Sometimes, the epsom salt can lull you into such serenity, you'll need a second to find your balance again.
I hope that after this bath, you are crawling into the world's softest pajamas, slipping on some puffy slippers, and maybe even a robe, and crawling right into bed.
For extra relaxation, cuddle up with one of these weighted blankets. I love mine.
Relax girl, you got this.
Have a fabulous bath,
E