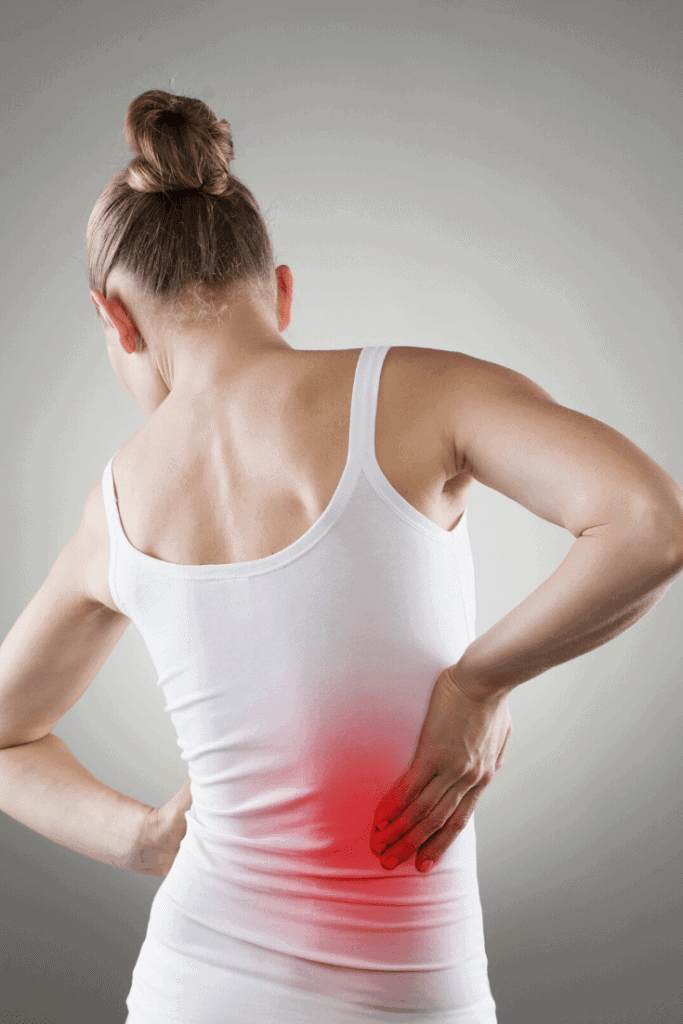 When you're suffering from an autoimmune disease, you have what is called an "invisible illness".
This means you may not look like you're sick at all – when in fact – you are in constant, chronic pain from the overwhelming inflammation in your body.
While some inflammation is perfectly normal and healthy, the hallmark of an autoimmune disease is when that inflammation is like a runaway bullet train. Too much = health issues.
After being diagnosed with 2 autoimmune diseases myself, I have certainly learned a thing or two (or many things) about living with chronic pain, but also, what I can do to help manage that pain and take back some quality of life.
Here are some of my favorite products for easing the chronic pain we all deal with on the reg.
Here we go:
I get a lot of neck stiffness, shoulder stiffness and pain, headaches, etc. I'm going to bet that you do, too.
I picked up this microwaveable neck wrap and adore it. You can freeze it for cold therapy or microwave it for heat therapy.
The soft, velvety exterior feels good on bare skin and the inside is filled with 100% natural herbs and flax seeds. When I microwave the wrap, I do it for 2 1/2 minutes and it's perfect.
Reduce that toxic chemical burden, y'all!
Another fun (read: horrible) area where I get a ton of inflammation, and thus, chronic pain, is in my hands and wrists.
This is very problematic, as I am a professional writer and a mom to three little ones. So, yeah, that sucks.
I like to microwave the insides to these little wrist wraps and wrap my wrists and hands up when it starts to get too much.
I have also been considering picking up a pair of these, which have awesome reviews, and use compression therapy.
The socks I am going to share with you use compression therapy for foot pain – so I feel pretty confident that these compression gloves will do wonders for my hands.
Okay, I get a lot of hand pain – what do you want from me ;).
But, I really want these hand mitts, too. I was actually thinking the other day, while using my neck wrap, that they should make something like that for the entire hand.
Lo and behold, they did. These whole hand warming mitts by NatraCure use a gel insert with a blend of 7 therapeutic botanical oils, including grape seed, jojoba oil, soybean oil, avocado oil, canola oil, mineral oil and olive oil, to relief stiffness, inflammation and help to naturally reduce pain.
The reviews are very good and the directions say you only have to use them for a few minutes 2-3 times a week.
#WorthIt
Back when I was doing some chiropractic work (very good for realigning your body and helping with pain), they would put this whole back, warmed back wrap on me for a few minutes before getting to work.
It was literally my favorite part of the whole experience.
You can recreate that amazing feeling at home by microwaving this bad boy and getting some rest while it relaxes your back. You can heat it or cool it for whichever brings you the most relief.
And, hey, you'll have an excuse to catch up on your Netflix and chill.
#SCORE
These were one of the very first products I bought to help with natural pain relief in my feet.
I still wear my Thorlos socks many years later. In fact, I've bought them for several friends and family who have been diagnosed with lupus, plantar fascitis, rheumatoid arthritis, fibromyalgia and more. Everyone loves them.
They are so helpful at alleviating that awful sensitivity that I have in the mornings when it feels like I am just walking on bruises.
They also hold up really well over time, too, so you won't need to replace them too often.
There are a few different sizes and styles. Personally, I likes these ones that go up over my ankle.
Since I don't wear these with shoes or outside, it doesn't bother me that they are bulky.
This microwaveable eye mask compress does wonders for the eye pain that I get. If you have Sjogren's Syndrome, you'll find this particularly useful for also helping with tear production to moisten your eyes naturally.
It also feels really good if you're having a headache or any facial pain from inflammation.
Plus, it comes with a removable cover to protect the eye compress and a drawstring bag to store it.
Weighted blankets have been all the rage lately, and for good reason, they are incredibly therapeutic!
Proven to help with all sorts of ailments, such as anxiety, insomnia, depression, chronic pain, and more, they tackle quite a few of the problems that come with inflammation and autoimmune diseases.
My husband got me this exact weighted blanket for Christmas and I really love it.
The only concern is that it is quite heavy to move around, so if you don't want to leave it on your bed, you may need help moving it back where you want it on days when your hands are hurting.
Let's not forget those feet! When you need some heat therapy on your tootsies, these fluffy, cozy slippers can be thrown in the microwave for some added relief.
So, you can now relax with your microwaved neck wrap, eye mask, back wrap, hand mitts and slippers.
Talk about relief.
So, this last product is a little different – but also very, very effective at relieving tired, sore muscles anywhere on your body.
I use two pumps of this magnesium lotion on my upper arms and two pumps on my lower legs every night before bed.
It helps tremendously with body cramps, insomnia, anxiety, and more.
You can also use it on your low back or shoulders or anywhere you are having pain. This magnesium lotion works similarly to an epsom salt bath.
Brand does matter with this – and I have had very different results with other brands, so consider trying this lotion if you aren't already using one you love.
*****
There you have it! My top 10 picks for products that will help ease chronic pain in your body. I have and love most of these and the last couple are on my wish list!
Do you have a favorite product that you use? Tell us all in the comments below.
To our health,
E