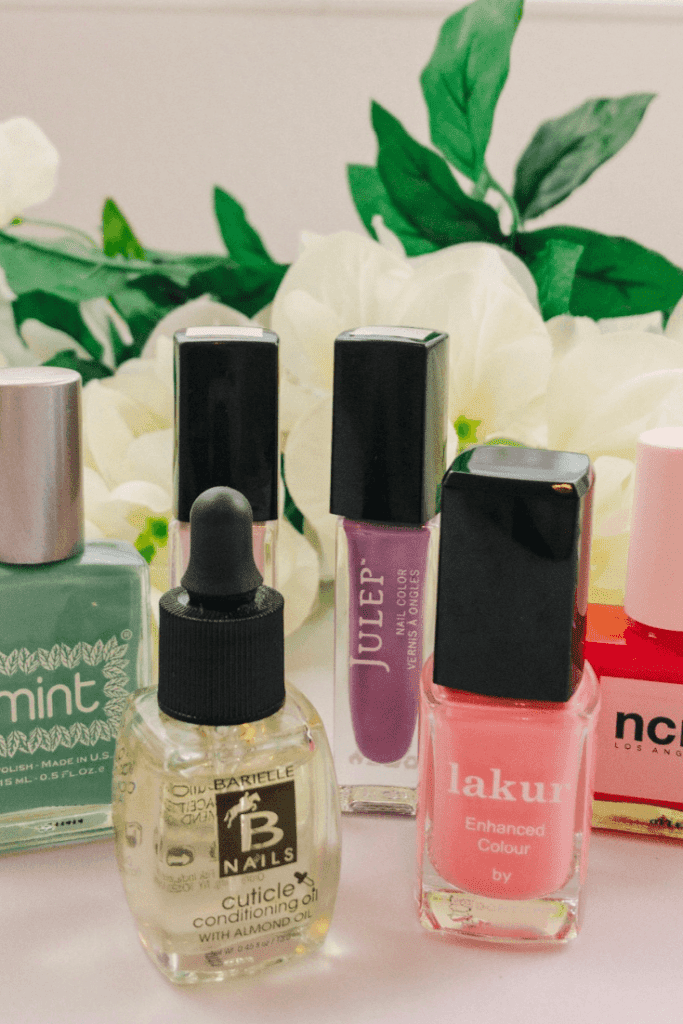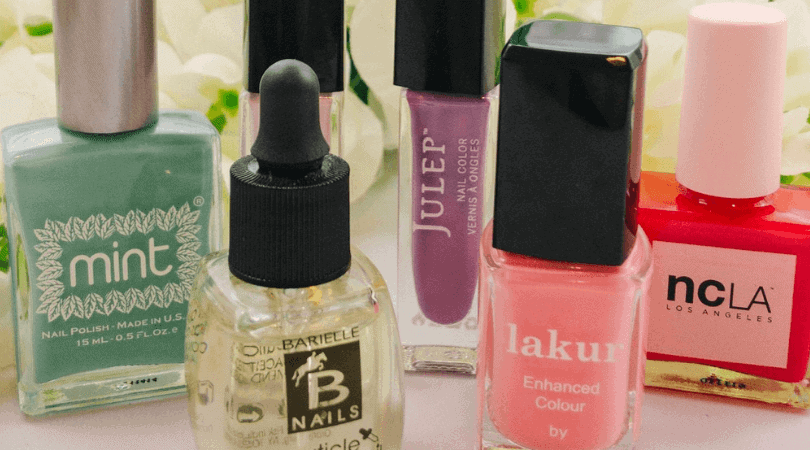 Hi, my name is Erica, and I bite my nails.
While I have always dreamed of having long, healthy, gorgeous nails – that has just never been the case. Between banging them on piano keys, a hundred hand washes a day because #kids, and just general chipping from life and health issues – my nails have always been stubby and not cute.
I'm one of those girls that goes to get a manicure and gets a lecture on how my cuticles are why I'm single.
I'm not. They just assume that with cuticles like that – nobody would marry me.
They have a point.
So. while this will never be me…

I can have healthy, strong nails that look nice and stop breaking.
How To Strengthen Nails:
Lately, I've decided to put some effort into strengthening my nails by using nail care products that are also safer and have less chemicals.
Turns out, some of those chemicals can actually be the culprit for weakening nails.
And, by adding in skin and nail strengthening ingredients and adjusting my nail care routines a little, I have already started to see some results.
Here are a few of the easy swaps that we can make to strengthen our nails:
Drink more water (I mean, I feel like this is pretty much the solution for everything)
Use oils like almond and olive oils for cuticle oils and nail soaks
Avoid chemicals found in non-7 free and 10-free nail care products (see more below)
Take a biotin supplement
Address any nutrient deficiency with high quality supplements. Here are the 10 I take almost every day.
Use a natural or organic hand lotion – I absolutely love the Trader Joe's hand cream – and it's so affordable!
Give nails a break between polish
While most of these are easy swaps you can make in your every day lifestyle, let's talk about the nail care products I have tried recently that you might really love, too.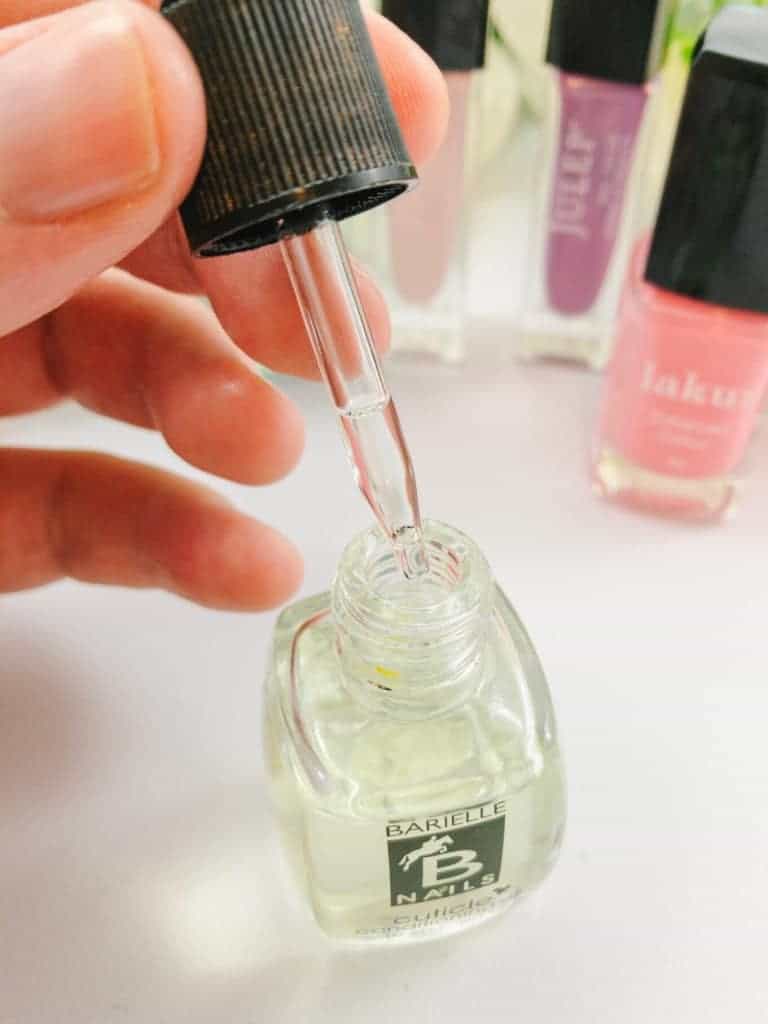 Alright, friends, this one is a GAME. CHANGER.
I have NEVER been someone who regularly used a cuticle oil. That was sort of reserved for those manicures I got every few months.
Then, I tried this one from Barielle. It happens to be one of the clean nail care products they are known for and I can totally see why. I'm so glad they reached out and asked if I would review this product, because it's totally transformed my nail health. That's one of the coolest parts of this job – I get to learn about so many new products I wouldn't have know about otherwise and then I get to share them with you.
This Cuticle Conditioning Oil contains Almond Oil, a marinade of Safflower and Cottonseed which nourishes, protects and strengthens, which prevents breakage. Also, Tea Tree Oil and Vitamin E heals dry cuticles by restoring the natural oils that are stripped from the nails from harsh chemicals.
This cuticle oil is also cruelty-free, pregnancy safe and 7-Free. SCORE.
How To Use Cuticle Oil:
You just put a little dot from the dropper on each nail, rub it in, and it'll soak in completely within a few minutes.
Then, just rub whatever is left around your hands. It isn't sticky, slippery, or oily. There is just the slightest smell from the actual ingredients, no synthetic fragrances added at all.
Voila.
Does It Actually Work?
My nails look NOTICEABLY better. They cuticles don't get as gross or start piling up and then tearing. My nails have a subtle glow and don't peel as much.
It's sort of like your nail strengthening fairy godmother.
You'd think this kind of nail miracle would cost an arm and a leg – but the Barielle Cuticle Oil will only set you back $10.
I mean, seriously, I waste $10 on random things from Target that I don't even remember buying.
BUSY MOM HACK:
I'm about to blow your mind right now.
If you're crazy busy like me and barely have time to shower, let alone engage in regular self-care like using a cuticle oil, here's what you're going to do. You're going to put the cuticle oil in your kitchen.
When you're standing there waiting for a smoothie to blend, or the water to boil, or any other 30-second moment between meeting another need – you're going to pull this bad boy out of your spice drawer and take care or your cuticles.
#BOOM.
GROUND.BREAKING.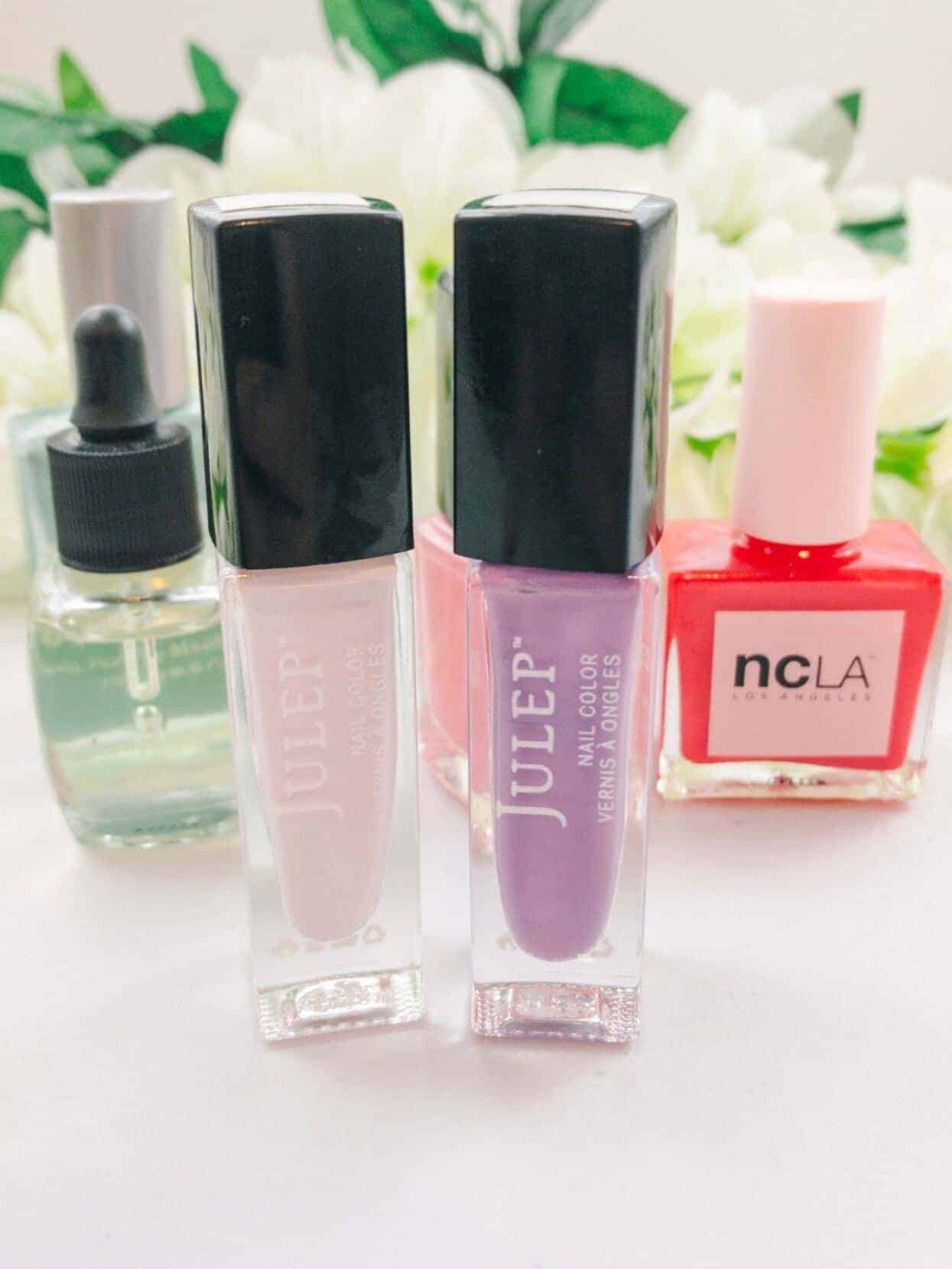 2. Non-Toxic Nail Polish
When you're ready to add a little pizzazz to your newly strengthened nails, check out the amazing options for 7-free and 10-free polish out there now.
By reducing the chemicals and toxic ingredients, you'll allow your nails to get stronger, healthier, and also, prevent those ingredients from leaching through your nails and into your bloodstream.
Why Use Toxin-Free Nail Polish?
Good question. Turns out, nail polishes that say they are 3, 5, 7 9, or 10-free (and believe me, they WILL tell you if they aren't!) do not have some or all of the following toxic ingredients:
Formaldehyde: Used to preserve and embalm dead animals (and humans). Inhaling the smell can trigger asthma. Also a known human carcinogen directly linked to causing cancer.
Toluene: A toxic liquid used as a solvent. Listed as a known human respiratory toxicant by the Environmental Protection Agency (EPA). Inhalation or exposure to your skin can cause skin irritation, light headedness, and nausea. Not safe for pregnant women as it may cause birth defects and development issues in children.
DBP: A solvent for dyes or as a plasticizer that prevents nail polishes from becoming brittle. This toxic chemical has also been linked to birth defects, delays in child development, and cancer.
Camphor: Turns your nails yellow after you remove polish. Can also cause nausea, dizziness, headaches, seizures, and liver damage when inhaled or consumed.
Formaldehyde Resin: While not linked to cancer, it can cause skin allergies such as dermatitis. Also used in the production of paint and adhesives. May also cause skin outbreaks and respiratory problems.
Xylene: A powerful, colorless chemical used in paint, nail polish, rubber cement, and gasoline. Can damage central nervous system and cause headaches, skin, eye, nose, and throat irritations, also memory problems, gastrointestinal discomfort, and has been linked to kidney and liver issues.
Parabens: Preservatives used in cosmetics to prevent the growth of bacterias. They are absorbed by the body and enter the bloodstream. Have been shown to interfere with hormone function.
Fragrances: Can cause sinus inflammation, allergies, and other negative reactions.
Phthalates: A family of industrial chemicals used to soften PVC plastic and as solvents in cosmetics. Can damage the liver, kidneys, lungs, and reproductive system in animal studies. Particularly dangerous to male endocrine development.
Animal ingredients: To be fair, most polishes are cruelty free, even if they don't mention it. But, it's nice to know for sure.
Does that means that other nail polishes that DON'T tell you they are 7 or 10-free HAVE all those gross chemicals in them?
Yes, that's right.
Join with me in having this reaction:
HARD PASS.
Luckily, more and more nail care lines are producing non-toxic nail polishes that are really great.
Here are some of the brands I have found and really love: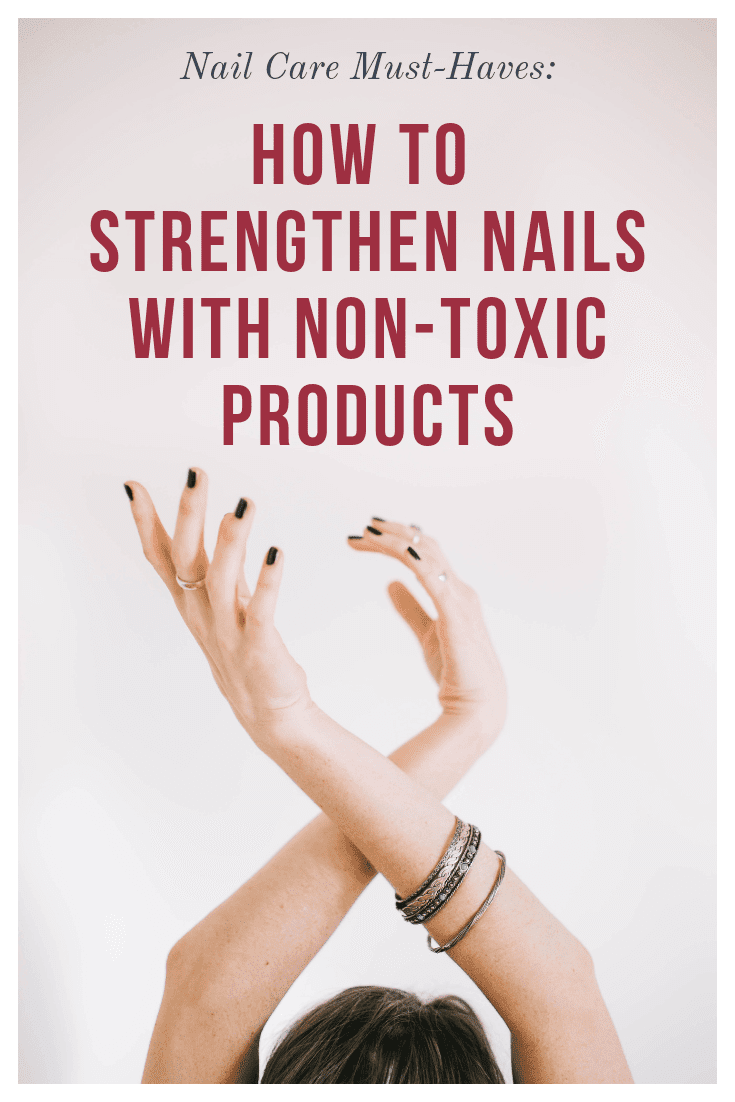 7-Free and 10-Free Nail Polish:
These are the brands I have personally tried and feel are comparable to Essie and OPI (who also have a selection of FREE polishes).
There are some non-toxic nail are lines that unfortunately just don't provide a good user experience.
And, of course there are even more lines I haven't tried. Here is a great article by Allure on more brands they recommend and I would like to try in the future.
Please feel free to leave your favorite 7 or 10-free nail polish line in the comments for all of us to try!
*****
There you have it, friends. My newest nail care regiment to strengthen my nails and reduce the chemicals I put on my nails and absorb into my body.
Easy, quick swaps that we can all make to improve our overall health.
Do you have another suggestion I should add to the list? I'd love to hear it!
Have a fabulous day,
E