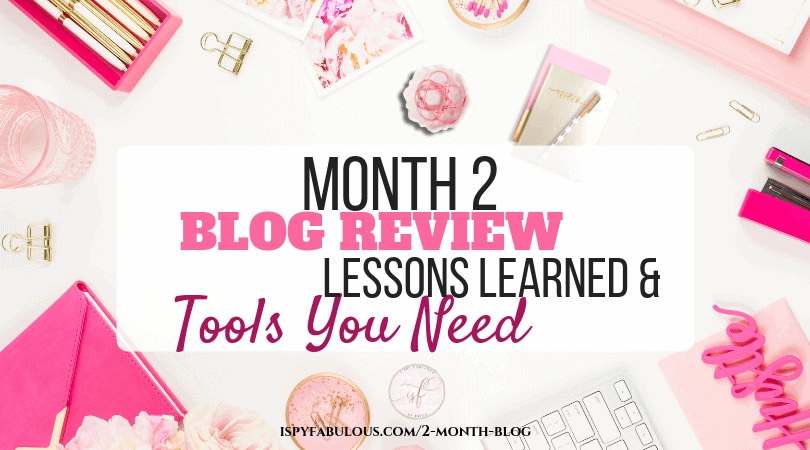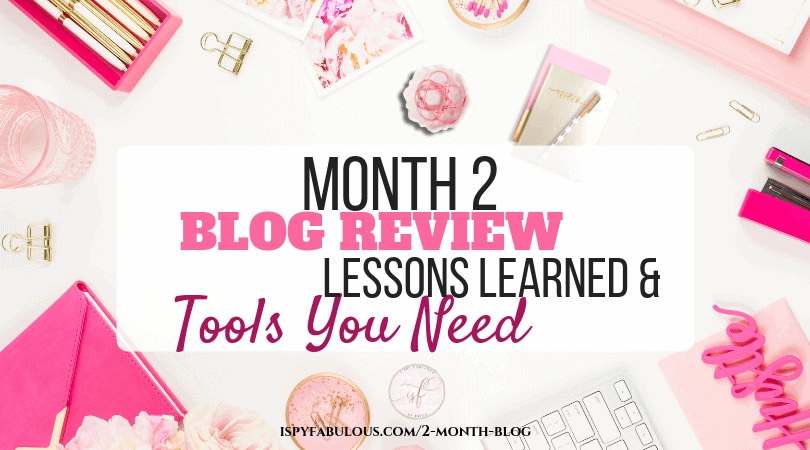 Wow, I can't believe it's been 2 months since I hit "PUBLISH" on that first blog post.
There's been a hundred times I wanted to close up shop, and hundreds more where I felt compelled to keep going, keep learning, keep trying, keep striving.
While my first month I made a handful of mistakes that I shared about in my 1-month blogging review (and you can read about them here), my second month was all about learning WordPress, learning Tailwind, learning, learning, learning. And spending. Blogging is expensive.
Sure, if you look at the long term potential gains vs. the cost of the startup, it's a bargain. But, initially, when you first start going down the blogging path, it can be an expensive pill to swallow.
So, this post is a way for me to organize my thoughts on what this experience has been like so far, what I've learned that I can pass on to you, and what tools I have found to be invaluable to the progress of my blog.
Lessons I've Learned:
IGNORE WHAT SLOWS YOU DOWN: Seeing all the lists of things other bloggers are doing and reading their income reports actually made me feel worse. So, I stopped doing it. Sure, there are those blogging unicorns out there who hit their 25,000 visitors in their first week and get accepted to Mediavine in their sleep. For many of us, it's a long game. A very long game, sometimes.
TAKE ALL THE FREE: There is SO. MUCH. FREE. HELP. I went around to so many top bloggers sites and downloaded their one freebie. Of course I wanted to download their $28 Pinterest course or whatever, but if you all of those courses and templates and printable costs up – you've just spend more than you might earn back for many months. Now, not all of those freebies were useful for me. But, many of them were. Plus, I got signed up for their email series – and this is where the golden nuggets are, my friends. So many powerhouse bloggers are sending you invaluable advice, links, resources, and printables straight to your inbox. And, for the ones that aren't jiving with your deal – you can unsubscribe.
PAY FOR THE GOOD STUFF: There are some tools and resources that will make your life so much easier and free you up to spend more time on content creation. Pay for those things. I'll talk more about what those tools were for me later.
NETWORK: Initially, I thought – who has time to also network with other bloggers? Who has time to be participating in blogging groups? But, after awhile of slogging through it all on your own, with little results, you realize that by spending some of that time networking – what you gain is: valuable advice that saves you time, resources that save you research, tools that will shorten your time from start to publish, and comaraderie that will save you time and money in your therapist's office.
REST: There will be times when you need a break. When your brain done broke. When your creativity has dwindled to a dying ember. When you can't look at another Pinterest pin. Take a break. Step away. Do something else. Then, come back to it and keep going.
Tools Worth The Investment:
1. Blog Planner Notebook: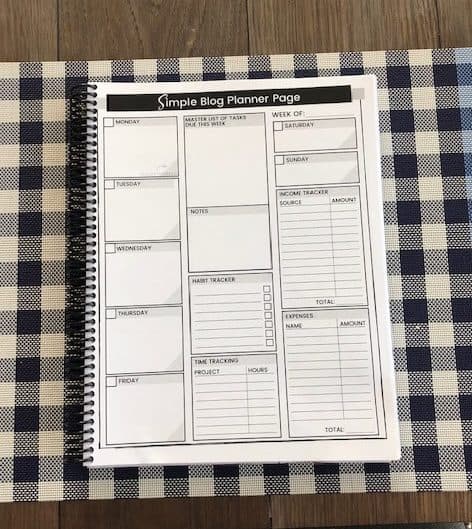 Remember my 2nd lesson above? Well, one of those bloggers was Rosemarie @ Busy Budgeter. In one of her emails, she shared a printable blog planner page and recommended getting it printed and bound at Staples.
This little notebook has been a godsend. No more random chicken scratches all over the place. This blog planner helps me really refine my plan for the day/week/and upcoming weeks. For example, I recently had two guest post opportunities, in addition to my own posting schedule, and my outside freelance clients. Scheduling nightmare? Not anymore. My blog planner to the rescue.
Just another example of how connecting with other bloggers will help you refine your own process. I would totally recommend heading over to Rosemarie's blog and signing up for her emails.
2. Tailwind for Social Media Scheduling:
I know you're probably hearing about Tailwind everywhere. And, yes, some bloggers use manual pinning strategies to save money. Blogging is not my only job, so I needed a tool that would help and Tailwind was that tool for me. I started on the free plan and it was so invaluable, I upgraded at the end of the free trial. In just one month of using Tailwind and starting my blog Pinterest page, I was up to 80,000 monthly viewers and 200 followers.
Then, this month, I maxed out my 200 pins two weeks before the end of the month, so I upgraded again to the annual plan – where you pay all at once for the year and it saves you the cost of 4 months separate #thankgod. Now, I'm seeing my monthly viewers go up about 1,000 a day or more and adding followers every day. When I check my blog analytics, my Pinterest is responsible for a good chunk of my site visitors every day.
I also use their Instagram scheduling tool, too. I chose to use this one because it allows me to then post my Instagram posts to my Pinterest, too. In addition to this awesome way to bulk up your Pinterest posting, they offer hashtag suggestions with their Hashtag Finder Tool.
Hashtag Finder Tool: This feature saves me a lot of time. We all know that Instagram allows up to 30 hashtags, and you can really increase reach of your Instagram posts by maximizing those hashtags. But, with some hashtags more competitive than others, we want to make sure we are also including some hashtags that are not as competitive or saturated. The Hashtag Finder Tool uses a color-coded feature to let you know how competitive the hashtag is. It's quick, easy to use, and effective.
Here's a 22-second video on how this tool works, so you can see for yourself that even the most non-techy among us (me! me!) can learn how to use this quickly:
They're Smart Loop tool just got released as well, and I am really excited to give that a try.
The bread and butter of the Tailwind community, though, is really the Tribes feature. Here you join communities in your blogging niche and you all share Pinterest pins. There are usually some easy rules, such as "Post 1, Pin 1". This helps fill your queue and also spread the word on your pins. I think the Tribes feature is a huge reasons why my Pinterest growth has been so steady.
3. Buffer for Social Media Scheduling:
One of my side hustles is offering social media marketing services to companies. My point is, I've used many different social media scheduling tools for clients and to teach clients how to do their own posting. I tell my clients what I'm about to tell you: the best social media scheduling tool is the one that you use.
If you need a super easy to use interface, and are willing to pay a bit for it, Loomly is a great option. If you are looking to do a lot of accounts, want some ad spend, and are techy enough to deal with a platform designed for small business and enterprise level marketers – Hootsuite is an industry standard. For me, my favorite has been Buffer. It's sort of the sweet spot between super techy and super user-friendly.
Plus, they offer a free account for a single user with up to 3 social media accounts. You can schedule them 10 posts at a time. For just $15 a month, you can have up to 8 accounts and 100 queued posts. Right now, I'm on the free plan, since I'm paying for Tailwind. But, I've been on paid plans with them before and their customer service is always great.
4. Photography Tips:
Taking photos and creating images has been a major time suck for me. It really took me awhile to figure out where the good lighting was in my house, what lighting kits would help when there was no natural light, and what stock photography jived with my brand.
This may not be helpful for you, or your niche, but I'm going to share it in case it helps someone:
FREE Photo Sites: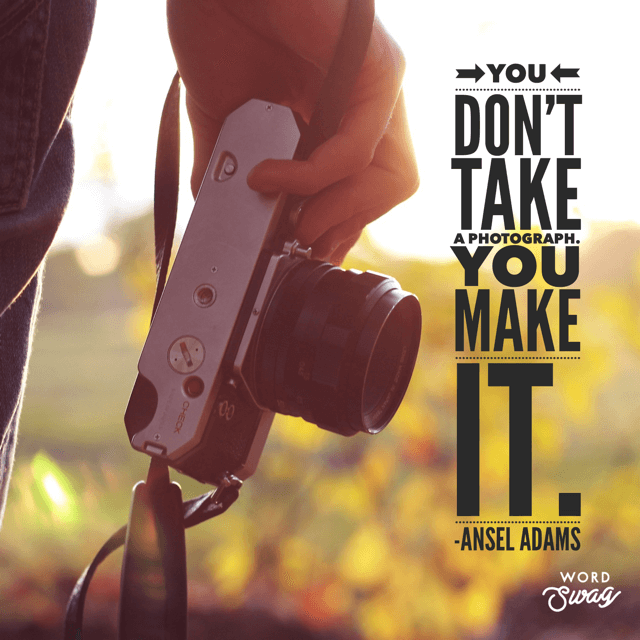 5. Photo Tools:
I have picked up a few things that help, like a lighting kit for creating soft, indoor light when you're working at night, a selfie stick for better angles, and I borrow a Rebel Canon from my cousin (god bless her). I also take great photos from my iPhone #Don'tJudge:
Goals for Month 3:
As I move into my 3rd month blogging, I am noticing that the steep learning curve is starting to flatten out a bit. I have more mental capacity to consider new things or incorporate additional strategies to help my blog growth (which has been slow).
Guest Posts/Networking: I was offered one guest post opportunity and was accepted by another that I applied for. Both of these posts have been sent out and I am excited to see what happens when they are posted. Also, I'll be posting my first brand collaboration post this week and am really excited to work with brands in this capacity. Lastly, I am continuing to strive to network and build relationships and make blogger friends. I want to continue putting energy into network growth and brand relationships in month 3 and beyond.
Continue Learning: After reading great reviews, I purchased the Genius Blogger Toolkit for this year. I am shocked at how much is in this thing. Just the cost of the stock photography and freebies is the price of the course. There is so much to use here. I plan to do one course a week – minimum – and using it in this way, it'll last me all year. A whole year of continued education on every subject related to blogging – for less than $100? Are you kidding me? YES.
Subjects I am particularly interested in first are how to improve my photography skills and email marketing. Need much help with email marketing!!
**I am NOT an affiliate for GBT and won't earn a penny if you buy a course through them.**
****
I'm sure I could keep going on this – I plan to write more blog updates each month with – so stay tuned for month 3.
I feel like I am in the trenches right now and living and breathing this little baby blog that needs so much tender loving care. It really has been an adventure and an incredible creative outlet for me. Blogging is not for the faint of heart – it's hard work – but it is also a real thrill.
I would love to hear any of your blogging tips and tricks in the comments below 🙂
Have a fabulous day,
E