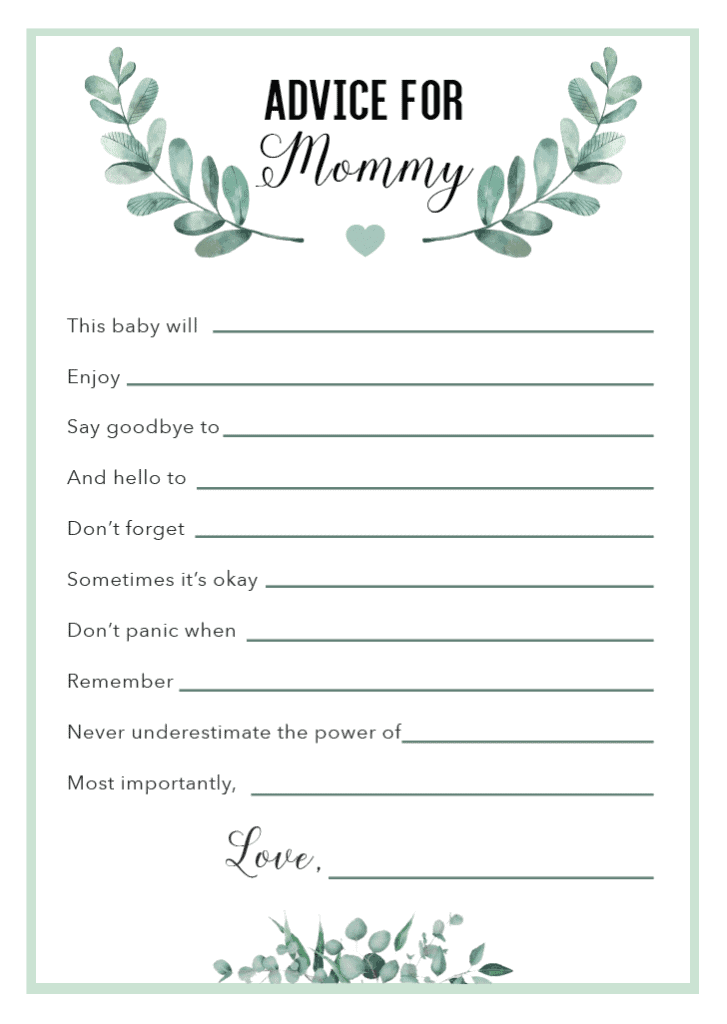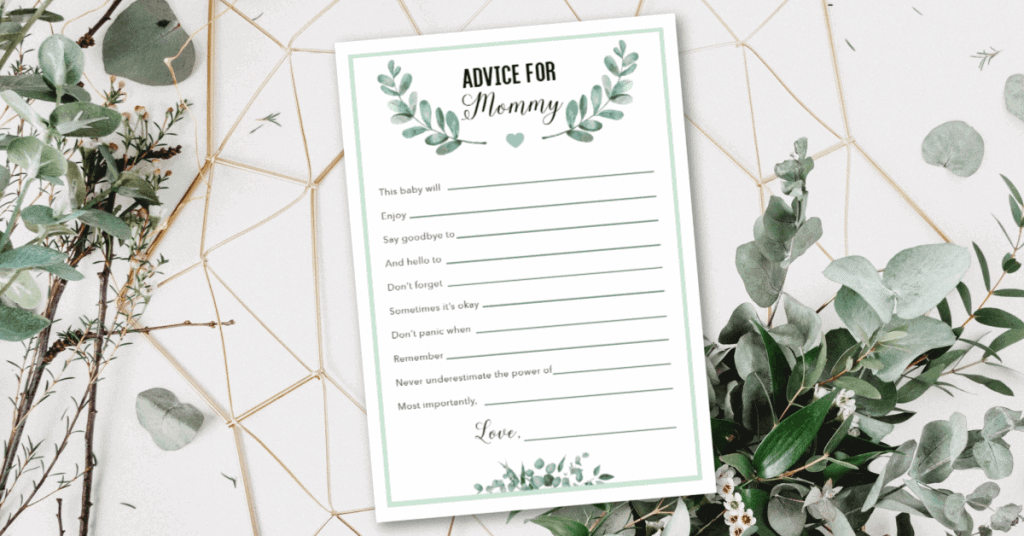 One of my favorite baby shower games is the advice for mommy cards. I think it's such a wonderful way to share our own experiences in a natural way that is often well-received by first time moms.
For some reason, most of us think we know everything before we've even popped out the kid, so we aren't usually receptive to lots of advice up front.
Then, as time goes on, and we realize how little we actually now, we are humbled enough to be more open – and having these encouraging advice for mommy cards on hand is one way to get a lot of honest ideas from other people we love and trust.
How To Use the Advice For Mommy Cards:
These are so easy to use. You can print them as full page or print two per page.
I would print them on a nice thick cardstock so they hold up well over time.
You can even use a paper cutter to get perfect edges. I'm surprised by how often I've ended up using my paper cutter over the years.
Then, just hand them out with a pen and let the guests do the rest!
You can also grab a beautiful scrapbook for the cards to go, along with the advice for mommy cards, to give the mom-to-be something to cherish over the years.
Download the Free Advice for Mom Printable:
To download, just click on the image below. Easy.
Full Page Advice for Mom: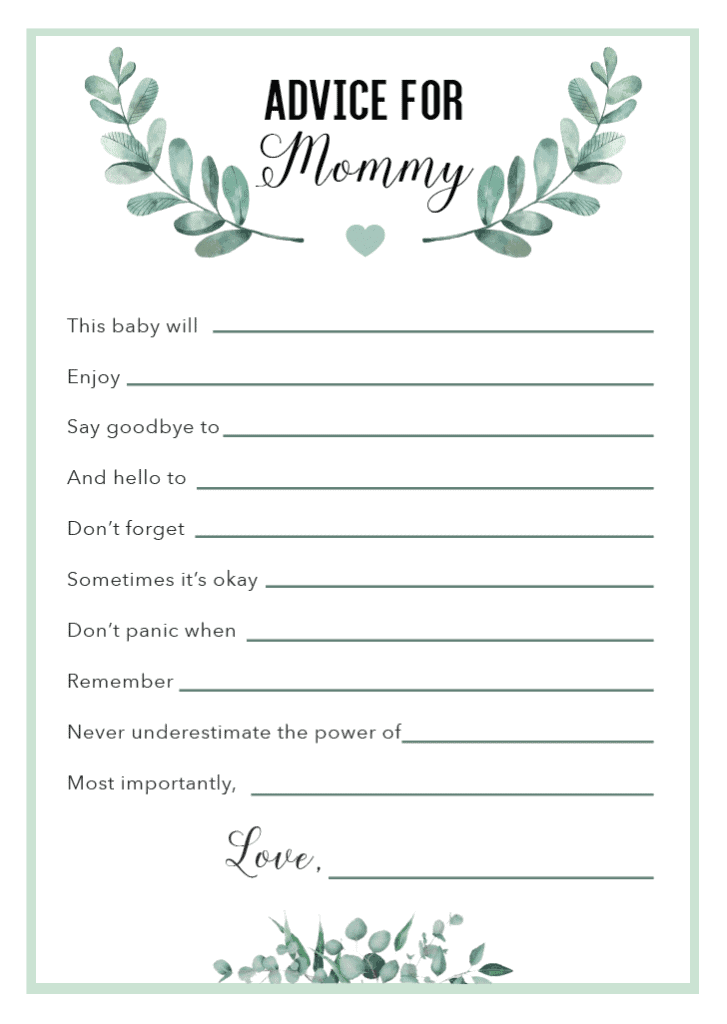 2 Per Page Advice for Mom: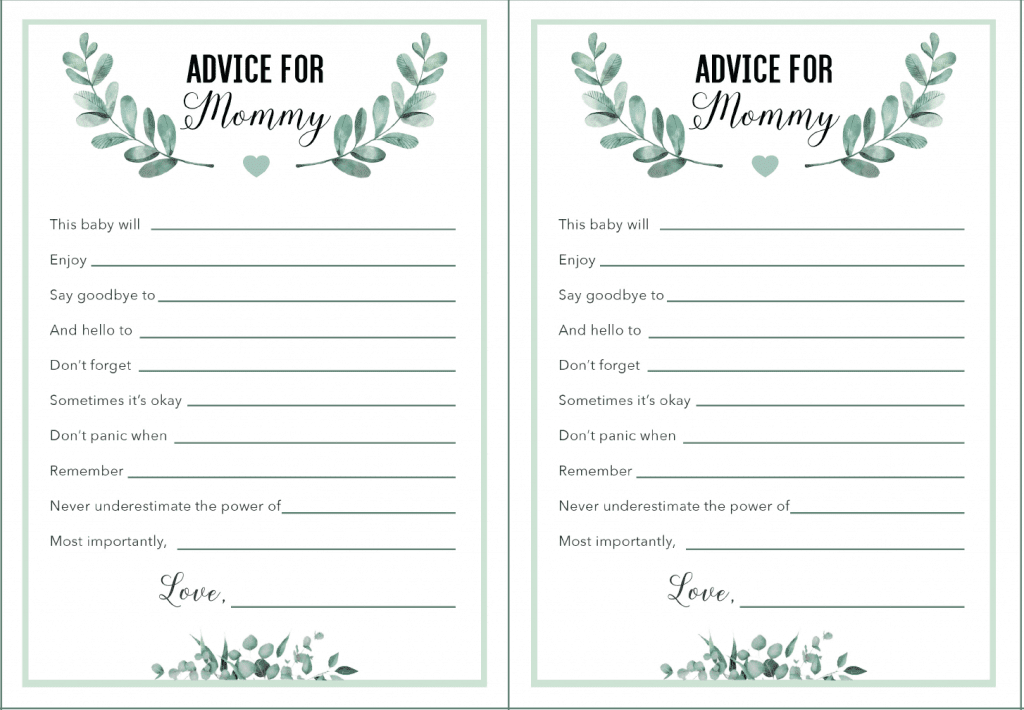 More Baby Shower Games:
This is one game in a set of 7 matching baby shower games. To learn more, just click on the link below to check them out or you can buy them as one quick downloadable set with the answer keys all included!
None of these games require any extra pieces, so you'll be ready to print and go.
Get all 7 from the link below for less than the price of 2 coffees (or less than the price of one coffee depending on your drink #NoJudgement):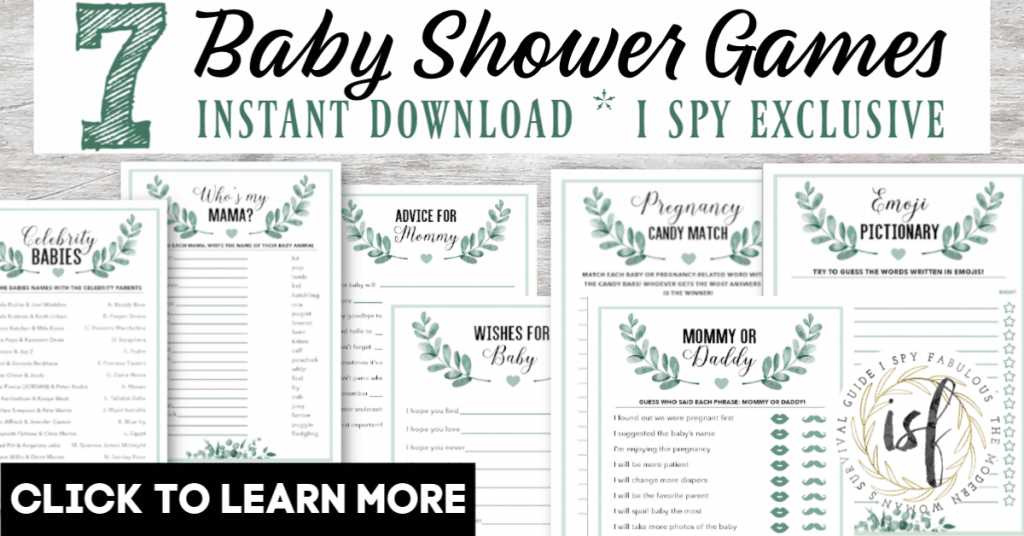 These are all of the games in the set – answer keys included:
Emoji Pictionary Baby Shower Game
Celebrity Baby Name Baby Shower Game
Mommy or Daddy Game
Who's My Mama Game
Pregnancy Candy Match Game
Wishes for Baby Cards – 2 sizes included!
I hope your shower is a fun time! If I were planning a greenery shower, here are a few things I would grab on Amazon (affiliate links used):


Every new mom will love these thoughtful additions to her baby shower and memory book. Make sure to come back and tell me how it goes!
Have a fabulous day,
E