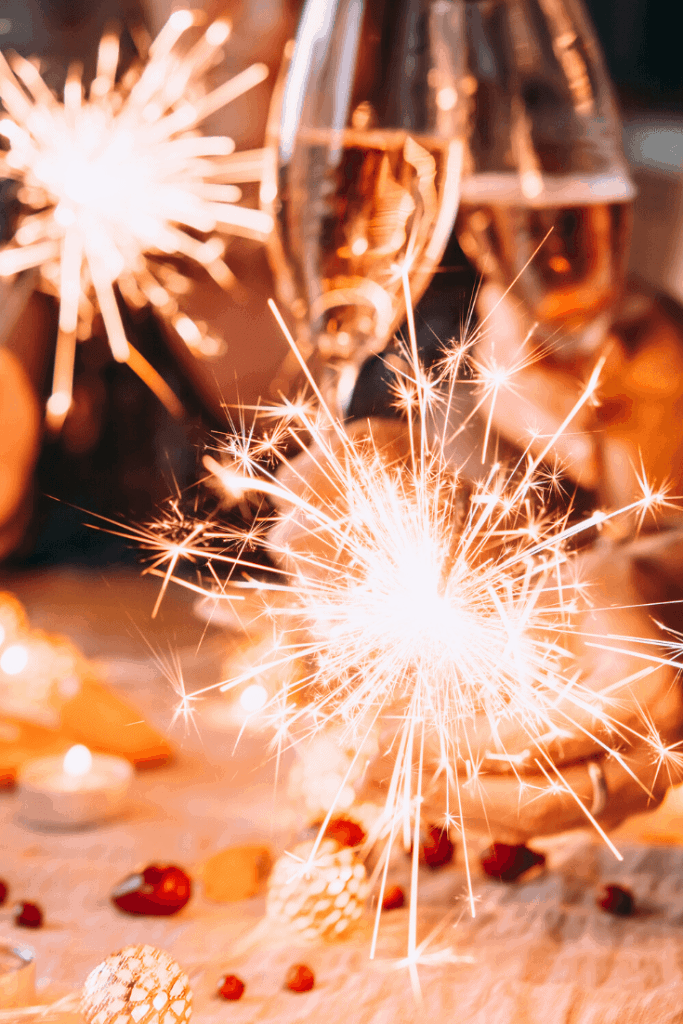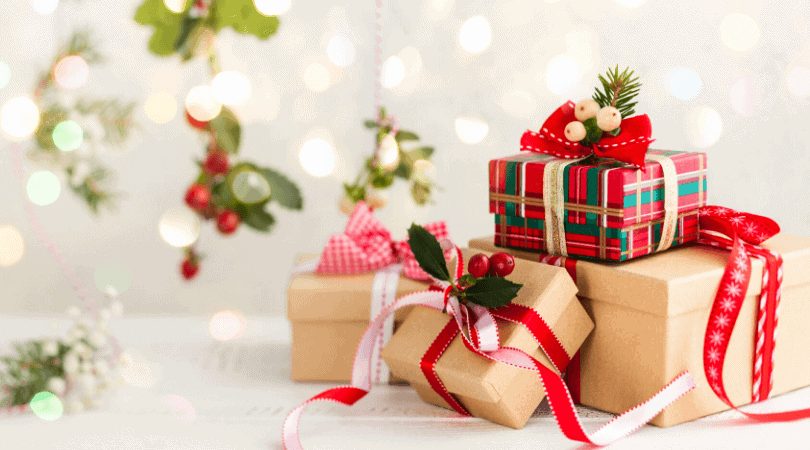 I love celebrating holidays, from the short and sweet one day holidays to the seasonal holidays that take up entire months (hello Christmas!).
To me, celebrating a fun holiday marks the passing of time in a memorable way. Without these stops, the days can just roll into the next and before you know it, you look back and wonder where the time has gone.
Plus, it gives easy, fun ideas on what to do with kids.
Because nobody appreciates a National Ice Cream Day more than kids.
Okay, fine, I love ice cream, too.
But not as much as I love Christmas…and winter..and snow…and presents.
OMG, Christmas!
Fun Holidays in December to Celebrate:
Let's look at the unique days in December that you can celebrate. I'm not sure that I would celebrate ALL of them, but can we all agree that National Ice Cream absolutely shouldn't be skipped?
Okay, good. Also, affiliate links are used here and this means if you purchase through my link, I'll receive a small commission at no cost to you. Win win.
December 1:
Eat a Red Apple Day
Rosa Parks Day
December 2:
December 3:
Give a Gift Day: Time to go shopping, y'all!
December 4:
December 5:
Gingerbread Decorating Day: Have fun with a gingerbread house or cookie decorating.
Bathtub Party Day: Some lists have the bathtub party here – so hey, celebrate it twice!
December 6:
Give a Secret Gift Day: Secret Santa anyone? You can always draw names and buy little gifts for your own family members. Kids will be just as excited as if it were from a total stranger.
December 7:
National Cotton Candy Day: You can buy cotton candy on Amazon!
Cat Herder's Day: Celebrate by cuddling some kittens waiting to get adopted!
Letter Writing Day: Write some letters to grandparents – they will love it!
December 8:
National Brownie Day: Oh, I've got 25 delicious recipes for you to choose from!
Winter Flowers Day: Go buy some winter flowers and create arrangements.
December 9:
Christmas Card Day: Get some craft supplies and let kids make some to give away.
Homemade Gift Day: Have kids make a special gift for a teacher or family member.
National Pastry Day: I'm partial to these easy chocolate croissants.
December 10:
Human Rights Day: Spend the day serving others by volunteering at a food kitchen, a shelter, or taking blankets to the homeless.
Our Forefather's Day: Share a lesson from one of the country's forefathers.
December 11:
National Humbug Day: Watch a fun Scrooge video!
World Choral Day: Celebrate by listening to some choral music videos
December 12:
Poinsettia Day: The flower of Christmas is beautiful. Buy some to celebrate.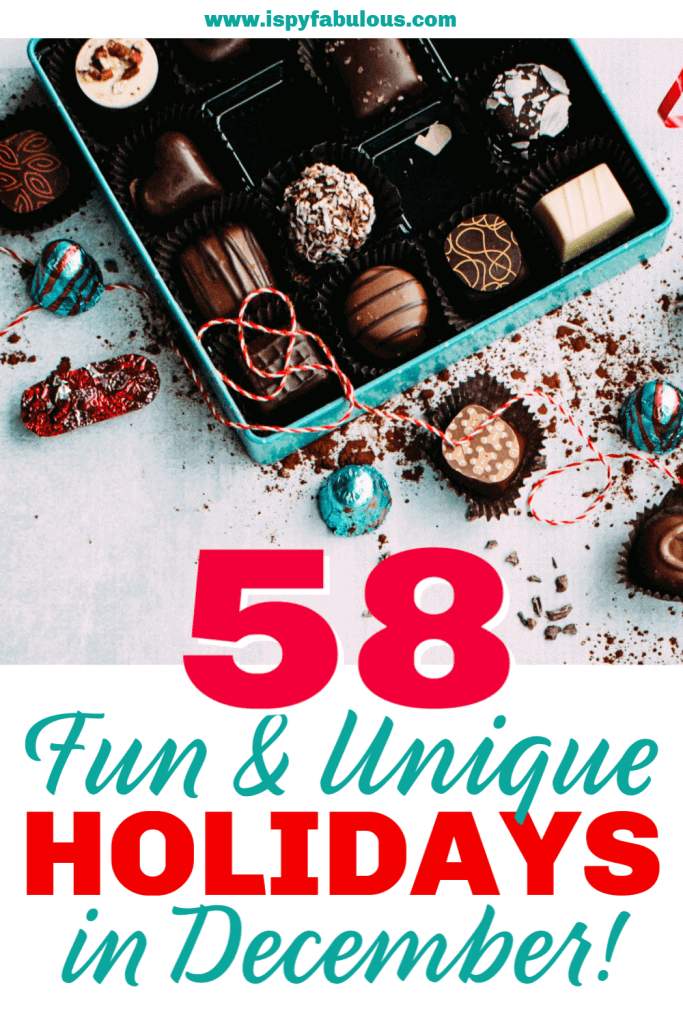 December 13:
Ice Cream Day: I can really get on board with this one.
National Whiner's Day: Kids should be experts at this one!
Violin Day: Violin music is beautiful. Share some electric violin music to get kids really excited.
December 14:
International Monkey Day: Yes, this is a real thing.
Deck The Halls Day: If you haven't already decorated, today is your day!
December 15:
National Cupcake Day: December just keeps getting better and better.
Bill of Rights Day: Interesting learning opportunity
December 16:
National Chocolate Covered Food Day: I mean, my god, I have an actual holiday giving me permission to cover everything in chocolate.
Boston Tea Party Day: Have a tea party to celebrate.
December 17:
National Maple Syrup Day
Wright Brother's Day: A celebration of their first flight
December 18:
Answer the Telephone Like Buddy the Elf Day: Listen, I confirmed this one on like 4 different lists. It's a thing. I would just take a loose translation and watch The Elf movie!
December 19:
National Hard Candy Day: Lollipops, anyone?
Build a Snowman Day: If you aren't near snow, make one out of pillows!
December 20:
National Ugly Sweater Day: They even sell ugly sweaters at Costco now. Wow.
National Caroling Day: Get out there and sing from the heart!
National Sangria Day: Go moms, this one is for you 😉
December 21:
National Flashlight Day: Kids would love to celebrate this one.
National Wreaths Day: Time to make your own or put out some wreaths!
December 22:
National Cookie Exchange Day: An actual day giving you total permission to make a ton of cookies to eat… I mean, share.
December 23:
First Day of Chanukah/Hanukkah: I always thought it would be fun to celebrate Hanukkah and Christmas. Although, I'm not sure we could afford it, lol.
December 24:
Christmas Eve!
National Eggnog Day
December 25:
Christmas: It's time. Have some fun, people. Make some memories.
December 26:
Boxing Day
Kwanzaa
National Thank You Note Day
National Candy Cane Day
December 27:
National Fruitcake Day: This one is a hard-pass for me, but I'm putting it here in case you are confused about what constitutes a good cake 😉
December 28:
National Chocolate Candy Day: Amen to this one.
National Card Playing Day: Uno is the best.
December 29:
National Pepper Day: Mmkay…
December 30:
National Bacon Day: Oh yes. Down with this one.
Take a Walk Day: Well, after eating all that bacon…
December 31:
New Year's Eve!
National Champagne Day: Lookin' at you, moms!
****
So, basically – December explains all of that winter weight gain. We are just being festive by celebrating all of these holidays.