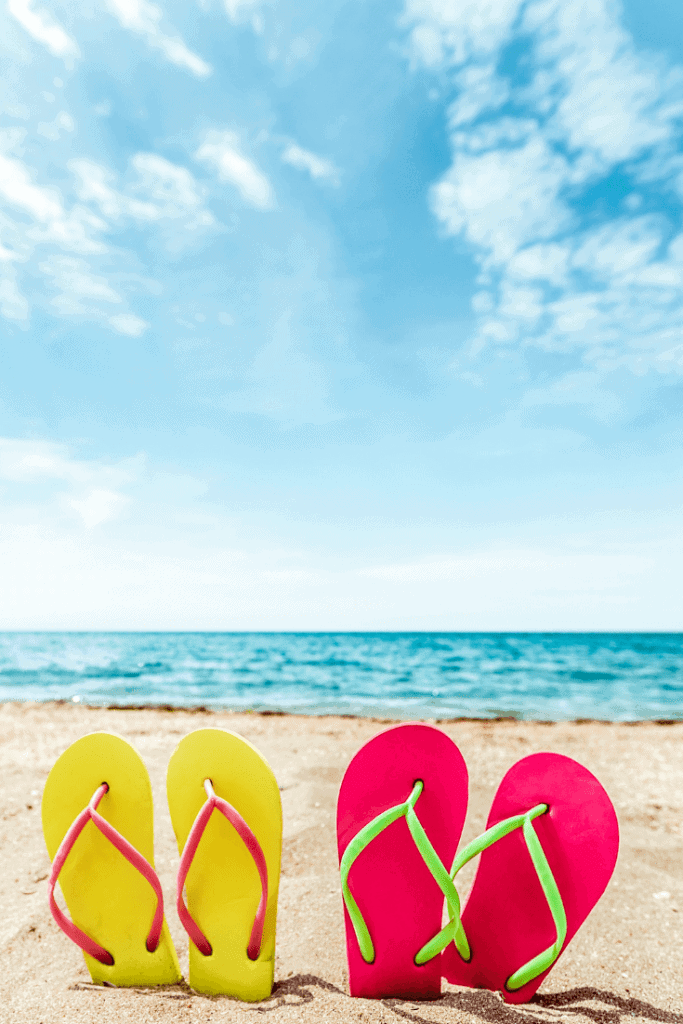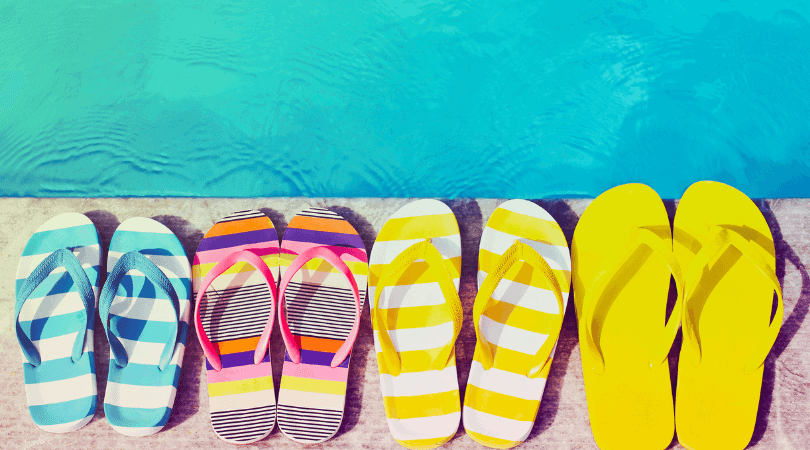 I live in California where flip-flops are pretty much a wardrobe staple.
But, not all flip-flops are created equal. In fact, as I get older, I find some to be downright uncomfortable.
And, if you have any kind of chronic pain or something like plantar fascitis, you might think you can't wear them at all.
I'm here to tell you, friends, that there are some gloriously comfortable flip-flops out there.
That's right, they can be found – and I'm spilling the tea right here with you today.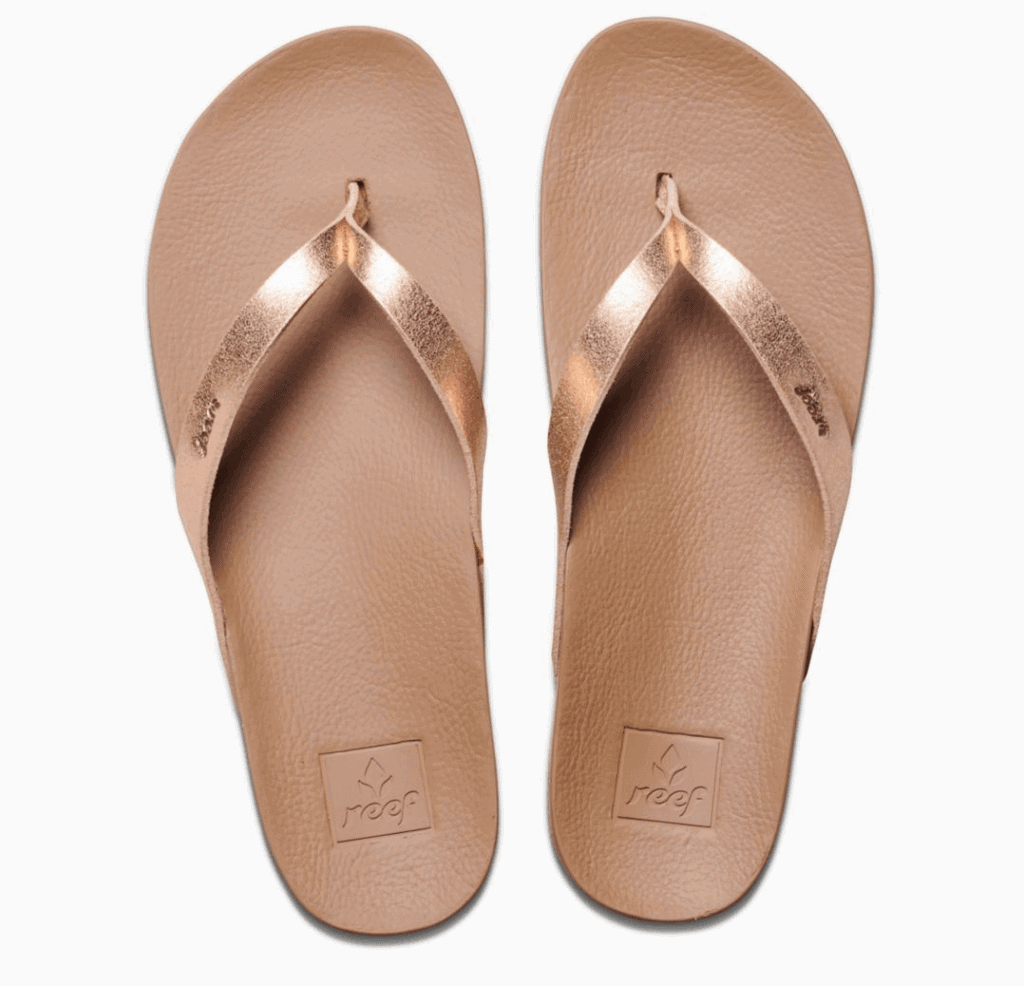 I just found out about these beauties and you bet they came home with me.
These tout some pretty impressive features for comfort, such as arch support, energy return and cushioned footbed.
Plus, they come in 7 super pretty colors, including gold, rose gold, and a pretty brown snakeskin.
Feel free to check them out here, or you can Amazon Prime 'em and have them even sooner. Amazon doesn't offer as many color options, though.
Back when I was preggo with my kids, these were the sandals I wore to death for the third trimester.
My feet were swollen, I couldn't bend over to put on anything with a strap, and I needed something that would get me through the day as a teacher.
They are seriously so, so comfortable. The only problem you'll have is deciding which color to get, because there are so many.
Try them to see for yourself here.
Clark is another comfort shoe line and I love these well-designed flip flops. They are adorable, even if you aren't looking for a comfort shoe.
The red, in particular, is really calling my name.
Another win by Clarks and by DSW. Bravo.
Check them out here.
I live in California, land of perpetual sun. If you're not wearing flip-flops for the better part of the year, people look at you funny.
But, when your feet hurt all the time – flip-flops become a daring adventure.
So, when I saw these Sanuk flip-flops made from yoga mats, I thought – it's worth a shot.
And now you'd have to rip these from my kungfu grip I love them so much.
Sure, I wouldn't wear them to run a mile, but let's be honest – I'm not running a mile anytime soon.
Sanuk runs some good promotions, too, such as right now you can get 20% off with multiple pairs.
Check them out on Amazon or Sanuk.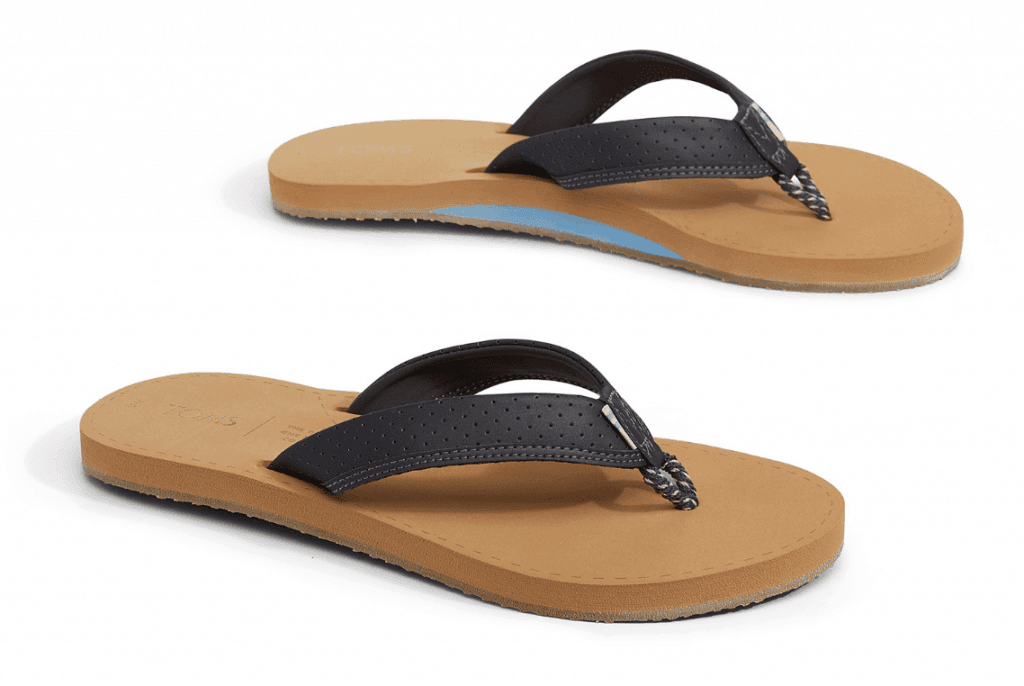 I've worn these for years. They do change the design slightly each year, so once you wear them out – know that replacing them will be a little bit of a different experience.
This summer's are nice and cushiony and like most TOMS, I don't experience any breaking in period.
While the design two summers ago stands as my all-time favorites, my dog ate one of them – so those are permanently out of commission.
Check them out here and see what you think.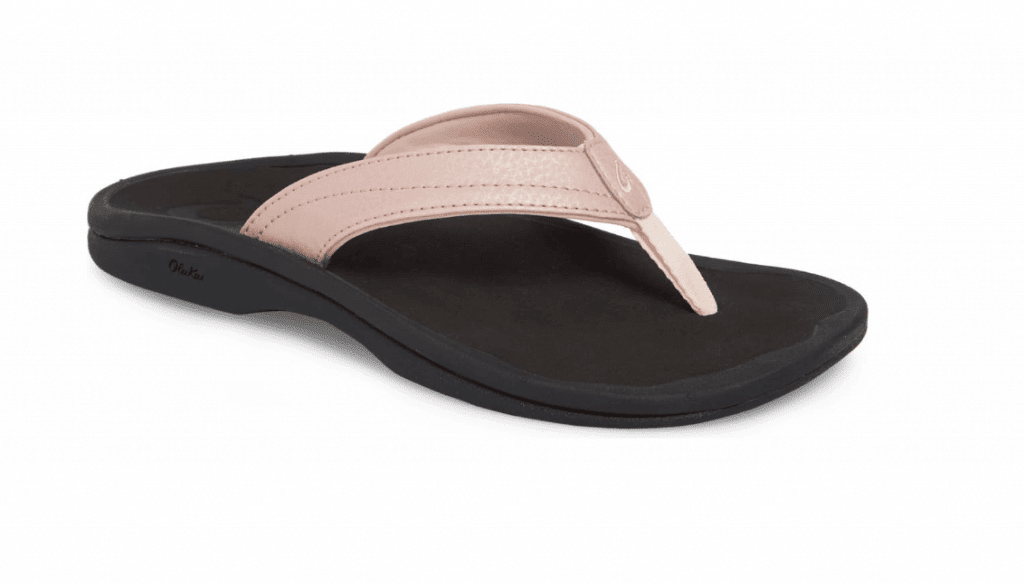 This brand has become synonymous with comfortable shoes. Just check out some of the ratings for these flip flops, and all of their sandals.
Several of their designs have made it on the most comfortable sandal lists.
Makes sense that a line inspired by Hawaii would basically feel like walking on clouds.
The most heavenly place evokes the heaven-sent shoes.
Check these Ohana sandals out and all of the many color options here.
The Haviana flip-flops have a cult following. Seriously, people go crazy over these things.
Personally, they are not the most comfortable on the list for me, but they certainly belong on any list of comfortable flip-flops.
Because of the material, they make great beach sandals, pool sandals, public shower sandals (don't go barefoot, y'all).
They come in a ton of adorable colors and are certainly a wardrobe staple when it comes to flip-flops.
****
There you go! 7 super popular, ultra comfortable flip-flops that will let your feet breathe in the heat of summer without sacrificing comfort.
Do you have a favorite comfy flip-flop? Share it in the comments below!
Have a fabulous day,
E
PS. This is not a sponsored post, butt affiliate links are used here – which means the blog will receive a small comish at no cost to you. This helps offset the cost of running the blog. Gracias!