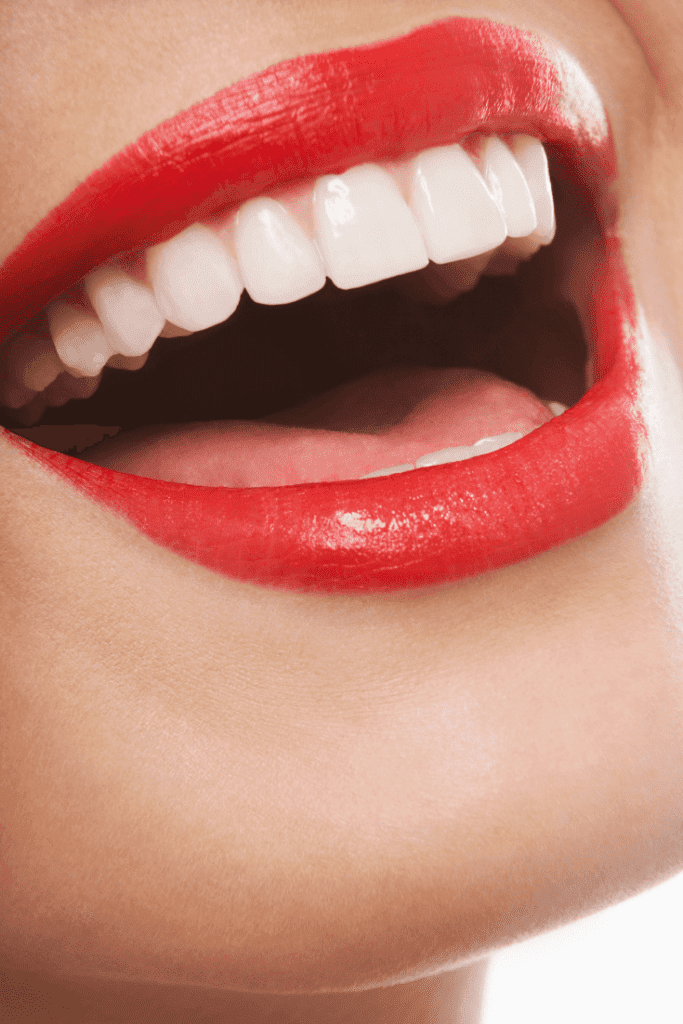 I feel like I am more aware of my teeth in the summer. Is it just me?
The sun's out, everything is bright and happy, and I want my teeth to be bright white and happy, too. But, I drink far too much coffee and tea for that to happen without a little extra help.
Teeth Whitening for Sensitive Teeth
Years ago, I used to peroxide my teeth to death with a curated collection of products from toothpaste to nighttime treatments.
Sure, my teeth were pearly white –but they also hurt all the time. Eventually, that gets old.
That's why I decided to switch over to non-toxic teeth whitening treatments that would whiten without sensitivity. Luckily, there are great options out there now and you don't have to choose one or the other.
Best Teeth Whitening Treatments for Sensitive Teeth
The main ingredient in whitening treatments that can cause sensitivity is peroxide. Also, not a great thing to be consuming, so non-toxic treatments aim to whiten without compromising chemicals or with much lower concentrations of chemicals to reduce sensitivity.
I've been trying a lot of more natural whitening treatments over the last couple of years and have found a few that really do pretty good! I don't find any natural treatment to be as fast as the peroxide formulas, but if you're whitening regularly – it should be no problemo.
Here are the best options on the market! Affiliate links are used.
I found this on Amazon after researching natural toothpaste that would whiten teeth. That led me to a blog by Wellness Mama where she talks about her homemade toothpaste recipe that whitens her teeth and heals them from cavities, too.
Sounds great, but I prefer the easy way #BuyIt, so I did some research and found this toothpaste by Cali White that has almost the same ingredients as her homemade version.
#Score
I've been using it for awhile now and really feel like it cleans well, whitens a little bit each time, and doesn't cause any sensitivity. I do not use this nonstop consistently, though. I'll alternate with this one by Boka, which I believe works best for my teeth in terms of preventing cavities and decay.
Grab Cali White Charcoal Toothpaste here.
For more extensive whitening, Cali White also makes this unique teeth whitening system that takes non-toxic whitening to the next level.
Using non-abrasive solutions and light technology, you'll see more of a difference than with the toothpaste without any tooth or gum damage.
Super excited about this non-toxic whitening option – not only because of the clean beauty factor, but also because it is super affordable.
Update: I used this system completely and then bought more of the whitening refills, too. I love the mouthpiece and the super gentle whitening solution. You do need to use it consistently for awhile to see results, but you will see a difference (in my opinion). I actually put it in and then do my makeup and by the time I'm done, it's time to take it out.
Grab it for under $40 on Amazon here.
This Auraglow Teeth Whitening Pen is such a great idea for an easy, mess free application that will work while you sleep – or work – or drive – or do whatever you do when you whiten. Basically, you just click until product comes out, brush it on your teeth, keep your mouth open #smile, for a couple minutes until it dries, and go to sleep.
I didn't notice any funky taste, although you will swallow some of it. My biggest issue was keeping my lips off my teeth long enough for it to dry.
But, when I used it consistently, I did see a difference with zero sensitivity. Plus, it is just super affordable compared to the systems.
Get the Auraglow Whitening Pen here.
These peroxide-free whitening strips were made by dentists in Beverly Hills that were tired of recommending whitening products with harmful ingredients.
So, they created these, featuring natural ingredients like Dead Sea salt, coconut oil, sage oil, and lemon peel oil to gently lift stains without harsh chemicals. They're so gentle, you can use them on crowns, porcelain caps, and veneers.
For the price and the reviews, it's really a no-brainer. People love Lumineux.
When you need to bust out the big dogs, the Go Smile teeth whitening gel and accompanying sonic toothbrush work in tandem to brighten your smile. Using sonic, blue lightwaves and a whitening gel, this best-selling, patented system removes surface stains and freshens breath.
Some sets also come with the on-the-go teeth whitening pens, which you can use while traveling or after meals while out. Sounds like pretty intense effort to white, but you do you booboo.
Glo Brilliant really made a name for themselves when they began selling at Sephora. They also created a cute little carrying case that fits everything inside, which certainly appeals to a female demographic.
But, the results are what keep people coming back. This one does use a hydroxen peroxide formula with a blue light technology as well, but is said to be in quantities that are ultra-gentle, even for sensitive teeth.
This is an award-winning system that will whiten you right up in 5 days or less. Not a bad deal.
Auraglow uses a similar approach to Glo, but for a fraction of the price. Using a deluxe, hands-free LED whitening device combined with dental-grade teeth whitening gel, you can very quickly get the whitest teeth of your life.
Their powerful 35% carbamide peroxide teeth whitening gel is equivalent to dentist dispensed whitening gels in terms of ingredient quality and efficacy. The gel uses a careful balance of peroxide and remineralizing ingredients to whiten the surface of the teeth without the harmful side effects or pain.
Plus, its kosher, cruelty-free, made in the USA, vegan-friendly, non-gmo, and made with organic ingredients. Phew, that was a mouthful. And, your mouth will be a lot brighter after using Auraglow.
So intrigued by this one! It's the power of activated charcoal in strip form! Talk about easy!
And, because charcoal is natural and very gentle, it can be used on anything in your mouth with no sensitivity at all.
Using charcoal will take longer than a peroxide whitening treatment, but the exchange is that it is also strengthening your teeth an gums. Plus, these also have powerful anti-bacterial and teeth strengthening ingredients, such as coconut oil and citric acid.
And, they're super affordable. #SCORE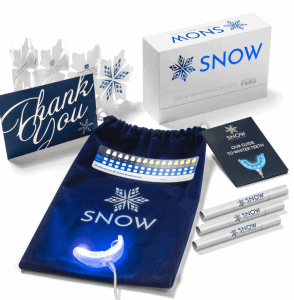 Snow wins the award for most celebrity endorsements! I actually saw an ad for Snow while researching for this post, and then I saw another one, and another one, and another one….
Snow really wants you to know that their smile system is going to get your teeth white. And, if you look anything like the advertisements, your teeth won't just be white – they'll be Ross white:
Snow gets your teeth whiter in less than 10 minutes at a time, using their light technology and whitening gel with proprietary natural ingredients.
Backed by 2.3 million in R&D, they tout the Snow system as the most effective on the market.
I like that even though their ads are celebrity heavy, their actual testimonial images on their site are normal people.
I'm including this one because I understand that sometimes people want to use what they are familiar with.
Crest is the brand I used years ago, and while my tooth are too sensitive for them now, they really worked. This is their new no-slip gentle version with much lower doses of peroxide so that there should be little to no gum and teeth sensitivity.
If you have liked the results from Crest and want to go with what works, I would venture to guess that these are pretty great, too.
****
There you go! 10 incredible, gentle, teeth whitening systems that will work even on sensitive teeth.
This is sort of a pick-your-poison kind of thing. What works well for one person may not work for another. So, purchasing from a reputable place that will back the purchase, such as Amazon, is a great way to try something out without feeling stuck.
Personally, I really love the Cali-White products and if I were to buy something else today, it would probably be Auraglow, simply because it seems to be a more affordable version of expensive products.
Have you tried any of these? Did you like them? Let us know in the comments below!
Have a fabulous day,
E
Disclaimer: Please do not misconstrue these suggestions as medical advice. Always check with your dentist and/or medical team if you have any concerns about how adding a whitening product might interact with dental work or medications. Whiten safely, friends!