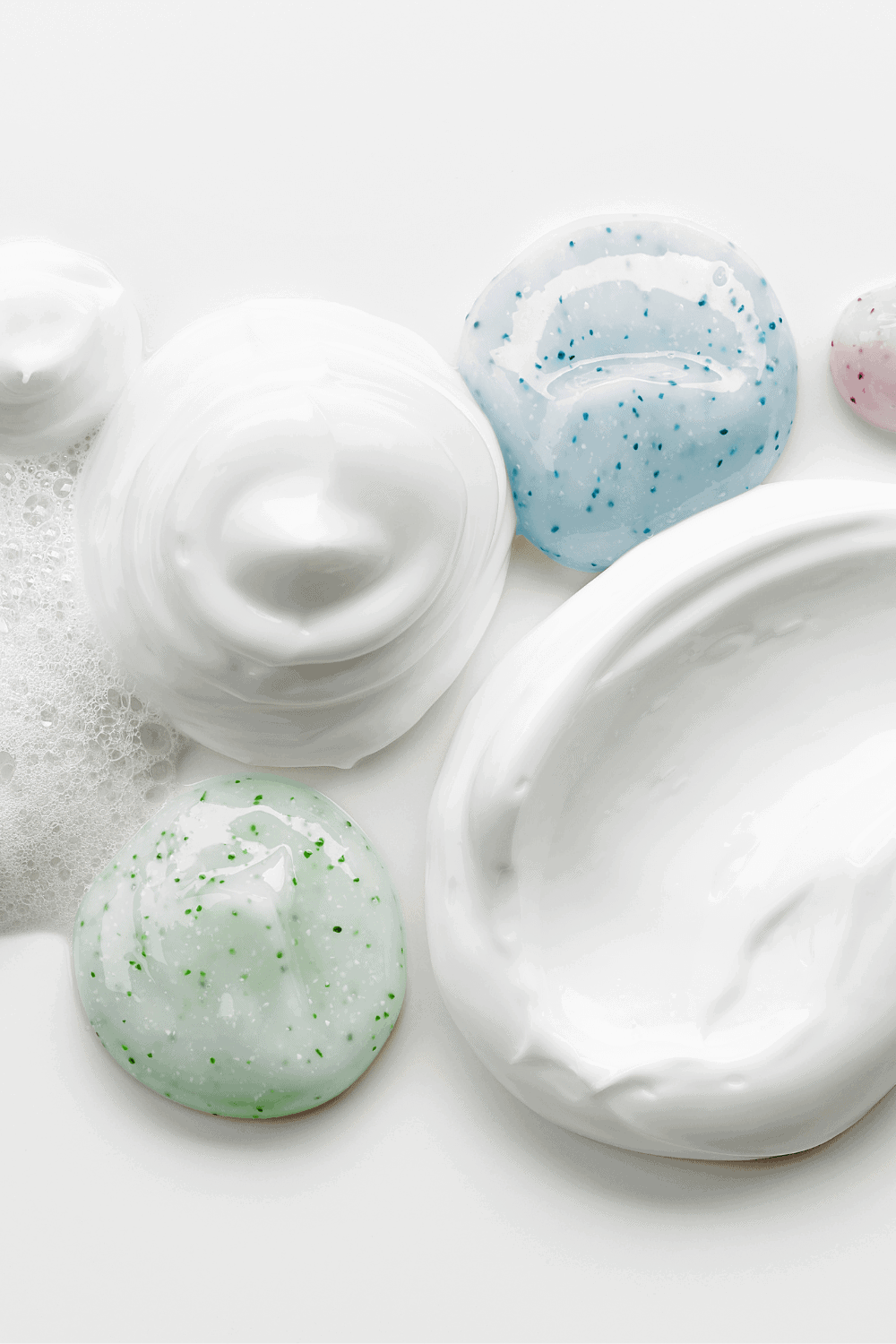 Great skin might seem like a mirage – something you can see off in the distance, but can't seem to grab hold of. Or, maybe you just say a prayer and slap on whatever miracle cream looked promising before bed each night – with no clue if the ingredients will actually work.
Even though we have access to more skin care ingredients and products than ever before, many cosmetic products are often loaded with no-no s like fillers, fragrances, and toxic chemicals nobody should be using.
So, what exactly should we be looking for when choosing skin care? What are the holy grail ingredients that will give us the healthiest, most youthful, skin of our lives?
I set out to make a list of the best ingredients for great skin and narrowed down to these 8 skin care ingredients. This list is your workhorses, your powerhouses, your skin care genies in a bottle that will grant you smaller pores, more even skin tone, less oil, clearer skin and – of course – slower signs of aging.
After all – why not slow down the clock if you can. Or, hell, crush it to pieces and give aging the fight of its life. That's my goal.
Let's check them out:
8 Best Skincare Ingredients That Really Work:
I created this little infographic to make it easy to see all 8 skin care ingredients at a glance. Scroll down for more details and incredible product recommendations that I either have tried or continue to use. Given the amount of products I try, narrowing down this list was a challenge. Affiliate links are used for products I trust and highly recommend.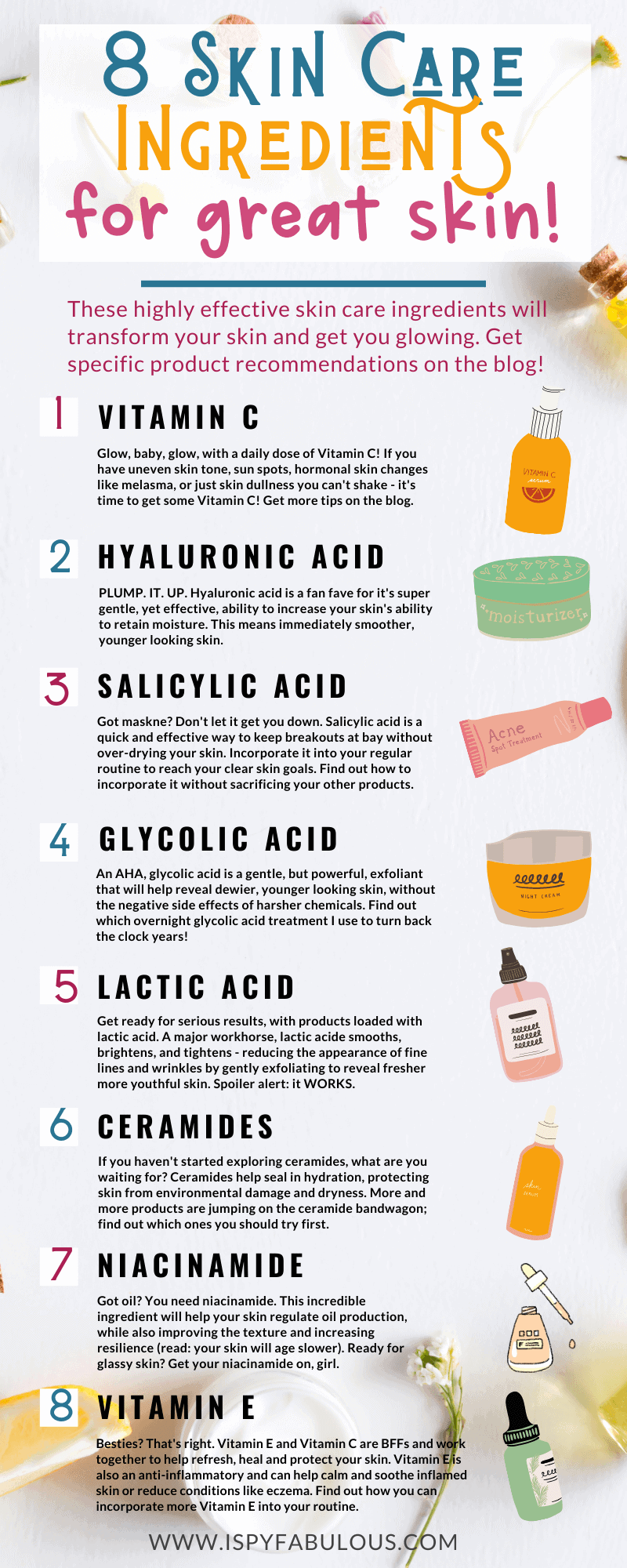 1. Get Even with Vitamin C:
I love Vitamin C and I try to use products with it several times a week and every day if I'm dealing with particular skin unevenness from being out in the sun.
I used to use much harsher ingredients to correct hormonal/pregnancy melasma, but have since learned that a steady stream of Vitamin C usually holds such things at bay (oh, and not having any more kids helps, too…).
Some Vitamin C products used to be so highly concentrated, they could cause a little sensitivity. The products I prefer are gentler and you can use them more often. Of course, always make sure using sunscreen every day (here's my favorite) to help prevent skin discoloration – and protect skin from Vitamin C related photosensitivity.
2. Plump it up with Hyaluronic Acid:
Easily my favorite skin care ingredient because it gets me RESULTS. You'll see dewier, plumper, more hydrated skin very quickly and if you load up on a night cream with hyaluronic acid or just mix in pure hyaluronic acid into any moisturizer you use, you'll wake up looking awake and refreshed, no matter how little those kids let you actually sleep.
I am a huge, huge fan of hyaluronic acid. It's super gentle and really effective. Here are my favorite products with hyaluronic acid:
3. Clear It Up with Salicylic Acid:
I have used salicylic acid for spot treatments for yeeaaaarrrs and I have no intentions of slowing down! I did stop using it while pregnant, but after that – it was business as usual. Why? Because it's great for sensitive skin, but works.
If I use harsher treatments for breakouts, I see drier skin. I've seen dry skin age a 20-year-old model at least a decade – so keep those spot treatments gentle and be patient.
Check out my post on what to do about breakouts and treat acne from the inside out.
Until then, check out these spot treatments and kiss zits goodbye:
4. Just Exfoliate with Glycolic Acid:
I loooove me some glycolic acid. Talk about getting major bang for your buck. Glycolic Acid DELIVERS, baby, and hands you that smoother, more even skin you're craving on a silver platter.
This overnight resurfacing peel is the kind of thing that sort of blows your mind. I'd heard it was good, but when I finally tried it – I fell in love immediately. This is my smooth skin, anti-aging fairy godmother! It's pricey – but it works – and it's cheaper than botox. You know what I'm sayin'?
#PRIORITIES
That product is my #1 recommendation for smoothing and resurfacing skin, while reducing signs of aging. I use two pumps all over my face and neck every other night and alternate with a Vitamin C serum/hyaluronic acid moisturizer combo. I'm really loving the results so far and highly recommend.
Here are a few more suggestions if you want to dip your toe in the glycolic acid pool:
5. Get Lucky with Lactic Acid:
Ready to really roll back the clock? Lactic acid is amaaaaazing. The first time I used a product with lactic acid, it tingled a little bit – which I was prepared for – and it smelled a little tiny bit funny (which I wasn't prepared for). But, I woke up with noticeable rejuvenated skin. I call that a win.
I started with a deluxe sample of one of the most talked about lactic acid products on the market and have found it to be very effective. Of course, that led me on the hunt for more lactic acid products with equally mesmerizing results.
This new overnight resurfacing serum from Honest is not messing around – loaded with a blend of glycolic acid, lactic acid, citric acid, malic acid and tartaric alpha hydroxy acids – plus a nice punch of hyaluronic acid, this will cost you less than a tank of gas and GET. YOU. RESULTS. BAM.
In fact, it has a somewhat similar ingredient list to the glycolic acid serum I mentioned above. Hmmm.
6. Cozy Up with Ceramides:
Ceramides are newer to me and I am feeling them big-time. I started using this incredible Ceramidin cream by Dr. Jart, who makes some face masks that are incredible, and I LOVE this cream! Not only does it have a slight tint which gives your skin instant glow, but the ceramides are are super-hydrators that protect skin from environmental and free radical damage, among many other things. They basically act like a barrier that seals in moisture and keeps out damage.
As much as I have fallen in love with the Dr. Jart cream, don't discount drugstore creams like this one, loaded with 3 essential ceramides that restore and protect our skin's protective layer.
Also, look for face masks that can give your skin a super boost of ceramides, too.
7. Get Nice Skin with Niacinamide:
Give your skin a treat, with products powered by niacinamide. Particularly excellent for undereye areas, as it can also have a brightening effect, niacinamide helps skin retain moisture, reduces redness, shrinks pores and much more.
Niacinamide can be in any kind of skin care product, from serums to moisturizers, and plays really well with others – so feel free to layer with your other skin care ingredients. If you're looking to really see results in stubborn sun spots or bumps from oily skin – look for a product with a higher concentration of niacinamide.
8. Give Your Skin Some TLC with Vitamin E:
My stepmom used to use straight Vitamin C on her skin and she has aged better than almost anyone I've ever met – no fillers, no surgeries. She also eats incredibly clean, too, which always helps.
Vitamin E is a powerful antioxidant and, luckily, you can get Vitamin E really affordably. In fact, if you're close to Trader Joe's, they have a great one. Check out my post on what else to grab in the skin care aisle of Trader Joe's.
Vitami E has even been known to help heal skin conditions like Eczema, too, so if you're experiencing skin inflammation, you may really want to reach for products like these:
*****
If you're having a hard time deciding – the good news is you don't have to! Not only can you usually get several of these great ingredients in one product, but you can mix and match them into different skin care products to get the benefits of all of them.
Can you tell I'm obsessed with skin care? If you are too, you might also love these posts on the correct order to apply your skincare and the strangest, most effective face mask I've ever tried.
Have a fabulous day,
E