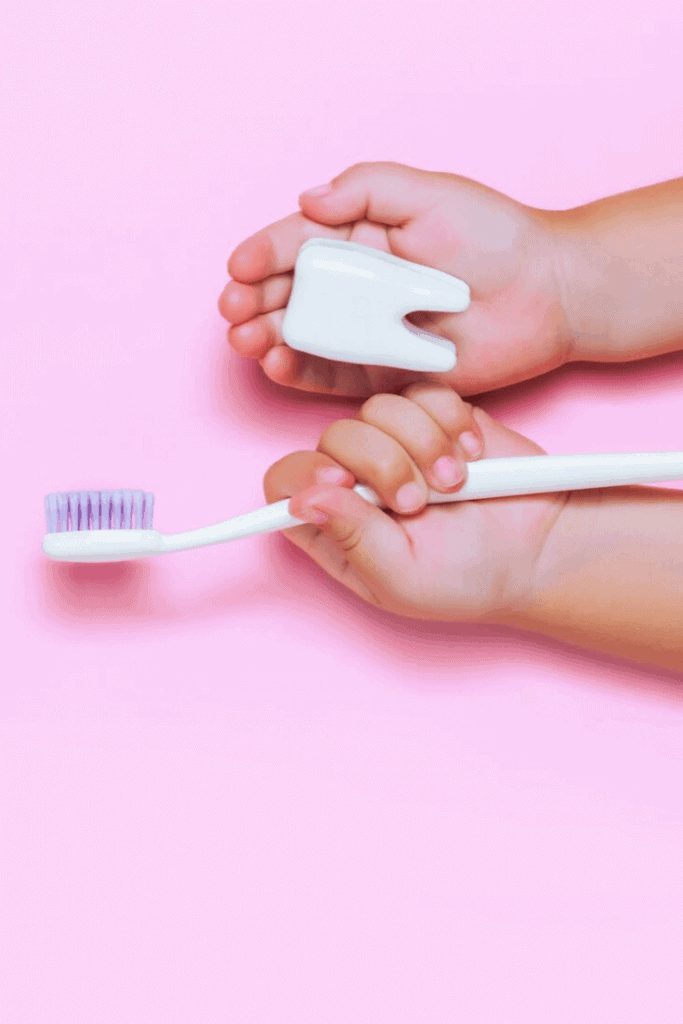 My son lost his first tooth recently. And by lost – I mean he actually lost it. We think he must have swallowed it while eating.
Of course, the tooth fairy paid him a visit anyway.
The Tooth Fairy Letter Printable:
I looked all over the internet for a cute, but modern, looking tooth fairy template and ended up designing my own.
Such is the plight of a former teacher. I always end up wanting to create my own things. But, that just means now I'm going to share it with you.
So, if you've been looking for a super cute, modern template for a tooth fairy letter – you're going to love this one.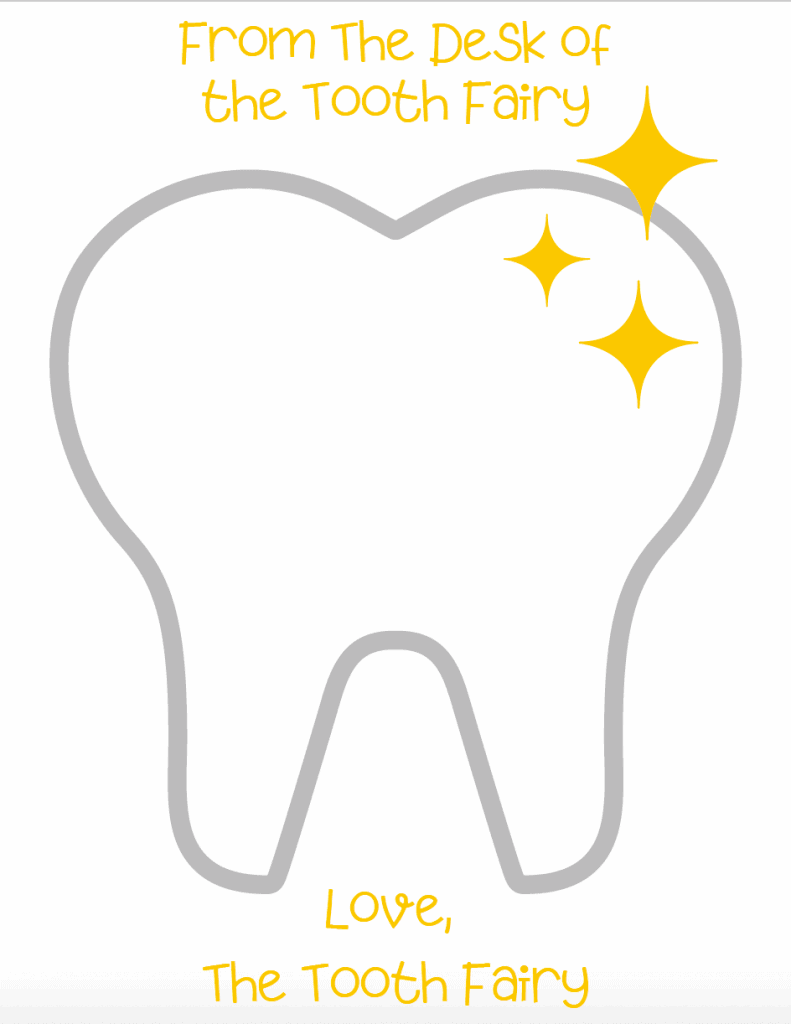 You can even cut out the tooth part to make it a little smaller. Either way, it's super easy to use.
Just download by clicking here or click on the image.
I printed mine on slightly shimmery cardstock to give it a little extra twinkle.
Update: I recently released a brand new tooth fairy certificate and tooth fairy letter that you can also download in the shop. It's not free, but it's super affordable. Here's what it looks like: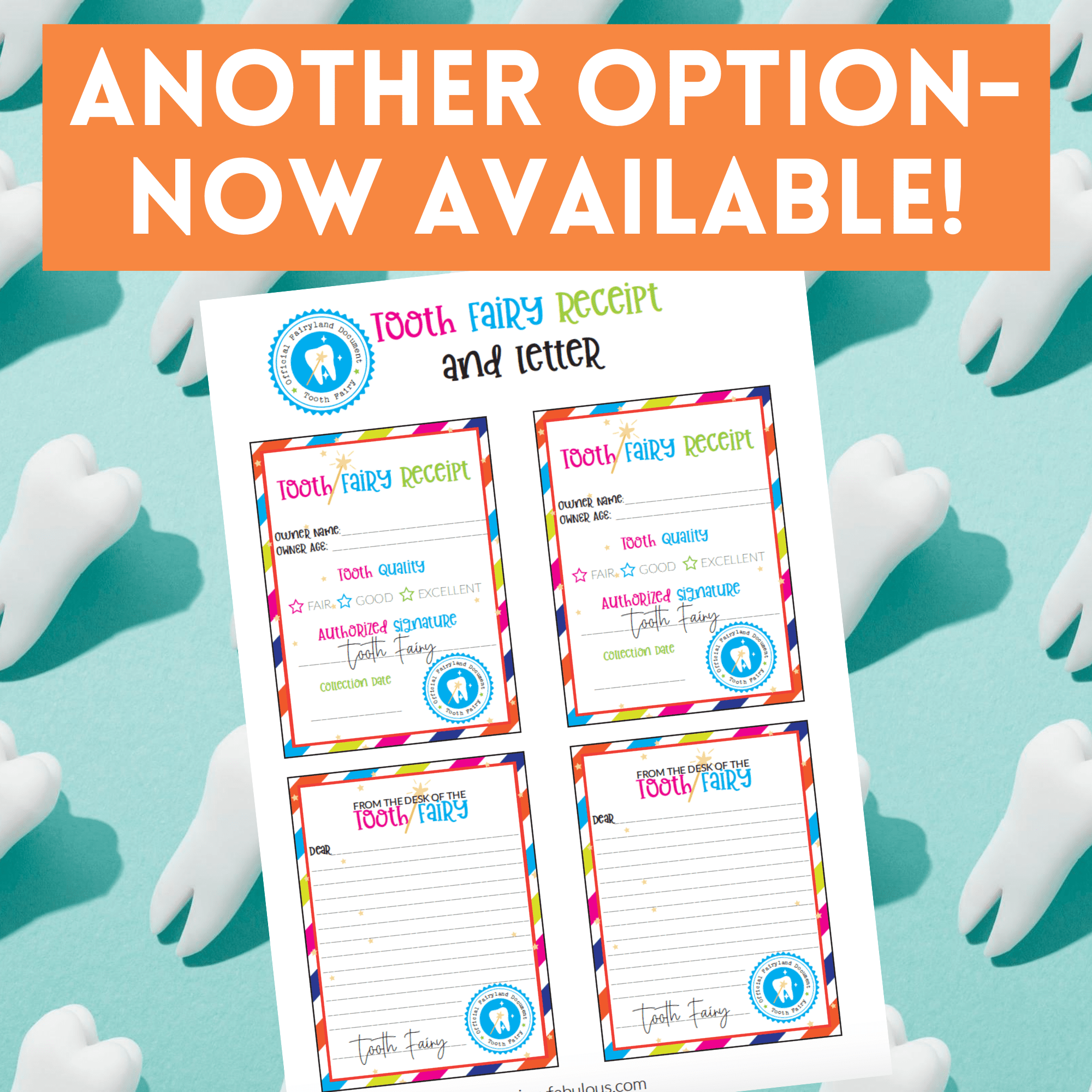 It's seriously so cute, here's another picture: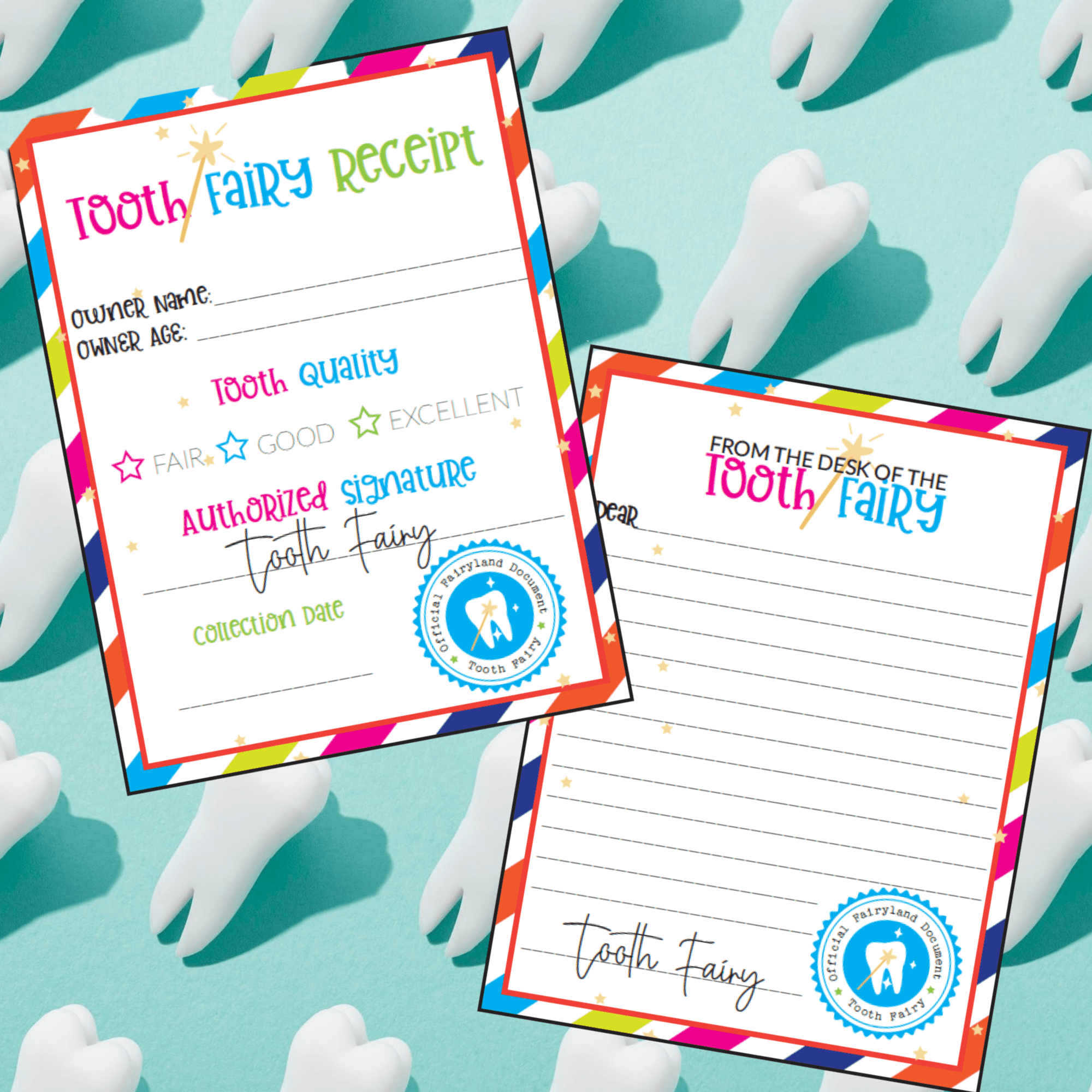 What Should the Tooth Fairy Say?
You want to bring a little magic with that tooth fairy letter! If you're stumped on what to write, here's a template for what to write, here's something to get you started.
Dear (their name here),

I'm so excited you lost a tooth, and what a beautiful tooth it is. You must be doing a great job brushing.

I'm leaving you this little (prize, gift, treat, surprise) as a thank you for letting me keep your tooth in my collection.

Do you like jokes? Here's my favorite tooth joke:

What is a grizzly bear without any teeth? A gummy bear!

Remember to keep brushing! I am leaving you magical wishes until I can visit you again.

Love,

The Tooth Fairy
Of course, customize this with your child's name and more specific details around how they lost their tooth.
For my son, the tooth fairy made sure to reference that his tooth was rather hard to find, but she was eventually able to find it.
Tips for Tooth Fairy Letters:
Here are a few fun tips for things you can share in a tooth fairy letter:
Share details – mention it was their very first tooth or that you can tell it took a long time to fall out.
Make suggestions – if they've been struggling to brush or pull on the teeth prematurely, mention gently that it's important to take care of their teeth and be patient.
Add a little magic – you can always add some glitter, confetti, write in swirly font or leave other extra special touches.
Play with size – if you don't want to use the printable, you can always write on an extra small piece of paper in very small writing, to create the idea that the tooth fairy is very small.
Overall, just think of ways to add a little magic. The whole idea behind these fun little traditions is a celebration of a child's imagination and to acknowledge each step of growing up with something special.
****
That's all for today!
If you're looking for more jokes, check out my post with 20 tooth fairy jokes.
I added a fun tooth joke in my son's first letter and he loved it so much, I'm going to keep it going.
On that note, know any great tooth fairy jokes?
Share them in the comments below.
Have a fabulous day,
E
PS. Don't forget to download your free printable tooth fairy letter!