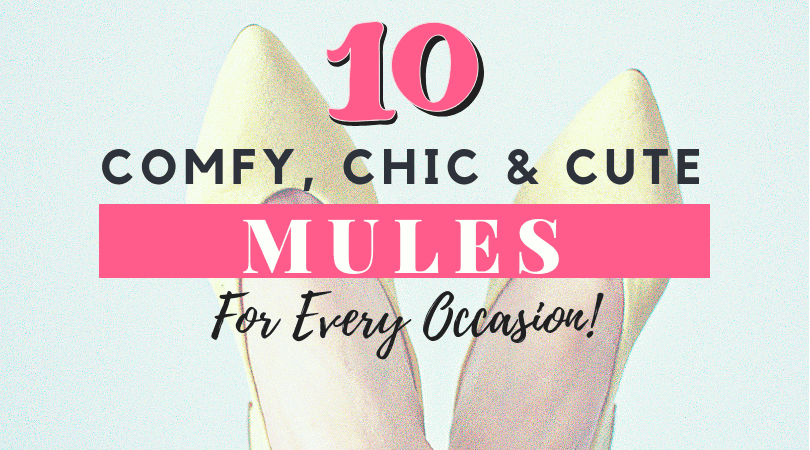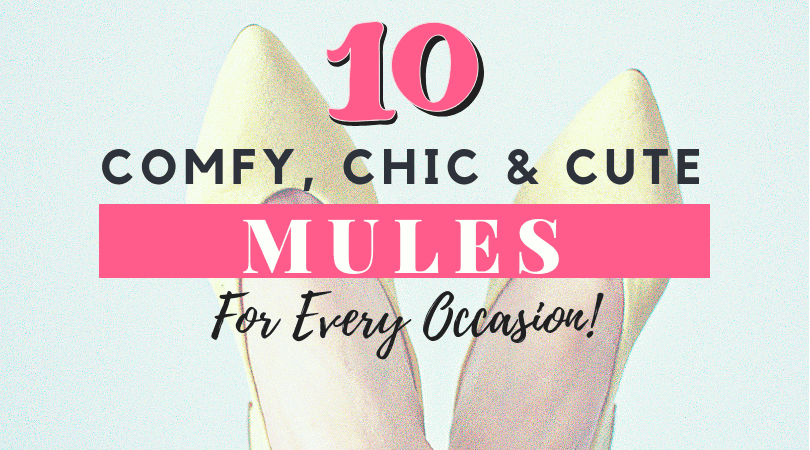 Today we are talking about a subject near and dear to my heart: mules.
I don't know what it is about mules….but I love them.
They are simultaneously comfy and chic – which is pretty much my fashion goals in life. #Truth
I think mules are the cornerstone of any #MomChic wardrobe – because they pair just as perfectly with everything boyfriend jeans to business casual.
Plus, with gorgeous jeweled options – you could even pair a mule with a ballgown.
Part shoe, part slide, part sandal … some are part slipper. What more do you want?
Nothing. The correct answer is nothing.
So, I'm rounding up my favorite comfy and chic mules for winter. Some of them I have, some of them I need to have.
Let's start with my new favorites:
1. TOMS Sunrise Mules Slip-ons
So, I actually just got these. They were a Christmas gift from my husband but the box was addressed to me.
Okay fine, the box wasn't addressed to me, but I didn't know it when I opened it.
Alright, alright, I DID know the box was for him, but I opened it anyway!
And once I saw these little beauts, and tried them on, there was nooooo way they were going back in the box.
I'm not even sorry!
They are like a cross between a pair of mules and Uggs. I call them Mugs. They're hugs for my feet.
My sweet, sweet mugs.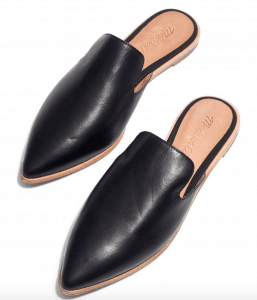 These have perfect reviews, are currently 25% off and are a classic, solid black.
Because who needs to embellish perfection?
Every girl needs a solid black mule in her life.
And at under $75 bucks – I think this is the one made for me.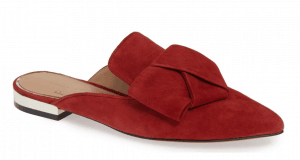 First off, I'm obsessed with these.
The color, the cut, the small, slightly adorned heel #MUAW
I mean, #SoulSisters – you know?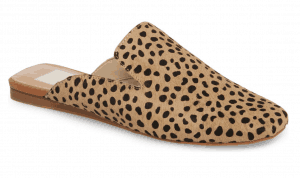 These have been on my wishlist for a looooong time.
I have a longstanding relationship with cheetah and leopard print anything.
I'm also clearly obsessed with mules.
So, basically, I'm really questioning why I don't have these in my life yet.
Santa, can you hear me?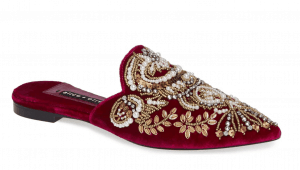 This sexy, embellished little number is CHIC AF.
They are also the priciest on the list…BUT they are 30% off right now, bringing them down from almost 600 to $346.50!
So, if you're in the market for some sexy A+O mules – then now is the time to buy!
Just make sure to send me pictures of how you style them so I can sit at home and cry.
They are seriously so effing gorgeous, I can barely stand it!
GLAM IT UP, BABY!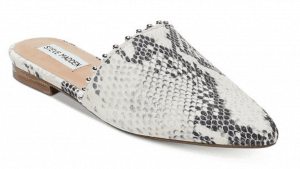 I love the Trace mule. I have them in the light gray stud and the leopard print.
They also come in a gorgeous white and black. Different sites have different colors, sometimes, too.
Bottom line: they're a hit. Everybody loves them. They are comfortable and chic and make even big feet look smaller. And, they're super affordable – especially since Macy's has their 20% off with code SHOP right now – bringing these under 50$!
I mean, really? REALLY.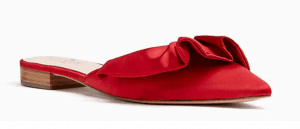 I heart Kate Spade. Woman was a genius #RIP.
She really knew how to design for women, you know what I mean? Not what other people thought women should wear and look like – but for what women actually want to look like.
I will never forget getting my first Kate Spade clutch – in the same red as these shoes.
It was a gift from a good friend I grew up with. I still have that purse. I still have that friend.
Because the best things in life cannot be replaced.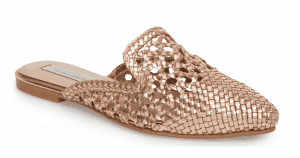 So, clearly this girl can do everything. And thank god for that. Because these shoes are gooooood.
They come in quite a few colors, boast great reviews and an affordable price tag – now 55% off and coming in under $50.
#GetSome
I had a hard time picking just one of her styles – so check out these gorgeous studded loafer mule, too.

Wowza! These are B-E-A-UTIFUL! I can imagine them withe black cigarette pants and a tweed jacket for a brunch or with a chic, Audrey Hepburn style dress for a Christmas party.
Heck, I don't have anywhere to go – so I'd wear these while vacuuming.
Why not? These babies should never sit on a shelf.
I feel like great things await the woman wearing these shoes.
Plus, with 4 gorgeous color options from black lace to platinum – there's something for everyone.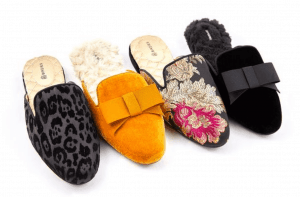 Okay, okay, these aren't technically mules. But, they're part slide, part slipper – so really they're kind of like a super-mule.
Stay with me here. These shoes have gone where no other shoe has gone before. So, they really don't fit in ANY category.
You feel me?
But, whatever category you put them in, just makes sure they're in the one that means they get shipped straight to MY house, because I want every. single. color. and. style. #STAT
****
So many mules! I want them all!
Which mules are YOUR favorite? Are you a fan of mules? Tell me in the comments below!
Have a fabulous day,
E