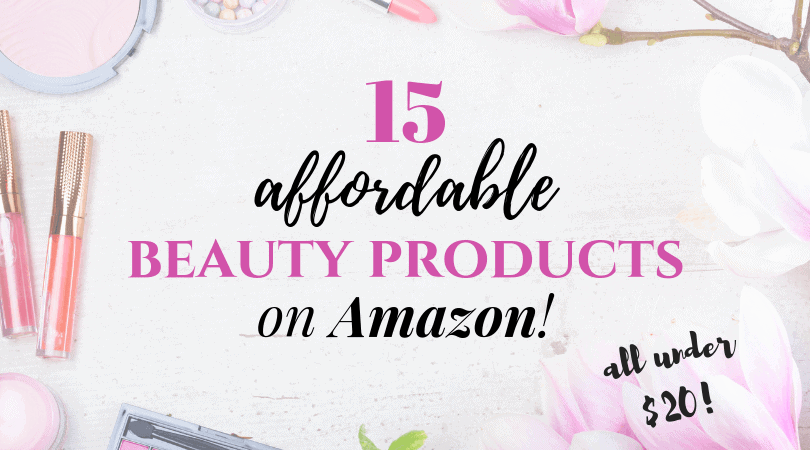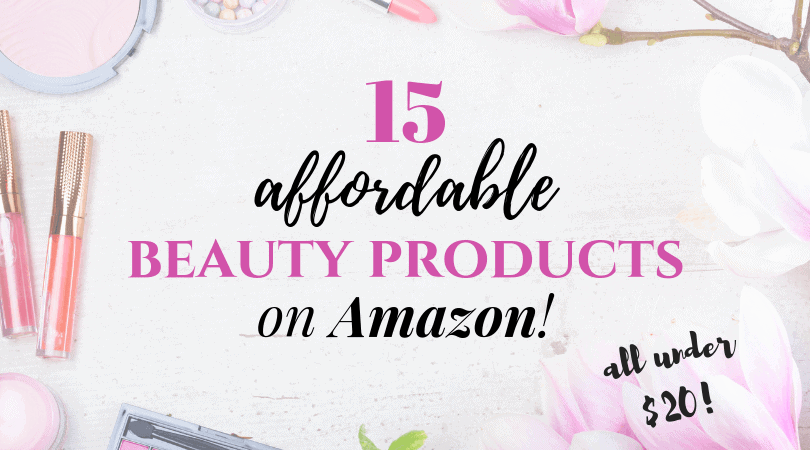 Who doesn't love Amazon? With access to whatever you could want and their constantly updated price algorithm making sure you get the lowest price – it's an online bazaar unlike anything else.
And, it's also a goldmine of affordable beauty products. From cool tools to beauty gadgets that will shorten your time to getting out the door, there's so much good stuff for the girl on a budget.
Plus, no product can hide from the honest reviews, even if the company solicits reviews with products or discounts.
So, let's dive in to the top 20 affordable beauty products to grab on Amazon – complete with prices so you won't waste time clicking just to figure out the price
#You'reWelcome.
Know that affiliate links are used here, which help offset the cost of the blog.
We all love the Beauty Blenders. Of course we do. But, we may not all love the price #guilty.
Especially since my daughter has been known to get into my makeup and use these sponges as chew toys.
So, I tried the Beakey ones to save money – and waddya know – I liked them just as much! Plus, all the bright colors look pretty cute in a little acrylic jar, so I'm sold.
I like to see my stuff on my vanity. Mama ain't got no time to rifle around.
When I saw these affordable, acrylic containers – that looked like the glass ones I really wanted but didn't trust around my daughter #truestory – I bought a pack of two.
Then, when they arrived and I saw how great they were, I bought two more – for every other bathroom in the house.
This is such an ingenious idea – and so affordable! Now, you can easily get all of that gunk and makeup out of your brushes without damaging them.
With different textured surfaces, you can choose how you want to clean each brush and the suction cups on the back will keep it in place.
And, because they are silicone, they'll rinse clean and dry fast.
You'll need a special cleanser for those brushes, too.
Don't spend all that money on your tools to just use abrasive cleaners that will result in the hairs falling out or getting dry and brittle.
Plus, it's reaaaaally difficult to get all that cleaner out of the brush, especially if you're not using a cleansing mat (ahem – scroll up for that one!), and then you go and put that brush right back on your eyes and BAM… eyes are watering and itchy and you can't figure out why and your makeup is rollin' down your face….
Don't say I didn't warn you 😉
This stuff has hundreds of great reviews. It's soft and gentle. It's free of a whole list of bad things that you would never want anywhere near your brushes or eyes. It's good stuff, friends. Good stuff.
Read my post on how I use the brush cleaner and cleaning mat in my post on How To Clean Your Makeup Brushes.
You're probably familiar with the (slightly more expensive) microfiber versions of these. They are mass marketed and I think we've probably all got one shoved in a cabinet corner somewhere.
But, I don't particularly like the feel of microfiber, or how much static cling it gets in the dryer and transfers to my head. #NoThanks
This one is 70% bamboo and 30% cotton. I like both of those much better.
I also like that this one is more affordable. And you can use Amazon prime? #Sold.
Okay, listen, this subject ain't sexy – but it has to be said. Sometimes, you just gotta get rid of some hair, yo!
I went to a waxer for years – eyebrows, etc. But, it often burned my skin or took skin off. Then, I had kids and my skin became even more sensitive (and I didn't even know that was possible!).
So, I switched to creams and have used this one for years. The reviews on Amazon are perplexing – because I have never had an issue.
But, make the right decision for you. Your body; your choice.
Did you know there are so many types of tweezers? Now you do!
This adorable pink pack comes in a little carrying case. It also comes in a handful of other colors.
With this bad boy – no hair can hide!
Get it, girl!
Okay, I'm still not off the hair thing – clearly.
But, this is my favorite brand of shave cream. It's creamy, moisturizing, and smells like Hawaii.
I mean, that's really all I'm looking for in a shaving cream.
I used to laugh at things like this. When I was a child and didn't pay the bills.
Now, when you splurge on that Drunk Elephant product or Clinique Serum – you want to get every. last. drop. #AmIRight?
I bought one of these awhile ago – but the one I bought was NOT under $20 #Boooo.
I saw this and thought – well, that's adorable.
Then, I saw it's waterproof, comes in multiple colors, has great reviews, and holds full-size product bottles! #GASP!
While other hanging organizers are great for travel when you are using small sized bottles – they become problematic if you're just doing a local trip and want to pack what you have without squeezing out product. Or, if you're going away for long enough where you need the full sizes.
That's where this bad boy comes in. And for the price? I mean, #GIMME
This is one of my favorite beauty box subscriptions ever. They really have their fingers on the pulse of what's hot in beauty and cosmetics. Every single box I find something I have been totally dying to try.
I've written some reviews on the boxes here and here. At just $15 a box, and 33% off your first box, it's really worth it.
These are so great for hair that breaks easily or if you don't want that dreaded impression ring from a hair tie.
I've tried Kitsch as well as Invisibobble, and they're both great. These are the SLIM style, which are supposed to be half the thickness. Reviews say they're even better.
I mean, at $8, worth a try!
Nothing makes your hair shine like a boar bristle hair brush! It really helps distribute your natural oils and gives your scalp a little massage.
This is the one for fine hair, but they also have one for you thick, wavy haired girls (#jealous) and you can find that one here.
It comes in a pretty yellow box with a wooden detangling brush, too, all for under $25.
Here's another one with great reviews for under $20.
This is my ALL-TIME favorite face moisturizer with SPF – EVER.
Basically, it's amazing. It has this cooling, calming effect, so if you suffer from rosacea or facial inflammation at all, or just have really sensitive skin or are prone to breakouts – basically, IF YOU HAVE SKIN ON YOUR FACE – you will love this lotion.
I love it so much, I put it in my top 10 facial sunscreen post. Try it and let me know what you think.
Dry body brushing is such a great way to help your lymphatic system drain and your body release any toxins being stored in the skin. It's particularly important for those of us with autoimmune or health conditions of any kind – because the less toxins in the body, the better. I write more about it in this post.
Bottom line: dry brushing is quick, invigorating, easy and – after an initial adjustment period – feels great!
Tips For Shopping On Amazon:
Remember that when shopping online, you want to always check the reviews. But, not just the good ones – make sure to go straight to the bad ones and read through those, too. Get a feel for what the common issues were. See if that is something you're willing to risk.
Also, try to shop stores that offer Amazon Prime free shipping. I have learned that when you buy a product that comes with Amazon Prime, it's a much easier refund/return process if it doesn't work out.
The retailers that don't offer prime will usually never refund shipping fees and make you ship it back. What a hassle.
I usually prefer to buy products that say they are "fulfilled by Amazon", because it'll usually be an easier process.
****
There you have it, friends! 15 Affordable Beauty Products you can buy today on Amazon and have shipped free with Prime straight to your door.
I'd love to know if you have found any favorites. There are so many more I'd like to try and write about in the future, so please send any ideas of products you'd like me to try for you in the comments below!
Have a fabulous day,
E