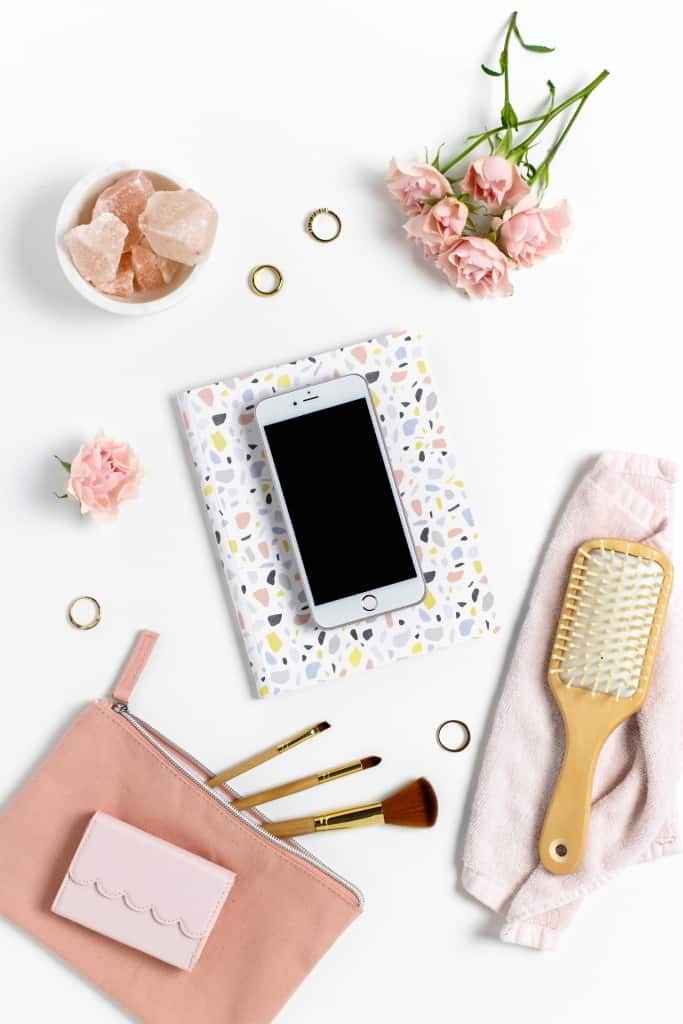 I can't believe I've already written over 100 blog posts here at I Spy Fabulous.
What started as a creative impulse has flourished into a growing community. While the process of starting a blog on a whim and learning as I go has not been easy – or cheap – it's been an invaluable learning experience for me.
I thought after years of freelance writing – and blogging – for other companies all over the world, running my own blog would be easy.
Cue laugh track now.
But, learning experiences are humbling and challenging. There's the occasional thrill in there, too, when you hack something new, like switching themes or getting to work with cool brands.
If you've ever considered starting a blog or are just voyeuristic and want to see what it's like behind the scenes – here are the invaluable lessons I have learned in the process of writing over 100 blog posts.
Oh, and some of these links are affiliate links, which means I'll earn a very small commission at no cost to you if you click them. Just keeping it real.
1. Start Right – with Self-Hosted WordPress
I did not do this. That's why I write about it in my post on the 3 blogging mistakes I made. When I started, I literally bought a domain on Weebly, found some stock photos online, picked up a pre-made logo on Etsy and started writing.
Now I know the importance of having the right foundation. Because a couple months in I had to pay someone to help me fix that.
After that, I did a ton of research on hosting and now I use Siteground and BigScoots (two different blogs) and I am thrilled with the speed, quality, and customer service.
I write more about the hosting companies I recommend, as well as tons of other blogging tips in my free guide – the ultimate blog building framework. Check it out.
Yes, there are some hosts that offer screaming deals. But, if you dig deeper than the blog post recommending them – you'll find lots of bad reviews and poor customer service. Don't put yourself through that to save a buck. Start off right.
Website Design:
Genesis Framework:
For your site, invest in the one-time purchase of a Genesis Framework to give your blog the legs it needs to support plug-ins, any monetization efforts, and basically grow wherever you want it to grow.
Premium Theme:
A premium theme sits on top of the Genesis framework and gives you lots of cool widgets and stylistic options. Here are a few places to get very highly rated, super mobile responsive, chic AF WordPress themes, but I really like StudioPress.
Here are a few that I really like to help you narrow it down:
You can also find a lot of great themes on Etsy. Check here.
*Themes are switched out over time, so these exact ones may not be available. Look around and find themes that match your style!
2. Write Evergreen Content
I learned this the hard way. You won't – because you're smarter than me.
When you are starting out and building readership, don't waste your posts on sales that are going to end, products that won't be for sale in a few months, or other transient subject matter that will date quickly.
Focus at least you first 20-30 posts on content that is going to last a long time. Preferably, years. You want those early posts to really hold the blog down for you and eventually bring consistent traffic month to month.
Because I originally had the idea to write about great deals for the modern woman, my early posts were all obsolete before many people found them.
One of my first posts is on a store that no longer exists! Super fun.
Write evergreen content as much as possible for as long as possible.
3. Promote Posts More Than One Time
I would write something, post it online, and move on. There are so many things to learn with blogging – who has time for anything else?
You do.
Because you know that 80% of your post success is not how great it is, how well researched it is, or how pretty the pictures are.
You know now that the success of that post is in the marketing.
So, share it multiple times a week, every week, for a few months. There are some cool posting schedules out there by big bloggers that break it down for you better than I could, since I am still really learning how to create a posting schedule that continues to promote my posts long-term.
But, posting tools make it easy for anyone to recycle their content on autopilot.
So, how do you do that? With posting tools. They make it look like you're online all the time, when you're hopefully sipping mai tais on the beach.
There is one tool I just recently invested in an I am KICKING myself that I waited so long.
The first one is Tailwind. It's the only Pinterest approved scheduling tool and it offers you the ability to post your pins to multiple boards, schedule them on an interval, loop them for repeat on SmartLoop, and add them to Tailwind Tribes.
Tailwind Tribes are groups of pinners who pin on similar subjects. You pin your pin to the group and others will repin it to their boards. Then, you reciprocate by sharing their pins on your boards. Etc. Etc. It's similar to how group boards work on Pinterest, but they are much easier to join – and in my opinion – much more active and beneficial.
You can get a free trial to test it out. Then, I bet you'll pay for it. It really helps.
If you decide to invest beyond the basic package – take my advice and put your money towards having more pins per month. I always run out of pins before the month is even halfway over now. Boo.
I also use Tailwind to schedule Instagram posts, because they make it really easy to find relevant hashtags. Plus, you can save lists that you create to use again – for example, I have hashtag lists for clean beauty, another one for mom posts, etc.
4. Pin Pin Pin
Your first few pins are going to suck.
Okay, more than your first few pins.
Don't be sad – it's true for everybody.
That's why you'll make 3-5 pins per post, or at least routinely go back to old posts and add more pins for those posts.
I also just recently learned an important point from a blogging course I took where she doesn't post all her pins on the same day. She spaces them out.
This makes sense – you don't want to compete with yourself. You want your pins to get in front of as many people as possible.
For me, I was making pins and posting them all together to get it off my list. Now, I realize, some of those pins were sinking simply because of saturation.
So, create multiple pins per post, space out when you post them, and go back and edit and add new pins to old posts to get a lift.
Read more of my Pinterest tips in my post on 5 ways I grew my Pinterest from 800,000 monthly views to over 6 million in 6 months. It now hovers around 10 million monthly viewers.
5. Use Stock Photos
When I first started out, I was trying to take all my own pictures because I was going to be Super Authentic! Yes, with capital letters!
Then, you spend three hours on one photo shoot and realize – this ain't gonna work.
Mama don't got no time for that.
So, do yourself a favor and download free, beautiful images on stock photo sites.
Make sure it's a legal site and you follow the rules – bloggers have been sued for using photos they thought were free on Google images or something.
Here are a few places I get my images:
Canva – I LOVE Canva and use it every day! The free plan is great, but the Pro is even better and has great stock images included
PicMonkey – So great, affordable, with excellent templates and stock photo options.
DepositPhotos – Incredible stock photo packages for a great price. They have don't-miss deals a few times a year, too.
Creative Market – Excellent source for clipart, stock photos, fonts, and tons of other graphic design assets. I love Creative Market and use it all the time!
6. Shrink Those Images!
In my early days blogging, I read somewhere to shrink images. I literally LAUGHED OUT LOUD.
Do people really DO this kind of thing?!!
Then, I VERY, VERY quickly used up all the room on my host plan and had to upgrade.
The reason? My gigantic images were eating up all the room.
Oops.
So, I figured out real quick how to shrink those images – turns out, it's super fast, easy, and FREE.
FINALLY, something is free – am I right?
Tinypng.com – Just bookmark this site. You can upload up to 20 at a time for free. Then, download and upload to your blog. Easy.
WP Smush – Download this free plug-in on your blog to smush them all again.
Image reduction is one of the easiest ways you can optimize your site while you're still learning all of the other things that blogging requires.
Shrink it. Shrink it real good.
7. Start Collecting Emails
Listen, I won't be teaching a course on email marketing anytime soon, because it's been the hardest part of blogging for me. But, what I didn't screw up was collecting emails right from the start.
So, grab a good email marketing company and set up that opt-in. When you're ready to start tackling email marketing – you'll have a nice list ready to go.
Convertkit is sort of the industry standard for bloggers, because it is really feature rich for exactly what bloggers need to do. I have tried it and it's too expensive for my newsletter, but others love it.
Mailerlite is a more affordable alternative, free to 1,000 subscribers. The templates are really cool and fun to use, but you will reach a point when you outgrow the functionality. That could take awhile, though.
8. Join Affiliate Networks Right Away
This is one of the only things I didn't royally screw up in the beginning.
As soon as I got a few posts up, I started applying to affiliate networks to monetize all the time I was investing in my blog. The commissions are suuuuuuuper low, so set your expectations. You can sell hundreds of dollars in merch and only take home a few bucks.
Except, you can't take it home, because it'll sit there until you hit a threshold.
Which brings me to my next point – look through these options and find the affiliate network that has the most merchants you are interested in using.
Then, only apply to a couple at first. Here's why: If you make $10 on FlexOffers and $10 on Share-a-Sale and $10 on Rakuten, you won't be able to cash any of that out, because you won't meet any individual networks threshold.
So, join Amazon Associates, for sure, and then pick another one. Personally, my favorite is Viglink for new bloggers.
Viglink is unique in that you only have to get accepted to Viglink and then you are automatically accepted to most of the brands on Viglink.
Once you've grown a following, I really recommend applying to LTK, formerly known as RewardStyle and LikeToKnowIt. Here's a detailed post on how to get accepted.
Make that money, honey.
9. Easy Keyword Research
This one turned my stomach a bit at first, because I started the blog for creative freedom. I monetized it simply to cover the expenses of starting and running the blog.
But, having to plan my posts based on tons of keyword research?
No thanks!
However, there are only so many hours you can spend writing posts and hitting publish, only to hear crickets on the other end.
That gets old REAL fast.
So, you start to do some research. You hear less crickets. Everybody is happy.
I keep this to a real minimum, using easy tools that make it a pretty fast exercise.
Download this keyword research tool and turn every google search into a learning experience.
You'll immediately see how many people have searched that term, as well as options in the sidebar for related searches.
Very, very easily you can test out blog post ideas that you have and see what words you need to use to make the title reach the most people.
My posts have done much better since installing this tool.
Okay, this one is really cool and you only have to do it maybe once a month or so.
You get 5 free searches a day. I use them to spy on my competition.
Just search for the names of blogs that are in or similar to your niche.
You'll immediately see their most searched, shared blog posts.
This gives you an idea of what posts are trending for other bloggers out there.
I always find this really interesting and, usually, surprising.
Be careful, though. Just because that meal plan post was huge for The Everygirl, it doesn't mean yours will take off like it's on fire. Find Buzzsumo here.
C. Good Ol' Google:
Sometimes I like to let Google help me out.
I'll start to type a subject into the search bar and wait for Google to finish my sentence.
This will give you a few more ideas for that post, another post, or even how you title a post.
Very easy. Very quick. Very free.
10. Set Reasonable Expectations
Listen, we are all narcissists at heart. We all want to believe that we'll hit publish on our first post and wake up in the morning to our site having crashed from ALL THE TRAFFIC.
But, that's not realistic.
Even the pins you see on Pinterest of bloggers having overnight success and making $10,000 a month their first 6 months blogging are probably not telling you the whole story.
Many of those bloggers started several failed blogs before that one that was a success or they did months and months of research before starting.
Or, my personal favorite, people who leverage a huge personal network and their friends and family ruthlessly share and promote it for them.
Sure, that would be so great if that happened for everyone – but we all come to the starting block from a different place, with different experiences and knowledge, so our outcomes will be different, too.
Some of the ways you can help yourself stay positive and grounded when the insecurity starts to sink in (it will), is to reach out to other bloggers and ask questions, or join Facebook groups of bloggers to talk with people who get it. I've joined quite a few and my favorite is BTOP – Breaking The One Percent.
The member are so kind, many are very successful bloggers, but a fair share are brand new and working hard to grow their blogs. In fact, the guys who run it spent an entire year blogging making absolutely no money until they really started figuring out what to do. Now they make 6-figures a month.
I mean, can you even imagine?
This would be me:
#YAAASSSSS
******
Honestly, starting a blog is a really exciting, challenging, nerve-wracking, somewhat expensive learning experience.
Most of the time I enjoy it; other days I don't. If you're a new blogger and want to chat, please reach out. I'd love to answer any questions you might have or help you with the limited knowledge I have accrued so far.
One thing is for sure – now that you've read this list, you'll be better off than I was when I started.
Just make sure you let us all know the name of your new blog in the comments below. We'd all love to see what you've started and support you along the way.
Have a fabulous day,
E