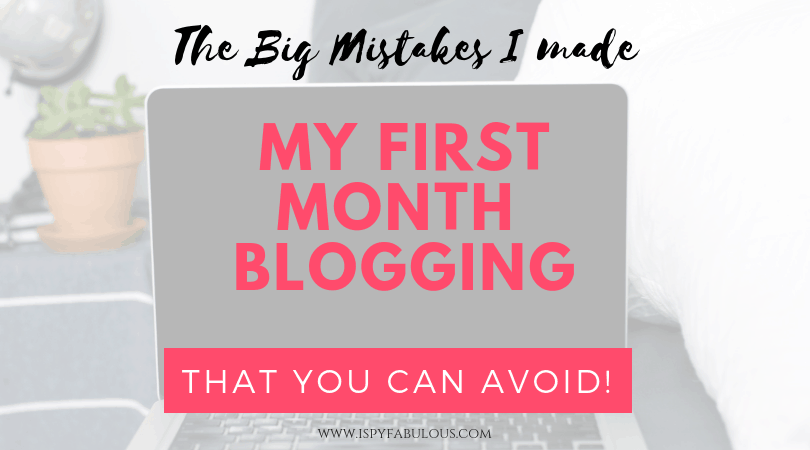 Blogging is not easy – even if the really good bloggers make it look easy.
So, even though I've been successfully freelancing for over 5 years now as a writer, blogger, and social media manager – for other companies – starting my own blog has been a steep learning curve.
Luckily, I like a challenge.
But, despite my experience, I still made some big – and expensive – mistakes, when starting this blog. Of course, I made a lot of good calls, too, but that's for a later post.
So, let's get on to the valuable lessons I learned the hard way, shall we?
Lesson Number 1: Focus Your Effort
I started this blog on a whim. I did almost no research. So, I did everything. I set up the blog, started writing posts, taking pictures, lining up affiliates, influencer networks, ad networks, and opening all of the social media accounts – all at once.
That was a mistake.
By cramming it all – I wasn't really making the right decisions for my blog, long-term, and I also bit off a lot more than I could chew.
Not only that, but I also started consuming every bit of information out there from every so-called blogger and blogger mentor.
While some of it was really valuable, I also wasted many hours watching webinars that were just sales pitches for programs I couldn't afford or read e-books on strategies I wasn't even ready to implement.
What I wish I would've done instead was do a bit more research into who I should really be listening to and seeking them out only.
A great way to do this is to join reputable Facebook blogger groups. By canvasing a large group of hard-working bloggers in various stages of blog growth, you'll get a really unbiased, honest look at where you should invest your time.
I like these:
Breaking the One Percent: Ultimate Blogging Group –
Connect & Cultivate withe Ivory Mix: Group designed by stock photography master
Making Sense of Cents – A group managed by the infamous Michelle Schroeder-Gardner, the writer of the acclaimed course "Making Sense of Affiliate Marketing School".
I've been careful to only add the Facebook groups I will really use.
So, my advice – research and ask other bloggers before wasting valuable time upfront on every free e-book and webinar that you can get your hands on, and don't start acting on any long email challenges until you finish reading all of the emails.
Lesson Number 2: Take Photography Shortcuts
There is definitely value in taking your own pictures or working with a photographer who can. In fact, my most successful blog pins have been the ones where I took the photos myself and then edited them in Canva.
However, when you are just starting out, using all of your own photography may not be realistic or even smart, especially if you have zero photography background like me.
The time it takes to set it up, take photos, download, edit, and upload into your blog is a huge drain on your limited resources.
What I've learned is to use a combination of my own photos and free stock photography.
Here are my favorite sites for image templates, stock photography and easy to use graphic design tools:
Canva – I LOVE Canva and use it every day! The free plan is great, but the Pro is even better and has great stock images included
PicMonkey – So great, affordable, with excellent templates and stock photo options.
DepositPhotos – Incredible stock photo packages for a great price. They have don't-miss deals a few times a year, too.
Creative Market – Excellent source for clipart, stock photos, fonts, and tons of other graphic design assets. I love Creative Market and use it all the time!
Of course, all of this work is for nothing if you're site isn't set up to be found in search results – which brings me to my last mistake:
3. Choose the Right Platform:
This is the big kahouna. This one right here cost me a week of blog downtime and hundreds of dollars.
Shutting down a blog in its infancy for a whole week is really not the ideal plan – but it has to happen when you realize that you chose the wrong platform for your blog.
Let me explain: In my other work as a freelance writer and social media manager, I have found a drag-and-drop website builder and hosting platform (all in one!) so easy to use. I figured, why not use this for my blog?
That's exactly what I did, folks.
Then, when I noticed that I didn't have as much control as I wanted over my blog. From design and SEO, to integrating outside plug-ins or ads, I realized that I was in a pickle. Blogs are best suited to be run on WordPress.org.
So, I bit the bullet and paid for someone to help me move everything over to a self-hosted WordPress.org blog with a Genesis Framework and child theme.
I write a lot more about that journey and all of the tools, tips and hacks that helped me continue to grow my blog until I reached AdThrive ad network (the big fish). Read that post here.
After receiving a recommendation from one of the Facebook groups listed above, I was in touch with Grayson Bell over at IMark Interactive. We put together a plan to set it up and migrate all of my material so nothing was lost except for the time it took them to do this. They even transferred all of my image alt tags and links.
And, I used that week to pimp out my two top social media accounts and draft 92 blog posts.
Yeah, I'm not kidding. 92. Even I'm impressed with myself.
Start your blog off right and save a lot of time and money. Read my ultimate blog framework post for tons of free, solid advice.
How To Start Your Blog Right:
If you are serious about monetizing your blog – which is a necessity for those of us that are pouring 40-plus hours of work a week into them – you'll want to start your blog out right.
Learn from my mistake and set up a self-hosted WordPress.
Final Thoughts:
Starting a blog is more than just writing an online diary. For many bloggers, it's a business where they trade their honest opinions and time for a living wage. If you are new to the blog journey, set yourself up for success.
In case you need more to convince you – less than 24 hours after my new blog went live, my Pinterest traffic TRIPLED.
I'm going to say that again, TRIPLED.
But, that's a post for another time.
Update August 2020: Read my 5 Pinterest tips for how I grew my account from 800,000 monthly viewers to well over 6 million and counting every day.
Here are some more blogging tips you might like:
Have a fabulous day,
E