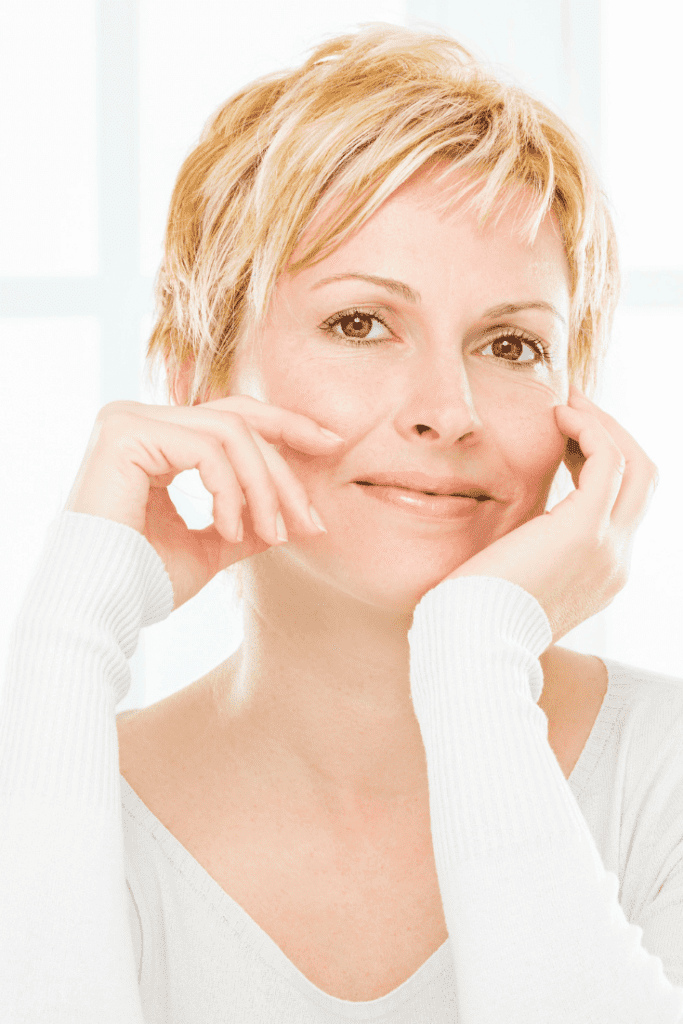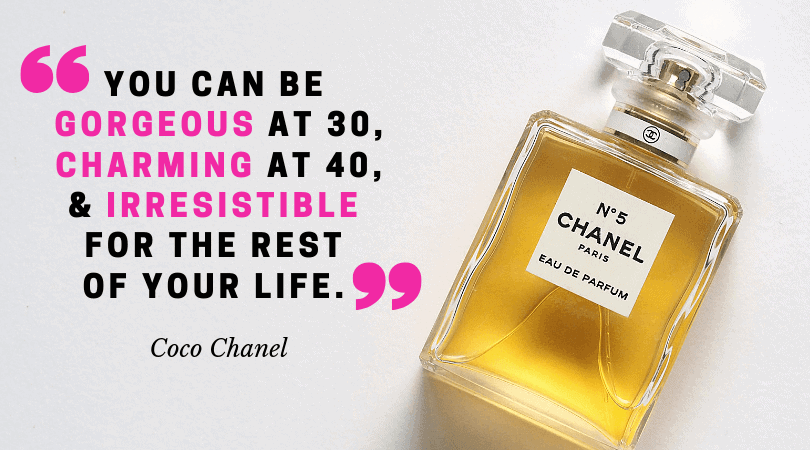 I'll admit it: I'd like to age well.
I bet you would, too.
In fact, preventing signs of aging is a very profitable business – because many people will go to great lengths to slow or reverse the signs of aging.
Luckily, not every option out there requires you to sell your soul to get so much plastic surgery you can blink your lips. #NoJudgement #YouDoYou
So, how exactly do those women age so well? You know the ones I'm talking about.
The one who year after year continue to be just as radiant and irresistible as ever.
Here are the secrets you need to know.
1. Wear Sunscreen Religiously
I mean like it's your church, baby. Slather it on every. single. day.
I don't care if the only sun you'll see is through the window shield while driving carpool. That's still enough exposure to be at risk for signs of aging and even skin cancer.
So, lather it on. Here is a post with my top 10 facial sunscreens. It's a good one, friends.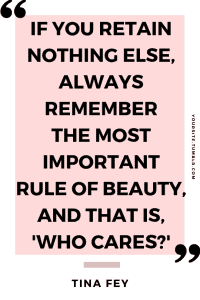 2. Keep Moving
Don't get too sedentary. As we get older and life changes, there are seasons when we are more sedentary than others. Or, you may be experiencing some health issues that are making it difficult to really work out high you prefer.
I get it. Diagnosed with 2 autoimmune diseases in 5 years, I've experienced workout backlash like never before. I have learned that a consistent routine of yoga and pilates is better for my strength, posture, balance, and health, than the occasional super hard workout that leaves my body wracked.
If you could use some ideas on how to work out, even if you are really out of shape or suffering from chronic pain, check out my post on how to start a yoga and pilates practice.
Or, keep it simple, grab a Fitbit and just walk. Walk anywhere you find the landscape interesting. Park further out in the parking lot and walk to the store. Walk around the block.
Many of the greatest philosophers in history are known to have been long walkers.
Strong in body; strong in mind.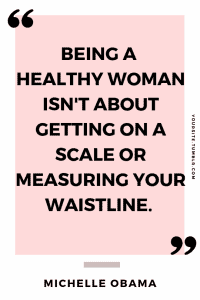 3. Use Skin Care Products with Active Ingredients
While some lists will recommend products specifically with retinoids, not everyone can tolerate that ingredient.
I know I can't.
The idea here is to use quality skin care products (they don't have to be expensive) that have the right active ingredients. Use them every morning and every night.
Here are the ingredients you want to look for:
Hyaluronic Acid: Improves the skin's ability to hold moisture and increases water volume
Vitamin C: Helps resurface, remove signs of damage such as uneven skin tone
Glycolic Acid: Powerful, but gentle, exfoliator to reveal healthier skin
Antioxidants: Such as fruit acids, to help exfoliate, reveal brighter, healthier skin, etc.
Detoxifiers: Such as mud masks, to help purify the skin and draw out impurities
Serums: The skin care product with the highest concentration of active ingredients
Oils: Such as blue tansy oil, or rosehip, which will restore radiance and even out skin quickly
This is just a starting point. I've written a lot of posts on skin care. Or, you can sign up for emails to get my 39 Holy Grail products, which includes a whole page of skin care products I use and love.
Here are a few of my posts you might be interested in for skin care:

4. Watch What You Eat
And drink. And smoke (or don't smoke).
Basically, your body is your temple. You only get one. You can't trade it out. Even if you treat it like crap, it's very hard to get organ transplants and you can't do much to trade out the rest.
So, make decisions as early as you can to treat your body with respect.
No, you won't be perfect. Sure, you'll have seasons where you'll have other pressing priorities.
But, over time, let it balance out in your favor. Here are some easy ways to watch what you eat:
Drink Your Collagen (I drink mine in my bedtime tea, which is the post I have linked here.)
Drink Lots of Filtered Water
Eat Organic
Limit Take-Out
Get Lots of Protein (Drink it in shakes if you have to – just get it in your body)
None of this is ground-breaking. I know you've heard it all before. Sometimes, though, we need reminders to take care of ourselves, too.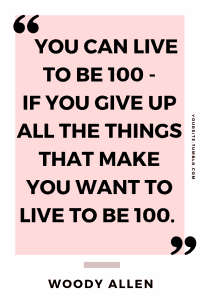 5. Use At-Home Skin Care Devices
Once you reach the age where you are showing signs of aging, regardless of all your efforts, it's time to consider the big dogs.
No, I don't mean botox. Yet. Although, I hear it works well, too.
You can now get spa-like, professional-grade results at home using skin care devices and tools.
In fact, I wrote a post on the 20 most effective at-home skin care products and devices and it's been one of my most clicked posts.
For good reason – most of these products are so affordable, they are less than the price of one visit to the dermatologist for injectables.
I'm not against doing whatever you need to do to feel good about yourself – but I do think we should leverage every opportunity to keep professional work to a minimum.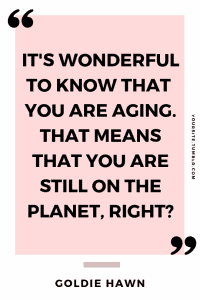 6. Get Regular Facials
In my late 20s, early 30s, I decided to start getting regular facials. Some of my friends were starting to use botox and I wasn't ready. Plus, as a teacher at the time, I simply couldn't afford it.
But, I could afford a monthly subscription to Massage Envy, where for around $60/month you can pick between one hour-long facial or hour-long massage. Back then, I would flop back and forth between the two and after I left teaching, I started getting facials almost exclusively.
I really believe that my use of sunscreen, good skin care products, and monthly facials are the reason that most people guess my age to be years younger than it is.
Plus, facials are just super relaxing – and I think we could all use an extra dose of that, right?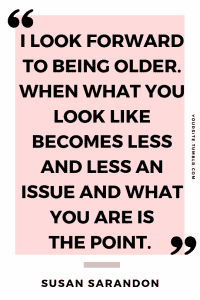 7. Take Care of Your Insides
And, no, I'm not talking about diet again.
We are complex machines. Sometimes, we need a tune up.
Don't be afraid to seek out wise counsel, either from a trusted advisor or regular therapy.
I've invested in regular therapy during seasons of my life and I loved it. Truly transformative experience. I would love to go regularly, all the time, because it's that good.
Take care of your insides so that you can have the ability to focus on the other things in life, too.

8. Catch Some ZZZs
I have spent much of my life as a total insomniac.
That's why I wrote an entire post on how I get some sleep, despite my body fighting me on it every night.
If you are struggling with insomnia, too, I hope it will help.
For some people, getting more sleep just means prioritizing it. It's not always convenient as an adult. It takes so long to get the kids to bed and you finally get a moment to breathe and then it's time to go to bed.
But, sleep is important. That is when our brains detoxify and our bodies heal.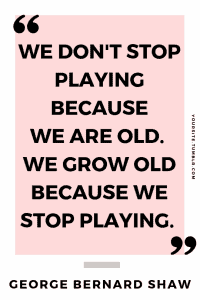 9. Practice Gratitude
Mindset is so powerful. I love reading those studies of people who are given a placebo in a study to test efficacy of some new drug and they have more results than the people who got the actual drug.
Our brains are more powerful than we know.
Speak love, success and kindness to yourself and to others. Say what you want to happen, rather than what is happening.
Practice gratitude by living present and in the moment as much as possible. Trust that when you encounter a situation that requires your immediate attention – you will know what to do. So, don't kill yourself worrying about things ahead of time.
*****
There you go, friends. 9 secrets of women who age well.
I can tell you some of these are already working for me. And, the women I know who are truly proving that age is just a number are living examples of this, too.
Moral of the story: take care of yourself, too.
Have a fabulous day,
E
P.S. Keep me caffeinated so I can write more!
[kofi]