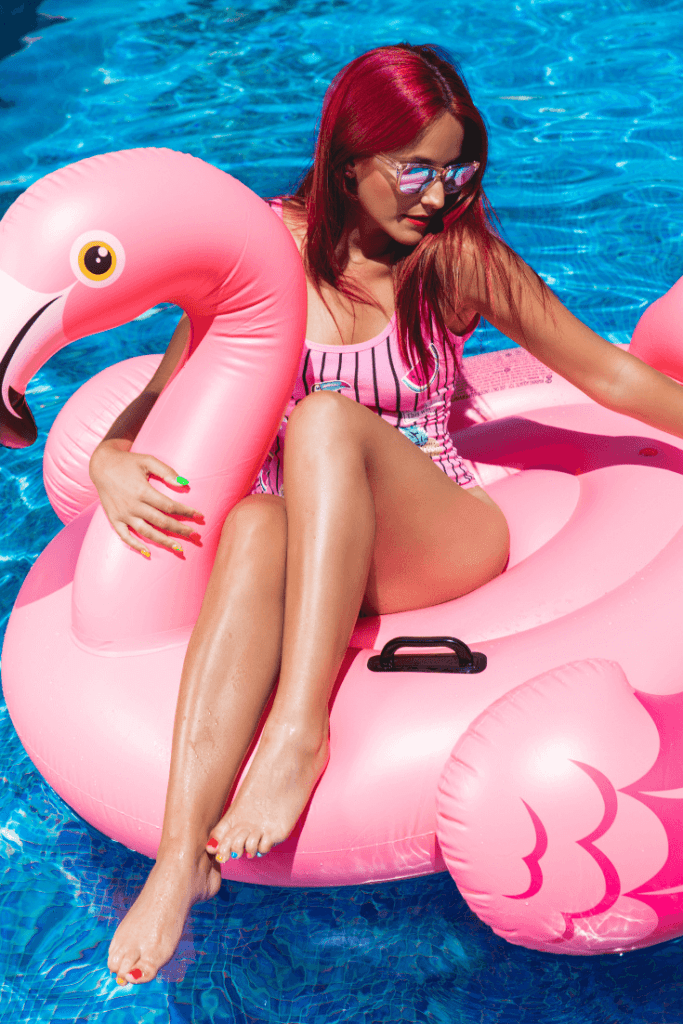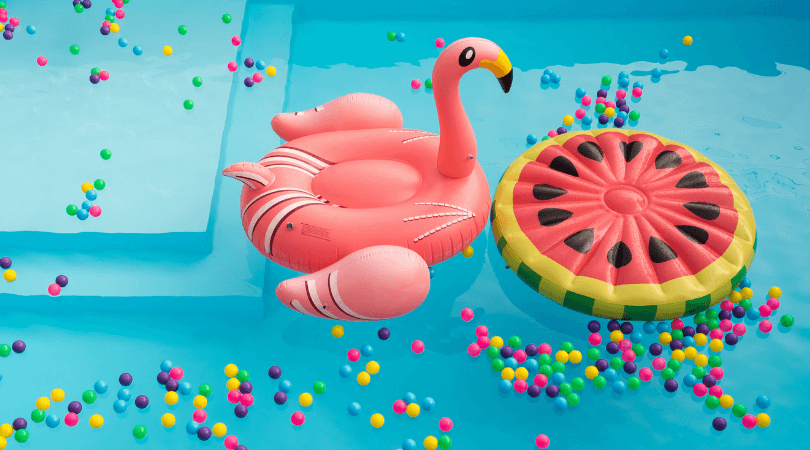 I am obsessed with pool floats right now.
Probably because it's hotter than hades in the summer, so we spend a lot of time in the pool.
But, also because we are saving up to install our very own pool in a couple of years when all the babies are pool safe.
So, while I am not ready to buy the giant flamingo pool float of my dreams – maybe you ARE!
In which case, you go live your best life, friend.
Just makes sure to send me pictures of how much fun you're having so I can live vicariously through you.
Let's get ready to float! BTW, affiliate links used here, thanks for supporting brands that I Spy loves.
The Best Pool Flats You Can Buy This Summer:
Yes. This is everything. With hundreds of great reviews and a price under $20 that can't be beat – there is just no reason not to "ADD TO CART". #PRONTO
Everyone is into unicorns right now – so shouldn't your pool be trendy, too?
I am 100% obsessed with this brightly colored floatie wheel. I can just imagine the hours of fun my kids would have with it.
Please buy this for your children and rub it in my face how much fun they're having while you're sipping frose on the side of the pool.
Oooh.. frose… I should do a post on frose recipes…
Buy this for the pool-loving friend in your life who brings home the bacon!
Or, maybe they're just a major bacon lover – no judgement.
Well, now they can eat bacon and float on bacon at the same time.
#DELISH

Remember when everything was pineapples all over the place? I love pineapples, so I was down with that.
This raft is everything good about summer wrapped into one giant pool float.
If my son saw this, he would beg me to order it, even though we don't even have a pool yet.
And with the major sale it is on right now – would you judge me if I did?
I think I might actually… hold please.
I'm in love with this flamingo pool float.
Who DOESN'T need a FLAMINGO pool float?
I mean, if you have a pool, and you don't have this pool float – are you even trying?
The answer is no, people.
All the girls I know are all about mermaids right now. I think every one of my nieces would go totally bananas for this pool float.
I might just order them as gifts and put them with some flip flops and a mermaid beach towel or something.
I mean, what a cute gift. Auntie of the year, amiright?
#WINNING
Sometimes, you need to just float around your pool in a lounger with a cup holder and headrest.
You know what I mean?
Just go live your best life.
And, since this is a pack of two, your best friend will get to live theirs, too.

This is IT. This is EVERYTHING that summer is about right here! Little spaceship boats with water guns attached.
Just buy one for each of your kids, and your kids' friends, throw them all in the pool, and get ready to do some serious relaxing.
Have your camera ready, though, because those videos are going to last a lifetime.
Man, what a great family gift.

Oh yes yes yes! Now THIS is what I am talking about!
This luxury lounger is like your floating massage chair (the massage coming from the water, just to be clear). With headrest, foot rest, arm rest, cup holder, BAM baby. Get ready to RELAX.
I think this would make such an amazing gift for any person with a pool!
YES YES YES.
If you've got little ones around, we're talking 3+ and a bit older, they'll love floating around on these pint-sized airplanes with water guns! They can keep up with their cousins in the squirting spaceships and everyone will have a blast.
No pun intended.
Okay, puns always intended.

Hot Dog it's a pool float! Know someone who love to BBQ? Here's a great gift.
It also looks like a really nice sized pool float, so it'll be a fun one for people to fight over.
Plus, gotta appreciate the marketing: SUNS OUT; BUNS OUT!

Got a bride to be in the family? Know of an engagement party being held at a pool?
A giant engagement ring pool float is exactly what she needs to celebrate becoming a Mrs.
Plus, some relaxing time in the pool will offset wedding planning jitters.
Floaties for everyone! Why should the baby miss out on the fun?
Once your little precious one is able to hold up their own head and sit upright (usually around 8 months or so) they'll love cruising around in this baby pool float with an activity center!
I can't even believe this exists. Hilarious. Beer pong pool float with a COOLER in the middle.
Drink on, friends.
Just stay safe out there.
Pool floats for everyone! Know a Star Wars lover? What a great gift!
They can float around on their very own Millenium Falcon
and live out their Star Wars dreams.
Get ready for that perfect Instagram picture of you in your pool with an angel wings floatie.
Because this is a real thing, people.
Up your floatie game this summer.
Don't forget about the drinks!
This rainbow cooler has room for everyone!
Now your drinks will never be far and you won't have to worry about spilling them when they are in your own floatie.
Stay hydrated, friends.
I love donuts. I love the pool. I love this donut pool float.
So cute.
Apparently, I'm not alone – hundreds of great reviews say this is a don't miss.
My son is all about the dinosaurs right now. Who isn't?
Jurassic Park is a cult favorite.
Bring the movies to life with gigantic dinosaur ride-on pool floats.
I mean, why not?
21. Giant Floating Island:
A gigantic floating island, big enough for the whole family. Perfect for a huge pool, a lakehouse, the ocean, wherever.
I mean, WOW.
Don't forget about Fido!
He can join in, too, with this dog safe pool float.
My lab would LOVE this!!
Don't have a water slide? Now you do!
This inflatable pool water slide will give all the littles ones the water slide they always wanted.
Slide on.
I love these giant fruit-shaped pool floats.
They are so vibrant, colorful, and fun.
This one is so big, people could jump on and off it all day.
This is it. The BIG KAHOUNA.
A HUGE, inflatable unicorn FAMILY-SIZED POOL FLOAT.
Comes with PUMP and CARRYING BAG.
Go make some memories, PEOPLE!
If you're wondering what you'll do with all those floaties between float sessions, this is your new best friend.
A pool-side, water safe, pool storage bin.
It may not be big enough for tons and tons of floaties, but it'll certainly be an easy place to stash your swim stuff.
*****
Writing this post was not good for my FOMO.
In fact, I am pining even more deeply for our very own pool where we can get all the pool floatie toys of my dreams.
Er, OUR dreams. Sorry 😉
I hope you've found something for you or another member of the family.
Float on, my friends. Float on.
Have a fabulous summer,
E