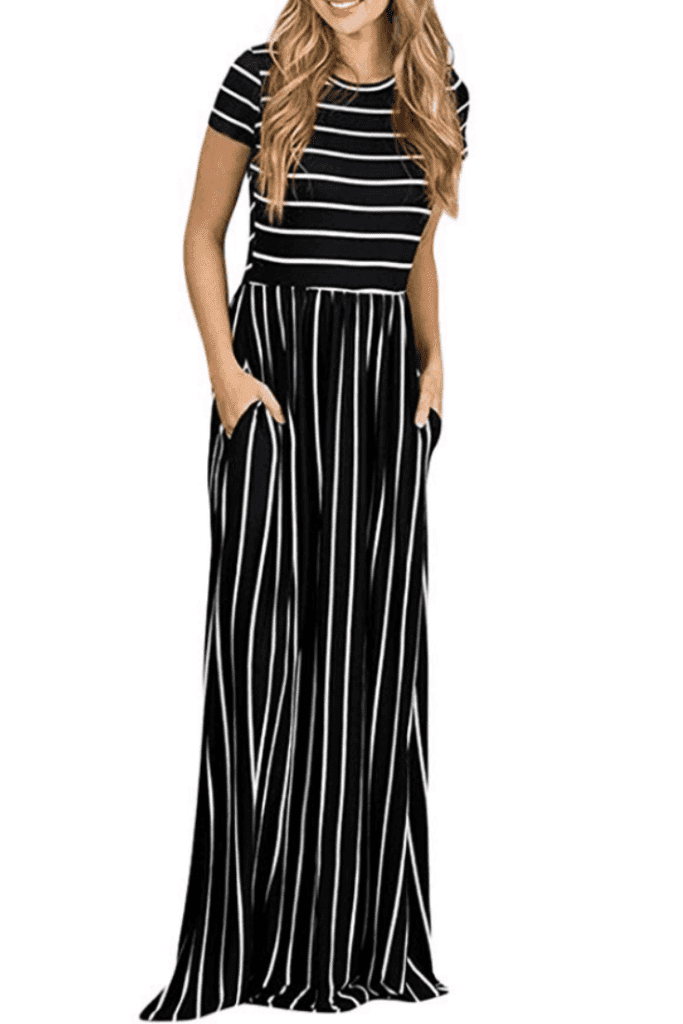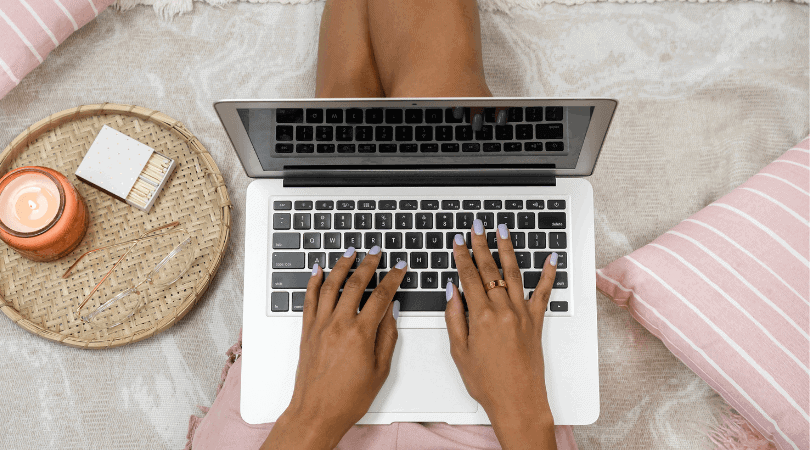 I'll admit it – I'm a sucker for fashion blogger posts on Instagram. Amazon fashion hauls, in particular, are my jam.
I mean, if you can't #Prime it – does it even exist?
But, when you're not a supermodel size 2 (no judgement), things just don't always fit how they look in those little social media squares.
That means I've bought a number of things that were just not made for the curvy girl and mom bod.
So, I'm sharing my top 10 favorite Amazon fashion finds that look like the picture or better, fit a variety of figures, are super affordable, and hold up well to the #MomLife.
Let's get shoppin':
Absolutely obsessed with these. The fabric is beyond soft and has enough weight to hang well and not cling to any jibbly bits.
The graphic is fun and vibrant, without being obnoxious. I bought the tank top version and the long-sleeve in the orange color and I might buy more in different colors now.
When you find something that works… stock up. You know what I'm sayin'?
As far as sizing goes, if you shop true to size they will be close to the body – but not tight. If you want the look in the picture with the drapiness – order a size up.
I'm not sure if this shirt can actually bring good vibes only – but I might wear it every day, just in case 😉
This one is something I saw on an Instagram blogger and almost didn't buy, because she has a much more petite frame than I do. Eventually, I went for it and figured I could just return it.
But, this camo sweatshirt ain't goin' back. It's on the thinner side, so it's great for the California spring when you want a little bit more coverage, but no weight.
The color I got has sort of olive green and peach colors – both very flattering and on-trend.
I found the sizing true to size. If you buy your size, it'll have a little room and fit well. If you want it super drapey like the picture, order up.
Either way, you're going to love this camo sweatshirt that is perfect for spring.
Man, workout leggings can get expensive. I am always trying to get good deals on activewear that moves with me, doesn't roll up or down, allows skin to breathe and feels good on.
I had no idea I could get ALL THOSE THINGS for $20 BUCKS. Actually, I grabbed these GymPeople Workout Leggings on a deal of the day and got them for under $20.
And they are my favorite workout pants. I really can't believe they are so good and so affordable.
Prime it up, baby.
I love a drop shoulder tee. Something about moving that seam just gives the shirt a little bit of a vibe.
The Daily Ritual shirts are some of my absolute favorites. I have a few (that I'll share with you today) and this is my favorite.
The material is just dreamy. It hangs really well and doesn't cling. The fabric holds up well to regular washing and drying. The price is right. This drop shoulder tee is a win.
This long, striped maxi-dress is so cute. The mix-up of stripe direction gives it some interest and keeps it figure-flattering. The nice thick cotton gives it a little bit of structure. The pockets keep it mom-friendly.
Plus, I just love pockets. Are you with me?
Add a little white jean jacket, some espadrilles and chunky, colored jewelry and your go-to summer party outfit is on point.
Wear it with flip-flops and you're ready to chase kids and run errands.
This striped maxi dress is a big win.
When this came in the mail, I put it on immediately and didn't take it off for three days.
That's always the hallmark of a good purchase – when you wear it right away.
This hooded cardigan has the same soft, perfectly weighted material that the Daily Ritual line is becoming known for. The olive color is that great neutral that goes well with anything.
The pockets and hood give it nice functionality for the unpredictable weather of spring.
I did size down based on reviews for this one – and I think I probably could've gone true to size as well. But, because of the length and the way the bottom hangs with the pockets – sizing down is probably more flattering.
High-waisted, opaque, super soft, and come in 25 colors – for under $15 BUCKS? WHAT?!
I actually heard about these from my plus-size friend – because these leggings work for everybody.
How else could they have garnered thousands of almost perfect reviews?
If you're living that legging life, add these to your list of must-try leggings.
Another great size-inclusive option. This chevron maxi is super cute, flattering, and breezy enough for a summer BBQ.
Great find for a great price.
Comin' back to that legging life – this tunic tee is your new legging BFF.
Long enough to cover the bum, a little bit of interest in how the top is cut, same soft fabric from Daily Ritual we know and love.
I bought the black and white stripe and now I need more.
I will say that it runs big. True to size will give you that loose, tunic look perfect for leggings. A size down will probably look better with jeans/shorts.
I picked up the 1838 Gray color in these after reading tons of reviews on Sorel Dupe snow boots and wow – I am impressed!
Honestly, I though these snow boots were more comfortable than Sorels, too. For half the price, I would've been happy with even less quality and comfort than these provide, so for them to be such a great deal was thrilling.
Also, I wore these in serious snow and cold and my feet stayed completely dry while building snowmen with my kids and hiking up and down snowy mountains to sled. Not a drip of water, no sign of blisters, no cold toes.
#AWESOME
*****
There you have it, friends! My favorite 10 Amazon Fashion Finds for Women!
And, since I'm not a tiny little supermodel (usually a size L in tops), you can rest assured that these picks are figure-flattering and size inclusive.
I hope you find something you love – or if you have a favorite fashion find from Amazon, share it in the comments below so we can all check it out!
Have a fabulous day,
E