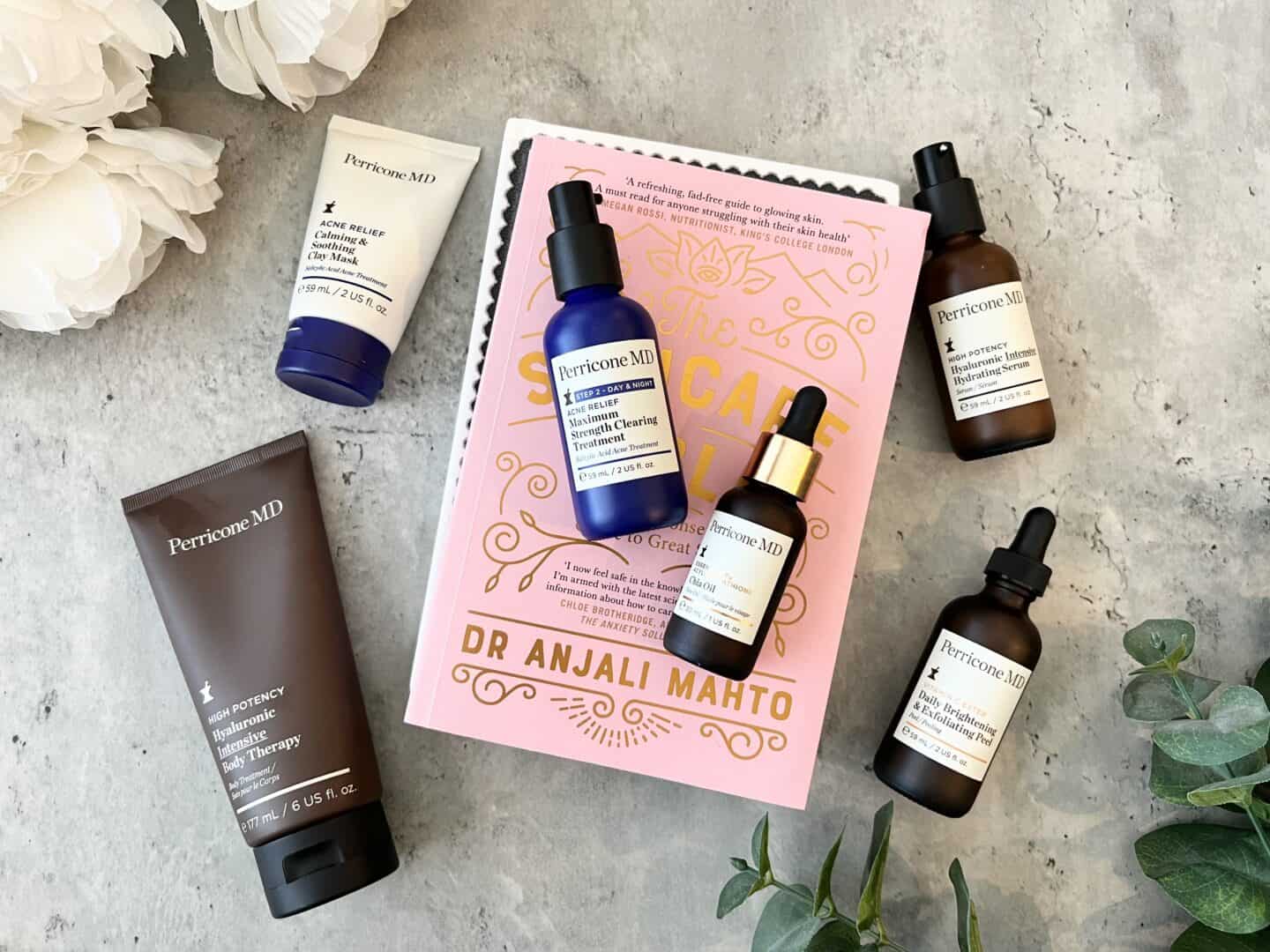 I'm now at the lovely age where if a product doesn't work, I 100% know it. It might feel amazing or make my skin soft, but if I don't see some real results, my crow's feet are going to be laughing at me.
This is why a lot of products simply aren't making the cut these days. I give a product a few days to show me what it can do and if I don't see something – anything – or God forbid, I see my skin backslide, then it's a strong no for me. Pretty packaging and big promises do not get you a spot on my shelf.
So, when I began gravitating toward several products from the same skin care company, I noticed. Perricone MD is a major player in skincare, offering products packed with active ingredients that really get you results, for a pretty affordable price. Designed by Dr. Nicholas Perricone, their philosophy has a holistic three-tier approach, that your skin is more than just the products you slather on it, but also a reflection of what you eat and your lifestyle. I wholeheartedly agree with this – especially when I see big, ugly undereye bags after a night of being up with sick kids. I also see it every month when I get hormonal breakouts (I'm closer to menopause than I am my teens, so this is especially frustrating – does it ever stop?).
Anyway, I thought it might help someone else who is looking for some new products to try that actually work. These are my favorite products from the Perricone MD line-up.
9 Best Perricone MD Products:
1. Maximum Strength Clearing Treatment: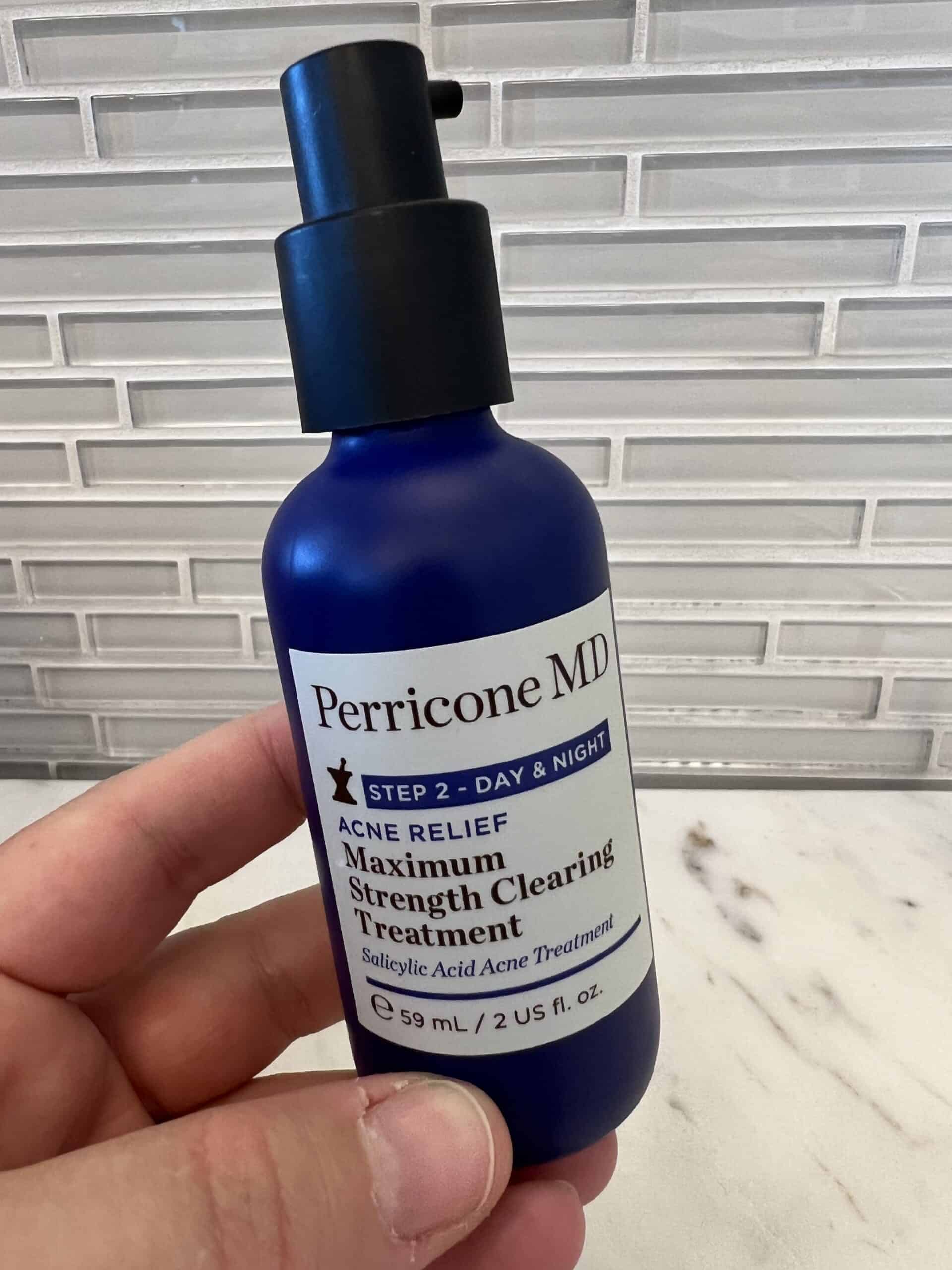 This serum is part of their acne relief line, but I use it with other products. If I don't use something that has breakout busters in it, I will start breaking out, so a serum that fights acne plus offers skin improving benefits is a must for me. I used this every night until it was completely gone and I love it. It doesn't irritate my sensitive skin and plays well with other products. In addition to helping curb breakouts, it also has biomimetic oat protein, skin-soothing cica and lactobacillus ferment to help calm flare-ups, reduce skin redness and selectively target acne-causing bacteria for a visibly clear, smooth and healthy complexion.
2. Hyaluronic Intensive Hydrating Serum: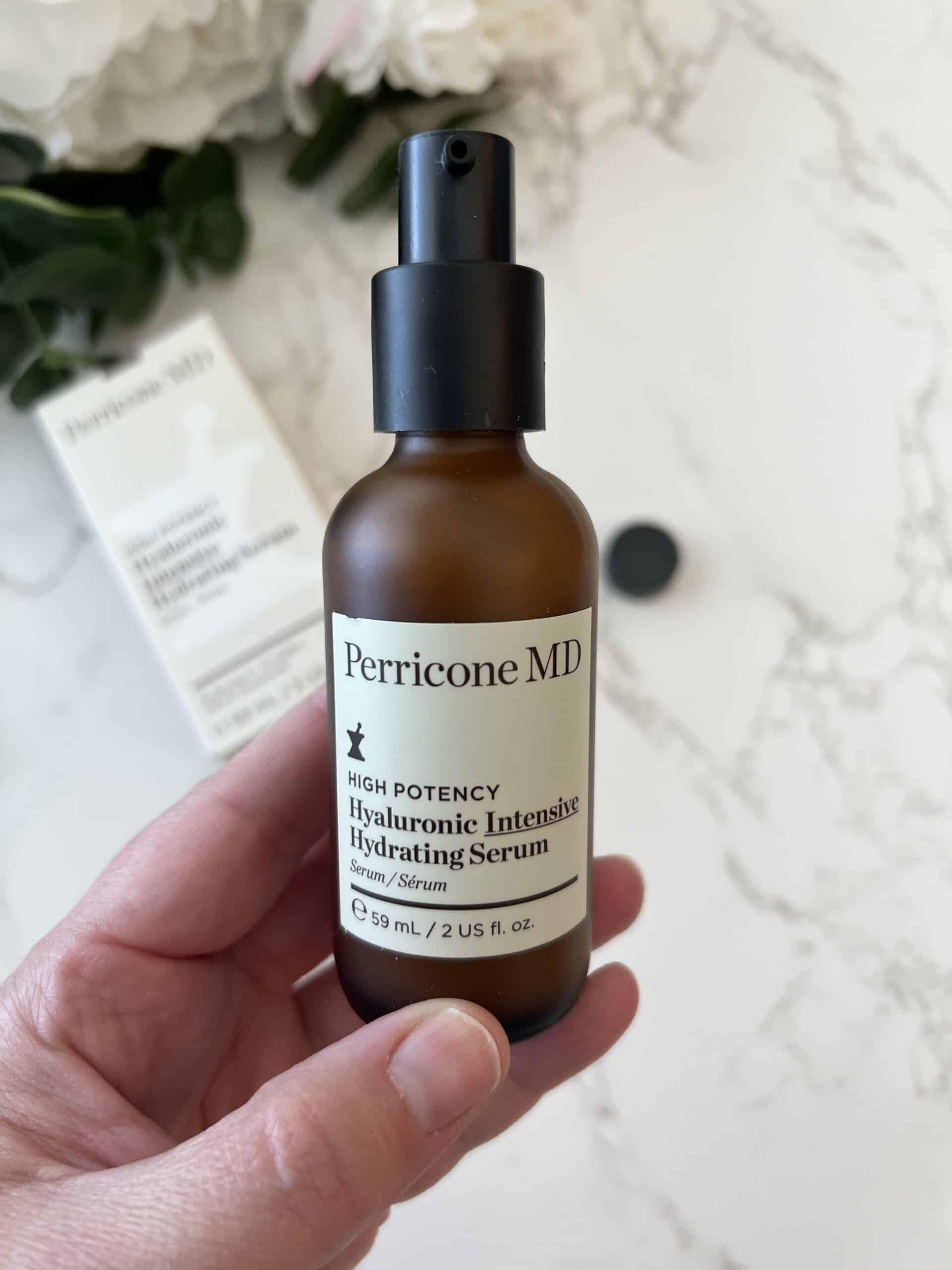 I am a huge, huge fan of hyaluronic acid. It helps your skin retain moisture, which means more youthful, happy skin with less lines. I literally see some of my fine lines look more smooth and filled in when I use this. It's very good. 4 forms and 2 natural building blocks of hyaluronic acid to instantly replenish with essential moisture for visibly smoother, firmer and plumper skin.
3. Growth Factor Lifting and Firming Eye Serum: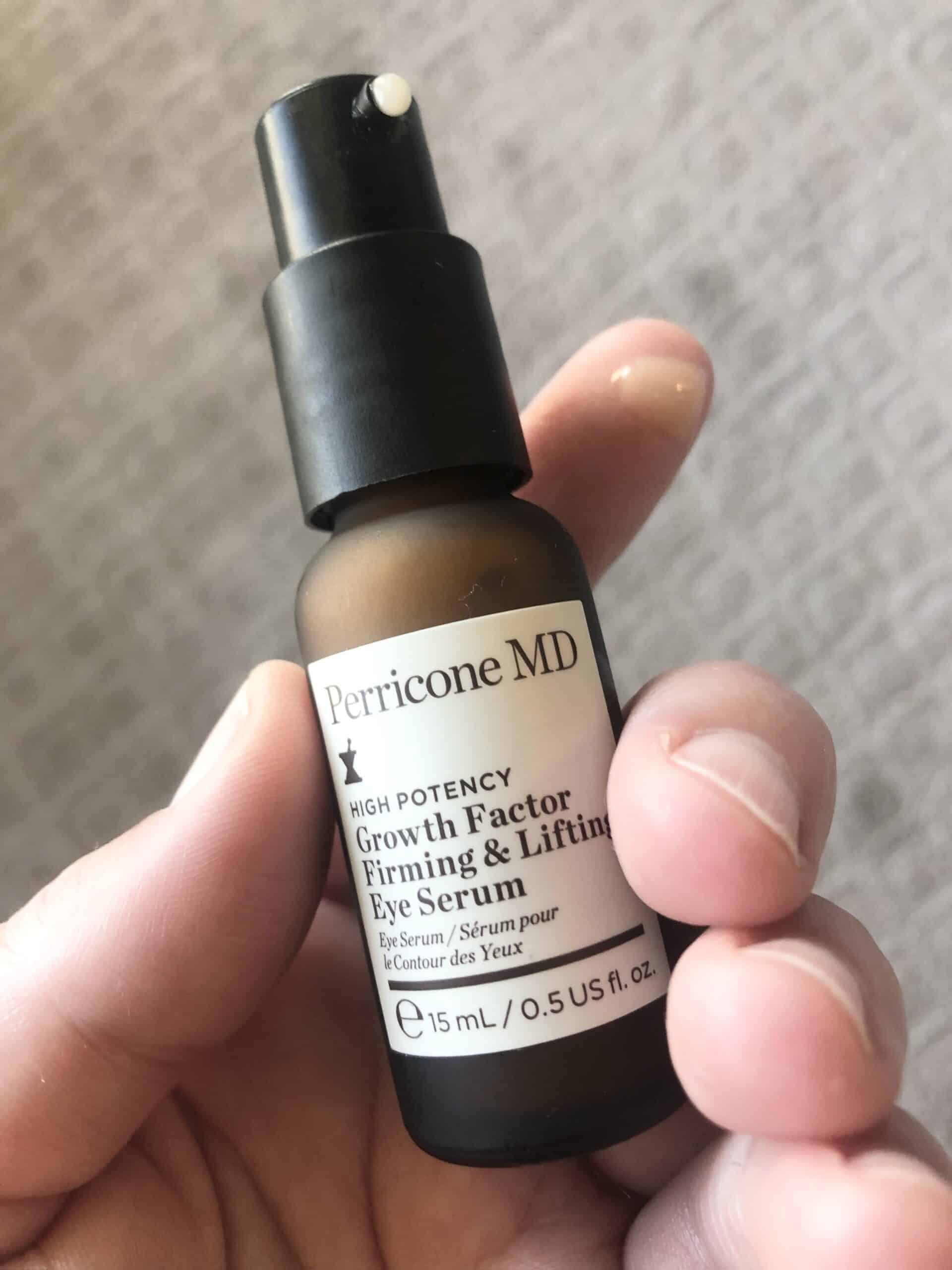 My eyes are showing some lines, girl, but I'm fighting back. This is one of the tricks I have up my sleeve to help slow down those obvious signs of aging and keep my skin as healthy as possible. It's made with next-generation polyamine technology to help deliver a visibly dramatic lifting effect around the eye area for a firmer, more youthful-looking appearance. It hydrates and smooths those little lines, plus a little goes a long way. It's very concentrated and this bottle lasts a long time.
4. CCC + Ferulic Brightening Under Eye Cream: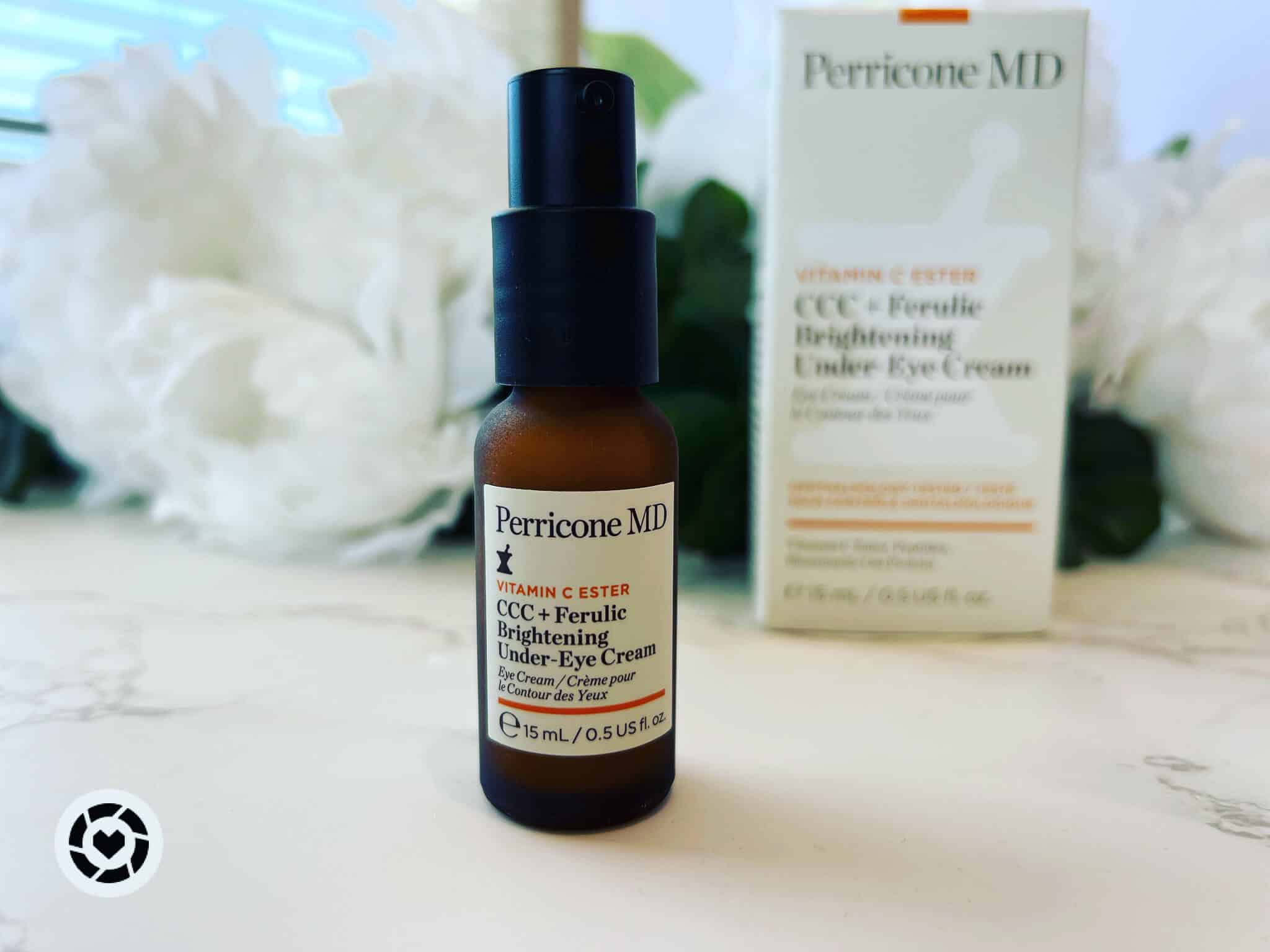 So, I like to use two different eye creams – a super hydrator at night and then a Vitamin C one for undereye bags in the morning. This is the eye cream I've been using in the morning and it's good, people. It's really good.
5. Essential Fx Acyl-Glutathione Chia Oil: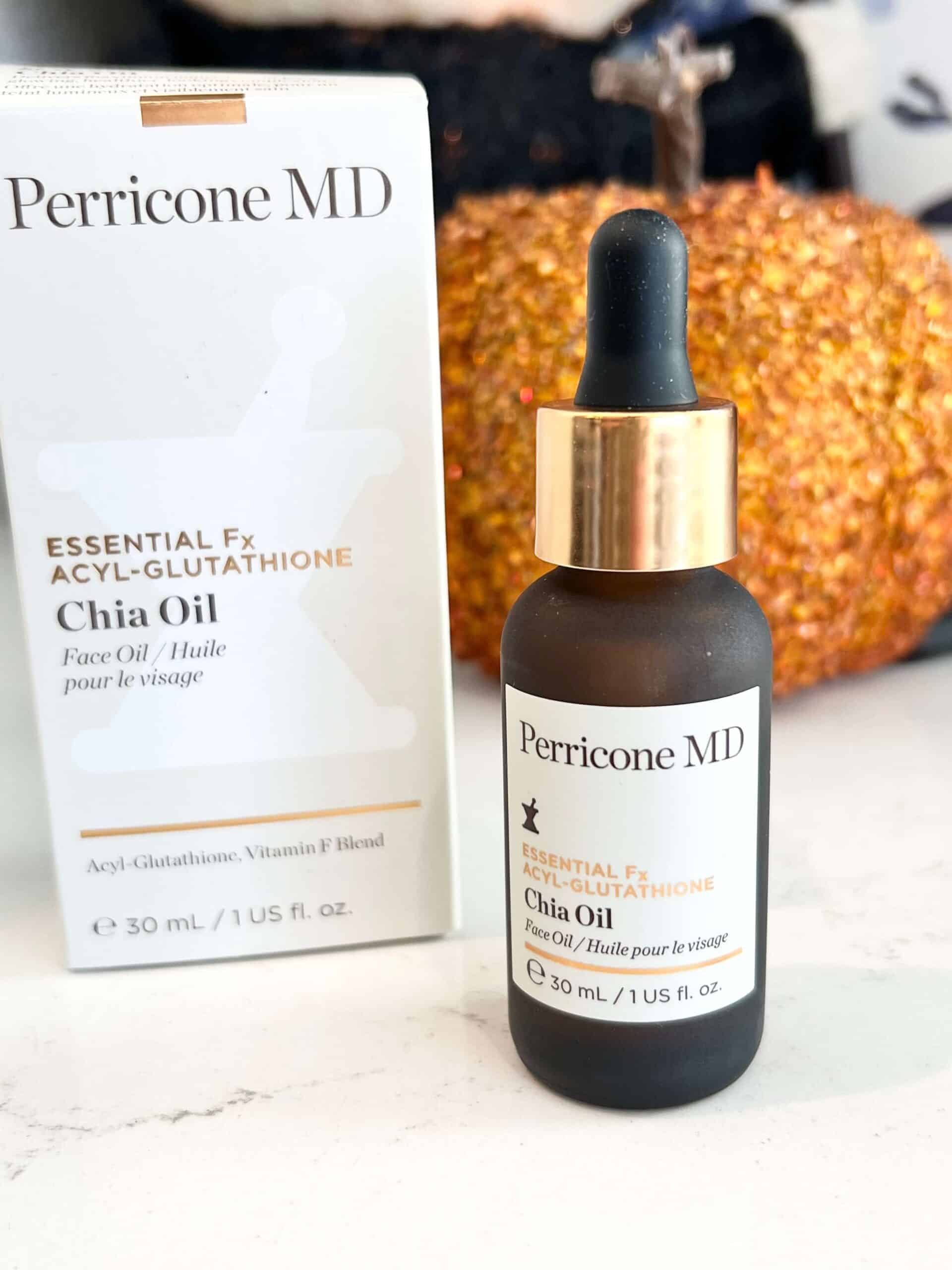 I have to be really careful with face oils. I love that they are super loaded with active ingredients, but it's difficult for me to find one that doesn't break me out or cause little white bumps. This one I can use in concert with the clearing treatment and my skin looks like it got a big glass of water in the morning.
It has skin-strengthening lipids and a vitamin F blend, including omega-rich chia seed oil, which replenishes the skin's moisture barrier to help visibly improve skin elasticity, plumpness and suppleness. Elevator version: skin is super hydrated and fine lines dissolve.
6. Ultra-Lightweight Calming SPF 35 Veil: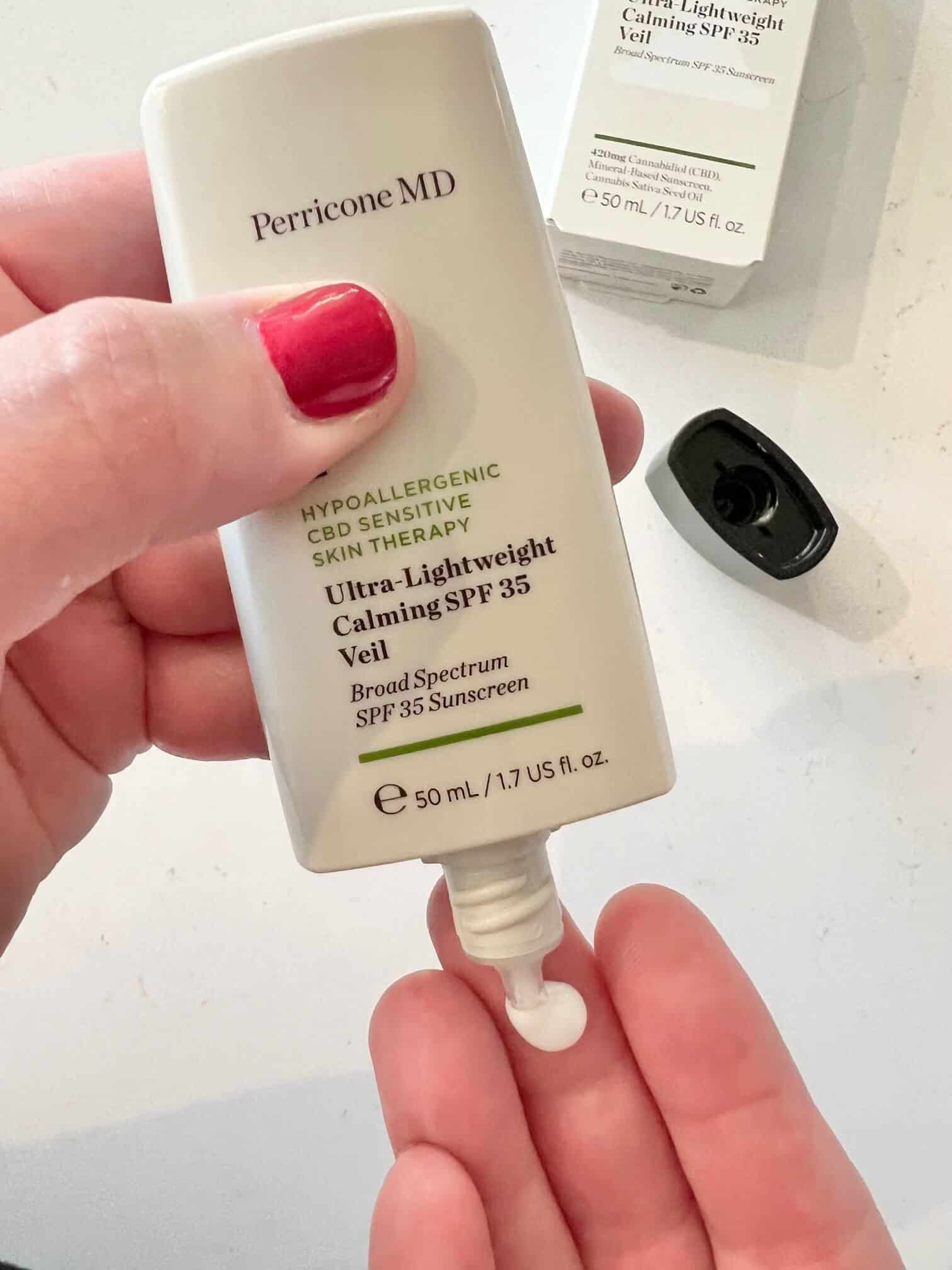 I'm ultra picky with my day moisturizers. It cannot change my skin tone at all (or my foundation looks odd), it can't be too thick or too greasy or too thin and watery. It has to have at least SPF 30 in it and it has to act as a sort of primer underneath my tinted moisturizer. I've tried a lot of day moisturizers with SPF and this is a good one. I really like it. It's my pick when my skin is feeling really inflamed, either from sun exposure, skin care products, or just a flare up from my autoimmune stuff. Infused with CBD, this one really calms and soothes the skin, while protecting it.
7. Acne Relief Calming & Soothing Clay Mask: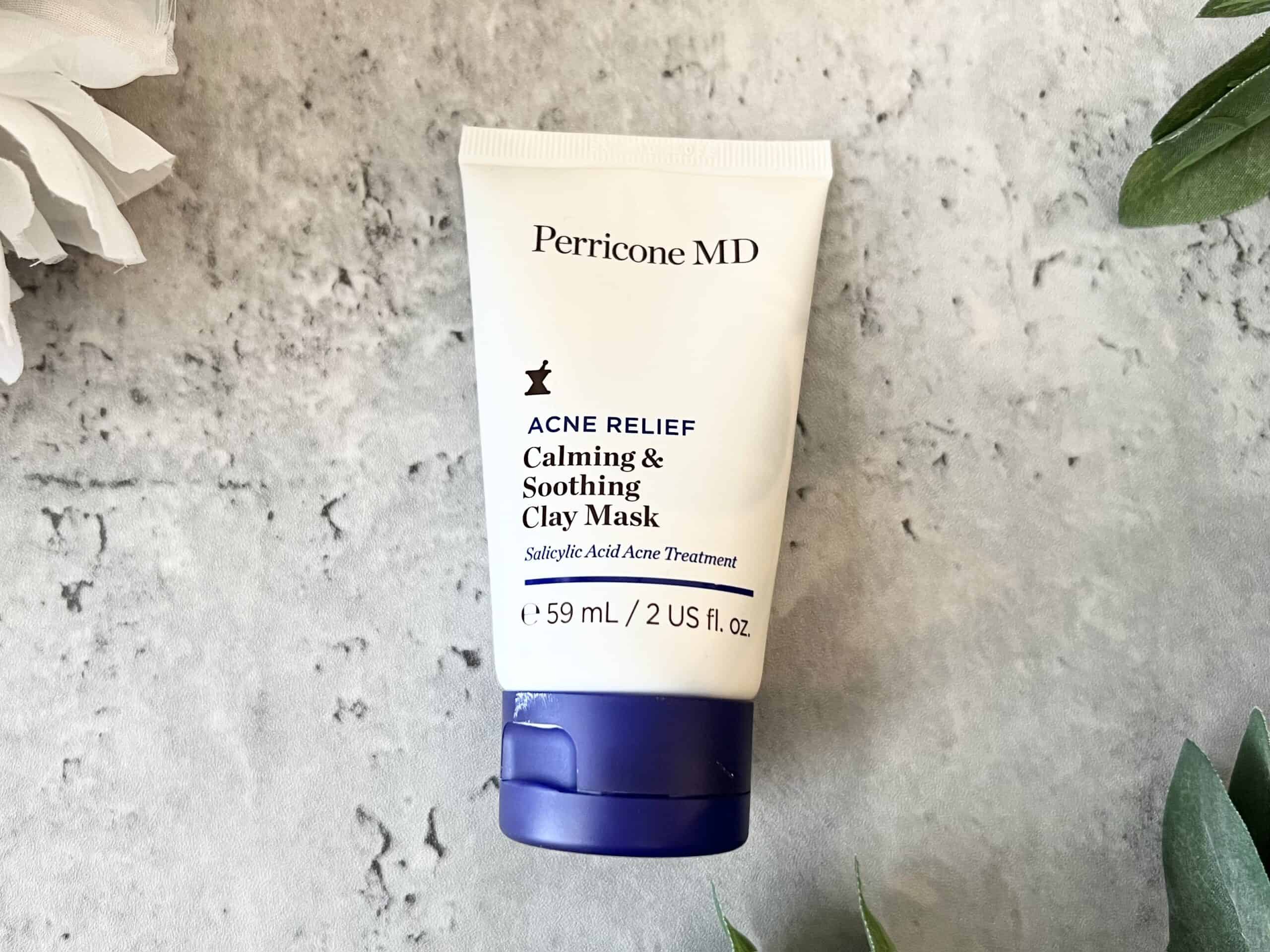 Another item in the Acne Relief line, this mask is my go-to when breakouts of skin inflammation hits me bigtime. It's very calming and feels amazing on my skin, but ingredients like maximum-strength salicylic acid, bentonite clay and lactobacillus ferment gently exfoliate, unclog pores, remove impurities, absorb excess oil and attack acne-causing bacteria. Willowherb extract also rapidly soothes and reduces skin redness. I looooove this mask and plan to always have some around.
8. High Potency Hyaluronic Intensive Body Therapy: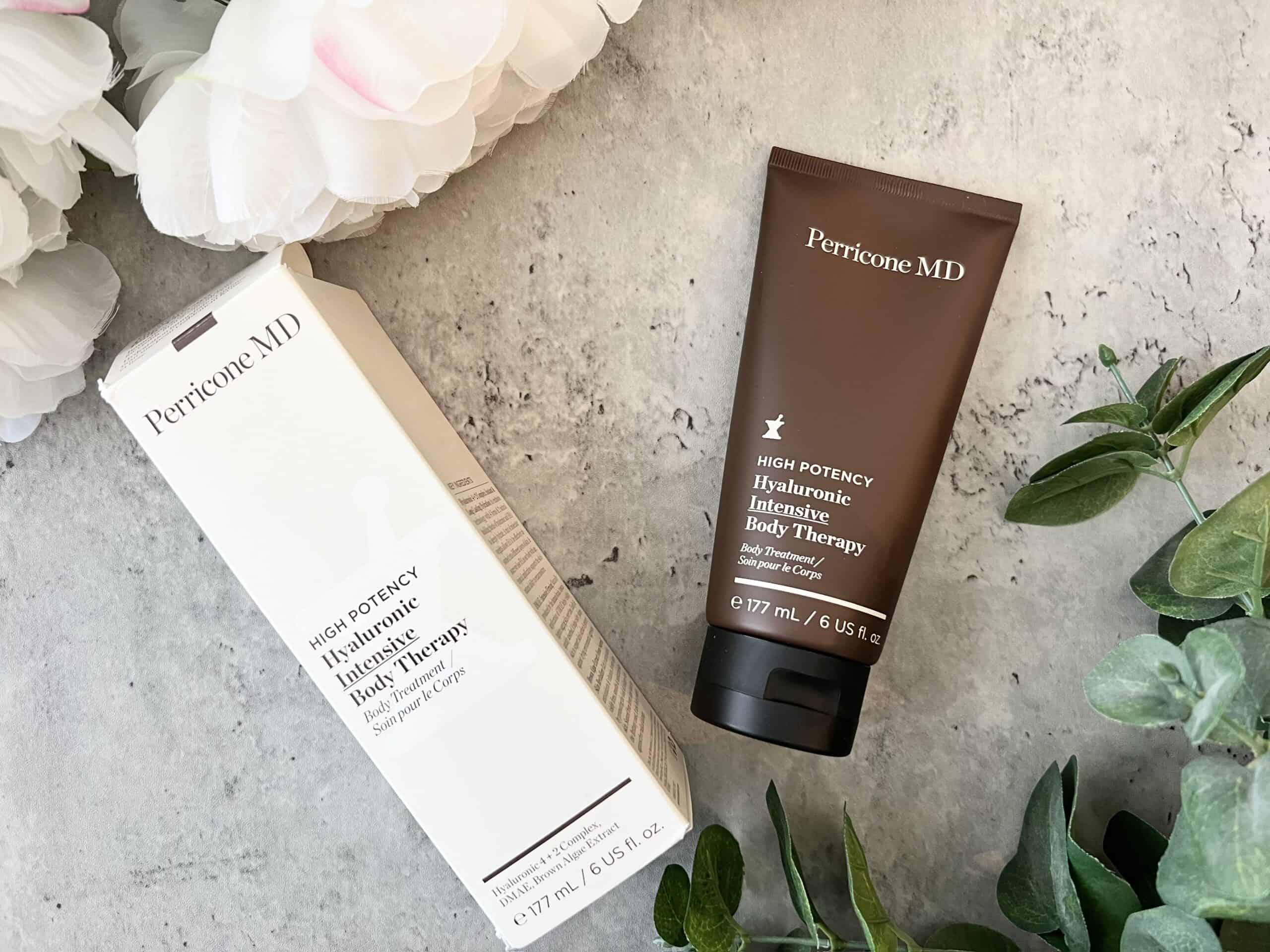 I've been seeing all of the new body care products with skin care ingredients coming out and wondered if they were worth the hype. I didn't try anything, though, until my skin got so dry from the winter that my usual moisturizers just weren't cutting it. My son, too, got some red rashes just from skin dryness, despite moisturizing every day.
Hyaluronic acid to the rescue, folks. With 4 forms of hyaluronic acid & 2 natural building blocks of hyaluronic acid, this body lotion soaks right in, leaving no greasiness behind, and instantly improves the skin's moisture barrier for noticeably softer, tighter and more even-toned skin. I'm obsessed.
9. Vitamin C Ester Daily Brightening & Exfoliating Peel: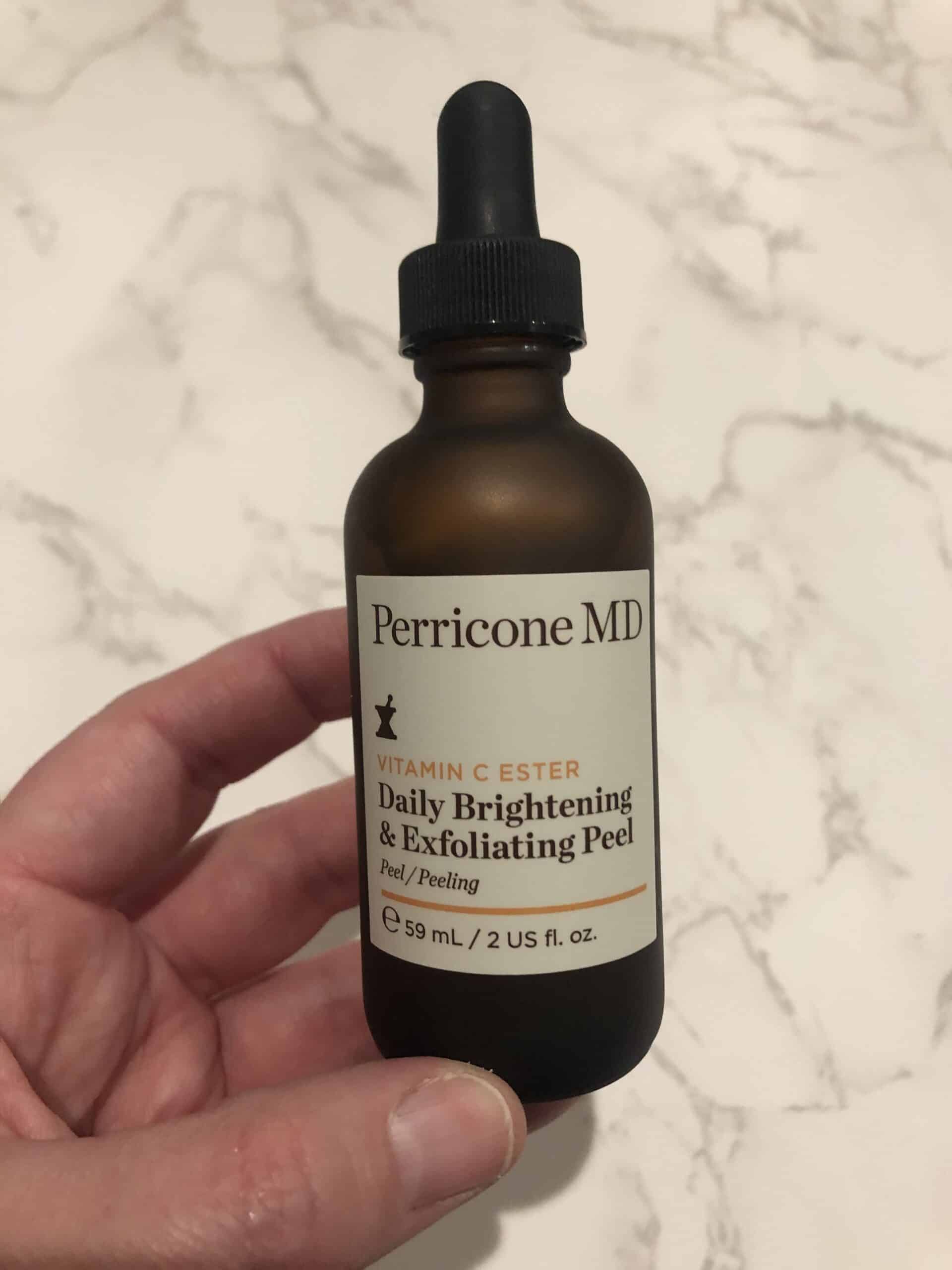 So far, I have been able to keep my skin in pretty good condition with the use of skin care products and facials. No needles…yet. The name of the game? Exfoliation. I use some kind of exfoliating product every single night. If you're going to exfoliate this month, you have to be careful about the products you use, so you don't strip your skin and actually cause breakouts or irritation. This one is the consistency of water, but oh boy is it powerful. I do not use it every night, but rotate it, and it works really well. My skin definitely looks renewed in the morning.
Ways to Save on Perricone MD Products:
There is no way around it, beauty and skin are products get expensive. I always look for dupes or more affordable products when I can, but if something works – I just try to find any way to make it more cost effective.
Perricone MD has a subscription program that allows you to order automatic shipments to replenish your stock for more affordable prices. Add in that they also have regular sales and offer free gifts regularly and you can definitely bring the cost down even more. Don't sleep on their rewards program, either. It's an easy way to save.
And, if you aren't already using the super coupon Rakuten, sign up here. I use it all the time and right now, it's showing 5.5% cash back on Perricone MD. Awesome. I get hundreds of dollars back from Rakuten each year for just clicking a button. If you are new, you'll also get a one-time cashback gift that ranges from $25-50 depending on the promotion when you sign up. Check it out here.
****
I'm sure I'll be trying more products from the Perricone MD line. I'm a big fan of what they're doing, because, simply put, it works. And, it doesn't break the bank for me to keep it in stock.
Have you tried any Perricone MD products? Which one is your favorite?
Have a fabulous day,
E