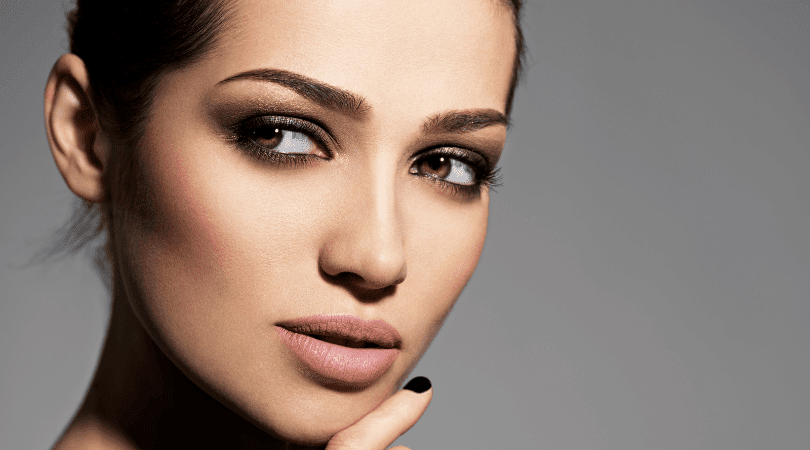 If you've ever tried an eyeshadow tutorial that looked amazing on someone else, only to have it look completely differently on your own eyes, you may have hooded eyes. I can remember seeing these beautiful eyeshadow looks that I wanted to emulate on myself, only to feel like they just washed out all of my color. Without realizing it, I was looking at eyeshadow tutorials designed for people with a completely different eye size and shape than mine.
Once I figured out that I have almond shaped, hooded eyes, I was able to focus my techniques on what works best for me. It saved me a lot of money, time, and frustration on makeup and techniques that were just never going to be what I was looking for on myself.
So, if you think you have hooded eyes or have experienced similar frustration with learning how to do your eye makeup, keep reading, because my good friend, Annie, is back today with a series of video tutorials on how to know if you have hooded eyes and how to do your eye makeup if you do. She's shared all of these videos and tips with us today, but there's a ton more where this came from. Make sure to follow her on instagram to see her all of her great content.
How To Know If You Have Hooded Eyes:
First and foremost, let's figure out your eye shape. Hooded eyes means the upper lid covers or partially covers the lower half of your lid. Many, many eyeshadow advertisements do NOT advertise with this type of lid, because some of the color hides in that crease when the eyes are open. This is why tutorials and images of eyeshadow can be deceiving. All of our eyes are not the same shape.
Now, Annie has hooded eyes like me, but her eyes are much larger than mine, so that tells me that while a lot of her techniques are going to flatter my own hooded eyes, I need to make some adjustments due to my eyes being smaller. After you watch this video, look at your own eyes without makeup and notice if you have hooded or partially hooded eyes, look at the shape of your eyes, and look at the size of your eyes. This will all play into how you should apply your own eyeshadow for maximum impact.
View this post on Instagram
9 Tips for Hooded Eyes:
Now that you have a better idea of what you're working with, let's talk about some eyeshadow tips for hooded eyes.
1. Don't place eyeshadow below the line:
Pretend there is an imaginary line from the corner of your outer eye to the tail of your brow. And do not let eyeshadow drop below that line. Keep your shadow FORWARD of that line, so that product does not deposit in the outer corner and drag your eye down, or make it look more closed, or smaller. Lift your brush when you get to that outer corner, instead of just wind shield wiping your color across with your brush. THe lift takes some muscle memory, but in time it will become second nature and will prevent that build up of color on the corner of your eyes.
View this post on Instagram
2. Place crease color above your natural crease
When you hear or see directions to "put shadow in the crease of your lid" resist the urge! Instead, put color just ABOVE your natural crease. If you put the color directly in your crease, it will disappear as soon as you open your eye again, as it is covered by the "hood." Kind of a waste of product, and therefore money, IMO. If you want the color pay out for your time and effort, make your own crease 🙂 Place it just above your natural crease so it shows up and has the affect and drama we're looking for! It's okay if it feels close to your brow. It will at first and then you'll notice how amazing it looks and you'll get comfortable with it!
View this post on Instagram
3. Place Brow Highlight Carefully:
Watch carefully how much brow highlight (usually a light, shimmery shade placed on the brow bone just under your brow arch) you use. Keep it tight to your brow. If you sweep it across your entire upper lid, you're actually just accentuating the hood and making your eye like more puffy than it really is. Light/bright colors draw our attention. Use it in the right spot to use it to your advantage instead of disadvantage.
View this post on Instagram
4. Use Lighter Colors on the Lower Lid:
Consider using a lighter eyeshadow shade or even glitter eyeliner. Filling the precious lower lid real estate with dark colors can make your eyes looks smaller and more closed. Using a lighter color eyeshadow OR even a glitter eyeliner allows your lashes to shine through, instead of being camouflaged into the black of your eyeliner. For larger eyes, like Annie's, you can even forgo the black eyeliner and use a lighter color instead. For smaller eyes, like mine, that black line helps me create the illusion of bigger eyes, but I use it with a lighter, brigher lower lid eyeshadow to get the same effect.
View this post on Instagram
5. Use a Fine Eyeliner:
If your eyeliner is too thick, it could drown out too much of your lower lid and for smaller eyes like mine, it can make it look like you're wearing black eyeshadow. I have tried so many eyeliners to find ones that are super fine and can give me a really tight line to my eyelashes.
I do prefer liquid eyeliners, because I can get a nice rich brown or black line without it flaking into my eyes like kohl pencils can do. Since my eyes are really sensitive, this works better for me. But, most liquid liners have a marker tip or are too hard to get a tight line, so that's not going to work, either.
I have found a couple of great options, one is more affordable and one is more of a splurge, but both work fantastic for getting that nice tight, rich, fine line. The Maybelline is a bit harder to hold, because the pencil is so small and very angular, but it works well for the price. The Benefit is the best liquid eyeliner I've ever used and I love it.
*Affiliate links are used in this post, which means at no cost to you, I may receive a commission if you make a purchase through my links. I am not a Seint artist and definitely recommend working with Annie if you're interested in Seint products.
6. Curl Your Eyelashes:
Yup, it's important. And, you may need an eyelash curler that really gets tight to your skin. I have a difficult time finding an eyelash curler that gets really close to the lash line and curls without pulling out eyelashes. If you have bigger eyes and longer eyelashes, you may not have any problem with this.
If you're like me, you may also like this eyelash curler. I was really hesitant at first to spend this much on an eyelash curler, but I love it and use it every day. I returned several before buying this one and haven't looked back since. It's not the nicest looking one on the market, but it really gets close to the lid and works well for hooded, small eyes.
7. Use Concealer Under Your Eyes: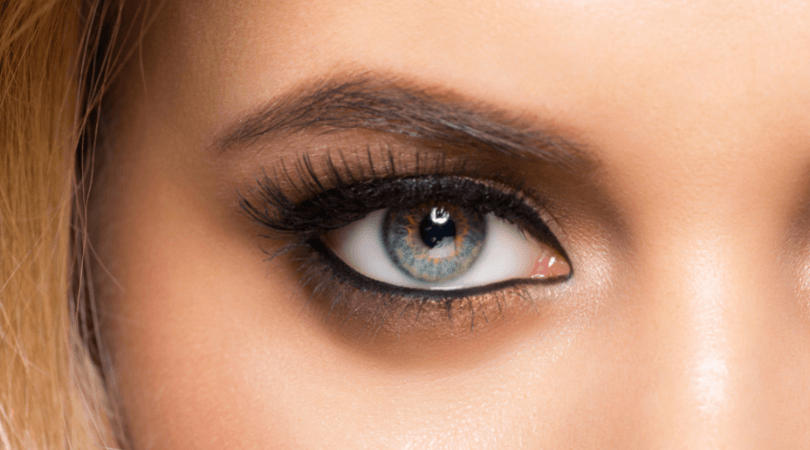 There are a lot of great concealer hacks for brightening under the eyes as well as helping elongate the shape of your eye. This can be really effective for those of us with smaller eyes or hooded eyes. If you like to do a little cat wing with your liner, it can help increase that drama and draw attention to that line.
To use, you want a color one shade lighter than your skin and you'll put a dab under your eyes near the bridge of the nose to cover those undereye bags and then another little line near the outside of the eye going out past your cat wing. Then, you'll blend with your finger to get it to sink in with the warmth of your skin first. Then, blend it in seamlessly using a blender sponge or concealer brush. I have better luck getting it nice and smooth with a blender sponge.
As a woman of a certain age, I have struggled to find concealers that do not make fine lines even more obvious or get cakey/settle in throughout the day. This concealer is the absolute best one I have found. I've recently been trying drugstore brands to find a dupe and nothing compares.
8. Blend Eyeshadow Colors Light To Dark From Inner Corner Out: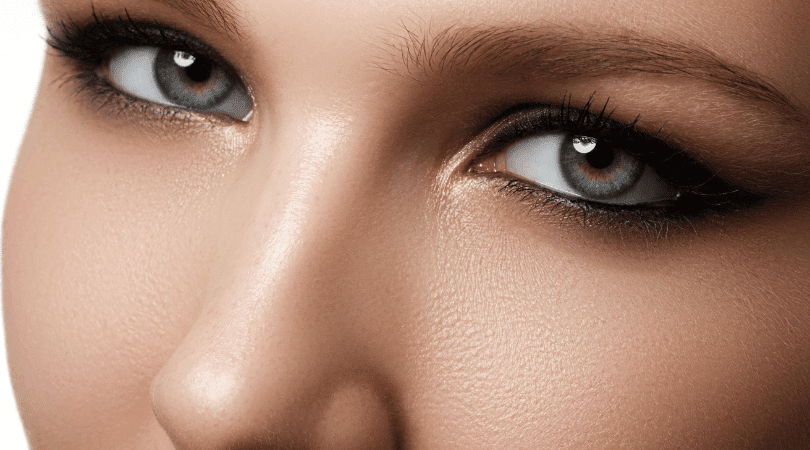 Another great tip is to place eyeshadow colors from light to dark when moving from the inner corner of the eye out towards the outer edge of your eyes. The lightest color should be at the inner corner, moving towards a light or medium color on the lower lid, a dark color in the crease and then a light brow color along the brow bone.
This wing shape will accentuate hooded eyes beautifully and also create that cat like eye shape. If you use the medium color all the way to the inner corner of your eyes, you run the risk of closing the eyes in more or making them look like they're sinking in to your face. You can even just do a lighter color from on the inner corner for that bright pop. It also brings out the whites in your eyes, too, which gives eyes that "sparkle" we all love.
To do this, you'll need a range of colors, usually 4 (or at least three). If you only have a palette with 3 colors, use the brow bone color on the inner corners of the eyes.
For eyeshadow color recommendations that will match your skin color and eye color, reach out to Annie for a free consultation! DM her here.
9. Prime Your Lids:
With hooded eyes, eyeshadow colors can start transferring as you open and close your eyes, which can make eyeshadows smoosh together, get cakey, or just flake down into your eyes causing all day irritation. If you have sensitive eyes like this, this can lead to your eyes watering, which makes the whole situation even worse.
I use a dab of eyeshadow primer every time I do my eye makeup and it solves this problem easily. There are definitely a lot of great primers out there, but I've been using this one for years and years. One tube lasts months – at least 6 months – so while it's not cheap, it's worth it. A little dab on each eye is enough and move that primer along the lower lid and up into the crease and the above the crease. Don't go all the way to the brow (although you can if you like). By the time you've put the lid back on the primer and put it away, you're ready to start applying eyeshadow.
*****
I hope these tips help you with eyeshadow placement for hooded and/or small eyes! If I think of more steps, I'll come back and add them to make this the ultimate list for hooded eyes.
For more makeup tutorials, check out these posts:
Remember, if you're looking for an artist to color match you – reach out to Annie here. She's phenomenal and she shares tons of great tips and hacks on her Instagram, in addition to Seint tutorials, so you don't want to miss out!
Have a fabulous day,
E