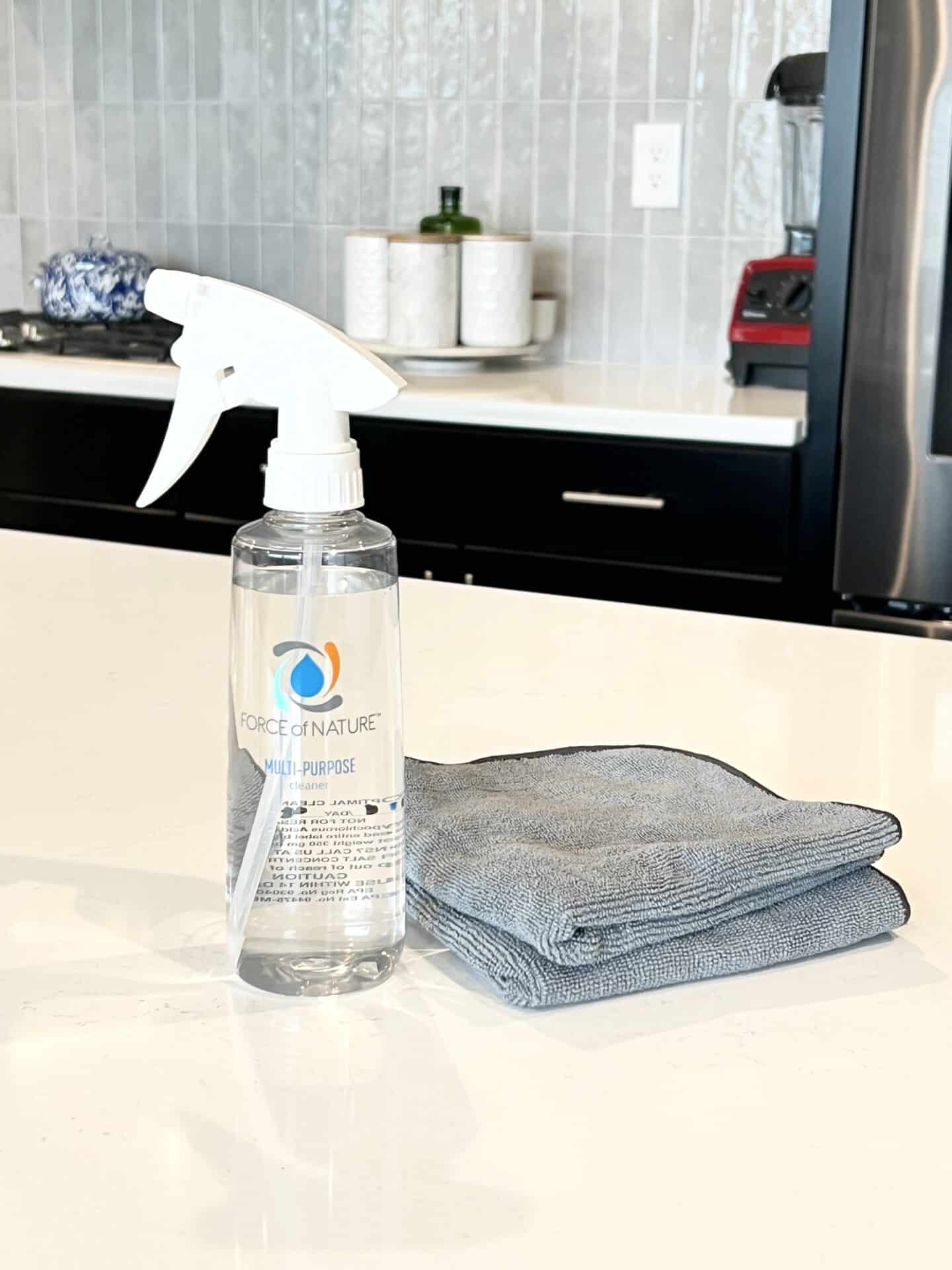 Non-toxic cleaners are kind of a mixed bag. There's the super clean ones that don't really seem to work or the semi-non-toxic cleaners that work better, but usually have ingredients like fragrance or harsh ingredients that aren't great for you.
Considering I'm always looking to reduce toxins any way I can (since I already have two autoimmune diseases and don't need anymore – ha!), I was intrigued when I saw an ad for the Force of Nature cleaner, which electrolyzes salt, water and vinegar to create a cleaner that is fragrance-free, non-toxic and as effective as bleach.
Sign me up.
So, today I'm sharing with you my honest experience with the Force of Nature starter kit that Force of Nature kindly sent to me, including how it works and much more. Let's jump in!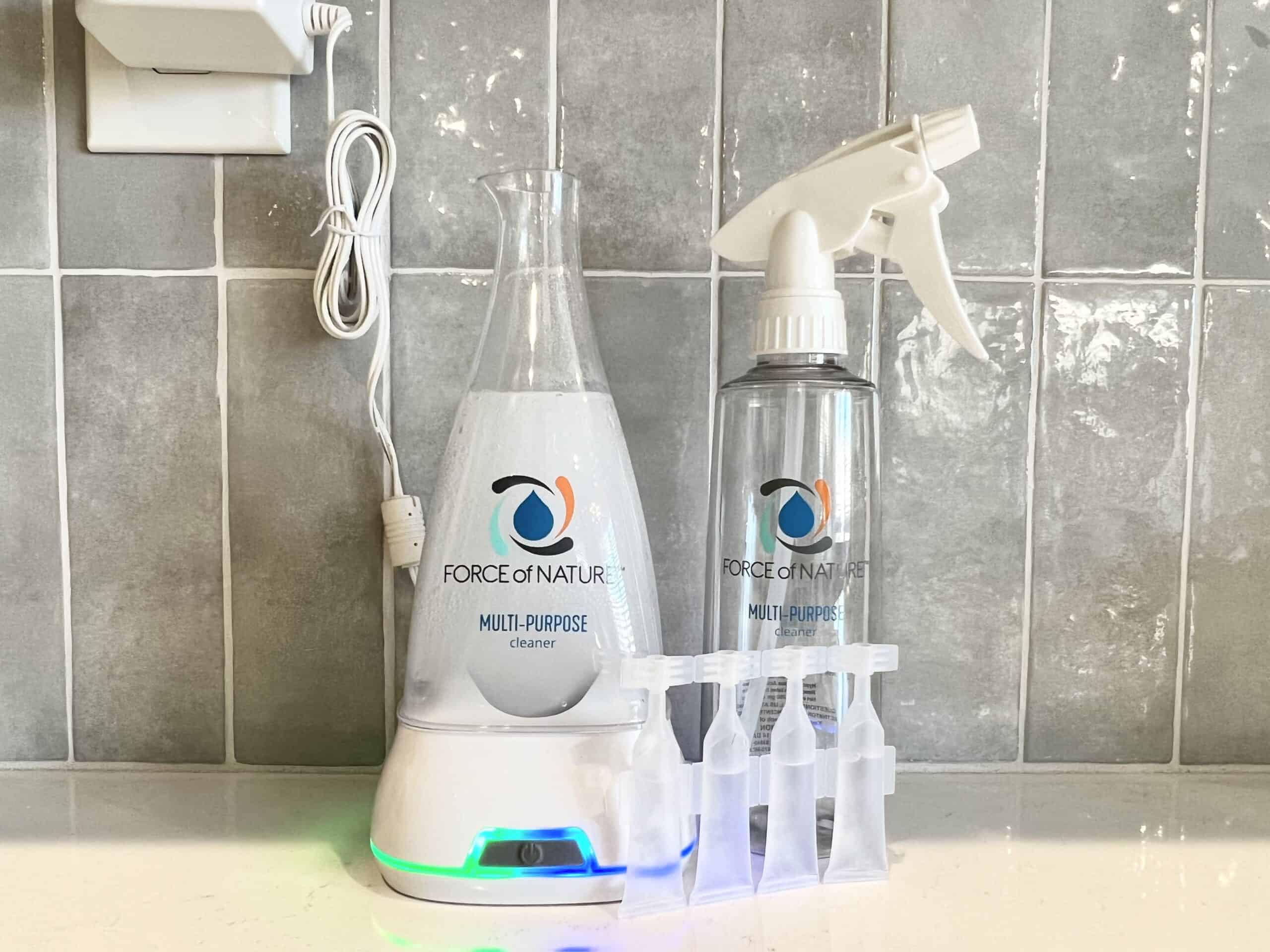 Force of Nature has figured out a way to harness the power of natural ingredients to create a completely safe, fragrance-free, powerful cleaner and deodorizer that is safe on pretty much any surface. It has worked on any surface I've used it on, but I would always be careful with anything like furniture or flooring and try a small area first to be sure,
You mix the cleaner yourself and it's good for two weeks after. A handy space on the back of the BPA free bottle lets you keep track of when you made it or when it's expired, so you can refill it. Considering the cleaner can be used for anything, it replaces your bathroom cleaner, kitchen cleaner, glass cleaner, shower cleaner, etc., which makes it pretty easy to use up the bottle in two weeks.
*Affiliate links are used in this post, which means if you choose to make a purchase through my links, I may receive a commission at no cost to you. Thank you!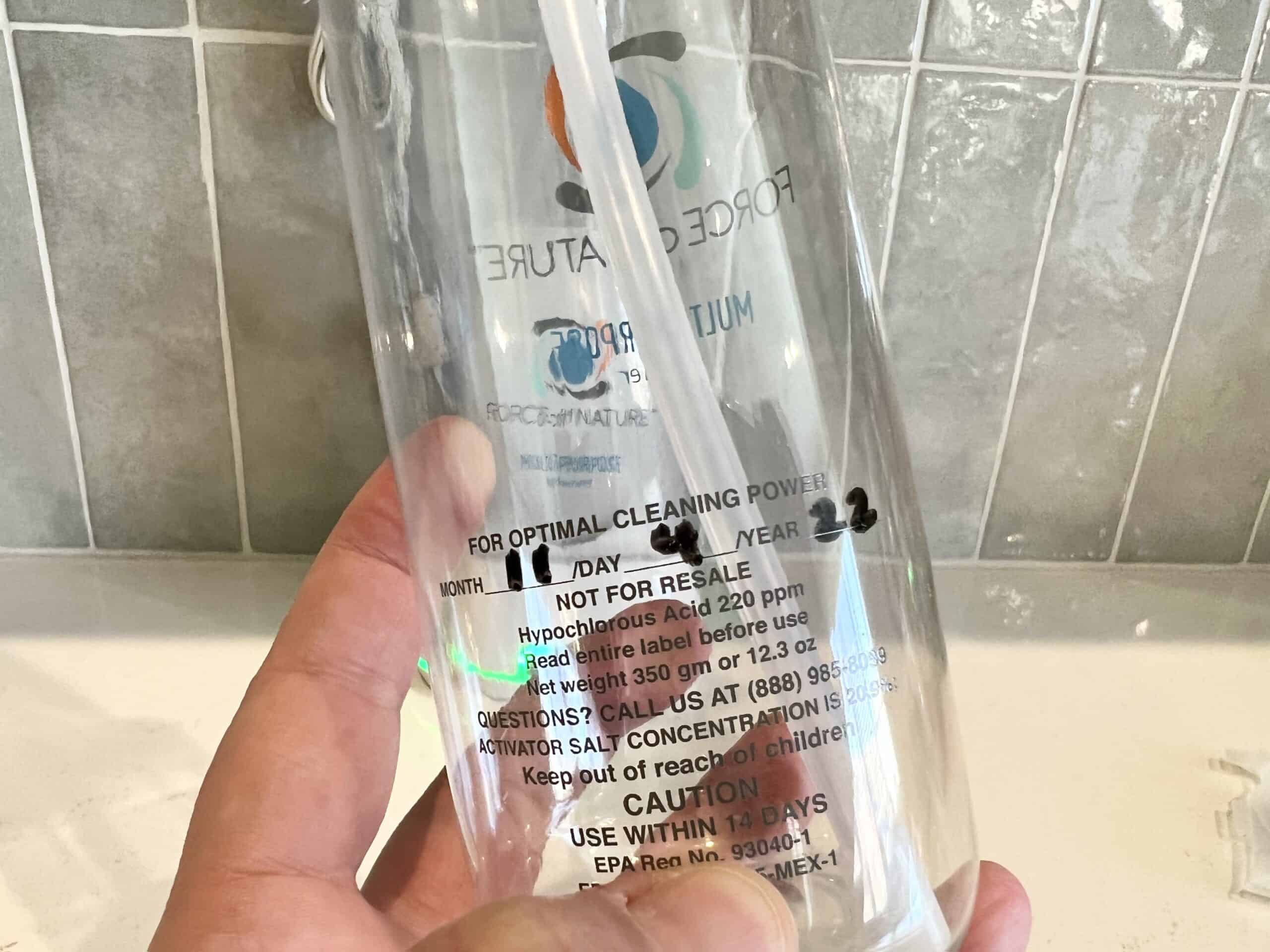 To mix the cleaner, you add water to the electrolyzer base, plug it in, add one tablet of the solution (salt, water and vinegar), and let the electrolyzer do its work. It takes about 10 minutes for the light to go from blue to green, which means it is ready, and the design of the base makes it easy to pour it into the included spray bottle without any mess.
That's seriously it. If you leave the base plugged in, it'll track the two weeks for you. As the color changes on the base, it lets you know how much time you have before you need to make a new batch of cleaner.
It's super easy and quick. I even made a little video that I shared on my Instagram to walk you through the process. Take a look:
View this post on Instagram
Where To Use Force Of Nature Cleaner: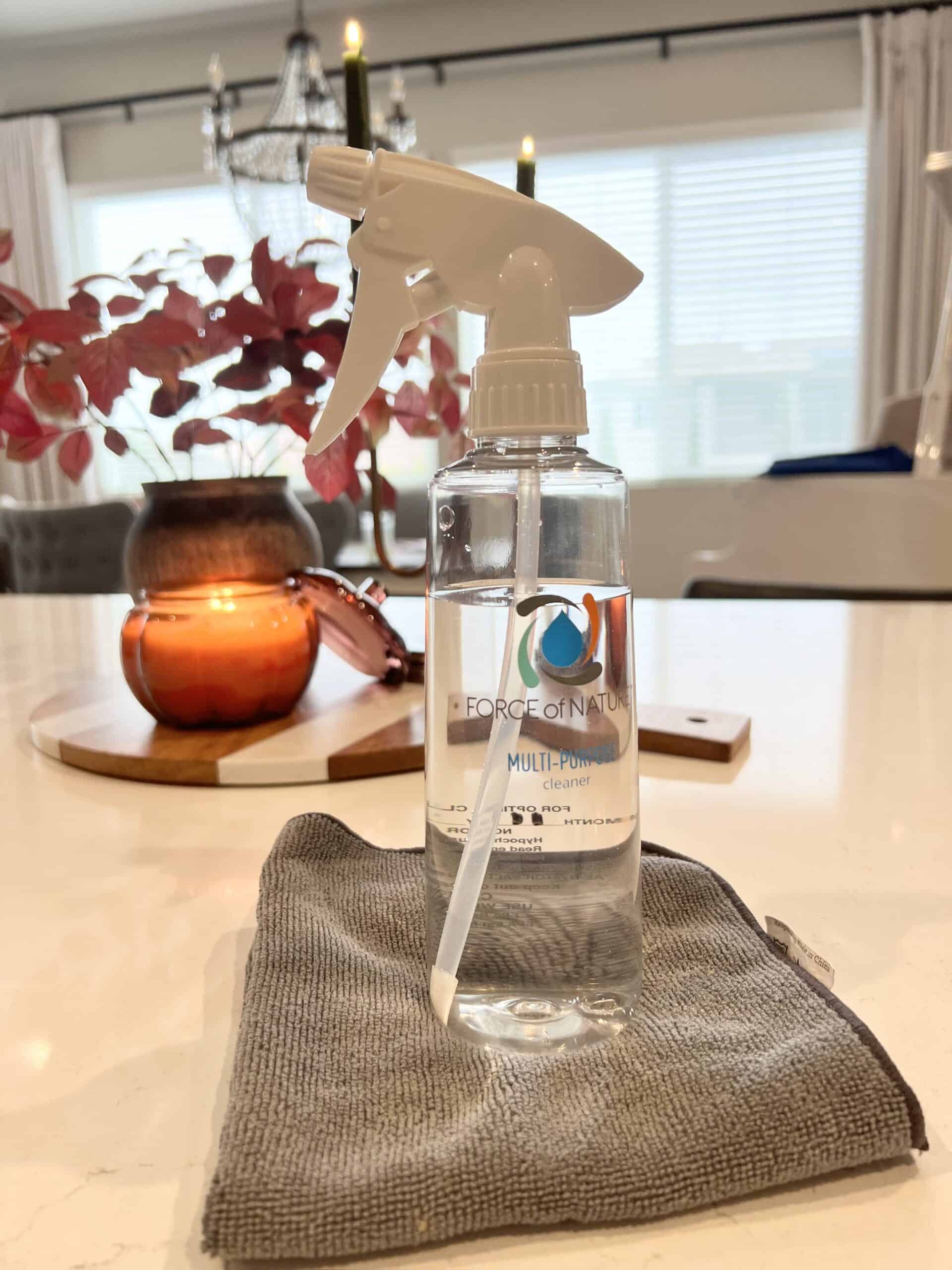 The list of places that you can use Force of Nature cleaner is longer than the places you can't, but here's just a starter list to get you brainstorming:
Kitchen counters, mine are quartz and I have no issues.
Cabinets: I like to wipe down the face of my cabinets regularly and this works great
Floors: You can even use the solution in spray mops, etc., so long as they allow for it
Bathrooms: Skip the bleach and use this instead
Glass: It takes a little more work to get it streak-free, but it works well
Toys: Disinfect toys with this
Pet accidents, areas and items
Flowers: Add some to vases to keep flowers fresher longer
Makeup: Clean your brushes and sponges
Baby gear
Dishes
High touch surfaces, like door knobs
Gyms, yoga studios, other sports equipment
Cars: Disinfect that car, yo!
Electronics: You know how dirty your TV remote, laptop keypads, tablets and phones are? Gross!
Descale: humidifers, diffusers, etc.
and the list goes on!
The only thing you would want to test first for is items that could stain or become discolored, such as furniture, clothing, and flooring. I haven't had an issue, but I'm sure there's a product somewhere that may not agree with this cleaner.
Pros/Cons of Force of Nature Cleaner:
So far, I am loving this cleaner. When you first spray it, it has a light natural sent from the vinegar and salt that is slightly reminiscent of fresh ocean water. It dissipates quickly and leaves no scent behind, which is my favorite scent of all: fragrance-free.
The pros are how easy it is to make and to use, plus the vast uses for it and how many other cleaners it replaces. I love that it is non-toxic and pet, kid, food safe. It gives me one less thing to worry about.
Also, I like that the way they've created the capsules cuts down on plastic waste. I am thinking of buying another spray bottle so I can have two available at all times. I might even buy more than that, so that when my bi-monthly cleaners come, they can use it, too.
Nothing is perfect, though, so my only complaint for this would be that you have to wipe a bit more than with other cleaners, because they don't use ingredients like alcohol which help products dry faster. It's a small price to pay to not be inhaling these other ingredients that are not good for you.
*****
If you've also been on the hunt for a non-toxic cleaner that actually works, you might love Force of Nature cleaner. The starter kit is what I have and I love it. It's currently 40% off and free shipping at time of posting, so it's a great time to check it out.
I'd love to hear what you think!
Have a fabulous day,
E