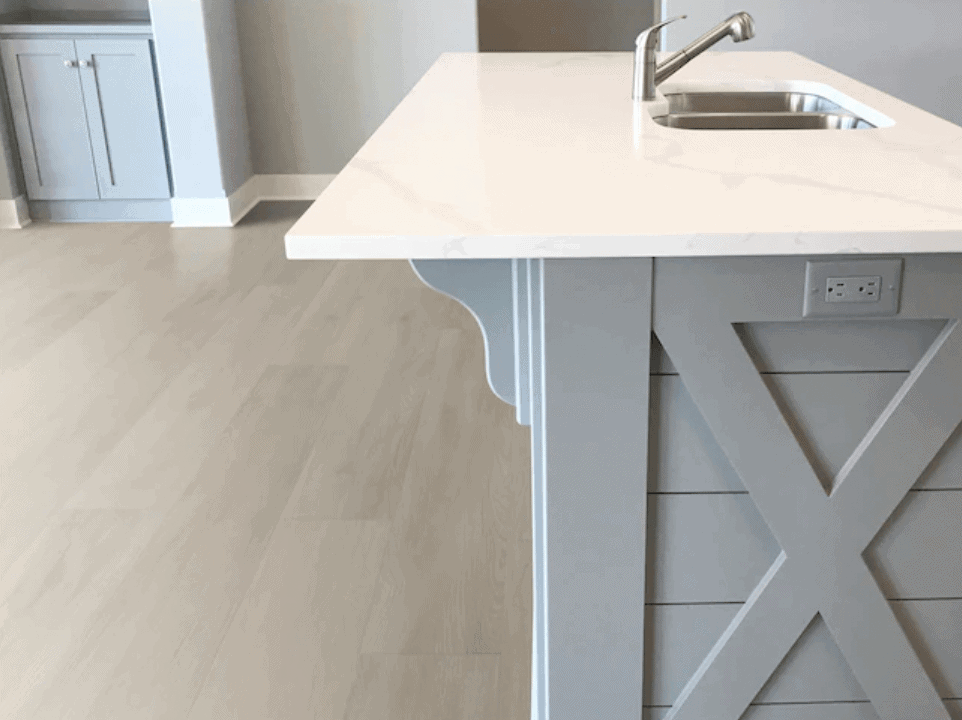 In a dream world, I'd have stunning white oak floors throughout my entire house. They are the perfect compliment to the gray tones and black cabinetry I have throughout my home. Plus, they have that airy, coastal vibe that just makes you feel like you're at the beach.
But, I live in the real world, where I have dogs and kids, which means that for me – luxury vinyl plank flooring is a much smarter choice. Especially since in our last home, we installed gorgeous hardwood flooring, only to become insanely frustrated with the dog scratches that popped up almost immediately.
I've learned my lesson. Luxury vinyl plank flooring for the win. In fact, I love them so much, I've been helping my cousin choose the perfect color for her new place. She'll be installing them before me, so I'll also get a chance to live vicariously through her before we do ours.
What is Luxury Vinyl Plank Flooring:
If you're shaking your head at this idea, hear me out. Vinyl plank flooring has come a loooong way from the vinyl flooring you're envisioning in your grandma's old bathroom. In fact, I would venture to guess most people would struggle to tell the difference between the white oak luxury vinyl plank flooring lookalikes and the real deal, especially if you're not getting down on your hands and knees to look at it closely.
And, if your friends are checking out your floors like that – you need new friends 😉
Vinyl plank flooring is an affordable waterproof option that has a similar look to hardwood and engineered hardwood floors. They are cut into planks, just like hardwood floors, with various options for sizes, width and styles of planks. The "luxury" vinyl plank flooring are much thicker and more realistic looking than their vinyl plank flooring siblings, but you'll get similar benefits with both.
5 Benefits of Luxury Vinyl Plank Flooring:
There are a lot of benefits to choosing luxury vinyl plank flooring instead of hard wood or engineered hard wood floors, such as:
Much more affordable. LVP planks range from $2 to $5, whereas hardwood floors will often cost 5-10x times that amount.
Waterproof or very water resistant. This makes them a great choice to carry through an entire home, including bathrooms, kitchens, and areas where you have pets and kids.
Easy to clean. You don't need anything special to keep them clean or maintain them. You can use pretty much any kind of floor cleaner you prefer.
Extremely durable. Hello families! You won't have to worry about your floors. They will be able to keep up with your lifestyle.
Comfortable to walk on. This is very important to me, because my feet hurt all the time. So, this is important to me. We currently have large tile floors with a travertine look to them. They are super durable, super waterproof and very easy to clean – but they're not comfortable to walk on. They are cold and hard.
These are the reasons my cousin is as sold on LVP floors as I am. So, I put together a little collection of options that have a white oak flooring look to them for her and thought I'd share them with you, too.
The Best Luxury Vinyl Plank Flooring Options:
Here's the best collection of luxury vinyl plank flooring, in my opinion. Maybe you'll find the perfect one for your home, too.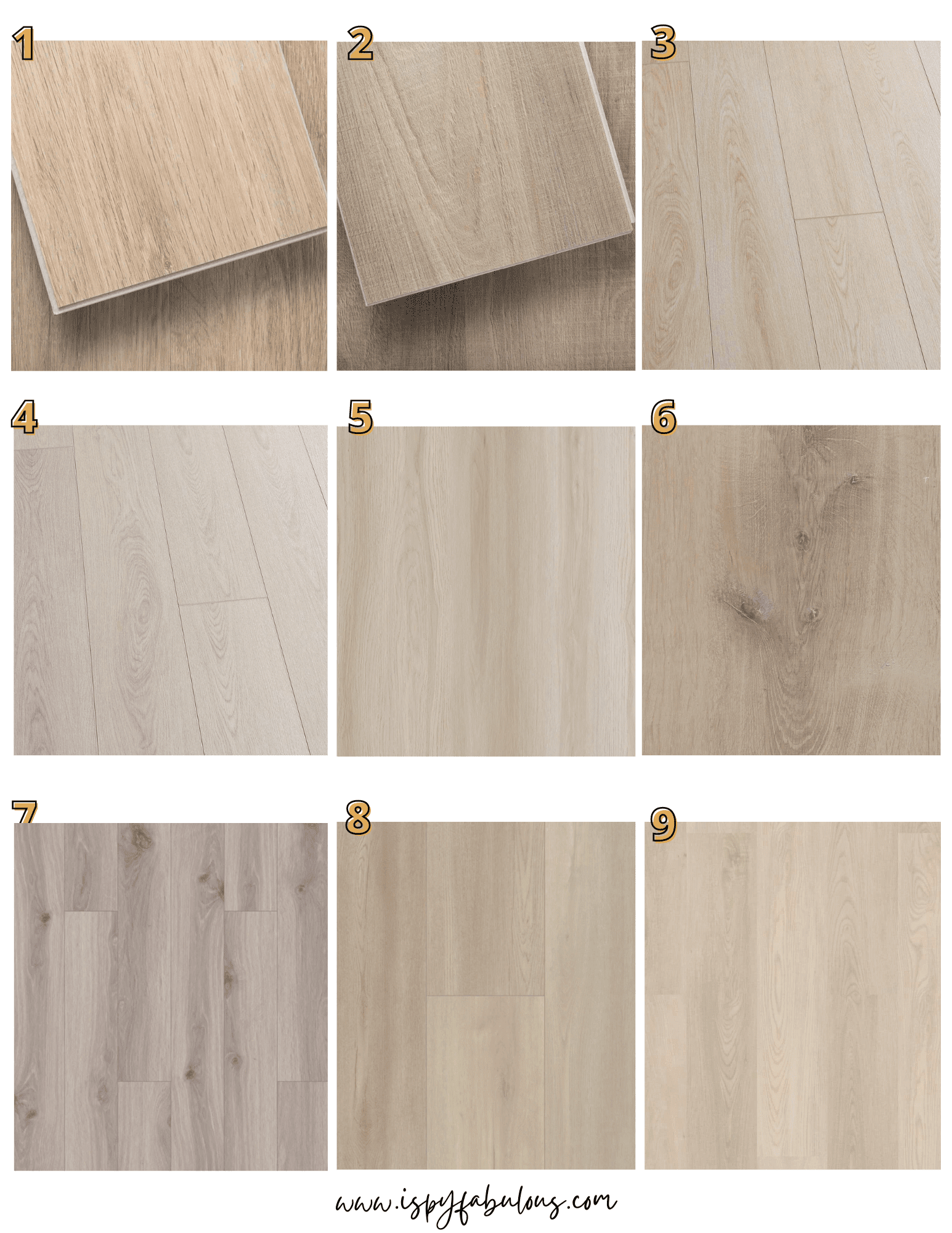 *Affiliate links are used here, that means at no cost to you, I may receive a commission if you make a purchase through my links.
How Much Flooring Do You Need?
When it comes to things like this, it's best to get a calculation done by a professional so you know how much to order. If you're doing it yourself, you can use flooring calculations on the flooring sites to figure out how many boxes you need.
When it comes to placing a big order like this, I appreciate stores like Home Depot and Lowe's because of how easy returns are. We recently tiled our kitchen and bathroom and were able to return what we didn't use to a nearby store, no questions asked. If we had ordered from an online retailer without a storefront, the return options will vary, but we saw a lot of stores that required us to pay for shipping back to them, which could be very expensive for heavy boxes of flooring.
Tips for Choosing Flooring:
My tips for choosing flooring are similar to my tips for any type of home renovation.
Go look in person. Whenever possible, go to a store and look at it, touch it, see it in person.
Order a sample. Take a sample home or order a sample to see in your home, with your furniture, paint and lighting.
Get reviews, but not just the ones online. Ask your friends and family or even put up a question on a neighborhood site like Nextdoor to see what people's experiences have been in your area, in your climate, with certain brands of flooring. Someone online may have had issues, but you don't know anything about where they live and how they live.
****
I've seen flooring make a huge difference in the look, feel and functionality of a space. Although, the process of removing and replacing flooring can be a total headache!
If you've been looking for the perfect luxury vinyl plank flooring that has that light, bright, coastal look, I hope you found some inspiration here and it makes the process just a little bit better. If you use one of these, make sure to tag me on Instagram @ispyfabulous so I can see how it looks!
For more home product round-ups, check these posts out, too:
Have a fabulous day,
E