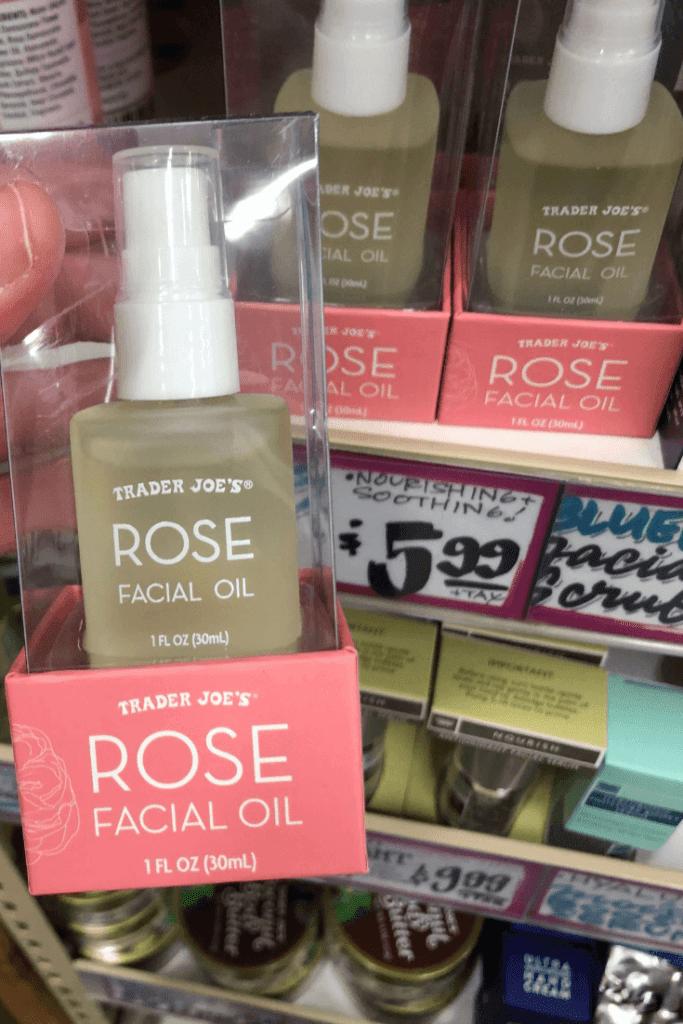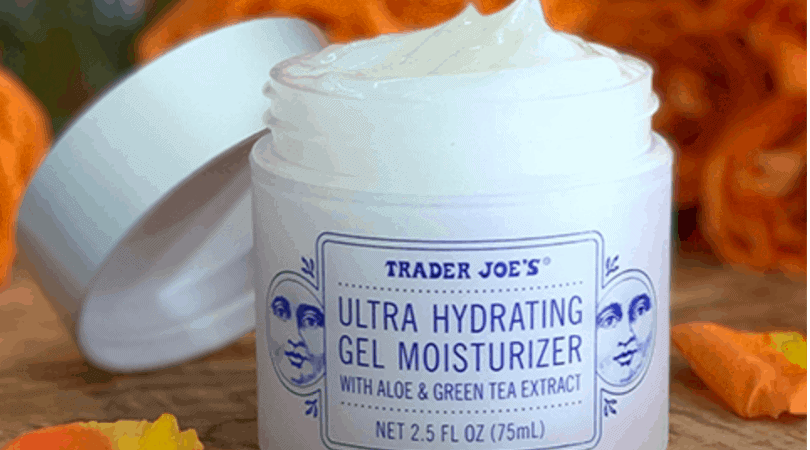 I'm a huge fan of Trader Joe's. I love the small, curated collection of goodies, fresh produce, beauty products and more – many of them only available at TJ. My kids love the mini carts and the kind, family-friendly service.
And, since I am a busy mom, I am always looking for ways to consolidate errands – which is why I started buying beauty products at Trader Joe's.
What I learned was surprising. Trader Joe's super affordable beauty products are ridiculously good.
What Beauty Products You Should Grab at TJ's:
While each store carries slightly different inventory and you can't buy these online (at least not for a reasonable price), I'm going to share with you some of the products you can look for at your local Trader Joe's.
And, I bet you'll find a bunch of other great products not even on this list.
I'm suggesting some alternates available on Amazon for those of you not close to a store. These ones are affiliate links, but the Trader Joe products are not. I don't recommend buying TJ products on line because of the mark-up.
Let's get shoppin'! Here's a quick video overview of the products and feel free to read down below for more explanation and alternatives if you're not near a TJ:
1. Trader Joe's Hand Lotion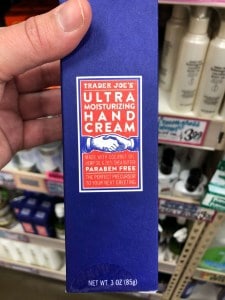 Blown away by this. Blown away. Wish I had found this years ago.
After all these years, I've tried so many and none of them have been that holy grail hand lotion – until I tried this one.
A generous size for about $5, with a light essential oil fragrance and super emollients, like shea butter, hemp seed oil, coconut oil, etc. – and none of the junk you don't need.
Grab this and don't even think twice.
2. Trader Joe's Ultra Hydrating Gel Moisturizer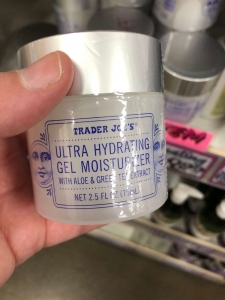 This gel moisturizer is loaded with my favorite ingredient for moisture and plumping: hyaluronic acid.
Hyaluronic acid works by increasing your skin's ability to hold moisture, giving it a temporary plumping as well as a nice moisturizing quality. Plus, it adds aloe vera and green tea extract for more skin boosts.
This gel moisturizer is light enough for oily skin, perfect for summer, great for any skin types – safe for acne-prone skin, and will give you a nice plump.
Buy it.
If you're not near a TJ's, check out this similar one from Honest Beauty. Love this one, too.
3. Trader Joe's Rose Oil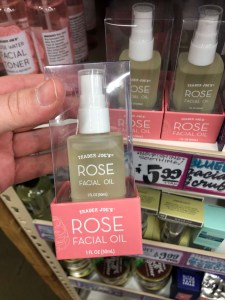 I'm a huge fan of skin serums and oils, but I'm picky with oils because I have acne-prone skin. I wrote a whole post on skin serums and oils, too.
Then, I tried this one. I prefer rose and rosehip seed oil to any other oil, because it breaks me out less, but it can get pricey.
Not this one. Super affordable, super effective. Yes.
Here's an alternative with over 3,000 great reviews – also affordable, also clean.
4. Trader Joe's Shea Butter & Coconut Oil Hair Mask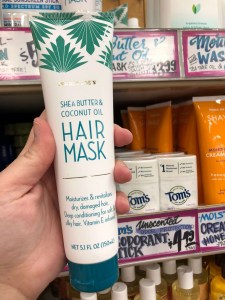 We all know how expensive a good hair mask can be. And, during the summer when you're putting your hair through the ringer with heat, chlorinated pools, and maybe bleaching to lighten, it's time to really show your locks some TLC.
This one has all the right emollients to hydrate and restore your hair, with no overwhelming fragrances or toxic chemicals, and it's under $5.
Yes, that wasn't a typo. It's $3.99.
Any more questions?
Or, here's a hair mask touted to be absolutely amazing, available on Amazon.
5. Trader Joe's Blueberry & Acai Facial Scrub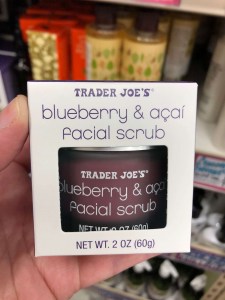 Facial scrubs are another useful exfoliant that can get pricey. The cheap ones use harsh granules that can actually damage the top layer of skin, while the good ones can get ridiculously overpriced.
Not anymore. This one is chock full of powerful free radical fighters and antioxidants that are so good for your skin and body, plus it's gentle enough to not irritate sensitive skin.
Another super big win from Trader Joe's beauty department.
No TJ's? No problem. Try this award-winning one by Acure.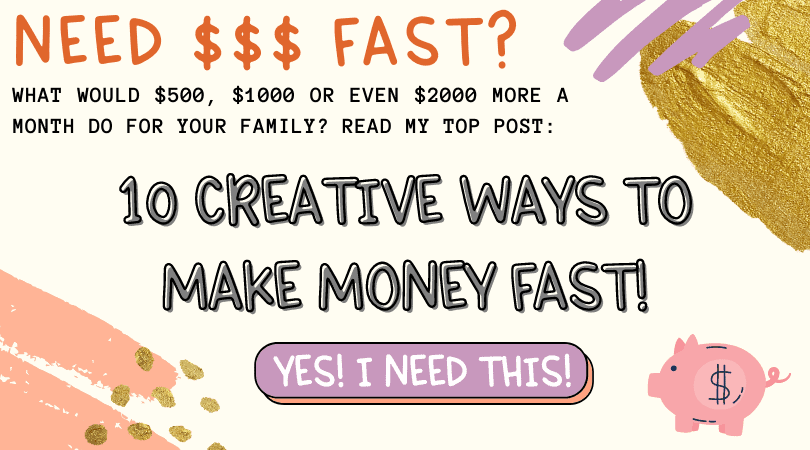 6. Trader Joe's 100% Organic Argan Oil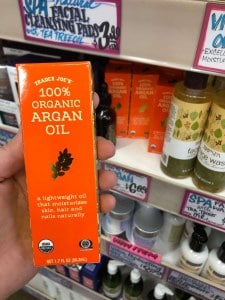 I've seen 100% organic argan oil go for upwards of $50, I'm not even kidding you.
Get the exact same thing here for less than $10 bucks. It's actually $6.99, folks.
Argan oil can serve so many purposes, such as:
Hydrating ends of hair
Using as a hair mask
Using on skin for moisture
Using on body during dry seasons
Using on nails like a cuticle oil
And for this price and quality, it's really a no-brainer.
Here's an argan oil on Amazon that has great reviews.
7. Tom's Natural Deodorant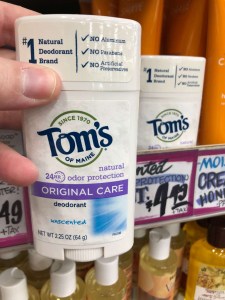 This one isn't a TJ brand, but Tom's is another great clean line. This aluminum-free deodorant is a great, clean option to control the stink.
If you haven't already read up on the dangers of aluminum in anti-perspirants, you should take a look.
When you first start using natural deos, your body will go through a yucky detox process that will take a little time (maybe a week or two max) and then you'll settle in to your new routine.
Deodorants will not control sweat like an anti-perspirant, but you don't really want to plug sweat glands. They are designed to detoxify the body and get out the contaminants we don't want swimming around inside our body. Plus, if you have an autoimmune disease like I do, you need to get all those toxins out.
So, embrace a little bit of sweat and go with natural deo. Your body and health will thank you.
Here are a few other brands that make natural deo that is a bit stronger than Tom's if you have a big sweat issue:
I use all of these and recommend them all. Kopari is my daily go-to and I use the Milk & Honey when I need something stronger.
8. Trader Joe's Honey Mango Shave Cream

This is such a great, clean shaving cream. Smells like Hawaii, is super moisturizing, honey prevents from infections from razors, and mango hydrates.
Win. Win. Win. Win.
Or, this similar one by Alba's can be primed straight to your door. Oh yes.
9. Trader Joe's Tea Tree Tingle Body Wash

I actually just used up my bottle of this. It's a light body wash scented with essential oils that have a nice sinus clearing quality – in a good way. It's also very soothing if you have a cold or sinus infection.
It's not very moisturizing, so if you have dry skin, I would get something with more moisturizing properties.
10. Trader Joe's Tea Tree Tingle Shampoo & Conditioner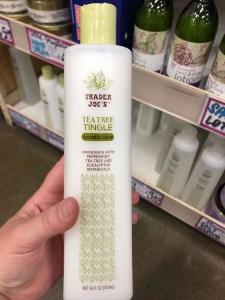 The Tea Tree Tingle line continues with shampoo and conditioner.
I first used this at a friend's house when she had it in a guest shower. I couldn't believe it was from Trader Joe's. It really reminds me of the minty Aveda line.
You can get both shamp and conditioner for under $20 – which makes this one of the most effective, affordable, clean beauty shampoo and conditioner options out there.
Now, this one is not the most moisturizing choice if you have dry, damaged, or frizzy hair.
If you're looking for a shampoo that specifically addresses frizzy hair – check out my post on the best shampoos for smoothing hair here.
And, here is another post on the best drugstore hair products of 2019 for more affordable options.
*****
I love clean beauty. Anytime I can combine clean and effective products, I am all in. Trader Joe's makes it so easy to do your shopping for food and beauty at the same time.
Plus, they routinely get new products and sets that continue the amazing line-up. In fact, I heard a rumor that some TJ's have a face mask set. Considering how expensive these can be, I cannot wait to find them at my local store.
If you don't live near a Trader Joe's, check out my post on my favorite clean beauty products at your local drugstore for under $20.
Have you tried beauty products at Trader Joe's? Tell us your favorite in the comments below.
Have a fabulous day
E