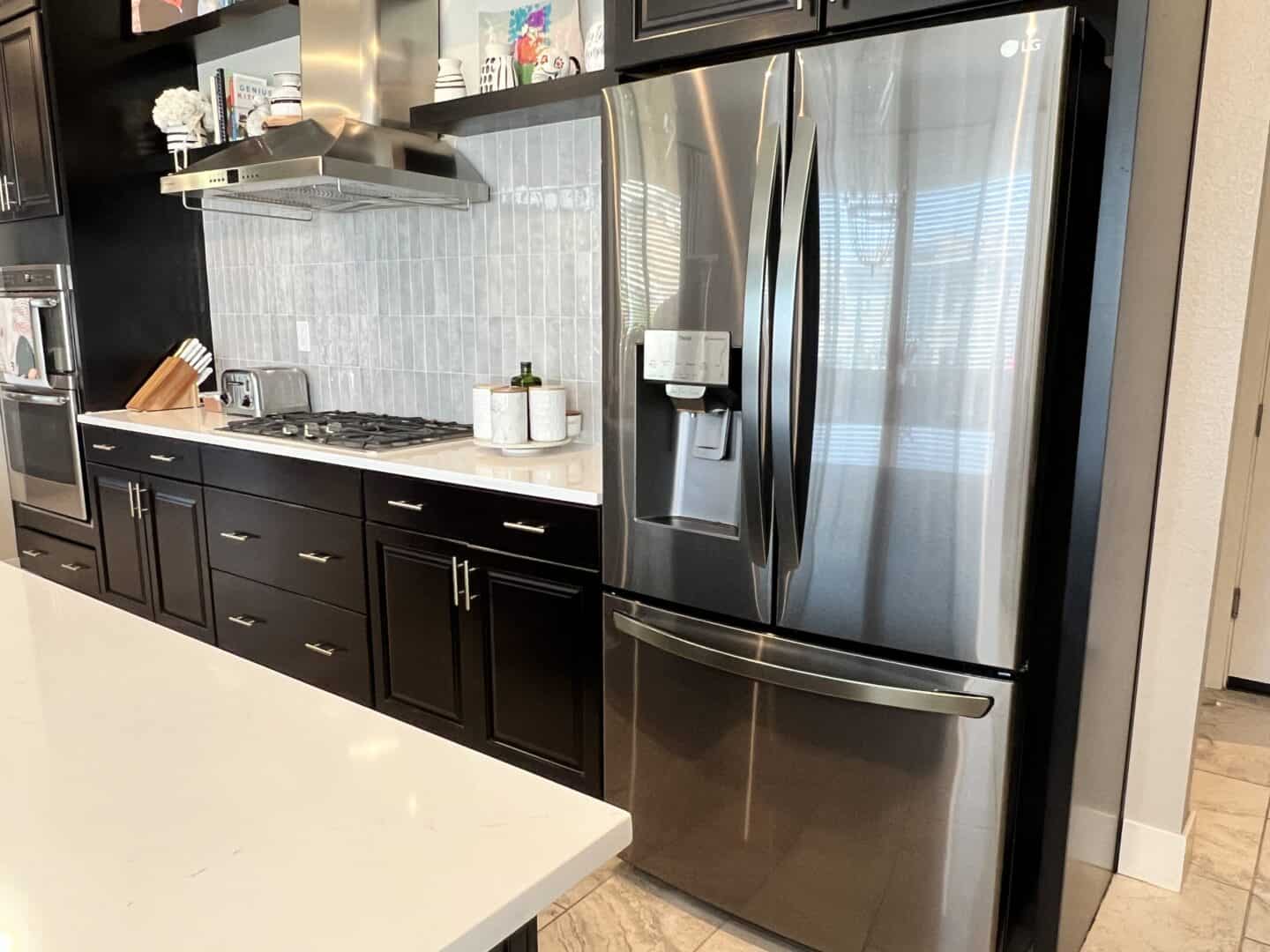 When we bought our home 5 years ago, it came with a brand new refrigerator that had the freezer and refrigerator side-by-side. We knew from our old house that this design was not a great fit for us, but there was no way we were replacing a brand new refrigerator. It worked hard for us and was a great refrigerator, but after years of oohing and ahhing over french door refrigerators, we finally caught a big sale and snatched up one of the models we've been eyeing.
It has not disappointed us in the least. We feel this design fits the kinds of groceries we buy for our family much better. But, this decision did not come easily. We spent hours and hours researching refrigerators and going and looking at them in person.
This research paid off, because we really love our new fridge, and it helped my cousin, too, who bought another fridge we highly considered. So, since we all have to buy refrigerators from time to time, I thought I would share more details on the LG French Door Refrigerator we purchased with our own money and the 10 other french door refrigerators we also highly considered.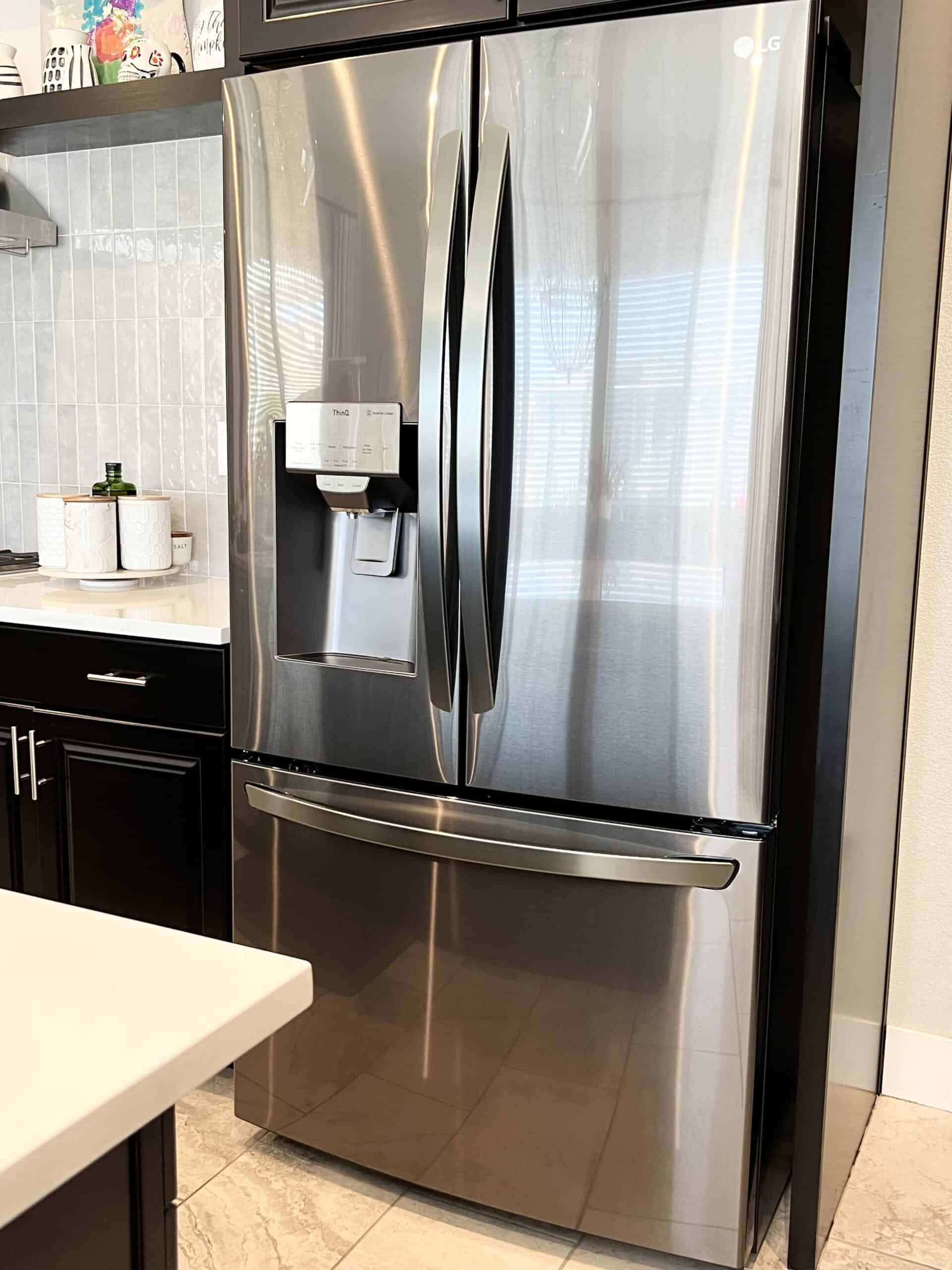 Winner Winner chicken dinner! A black stainless steel counter depth french door refrigerator with 2 kinds of ice. I was a big fan of the black, because it blends in better with our black cabinetry. While I would love a built in refrigerator with matching black paneling, that was just not in the budget for us, but this fingerprint proof black stainless steel is beautiful. One thing I didn't know, though, is that it is not magnetic. So, all those cute pictures and magnets we used to display have had to find a new home.
A small price to pay for the luxury of more space and two kinds of ice. Yep, I'm not ashamed to say that a huge reason I went with this refrigerator was because it makes smaller ice and also craft ice (large circular shaped ice). I love having the options and use both of them. Originally, I was dead set on a refrigerator with nugget ice, but I've heard that the nugget ice makers can sometimes have issues and need more servicing. With that in mind and the fact that I am not a fan of having to constantly service appliances, I decided to go with the LG which makes smaller (but not nugget) ice and then the larger orb ice. I think the large ice is designed for mixed drinks, but we use them for any drink where we want the ice to melt more slowly. The kids think they are especially cool.
So far, we have been thrilled with the fridge and haven't had any issues with it at all. Of course, nothing is perfect. A couple things we didn't realize is that the black stainless steel isn't as black as we were hoping. In the store, we saw the regular stainless steel. It is darker than that and blends in a bit better, but I would've loved a really dark black. Also, when the ice orbs are dropped into the tray in the freezer, it's noticeably loud and might surprise you at first. It's only for a few seconds until they've all been dropped, but the first few times it happened, I jumped a little bit, lol. Another thing is that you have to close the left door first and then the right door. If you try to close the right door, it won't seal unless the left one is closed. These are not deal breakers for us in the least, but it's worth mentioning if they are for you.
We bought this with our own money, but affiliate links are used in this post, which means at no cost to you, I may receive a commission if you make a purchase through my links. Now, if this one isn't what you're looking for, stay tuned because I'm sharing 11 more french door refrigerators that almost made the cut:
10 More French Door Refrigerators: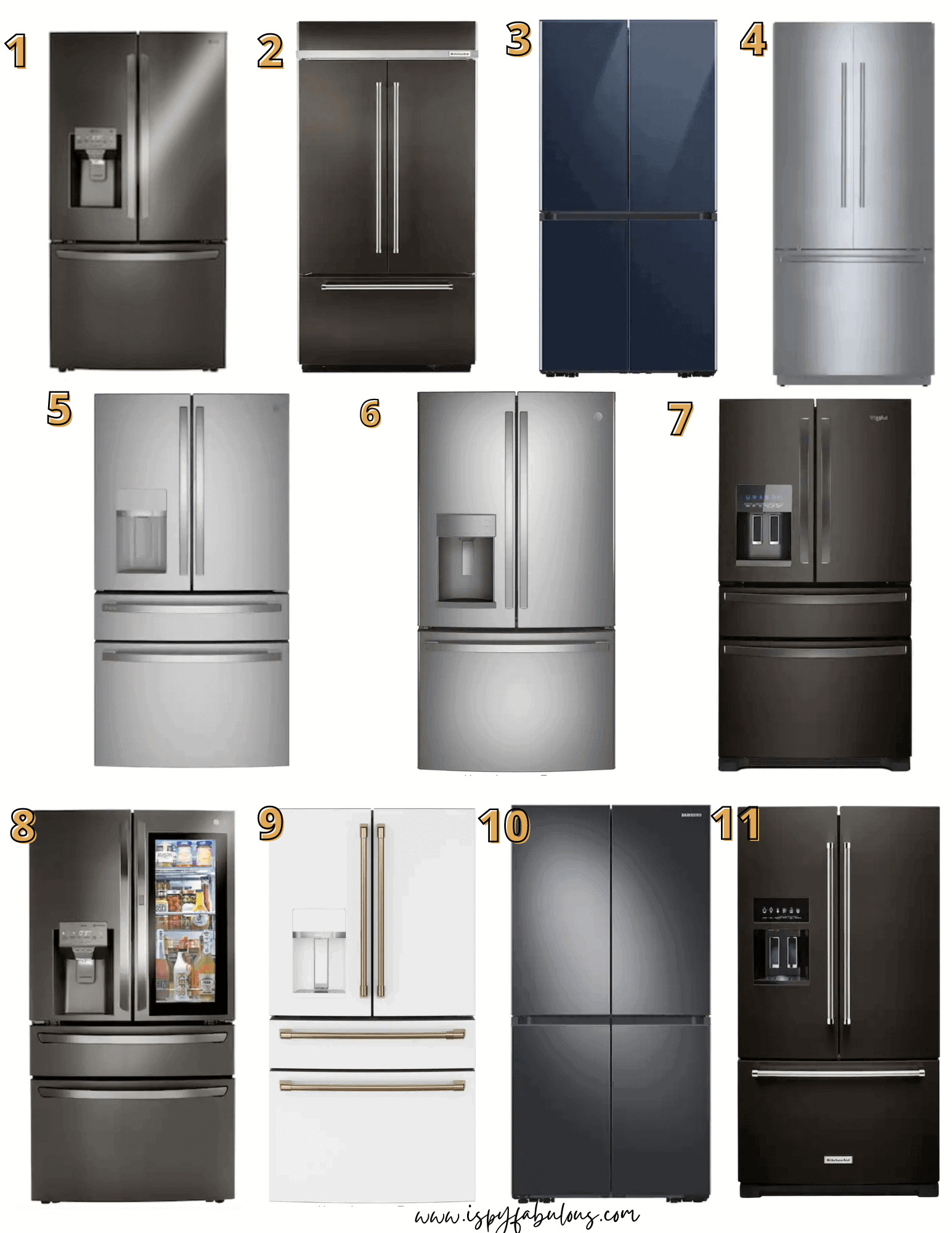 Available in two colors, black and stainless steel, as well as a panel ready option, this is one chic fridge. It was out of our price range, but wow is this a stunner. I mean, can a refrigerator be a beauty? I think so. This is a top of the line fridge that will blend in with your kitchen design. I liked how this one had more drawers inside for easy storage options.
This one makes a larger amount of ice and they are normally sized. If you like a lot of ice or have get togethers often and use your refrigerator ice, then this could be a really great choice for you.
Check it out at Home Depot here.
If my fridge couldn't be black, I definitely wanted it to be navy. This refrigerator is just so cool. The only reason it didn't come home with me is because it's smaller than the LG at 23 cu. ft .and I needed to eek every single inch out of the fridge (mom of kids, y'all). I really need someone to buy this modern, streamlined navy fridge and tell me how beautiful it is.
Some other cool features of this one include a french door refrigerator AND freezer, which is very cool. The freezer looks it would be so easy to organizer, just like your refrigerator. So, if your freezer becomes a sinkhole of things, then this could be the design for you.
It also features a dual ice maker with smaller ice cubes like the LG makes and ALSO what they call "ice bites", which looks very similar to nugget ice!! Another cool feature is the ability to convert parts of the lower right fridge into a refrigerator instead of a freezer. If you have another freezer you use, you can turn almost the entire thing into a refrigerator.
Also, if you don't like navy, you can add your own panels to customize or get the mirrored option, too. Honestly, looking at this one again Im wondering why I didn't go with it, lol. You can see more about it here at Home Depot.
Available in a panel ready or stainless steel option, this Bosch Benchmark Series Refrigerator is another great option. We have loved all the Bosch appliances we have ever had. In our last house, we started replacing all the appliances with Bosch one at a time and they were so well made. This fridge got cut only because it didn't have a black option and I didn't want to add custom panels.
Other than that, it should be a top contender on any list. Some features I really liked were the use of lighting. In person, it's very cool and I imagine it would be helpful at night when you don't want to turn all the lights on. Also, I liked the fast freeze option. It takes time to get all your groceries home and inside the house when you have kids and anything frozen has started to defrost. Having a fast freeze option would help preserve these foods before they start to go bad.
Learn more about it at Home Depot here.
This is a big fridge for a great price. Under $4000, this one packs all the bells and whistles with a solid design that will last a long time. I really liked the middle drawer on this one. I wanted a middle drawer to set up a lunch station for the kids. Unfortunately, that was a feature that got cut on our final choice, because we needed a smaller refrigerator than this. If I had space for a larger fridge, I wouldn't have given up my dream for a middle lunch station drawer.
Learn more about this one at Home Depot here.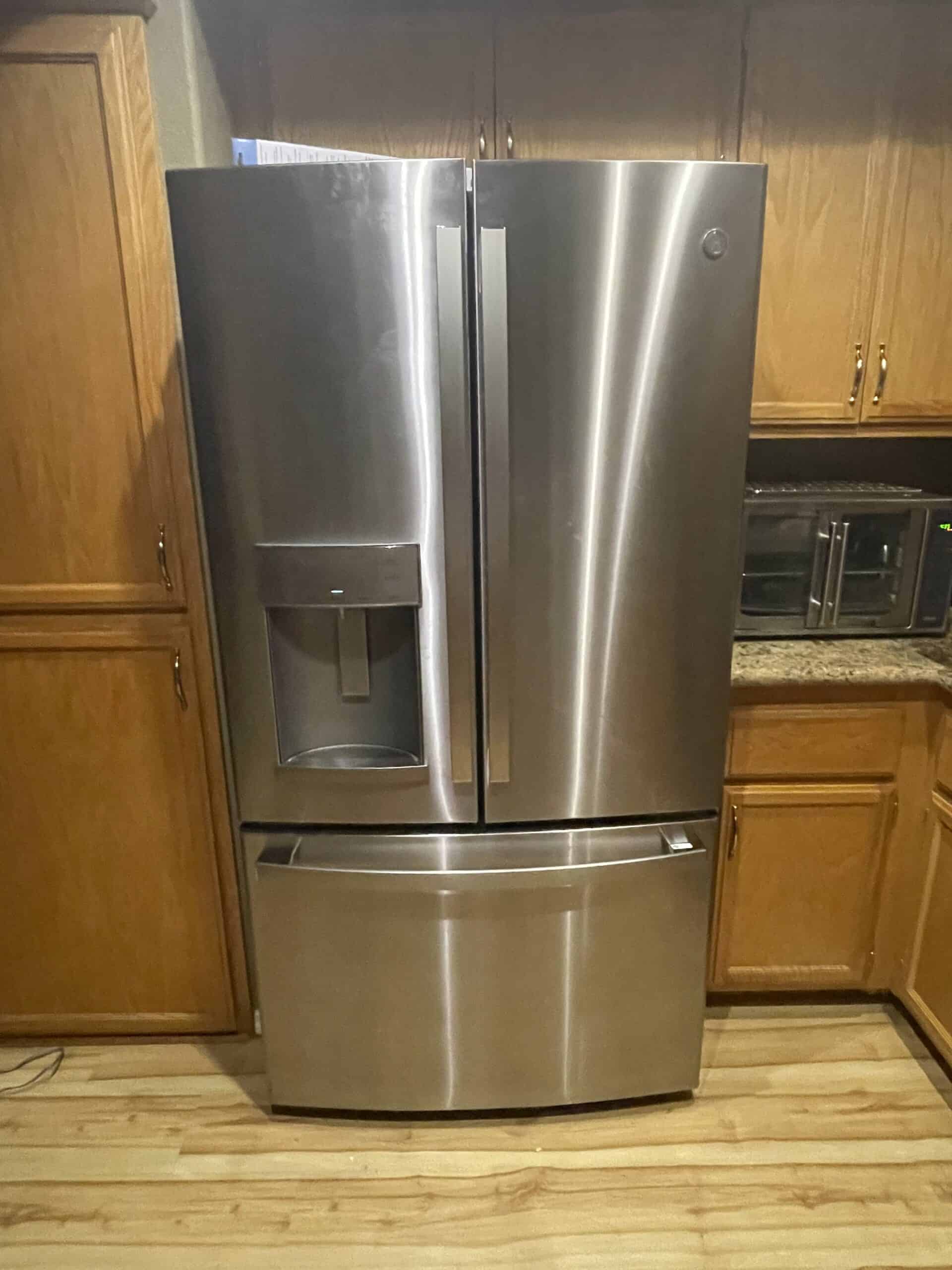 My cousin picked this one from our list because it was a more affordable option lots of options. She says she loves the snack drawer in the refrigerator for her kids and that the freezer holds a ton of stuff. She also really wanted a water dispenser in the door and this one is tall enough where she can fit her Keurig water tank in it as well as super tall water bottles. These are the kinds of features that make you really love your appliance vs. it just being functional.
For around or under $3000, it's a great choice. Learn more about this one at Home Depot here.
Another solid brand and this one comes in 2 color options, black and stainless steel, plus it has the middle snack drawer that I love so much. Affordably priced under $3000, too, which is one of the best prices on this list. This one also has the fingerprint proof coating, which personally I am a fan of – because it really does reduce the need to clean it and it looks nice a lot longer.
Besides the great middle snack drawer, this one also has a measured cup fill, so you can choose the size of your water bottle and let it fill it without having to stand there and watch it. This would be great for teaching kids to fill their own water bottles, too.
There are a lot of other whirpool options if you need a different size or configuration. Learn more about this one and other Whirpool refrigerators here.
Take the LG we got to the next level with the InstaView option. This is really cool and we played around with them in store, too. Basically you can see what's in the drink door without having to open it and stand there staring. If you find your kids are just standing there with the fridge door open and it drives you crazy, this is the refrigerator for you. You knock twice on the door to see inside and then choose what you want before even opening the door. Neat feature.
Personally, I didn't feel the need to see inside the door and it was an added expense, so we didn't do it. But, now that a friend of mine has it, I really see how valuable it can be, especially when kids are older and friends are over and everybody is getting a drink.
Learn more about this one here.
I think this one wins the award for best looking refrigerator. I absolutely love the matte white with the brushed gold handles. It also comes in black with silver handles, premium glass and stainless steel. Plus, it comes in many different sizes and options. There's a Cafe for everyone! The inside of this fridge has the same thoughtful design as the outside. It's so good.
Honestly, this one was top of my list and it was a sad day when I didn't order this one. The LG just had a killer deal and we couldn't pass it up. Features I loved about this one was the thoughtful design, the hands-free water dispenser that senses when the glass is full and the middle snack drawer.
This chic, black Samsung refrigerator has a similar handless design to the Bosch I shared earlier. It's a very sleek look and we almost went with one like this one. This one is a bit smaller, but they have other options, too. Opening the doors is easier than you think, there is usually a space for your hand that is easy to find.
This Samsung fridge looks a lot more expensive than it is, coming in under $3000. Plus, it offers two kinds of ice – a chunkier ice and then a smaller nugget ice. So good.
Check out the Samsung Flex here.
Another KitchenAid, but this one a more affordable version with PrintShield – their version of fingerprint proof. Love the dark black stainless steel, but it also comes in a regular stainless steel, too.
The bottom freezer has a lot of storage space and the ice maker is kept in the door, so you don't give up any freezer space for it. The handle design reminds me of the more expensive cafe design, which I really like.
How To Choose a Refrigerator: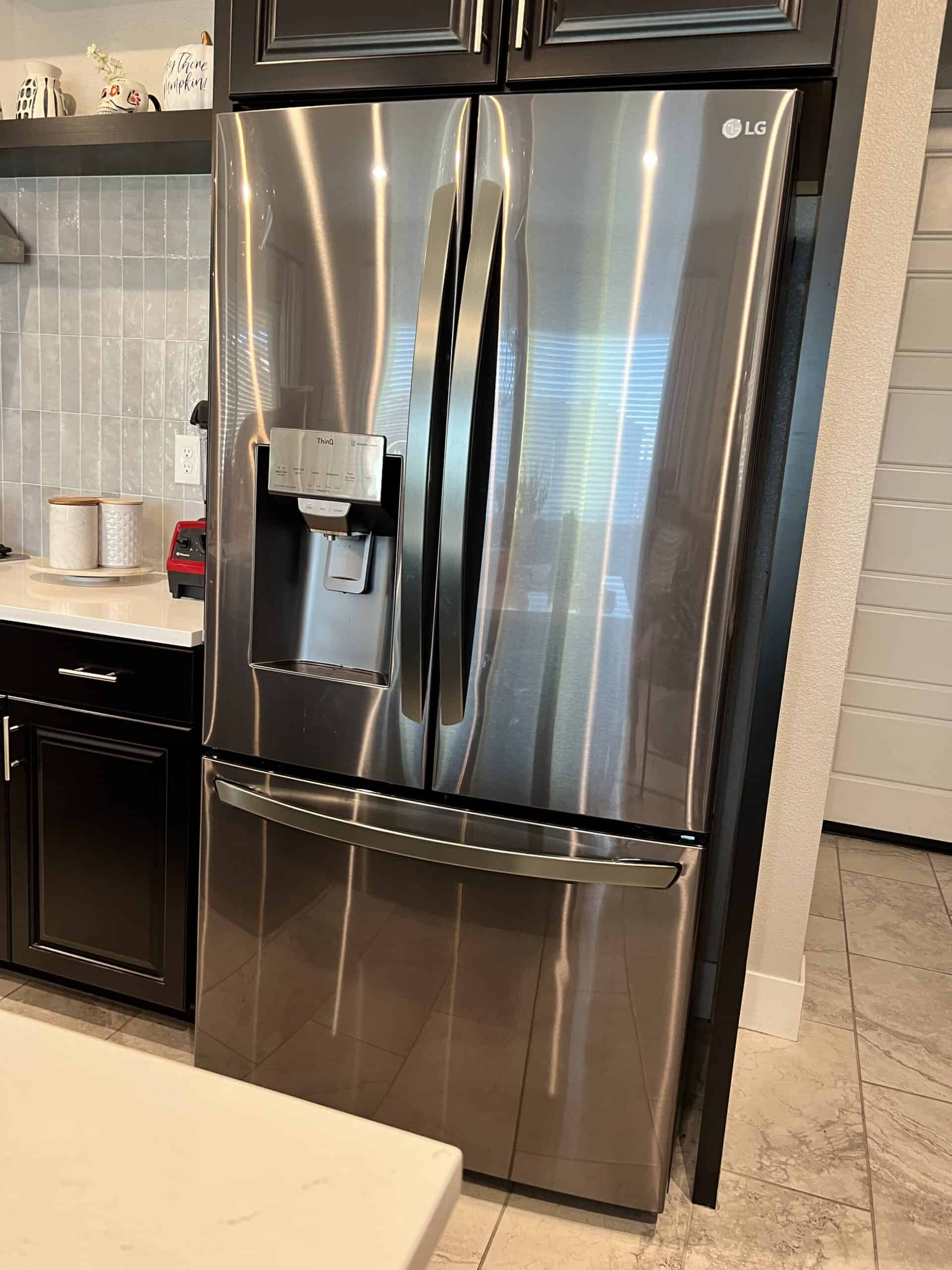 Shopping for things like appliances isn't the most exciting activity, but it can really impact the quality of our day-to-day life if we choose the wrong one.
Here are some things I look for when shopping and researching appliances:
Price: Let's be realistic, we all have a budget. Search by the price you really can afford.
Review: I filter out the reviews by people who received free product to get as honest a perspective as possible. I also read the 5 and the 1 star reviews. I want to know how bad are the 1 star reviews. What's the worst that can happen?
Features: Identify key features that you need to have. For me, smaller ice was one thing I knew I wanted. A french door style was also a non-negotiable. My cousin had to have a water and ice dispenser in the door. Make your list and stick to it. There are plenty of refrigerators out there to choose from.
Size: Measure and then measure again. A fridge that is too big will bulge out obtrusively or worse, not fit at all.
Warranty: Will the company stand by their product?
The Best Places to Buy a Refrigerator:
So, you've narrowed down what you want and now you have to decide where to buy it. For us, we have found a few places that have been the best customer service, delivery and price overall. My cousin went through Costco and it was a totally nightmarish situation that went on and on for months.
Home Depot: This has been the best prices, delivery and customer service that we have personally found
Lowe's: Very similar to Home Depot
Best Buy: Best Buy also has great customer service
What is the difference between counter depth and standard depth?
One of the tougher decisions to make is whether you want counter or standard depth. By going with counter depth, you'll have a fridge that is more flush with the depth of your cabinetry and counters, but you'll give up precious cubic feet for this.
For us, we have a second fridge that we use for overflow, so we could give up a little bit of room to have it counter depth. Our fridge also protrudes into a walkway that people use to get to the garage, so blocking this area was not a good idea for us. My cousin, however, needed every single square inch, since it's her only fridge, and the fridge doesn't block a walkway, so it was fine. It does stick out more from the cabinets than ours, but in her kitchen layout, it's been fine.
So, bottom line: choose what works best for your kitchen layout and your needs.
*****
I hope this helps you when shopping for your new refrigerator. It's a big decision and many of us have appliances for 10 or more years (hopefully).
If you have any questions, let me know!
Have a fabulous day,
E