I hate vacuuming. Of all the chores on the list, vacuuming is my least favorite. So, I try to invest in vacuums that make the job easier, not harder. That's why a couple years ago I plunked down the cash for the infamous Dyson cordless vacuum. At the time, it was the newest model and was supposed to be the lightest, strongest cordless vacuum yet.
While it certainly got the job done (at first), I found the maneuvering to be a bit tough. Plus, right where my thumb sat, a small burst of warm air came out whenever the vacuum was running and it would take my skin off by the time I was finished vacuuming. This certainly wasn't pleasant, but did it beat having to lug a heavy vacuum canister all over the house? Yes, yes it did.
But, now that vacuum consistently breaks down, barely works for more than a few minutes, and spits back out whatever I have vacuumed when I lift it up or stop holding the trigger.
It was time for a new vacuum and I knew one thing for certain: I wasn't spending $500 on another vacuum again.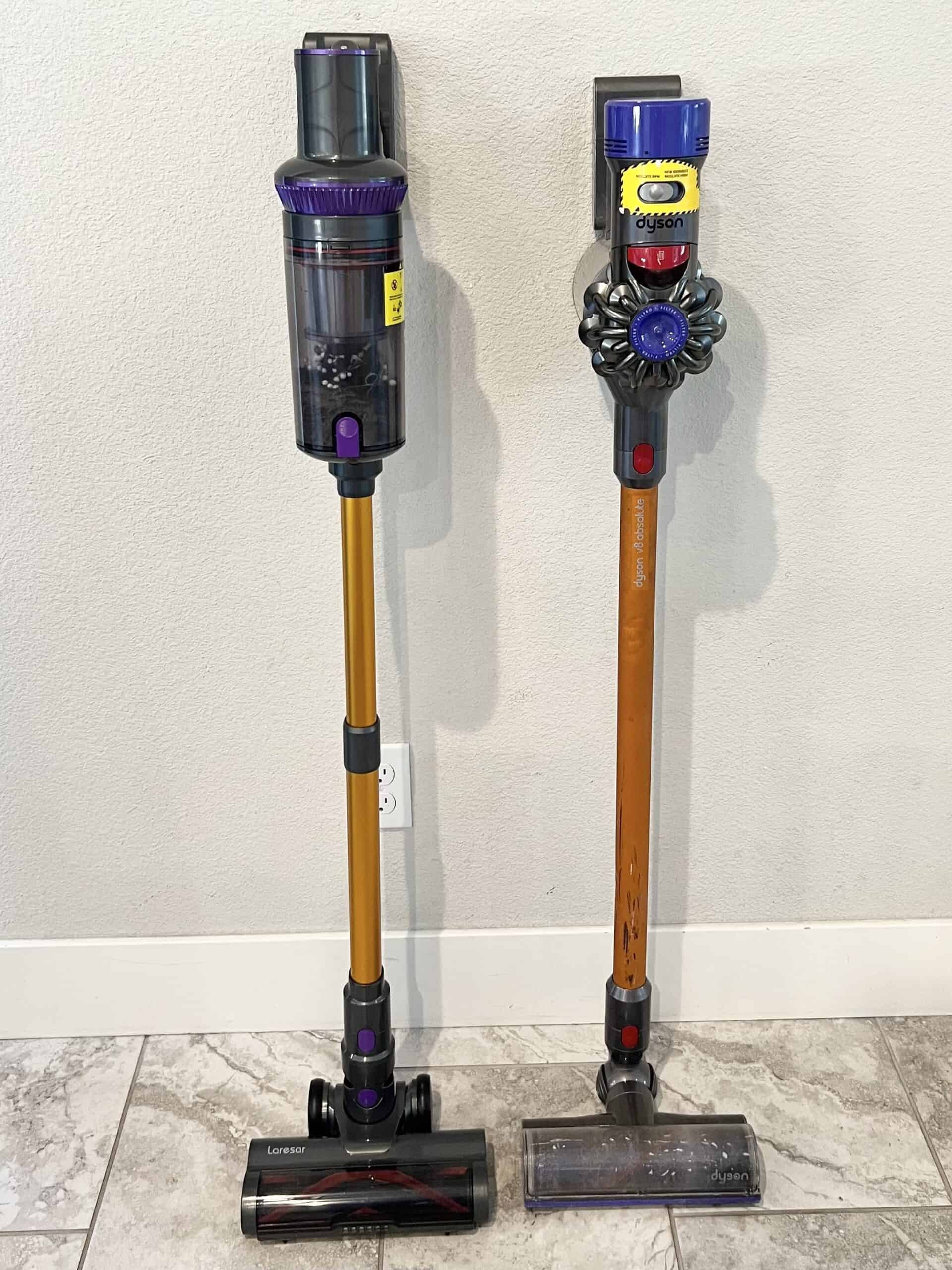 I did a ton of research and read all the details on the run time, features, weight, and suction power. I am not a vacuum expert, by any means, but I knew there were a few things I needed to have:
Lighter in weight
LED light to show dirt (helps a ton of if you're vacuuming up things like broken glass)
Easier to empty canister
Trigger that doesn't have to be held down (it starts to cramp my hand)
Removable battery so I can buy two and swap them out for longer jobs or just replace them when they stop working, so the whole vacuum isn't dead.
Accessories to use for the car, hard to reach areas, etc.
The ability to turn the vacuum into a hand vacuum (again – clean cars, hard to reach spots, small messes)
Strong suction power
Quieter (my dogs are oddly fearful of the sound the vacuum makes)
I think that's about it. Oh, yeah, and I wanted it to be under $200. Yup, I was essentially looking for the unicorn vacuum. After a ton of research – and my cousin ordered one of the ones we were considering – I settled on this vacuum from Amazon which seemed to check all the boxes.
*affiliate links are used here for products I bought with my own money, which means at no cost to you, I may receive a commission if you make a purchase through my links.
The Best Cordless Vacuum Under $200:
When my vacuum came, I was pleasantly surprised, both by the packaging and how it looked. I made a little reel on my vacuum to share on Instagram and you can watch it here, too:
View this post on Instagram
Not bad, right? And, the more I've been using it, the more I like it. I actually like it MORE than my Dyson. For one thing, it doesn't require me to hold down the trigger, plus I can change the power mode with one hand while vacuuming using the touch screen display. I love that the display also shows me all the information on my battery strength remaining and other things I may need to pay attention to.
The vacuum brush head has an LED light that shows more dirt and easy maneuverability thanks to the wheels on either side. I like how easy the canister is to empty, too. In just a couple seconds, you can have it emptied and be back to vacuuming. Plus, it's super light and way quieter than any other vacuum I've had. Even my dogs don't mind it.
The battery is removable and can be plugged in or you can mount the charger and plug in the whole vacuum. When the battery dies, a replacement can be used so you don't have to toss the whole vacuum in the garbage.
Here are some more features:
400W/33Kpa – power
Runs up to 50 minutes
5-layer HEPA filter that traps 99.97% of allergens
Filters dust and bacteria as small as .03um
Removes fine dust (so important for my allergies)
2-in-1 brush roll that is easy to remove and clean
Works on hard floors and carpets (I have tile and carpets in my house)
Washable filter and strainer (comes with an extra set to replace when needed)
1.5L extra large dust cup
65db ultra quiet mode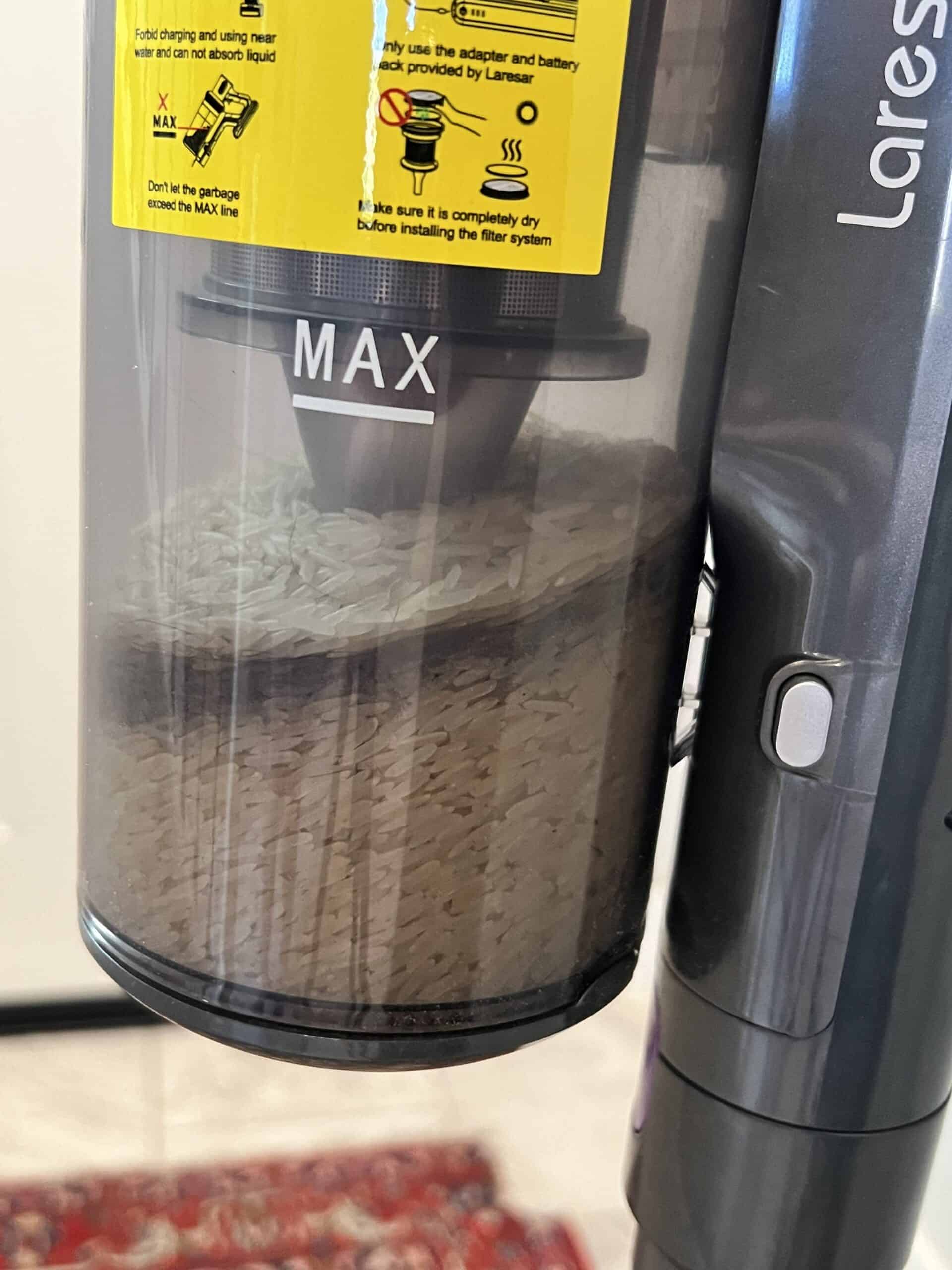 Overall, I'm super excited about this new cordless vacuum find. It's the best cordless vacuum I've personally tried. I even did a side by side comparison with the one my cousin picked up – also for under $200. It's another great choice, too.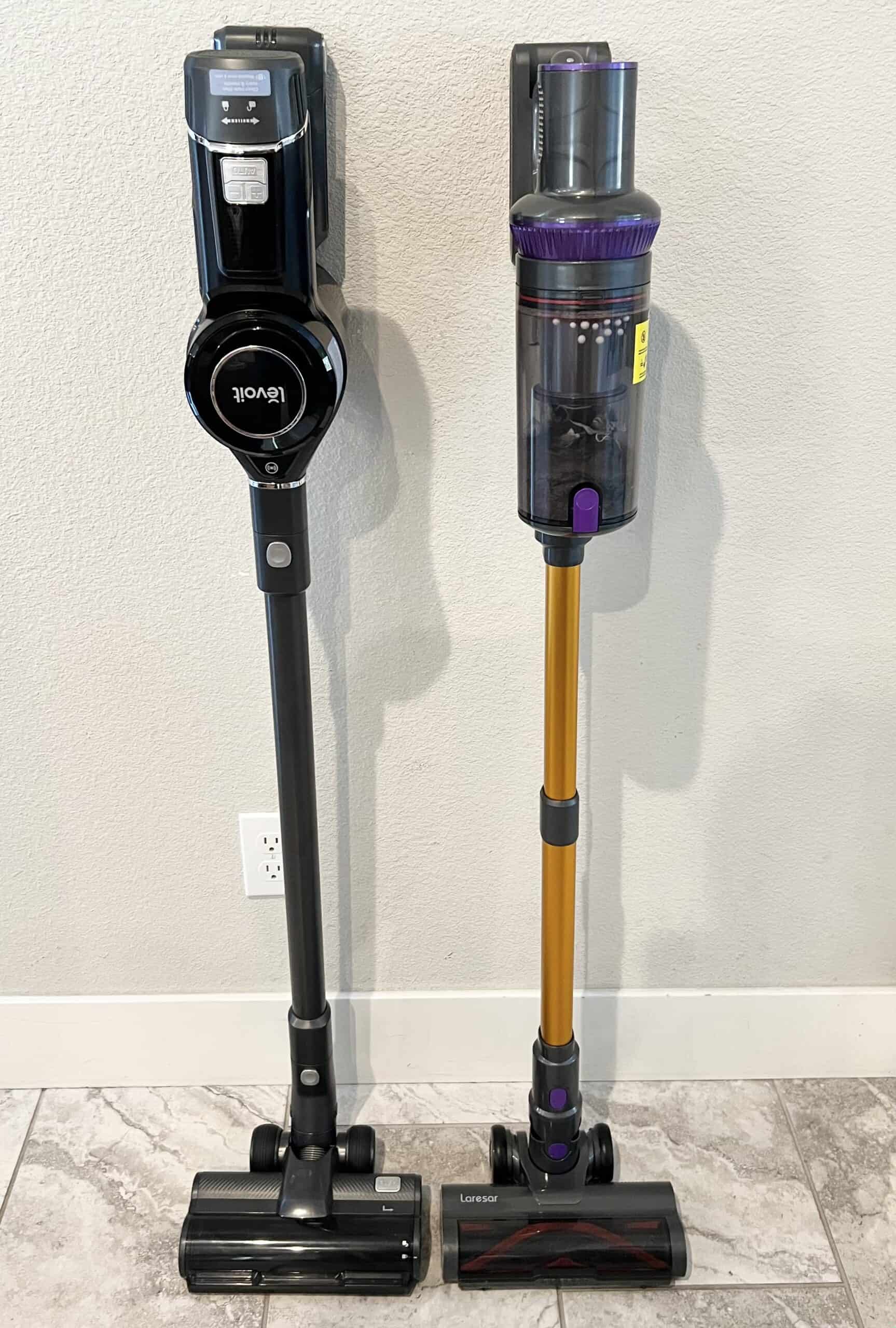 Her vacuum is a bit heavier and louder, but when we did the rice test, it picked up the entire cup of rice in one pass without missing a single grain. Mine almost did, but there were a few stragglers. Not a single grain of rice fell out of either vacuum when we picked them up after, so I call that a win.
But, is my vacuum a Dyson dupe? I think they are just different vacuums and have different features and design. They may look similar, but really they are very different machines. I am very happy with my more affordable vacuum and if it decides to die in 2-3 years, I will be far less upset about it, because my initial investment has been much more reasonable.
*****
Are you in the market for a solid cordless vacuum that won't cost you your retirement? You might love this one from Amazon. If not, look for one that checks all your boxes. You may be surprised with what you find.
Have a fabulous day,
E