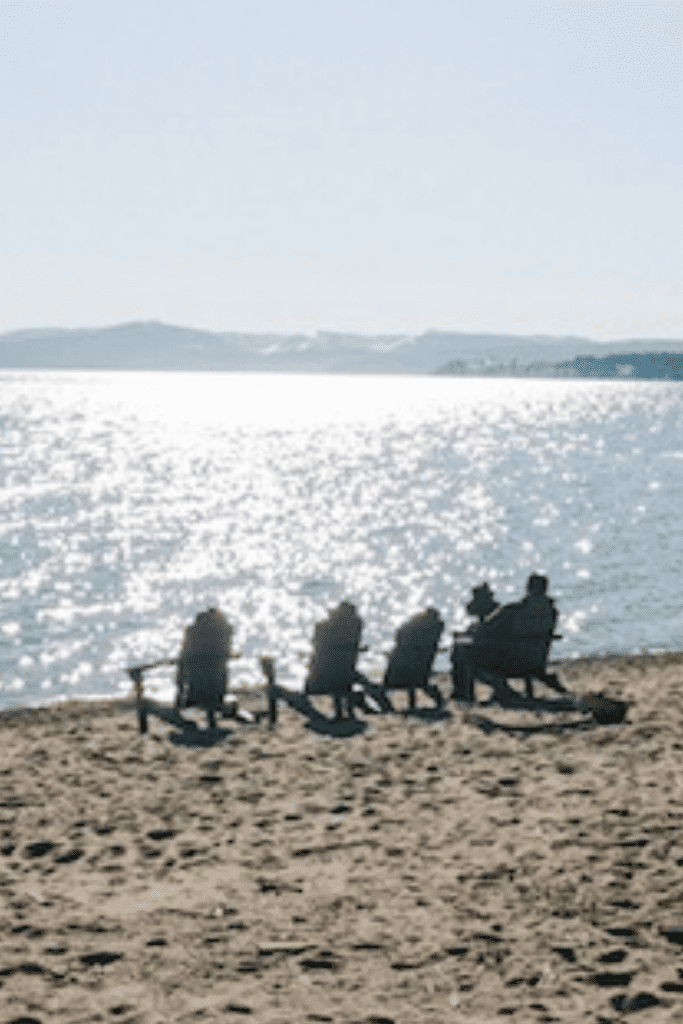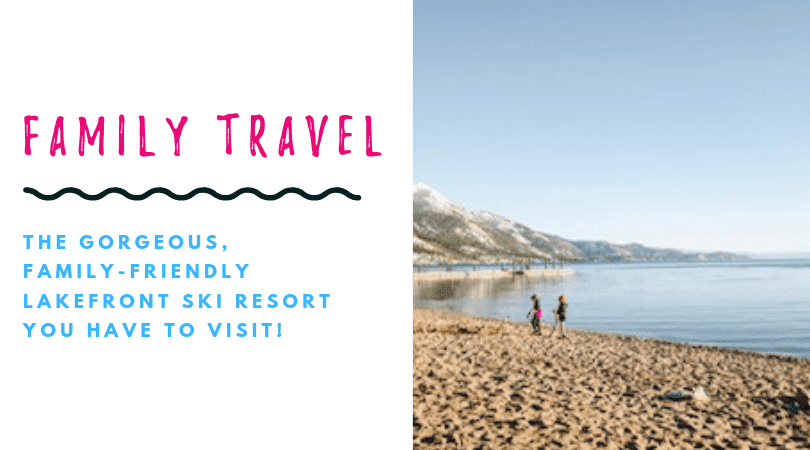 I love the snow. But, it's taken me a long time to find the perfect family friendly ski resort in Tahoe for our first trip with our kids.
Growing up, we started skiing quite young. Living just a couple hours from Tahoe made it easy to pop-up for a weekend here and there.
But, having kids of my own made me realize how expensive those quick trips to the snow and ski resorts can be. Just the snow clothing alone can rack up a bill!
Plus, shopping for a family friendly ski resort in Tahoe is a lot different than before you have kids to think about.
It took me awhile to find the perfect place in Tahoe that had everything we were looking for:
Condos or large enough suites for a separate bedroom and kitchenette.
Affordable, but still nice.
Easy access to good food and activities.
Great reviews.
Lakefront
We didn't need to have a gondola straight from the hotel to the slopes just yet, since none of my kids are ready to start skiing, so I was willing to give that up for something right on Lake Tahoe.
After much searching – I was thrilled to have a good friend recommend the Hyatt at Incline Village.
And, believe me when I say that this is a completely unsponsored review of the hotel. In fact, Hyatt has no idea I am writing this. Just one mom sharing a great tip with another.
There are a lot of great things about this hotel, but here are the 5 main reasons we booked our trip here and why we would happily return:
1. Right on the water: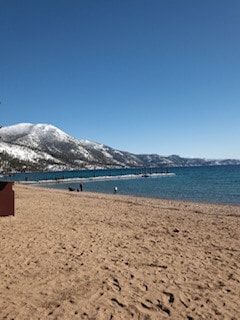 Yup, that's the view from right out front of our building. Pretty sweet, right?
We stayed in one of the Lakeside Cottages, which have a little bit of a glamping feel, the way all of the cottages are situated around a common area near the lake – but only if by glamping, you meant a well-appointed luxury condo.
The cottages have a good size balcony, too, outfitted with 4 andirondacks and two side tables. The design is cozy, but solid and secure. I don't feel uncomfortable at all having my small kids out here.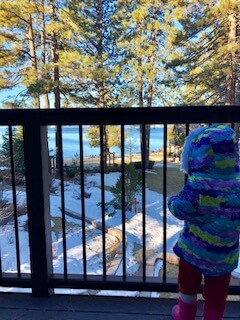 If you stayed on the bottom floor, you would have a small staircase down to a walkway that takes you straight out to the water.
Yeah, baby.
2. Amenities, Amenities, Amenities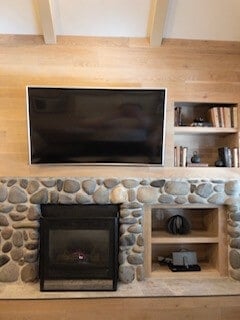 Gotta love the amenities of a nice hotel. The walls are adorned with lots of books, a Bose sound system, a giant TV and an electric fireplace with a cover.
The kitchenette has a Keurig with lots of coffee, tea, creamer, and enough dishes to not have to do them before housekeeping returns.
Showers have a natural bath and body line with aloe vera and vitamin e (very nice), a large mirror with a built-in TV (say whaaaat?) and tons of amenities to cover you if you forgot something random – like a nail file or nail polish remover.
There's also a mudroom when you enter for all those bulky coats and boots.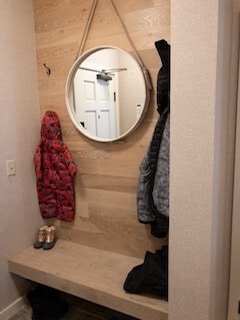 And don't you forget your free s'mores kit to enjoy by the fire pit right in front of the lake #SCORE
If you decide to voyeur into the main lobby, you're given champagne and have access to small shops, several restaurants, and a Starbucks coffee cafe. Yum.
For those of you without kids, there's also a casino and spa on site. Reviews looked good. I tried not to think about it too much, because #RealityCheck.
Oh, and they have an awesome pool, warmed year-round, which we also didn't make it to, but when we come in the summer, this will be a sweet, sweet hangout:
3. Lakefront Hangout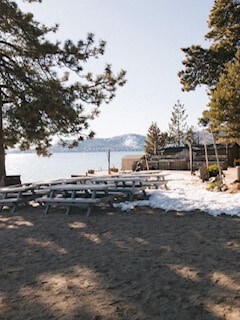 Right by the lake, they have picnic tables with stringed lights in the trees, bbq's, a firepit, more chairs on the sand, a hanging swing, and more – all available to use. No extra price tag.
Nothing ruins your vacay like finding out that hammock by the water is $20 an hour, you know what I mean?
And with panoramic snowcapped mountain views and easy access to crystal blue waters – there's not much else you really need.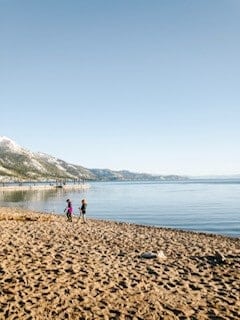 4. Affordable Accommodations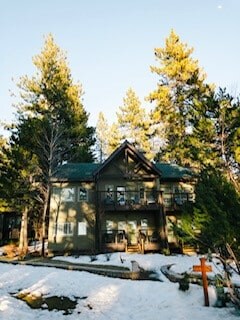 For the same price as a small AirBNB or small hotel room, we were able to get a one-bedroom condo with 2 bathrooms, a kitchenette, parking right up front, and gorgeous lake views.
While you can hear people in the next rooms, you don't have people on all sides of you, since each unit has 2 upstairs and 2 downstairs units.
I bet there are even larger units for bigger groups – and we would probably upgrade to a larger one for more space and privacy next time.
For being such a sweet spot – you'd think it would be busier at peak season. But, while you don't feel like you have the place to yourself, you also aren't crammed in like sardines.
5. Close to The Stuff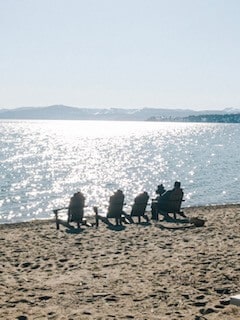 Like to ski? No problem.
Want to take the kids to a lake-side playground? Easy.
There to gamble and hit shows in South Lake Tahoe? It's close.
Love to eat? Tons of restaurants at the ready.
Ready for some sledding or tubing? 5 minute drive to a free sledding area.
In fact, the hubs took the kids to a playground down the street while the baby slept and this was the view from the park: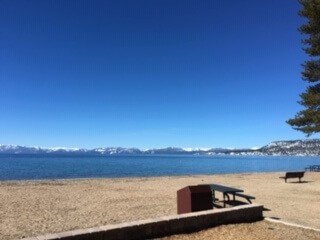 I mean, it could be worse.
How lucky are we to be a short drive away from a place that has snow, blue skies, and a gorgeous blue lake?
Super lucky.
****
I am so glad my friend recommended the Hyatt at Incline Village and would definitely come back here again.
Now, how you're supposed to zone out and stare at that view while also keeping your kids alive?
That one's on you 😉
****
Oh, and if you're in the market for some waterproof snow boots, but haven't been willing to shell out the big bucks for Sorel's (like me), I found these Sorel dupes on Amazon for half the price and they are just as comfortable.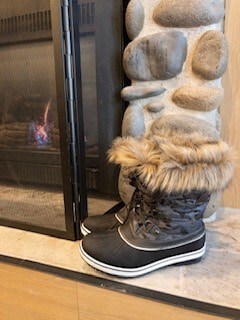 I read a ton of reviews on different dupes before pulling the triggers on these beauties and I am so glad I didn't give up.
These are warm, comfortable, fit true to size, didn't let any snow or water seep in and were easy to walk in.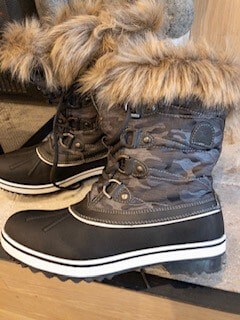 In fact, I thought they were easier to walk in than the Sorel's I tried on before. #NoJoke
You can grab these Sorel dupes right here, $50, prime shipping and free returns, plus available in lots of options. The ones I grabbed are the 1838 grey color.
Just note that when you put them on, be sure to hold the boots to pull them up, don't pull on the faux part, since that is just connected by fabric to the boots and it will tear.
Do you have a favorite ski resort location? Tell us about it in the comments below so we can all check it out – or drool over pics online!
Have a fabulous day,
E