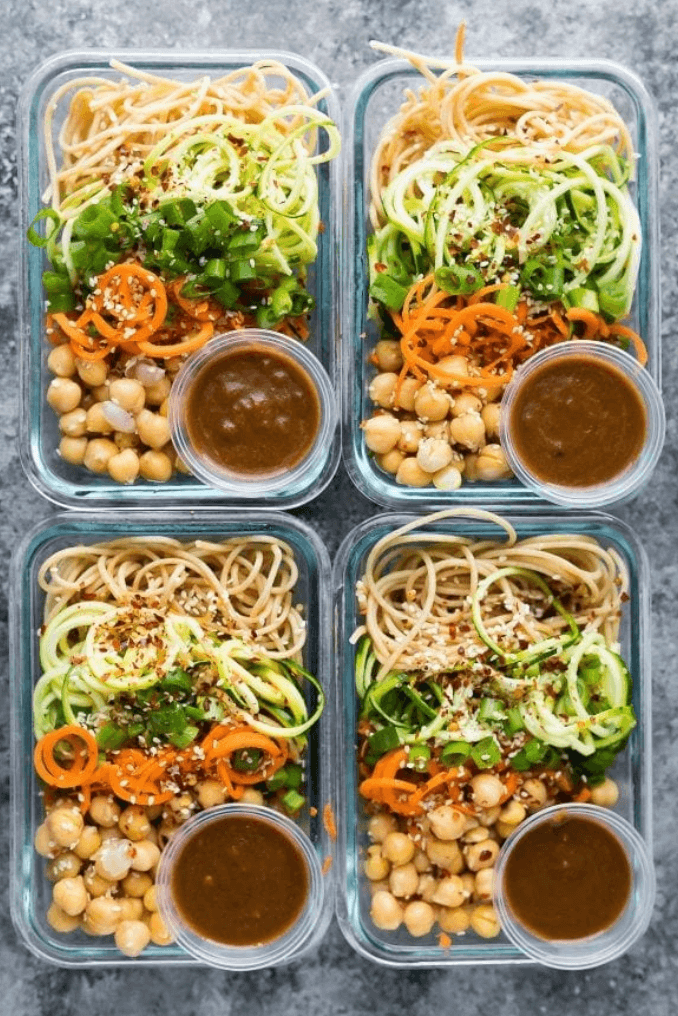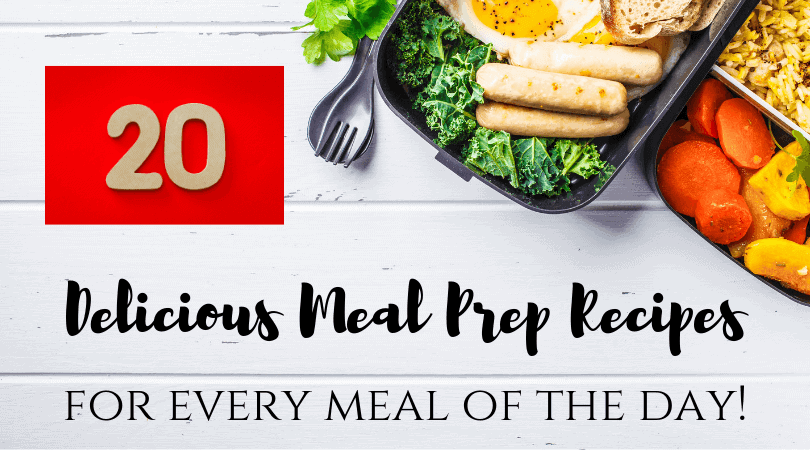 Everybody's got to eat! When you're young and single, it seems like such an easy task to just grab some food or throw together dinner for one.
Once you've added a few kids to the mix, the job of shopping, cooking and meal planning becomes more of a burden.
That's why meal prep can be such a godsend.
It's not just for dinner, though. Meal prep can simplify your breakfasts, your lunches, your snacks and even your smoothies.
Meal Prep To Save Money & Lose Weight!
Meal prep can help you save money on food by buying with a focus, plus save from food waste on food that you forget to use, and save on eating out and buying snacks you don't even need.
Plus, meal prep can help you lose weight! By having snacks and meals ready to go, you'll be less inclined to just grab something and start snacking when hunger strikes.
Wait – simplify life, save money and lose weight?
SIGN ME UP.
Breakfast Meal Prep:
Breakfast is a difficult time of the day. You're usually tired. You're usually in a hurry. You may not be hungry. But, you gotta mainline some food and get on with your day.
Enter – Breakfast Meal Prep! The savior to your already rushed mornings.
This picture looks… damn delicious! I absolutely love this food blog. She really delivers and her photography is delicious, too.
These meal prep breakfast bowls use real food people like to eat – along with a nice balance of protein, veggies, and carbs. Yum.
Fit Foodie has recipes on the healthy-ish side, but they are still super yum.
What I really like about her blog is that her recipes are very clear, easy to follow, have lots of pictures, and include instructions for packaging and reheating (if the recipe requires it).
A total kitchen novice like me really appreciates that sort of thing.
Plus, if you're not a breakfast burrito lover – are you even living?
These are such a super healthy solution to the breakfast problem.
Everyone is tired. Nobody wants to be up yet. Nobody is really hungry yet. But, you gotta get something solid in your belly before you're off to the races.
Enter these breakfast egg cups. Reminds me of the super delish sets of egg cups at Starbucks now.
Except, you can have healthier, homemade ones at home for a fraction of the price.
Winning.
Another incredible food blog that makes you instantly very hungry and recipes that make you feel like Martha Stewart.
Really love a few things about these breakfast sandwiches:
They use feta. There is something so delicious about eggs and feta together.
They integrate greens. Let's stuff those veggies wherever we can, you know what I mean?
Designed to be freezable. How many times have you frozen something only to realize it doesn't taste good after it's unfrozen? No – just me?
Also, when you go to this blog, you can sign up for her meal prep quick start guide, a free 5-part email series. Pretty sweet.
I've been a huge fan of this blog for years. I started reading it back when my oldest was a little baby, because her baby food recipes are uh-mazing.
These little egg cups are so kid friendly, but also delicious for adults. The Italian flavor is our personal favorite – because #FETA.
She's also published a few books and her cookbook on toddler lunches has been a lifesaver:

WANT MORE BREAKFAST?
And, if that's not enough for you, check out these 25 Grab & Go Breakfast Meal Prep Ideas by Meal Prep on Fleek.
Lunch Meal Prep:
Let's move on to lunch – a notoriously challenging meal, particularly if you have small kids or are on-the-go with life and work.
Save money by skipping the drive-through to grab unhealthy, calorie-filled foods that have little health benefits and bust out these bad boys you'll already have ready in the fridge:
If you're not already obsessed with Chelsea's Messy Apron blog – start immediately.
The minute I saw these, I forwarded the recipe to our household resident chef (not me, thank god) with the caption: NEED ASAP!!!!!
They seriously put me into major food yearning.
I love all things Greek salad. The mix of flavors, fresh veggies, colors, and, of course, the theme of today (#FETA), make it a major win.
2. Taco Salad – by Skinny Taste
Another food blog I have read for a long time. This one is unique in that she looks for skinny ways to recreate popular dishes – and yet you really never notice what you're giving up.
It's an art, really, the way she pairs down popular recipes in calories, but not taste.
Everything we have made from her has been A+ and this taco salad lunch meal prep is no exception.
So good.
This is a newer food blog find for me – and I adore it! Written by a guy, which I love – since the guy in our home is definitely the better cook – and his recipes are accessible and loaded with flavor.
These chicken and avocado burritos are delicious and super convenient. You don't always have time to tote around a glass container and a fork. Sometimes, you just need to be able to shove some food in your face while chasing kids or running carpool.
These burritos are everything you could want or need in a meal prep lunch – and more.
I know, she's back. Honestly, if you check out her blog, you'll never want to leave – so you'll feel me.
How many of you are also guilty of grabbing that $5 lunch box with your midday coffee?
Exactly.
Damn Delicious breaks down how to meal prep your own, which gives you the added bonus of being able to control how much of each item you actually want – and also save money.
Here's the cheese and fruit copycat and here's the chicken and hummus one.
She has a lot more meal prep options under a meal prep tab – so feel free to explore more here.
Love this blog, too. She designs recipes that are big on flavor for small budgets.
Because I don't know about you – but I am always shocked by how much we spend on food!!
You'll really like all of her suggestions for cutting costs – without even feeling it.
This taquito meal prep lunch is a perfect example. You'd spent about $10 buying a plate of food like this out at a restaurant and you can make a whole week of lunches for a little over $7, which equals less than $2 a meal.
Now that's delicious.
Dinner Meal Prep:
I always think I have so much time for dinner and then you turn around twice… and it's upon you.
Meal prepping dinners is a unique beast because you're usually trying to please everyone, you want something filling enough to keep the kids asleep all night, and you don't always want to have kid food.
Stuff your fridge with these, make everyone happy, and stop buying take-out.
Let's dive in…
Huge, longtime fan of Gimme Some Oven. Followed her before she got married and moved to Spain.
Yes, Spain.
Her recipes are some of our favorites and this meal prep dinner is no exception.
It's everything everybody loves in a dinner – warm, comforting, cheesy, filling, and healthy.
Budget Byte$ is back, ladies and gentlemen, with a dinner meal prep that'll make you drool.
And, this fine, well-balanced dinner is going to come at you for just – wait for it – $2.53 a serving.
Yes, that's right.
Feed that family of four for $10.
#WOOHOO
Go straight to her main blog for a zillion more great ideas.
I love this site. So. Much. Good. Stuff.
This post gives you 35 sheet pan dinners you can meal prep.
Fast, easy, delicious.
That's how I roll, baby.
I'm realizing I probably read too many food blogs for a person who doesn't cook much.
But, I would be remiss to end this post without something from Pinch of Yum. Especially since I've also been reading this food blog since before they had their baby and well before they had a team of people working for them.
Their recipes have a really unique flavor profile, often combining ingredients in a way that pulls in different types of cuisine. Yet, they always work and they're always delicious.
Plus, the blogger is absolutely hilarious. Major #BlogGoals
This dinner hits all the criteria and meal preps like a dream. Go get it.
Tasty has taken the internet (okay, mostly Pinterest) by storm with their food videos!
Quick, fun to watch videos that show you how to make an entire recipe.
They're almost hypnotic, they're so fun to watch.
Well, their blog offers the same experience – along with pricing info, too. #YES!
This recipe is similar to something I've made for years, so I know it must be delicious. Everything I've tried from Tasty always is.
What you'll appreciate about their blog is it cuts through the clutter, gives you the recipe right away, alongside a clear, easy to watch video. No fluff.
I like it like that.
They just came out with a cookbook, too, that has very quickly garnered rave reviews. Click the photo below to shop it:
MEAL PREP SMOOTHIES!!!
Now let's have some fun! We finished all the "boring" stuff with all those required meals of the day.
So, lets' take a commercial break and check out some colorful, slurpable, highly desirable MEAL PREP SMOOTHIES! HOLLA!
Are they a snack? Are they a meal? Are they dessert? They can be anything!
Smoothies make great meal replacements – my #1 way of dropping some lbs.
Another delightful food blogger hits the ball out of the park. The way she breaks down how to make your smoothie packs so that they turn out amazing, but also allow a bit of customization, is brilliant.
You could easily prep smoothie packs, with some variety, and be ready to grab-and-go whenever the smoothie bug bites.
Her photography is also some of the best I've seen. #Yum
Here they are again! Comin' at you with 4 types of breakfast smoothies!
Get bored no longer! You won't have to drink the same smoothie for weeks on end with these 4 scrumptious recipes.
I'm tellin' ya, if you're not on the Tasty train yet – get to the station.
I started my son on smoothies at a pretty young age. Long before he started forming opinions about what he would or wouldn't eat.
Then, my daughter was so used to seeing us slurping our food, she wanted in with no issues.
The way I see it, you can jam pack all kinds of goodness that might otherwise get pushed around on a plate by hiding it in a smoothie.
And, if your kid has an adversion to certain colors smoothies – just give them names. Like the green smoothies our "Hulk Smoothies". Boom. Instant cool factor.
These freezer packs are easy and approved – but I love them, too. #WinWin
Then, A Sweet Pea Chef goes and gives you 14 delicious smoothie freezer pack options to choose from, including flavors like: Blueberry Muffin, Pink Power, Caramel Apple, and more.
SIGN. ME. UP.
The options here are really endless. Make 1. Make all 14.
And, by the time you've tried them all, you'll probably be enough of a smoothie aficionado to start mix and matching the different ingredients to make your own.
Yes. Yes you will.
One of my all-time favorite smoothie sites is Simple Green Smoothies.
If you sign up for emails, you'll get sent their 7-Day smoothie challenge, which includes a shopping list and recipes for the full 7-days.
They also have tons of resources on their site for how to add boosts like chia seeds and protein powders, as well as supplies to make the most of your ingredients (spoiler alert: blender and ice cube trays).
It's well worth giving up your email for the goods.
Or, skip ahead to this recipe: Make Ahead Green Smoothies
****
Wow, who's hungry?!!
Now, if you've stocked your kitchen like a meal prep chef, you should be good to go.
If this is a new venture for you, there are some products that can make it easier, particularly when it comes to food storage.
Tools of the Trade:
Meal Prep Food Storage:
Glass Storage Containers:
Plastic/Disposable Storage Containers:
Large Baking Sheet:
Silpat Baking Sheet (so you don't have to use foil!):
Reusable silicone storage bags for smoothies:
Silicone Muffin Pans – to pop out those egg bites easily!
****
Are you feeling inspired to start meal prepping?
Go get 'em girl!
Come back and let us know which recipe you tried or if you recommend one we don't have here!
Have a fabulous day,
E