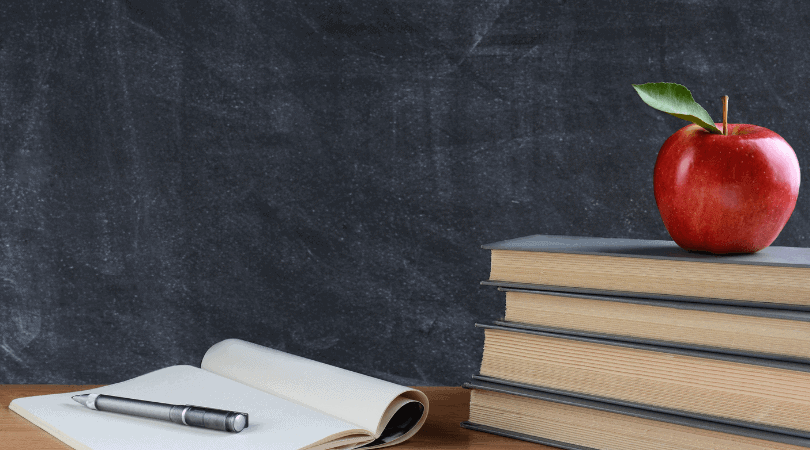 It's that time again! Teacher Appreciation Week is coming!
But, if you're like me, you buy gifts for your teachers a few times a year.
I can't help it. I spent 9 years in the classroom as an English teacher. It was some of the best, and hardest, years of my life.
Due to budget cuts and other issues, I spent hundreds of my own limited income to buy supplies for exciting activities and decor for the classroom.
The kindness that my students and their families showed me around holidays and teacher appreciation week were what kept me afloat. Simple gifts, like handwritten notes of gratitude, to the more luxurious gifts, were all so appreciated and filled my tank, so I could continue to give to my students.
That's why I take teacher gifts very seriously! I love showing my appreciation for the hardworking educators in my kids' lives.
Here are some great ideas, in a wide range of price ranges, you can get some sweet ideas for your teachers – written by a former teacher!
This tote bag makes a GREAT gift! It's supersized with room for all those lesson planning books, papers to grade, and classroom supplies. Reinforced handles mean it'll go the distance.
The vibrant, fun graphic says, "Teachers Gonna TEACH." And they sure do.
Grab it in the I Spy shop and get 10% off with code – ISPY10.
What's that? I designed it? You bet I did!
For teachers – by a teacher.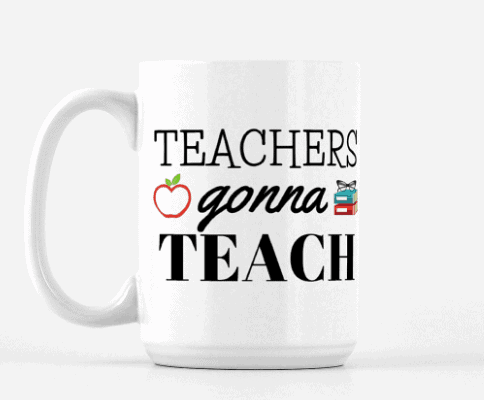 Okay, I got a loooot of coffee mugs over the years. This one is different for a few reasons:
15 oz of room
Well-made ceramic with a coating to preserve the color wash after wash
Funny teacher quote will get smiles
Over time, I used coffee mugs in lots of ways: for pens on my desk, for glue sticks in the cabinet, for classroom activities like painting, and more!
This is one of those coffee mugs they'll be proud to place on their desk or carry back and forth to the break room for that extra caffeine boost.
Also available in the I Spy shop. Use code ISPY10 for 10% off!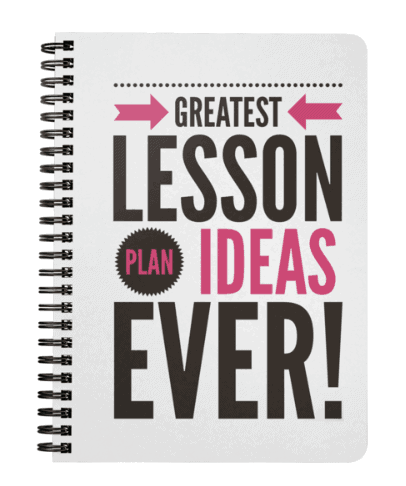 I love notebooks. Like, loooooove them.
But, if they're too big, or the pages get dog-eared, or the cover gets gross, or the spiralbound gets wonky – it's got to go!
When I originally designed one of these notebooks, it was just for myself.
The laminate cover is wipeable and strong enough to protect the pages. The black coil ain't going anywhere. The pages are easy to remove to keep it tidy. The size is perfect for the front pocket of a backpack or in a medium sized crossbody bag for note-taking on the go.
In fact, it was SO good, I had to create more designs and sell them!!
Now, you can pick the color of the design for your favorite teacher from one of these three options and grab them a notebook they will carry with them everywhere.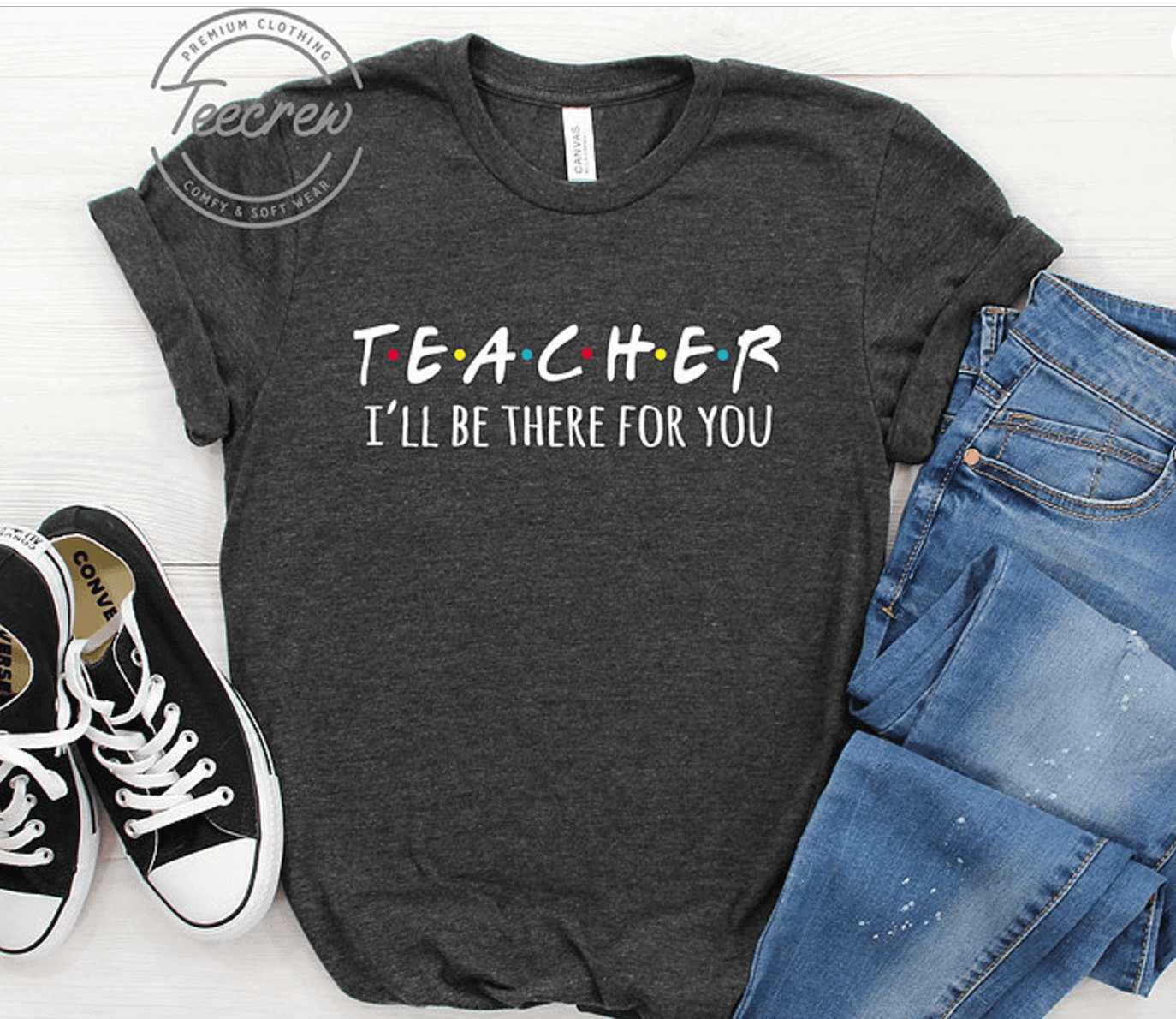 I absolutely love this super creative t-shirt. The price is affordable and the Friends theme is super on point for most teachers.
There are so many great teacher inspired shirts on Etsy. A great way to shop small and give your favorite teacher a fun gift. Combine with a coffee gift card and you'll be Teacher's Pet for sure!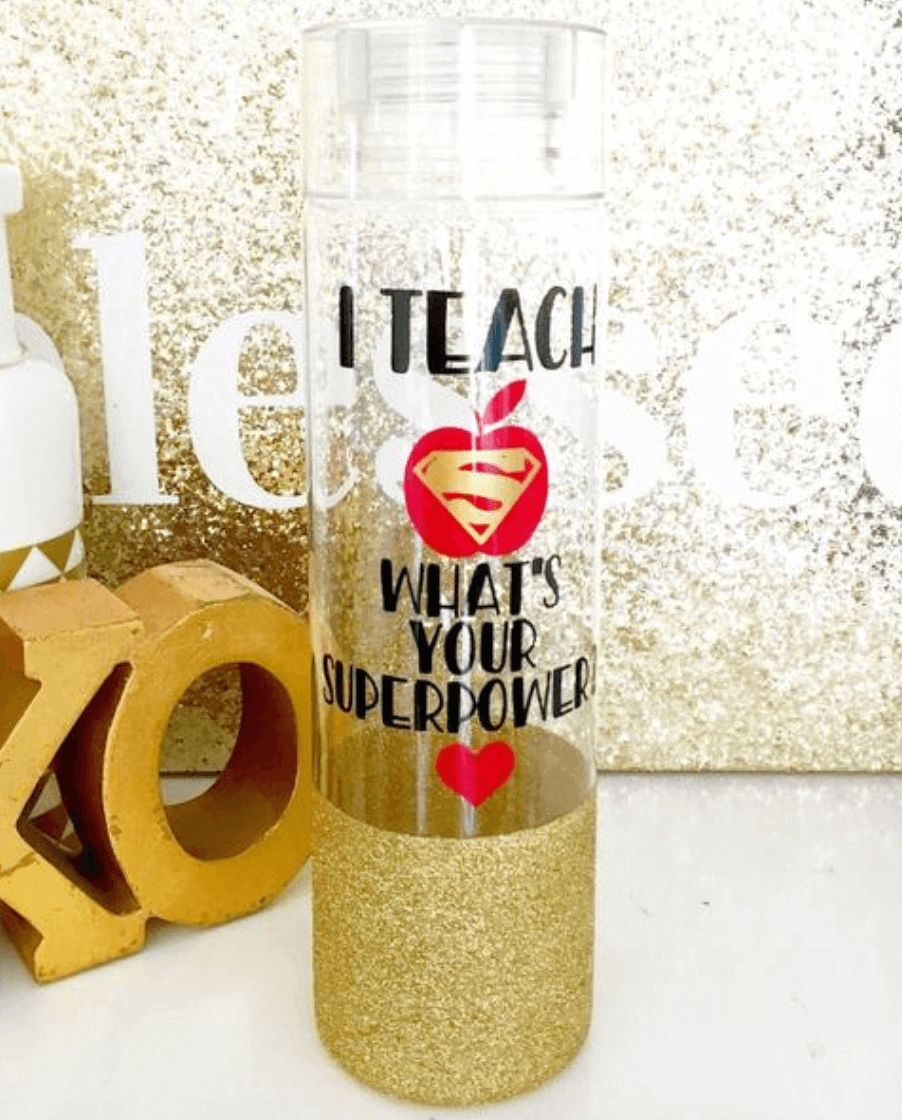 I picked up these gold glitter water bottle from Twinkle, Twinkle Little Jar and put a bottle of locally made matcha in it for my son's teacher for Christmas.
She absolutely loved it and my son loved the superhero inspired design.
Teachers really are superheroes – aren't they?
I'm a huge fan of this company. Every purchase I've made from their shop has arrived in perfect condition, held up well over time and made a great gift.
Highly recommend.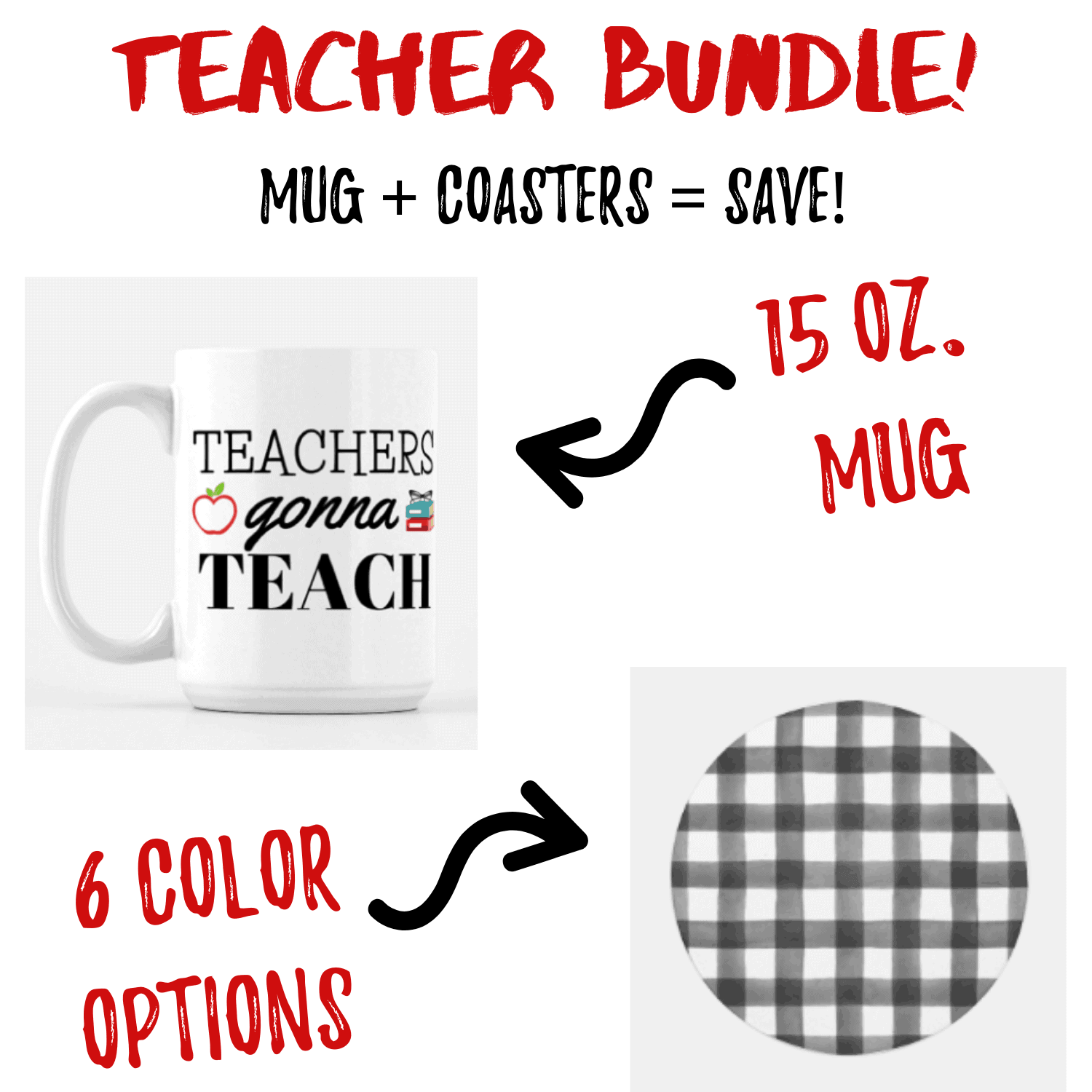 When I designed these buffalo check coasters, I was thinking of myself. #SorryNotSorry
My daughter kept dropping and shattering our marble ones and these neoprene coasters are shatter-proof, kid-safe, and PERFECT for the classroom!
Grab a set of coasters – you choose from 6 colors! – and pair it with the Teachers Gonna Teach coffee mug for a gift bundle that ships wrapped and ready to give for $40!!
Can it get any easier than that?
No. The answer is no. Grab the gift bundle here.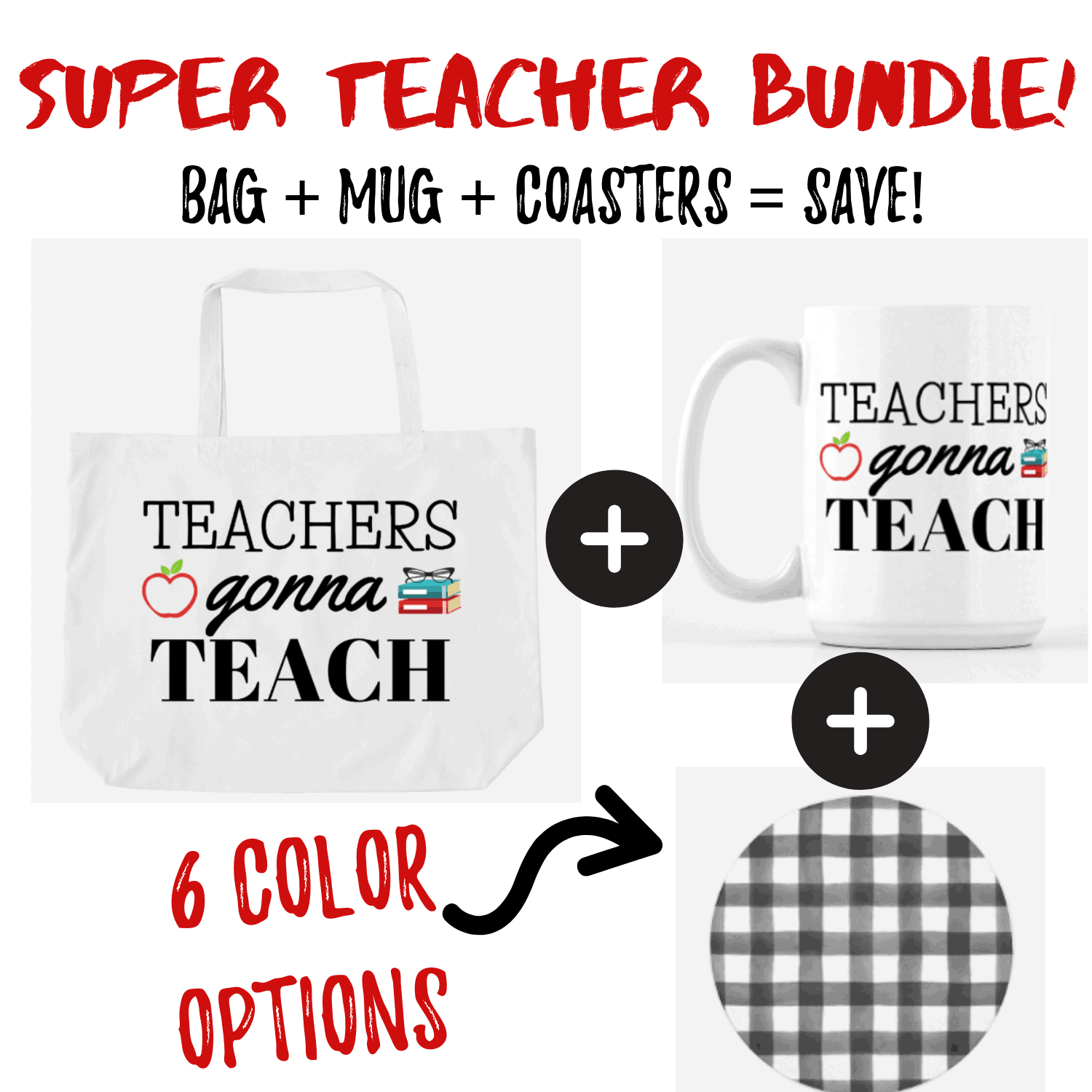 Wanta go – BIGGER? Have that special teacher that REALLY went the extra mile?
Add the Teacher Market Tote to the gift bundle for a set that includes 3 items – the teacher tote, the teacher coffee mug, and the customizable coaster set! 
All arrive beautifully wrapped and ready to give for under $75.
Yeehaw.
Get the Super Teacher Gift Bundle here. 
8. Gift Cards
I know this isn't romantic. It isn't even that creative. Personally, I don't gift cards too often, because it seems impersonal.
But, when it comes to teachers, I make an exception.
The gift cards my students gave me to Starbucks and the movies and other places were oftentimes the only money I had for those extravagant little things in life.
One Christmas, dozens of my students worked together to get one $300 gift card to Starbucks – and I literally cried. That paid my coffee budget for months.
So, be willing to go "boring" when it comes to your teachers. It's a gift they will appreciate so much.
Plus, what I like to do, is tuck a gift card inside something else -like a tote bag or a coffee mug, to give it a thoughtful touch.
Recently, I wrote this post for SignUpGenius – a blog that reaches over 18 MILLION people – a MONTH!
It has amazing gift ideas to give you lots of inspo for the great teachers in your life.
10. Handwritten Note
Don't ever forget the incredible impact a thoughtful note will be for your tired teacher.
I still have hundreds of cards, stories, notes, emails given to me by students who poured their heart onto the page for me.
Sometimes, even though it's been years since I've been in the classroom, I'll go back and read them when I need a reminder of the impact that one person can have in the world.
*****
There you have it, friends. My favorite picks for teacher gifts that will show your teacher how much you appreciate all of their hard work!
Please comment below with your own favorite ideas, too!
Have a fabulous day,
E