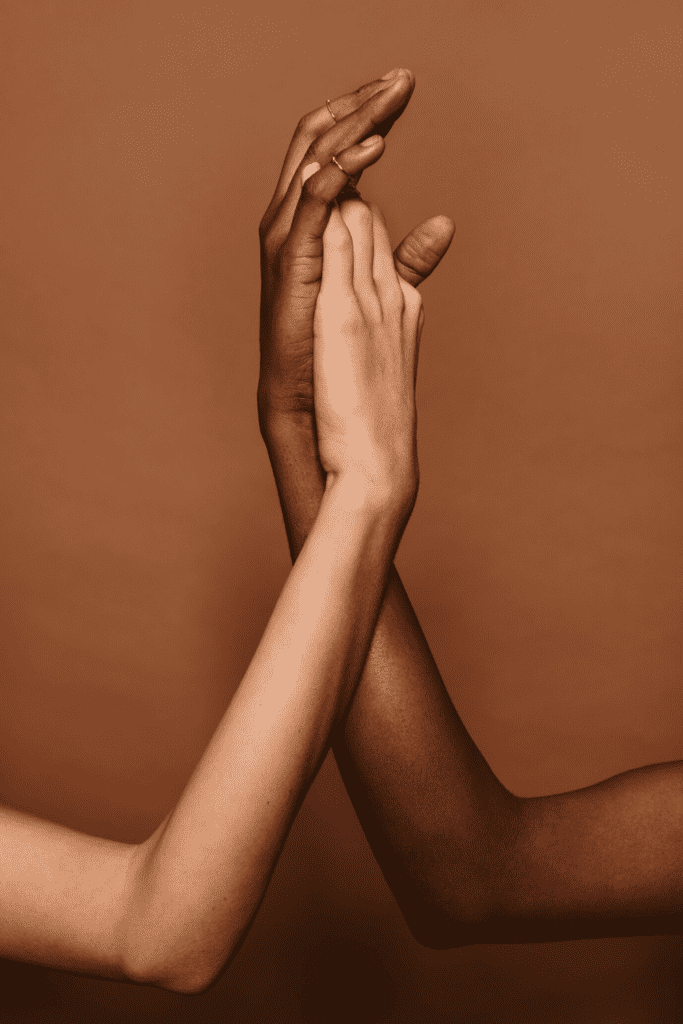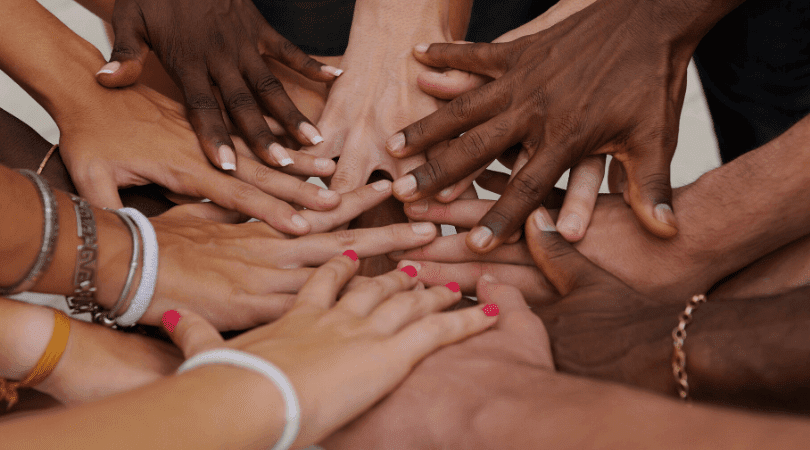 My heart and mind have been so heavy with everything going on in the world.
While I am a little concerned that what I am about to say may not be just right or might not be enough, I am more concerned with not saying anything at all.
Silence is not an option.
It's not enough to not be racist – we need to be actively anti-racist in order to see change happen.
I love this image circulating on social media:
Learning About White Privilege:
I consider myself lucky to have grown up in a diverse area. My group of friends has been a beautiful rainbow of skin tones all throughout my life and those friendships made me a more open-minded, well-rounded and aware person.
But, it wasn't until about 14 years ago that I heard the term "white privilege".
I was in a college course on how race effects schools and the classroom for my MAT (Master of Arts in Teaching) in Multi-Cultural Literature.
Initially, the term left me a bit confused.
My own life hasn't been a walk in the park. I didn't understand how I could have benefited from white privilege when I had worked so hard to get where I was and spent so much of my life trying to help and lift up all the people around me.
It took learning more about the inequities in the school systems, the whitewashed and inaccurate textbooks, the lack of BIPOC voices in literature, the school to prison pipeline, the statistics on incarcerations and much more, for me to understand more about how these students feel and what the Black community experiences.
And, of course, my years teaching middle school to a very diverse group of students taught me volumes about the deeply rooted systemic racism in the real world we all live in.
Once you see systemic racism through the eyes of a child – you never forget it.
Understanding White Privilege:
Since then, I have continued to listen, learn and grow as an advocate for anti-racism. I am still learning every day and the most recent events surrounding the murder of George Floyd, Ahmad Aubrey, Breonna Taylor and many more have made me realize yet again that systemic racism is alive and well.
This must change and it will take effort on all of our part to put an end to it.
While a person who is not Black can never truly understand what it is like to be Black, we can all be part of what changes systemic racism for good.
If you are White and struggling to understand white privilege, because you have had a really tough life, you surround yourself with all types of people or you have fought for every inch and dime you've ever earned – then this is how I explain it:
There are many ways that I benefit from the color of my skin without even realizing it.
This doesn't take away from my challenges as a woman or how hard I worked to get where I am.
It just means that I didn't also have the additional challenges, stereotypes, violence, bigotry and oppression that come with being Black.
That's white privilege. Bazaar wrote this article on 20 examples of white privilege that is easy to read and helpful.
Of course, racism is a lot more complicated than white privilege. Here is a more detailed, super powerful post on privilege, racism and our responsibility to help eradicate it at all levels:
To those that say, "All Lives Matter" – of course all lives matter!
Black Lives Matter just means that right now, we're focusing on Black people.
If one house in the neighborhood was on fire, nobody would want the firemen to hose down all of the houses because all houses matter. No, focus on the house in flames first!
Also, I love the metaphor: A rising tide lifts all boats. Lifting up the Black community and coming together to fight the oppression of others will lift up society as a whole.
If you're religious, I believe The Parable of the Lost Sheep clearly shows us all how Jesus feels about this treatment of our Black brothers and sisters (Luke 15:3-7).
Where To Learn More:
Every one of you reading this will come to the table with your own experiences, your own stories, your own questions and concerns. Continue listening, learning, growing, and supporting change all around you.
These sites and articles will share more about the Black experience, Social Justice, as well as tons of anti-racism resources and ways to help:
Books on Racism & Social Justice:
I am sharing links to some books that I read and some new books that I want to read.
See the Antiracism Resources Google Doc listed above for a much more detailed list:
I love this book for teachers:


These are affiliate links, only because I can't create these shoppable links like this without them automatically becoming affiliate links. Use this to get ideas. You're welcome to find these books from Black-owned book retailers, borrow from a friend, or borrow from your local library, too.
Teaching Children About Racism:
If you're looking for ideas and resources on how to raise children who are anti-racist, I love the Instagram account The Conscious Kid.
There are also so many books that will help parents who want to teach their children about racism.
Anti-racism truly starts at home.
I absolutely love the beautiful, vibrant art in these books and the important messages for kids. Plus, the diversity and representation is what will really help shape the next generation to continue being the change the world needs.
My kids are very young, so I love these ones:
And, I want to pick up a few more of these:
Got older kids? This list of 31 books to teach kids about racism has picks for a range of age levels and will give you even more options.
Easy Ways To Help NOW:
In addition to the articles above, here's a quick list of ideas for we can all get involved and show our support.
For my readers who are not Black, please don't stay quiet. Find a way to support the Black community that is in your bandwidth. For my BIPOC readers, I know it is exhausting and not your responsibility to teach others about being Black and how to help, but please don't stop. Your experiences and knowledge are invaluable.
Speak up when people around you make racist jokes or comments and educate your friends and family on white privilege
Vote! Use your vote to speak up!
Donate to organizations who are actively engaged in fighting for justice – here's a list of 15 to get you started!
Buy from Black-owned businesses and share how much you love it with others! Here's a list of 77 to start with!
Sign petitions on Change.org – such a fast, easy way to help!
Here are more ways to help related to the George Floyd protests, such as bail-outs, more petitions to sign, etc.
Buy books on racism and donate them to your child's classroom! Or, buy books with multi-cultural literature to donate to older classrooms.
Follow Black creators and businesses on social media.
I will likely add more to this list over time. If you have more ideas or suggestions, please reach out, send me an email, or post a comment below.
Please don't get overwhelmed by this list – the goal is just to keep moving.
We have more work to do, friends. We can do it if we work together.
Have a fabulous day,
E