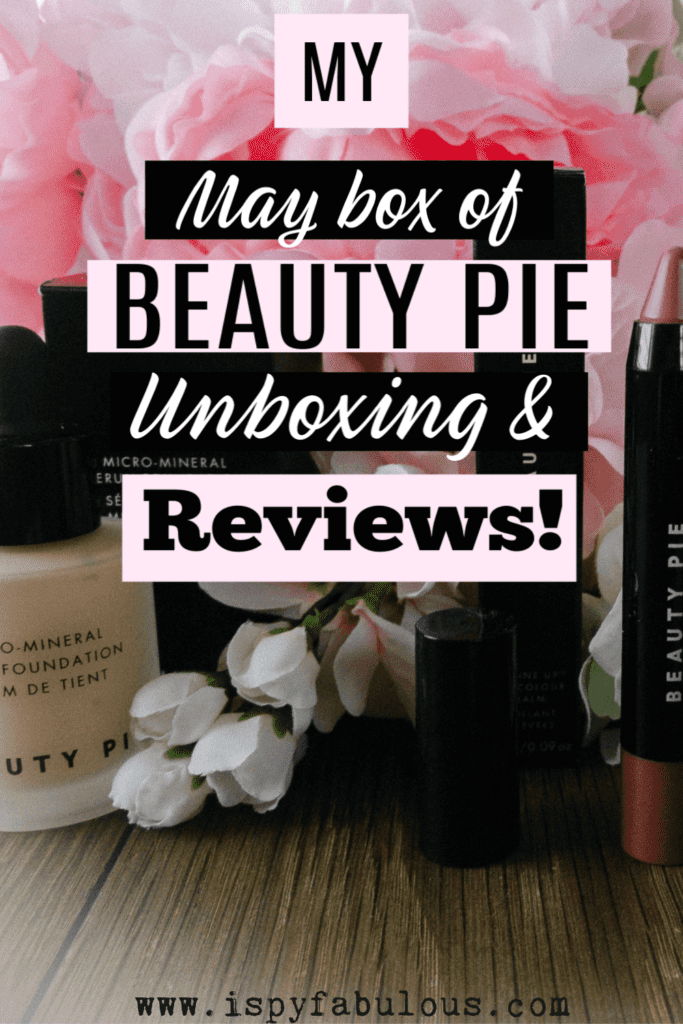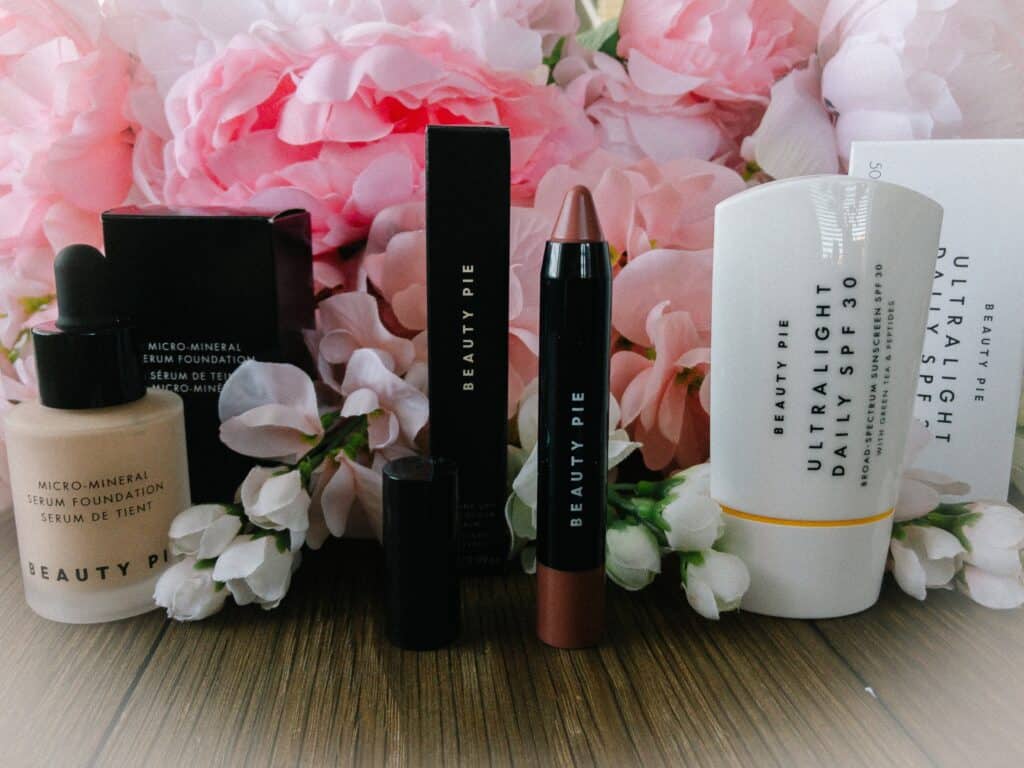 I was really excited to get this month's Beauty Pie box, because after trying the foundation samples in my last Beauty Pie, I knew I was going to get the Beauty Pie Serum Foundation and that the shade was going to be perfect.
Since summer is here and I've been running low on my usual daily sunscreen moisturizer, I threw in the Beauty Pie sunscreen, too.
With just a little bit of my spending limit left, I did a search for the lowest priced items and found this lip pencil oil that had amazing reviews.
#SOLD
Now that I've had these items for a couple of weeks, I'm ready to spill all the deets with you on what I think and what I recommend!
Please know that the Beauty Pie link is a referral link. Every Beauty Pie member is given a referral link that offers you one free month of Beauty Pie membership and gives me a spending limit top-off if you stick around. There is no affiliate program for Beauty Pie and I was not paid to write this review.
If you're new to Beauty Pie, you may want to go back and read my detailed post on exactly how Beauty Pie, a membership only cosmetics site, works and how to get your piece of the pie.
You can also check out my other Beauty Pie hauls for reviews on skin care, hair care and beauty products if these products aren't what you're looking for.
This month's haul focuses on 3 new products I haven't tried before:
Let's Go: Oil Free Micro-Mineral Serum Foundation Review
I couldn't wait to order this after trying the generous samples. I knew the color was a perfect match and the foundation looked flawless and didn't break me out.
Now that I have the full-size, I can tell you that the packaging is on par with all Beauty Pie products so far – it's incredibly well made and has a nice weight to it. You really feel like you are using a luxury product.
But, when I went to use it, the foundation was much thinner than the samples I had tried. I couldn't figure out why it was so watery.
I eventually figured out that my sample was the Everyday Great Skin Foundation and this was the oil-free serum foundation.
No big deal, the color was still a perfect match and I learned that it just needs a good shake and the dispenser needs to be filled and emptied a few times to thicken the product.
Also – it's very concentrated – so it only takes a little to cover your face and neck. If you want more coverage, it's buildable, too, without getting cakey or patchy.
This honestly feels so, so good on your skin. The serum in it makes it feel like skincare and the foundation has a very natural, somewhat dewy, somewhat matte look to it.
It's just right.
The only downside is the inclusion of a soft fragrance. I've mentioned this with almost every Beauty Pie product so far. I wish they offered these products without the use of fragrances.
Shine Up Lip Colour Balm Stick:
I used to be a daily lip kit girl. I had my perfect combo of liner, lipstick and lip gloss for that perfect pink lip.
Then, I had kids.
I don't think I've worn lipstick in years now, preferring tinted chapsticks instead for a natural flush that didn't get messy or leave marks on my kids or their clothes.
So, I am always happy to try new lip moisturizers to keep things interesting.
This is a really great lip pencil. It glides on super smooth, never gets sticky, feels super moisturizing and luxurious on your lips, and gives them a nice soft color.
I was using the Honest Beauty lip crayon before and also really like that one, so that's a great alternative if you don't have Beauty Pie.
FYI, this color is Love.Love.Love (A Light Nude).
Ultralight Daily SPF30 Broad-Spectrum Sunscreen:
If you've been around here for awhile, you know I love my La Roche-Posay Toleriane Sunscreen, which I also included in my post on the best facial sunscreens.
I buy it for around $20 at CVS and it lasts me about a month of daily use.
Beauty Pie's Ultralight Sunscreen is sort of like a primer and sunscreen in one. Plus, loaded with goodies like vitamin E, Green Tea, Aloe Vera, anti-wrinkle Peptides and micronized Titanium Dioxide mineral sunscreen, it actually improves the way my skin looks when I use it.
The solution is nicely concentrated, so I need a little less than my trusty Toleriane, too.
This sunscreen also feels really nice, more like a day moisturizer than a sunscreen, and I do feel it gives my skin a nice glow.
I will say that the Beauty Pie stays a little white on my skin for a bit until it sinks in. This is due to the use of mineral sunscreen, which is better for you. Since I usually put on sunscreen and then brush my teeth or get dressed while it sets in anyway, it's not an issue when wearing under makeup. But, I mention it so you know what to expect.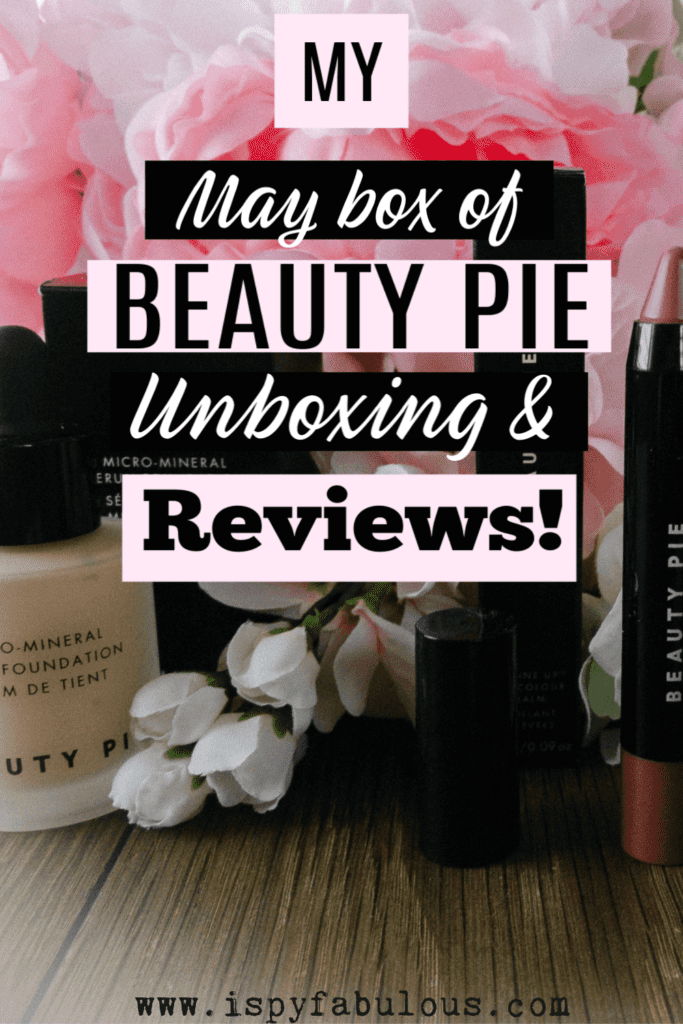 Let's Talk Turkey: What Did This Cost?
I always break down how much I spent on the shipments, to compare what I paid vs. what this might cost in stores.
As usual, I had my $10 membership fee. I also paid $8.27 for shipping.
Then, for products I paid:
Sunscreen: $14.50
Foundation: $9.41
Lip Colour Balm Stick: $5.25
Grand Total: $37.43
If I add 1/3 of the membership and shipping fees to each product, I actually paid this:
Sunscreen: $20.50
Foundation: $15.41
Lip Oil: $11.25
I feel this is still a REALLY good deal. These products are better than drugstore finds and more on par with products I'd buy at Sephora, but for less than drugstore prices.
The sunscreen is similar to what I pay, but look at that deal on foundation! Wow!
Sure, there is the occasional product you aren't going to like – but most of the time, it'll be a win.
****
Beauty Pie continues to be a really fun monthly subscription for me! Because you can delay shipments and roll over any spending limits, there isn't much pressure to use it or lose it, either.
Next month should be a really great one, because I have some extra spending limit top-offs thanks to readers who signed up using my referral link.
I'm going to use that money to try even more new products and give you all the deets.
Are you using Beauty Pie? What are your favorite products? Tell me in the comments below what I should try.
If you love reading about beauty subscriptions, you might also like these posts:
Have a fabulous day,
E