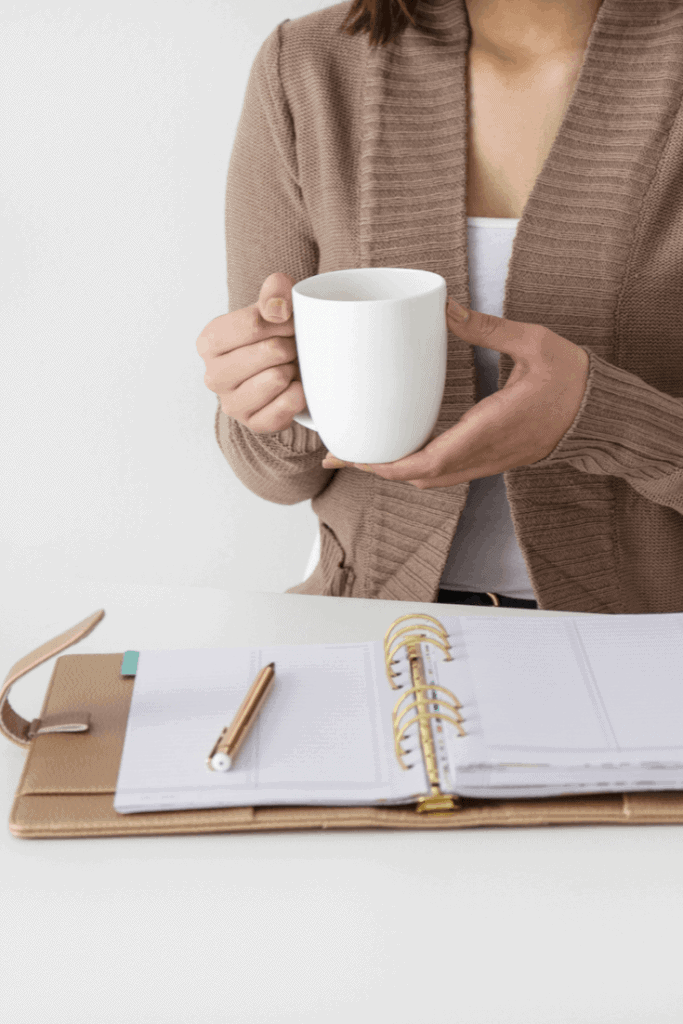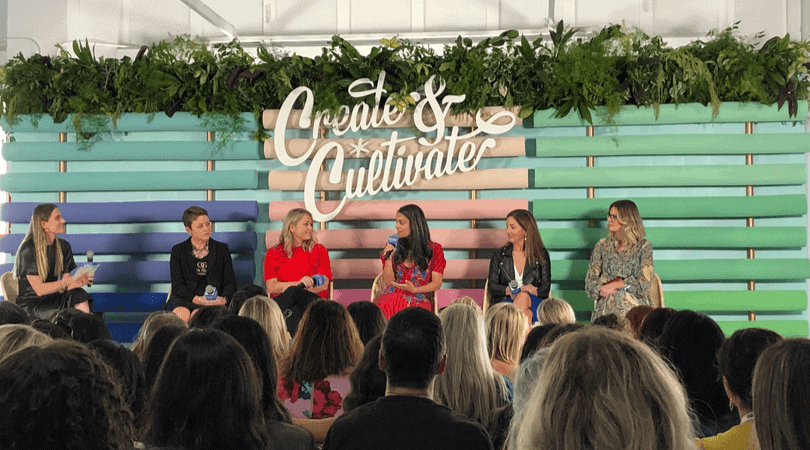 A few weeks ago I did something I've never done before – I attended a conference for women in business…by myself.
I decided to go because I've been working from home as a freelance writer for over 6 years now (and blogging for one year) and really felt like I needed to network better, be around other hustling boss babes, and learn from those who are slaying it in their industry.
So, when the Create + Cultivate conference was coming to San Francisco, just a few hours from me – with headliners like Giuliana Rancic, Jenna Dewan, Cindy Eckert and Kourtney Kardashian, plus dozens of incredible influencers, CEOs, boss babes, and more, I knew I had to face my fears and go.
Attending a Conference Alone:
There's nothing like signing up to be in a room full of major heavy-hitters to have your confidence take a huge blow.
Before I'd even put in my credit card info I was smacked in the face with a huge serving of Imposter's Syndrome.
Even though I've done something very cool – I've successfully transitioned from a career as a teacher to a career as a freelance writer and blogger – I felt like I still wasn't good enough to be in the room with these top bosses.
Plus, the longer you work from home in your yoga pants, the more you feel just… inadequate to be face to face with people who could be potentially prettier, thinner, and more successful than you.
I shared this meme a few weeks before the conference. So dead on how I was feeling, lol: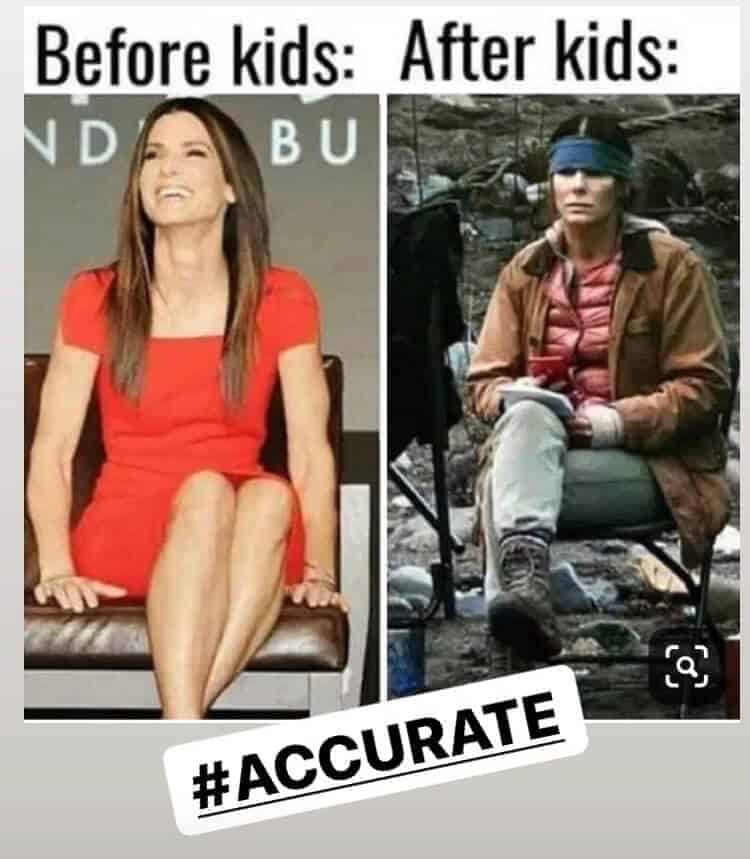 These were the thoughts that were running through my head and as the fear set in, I put my credit card back down.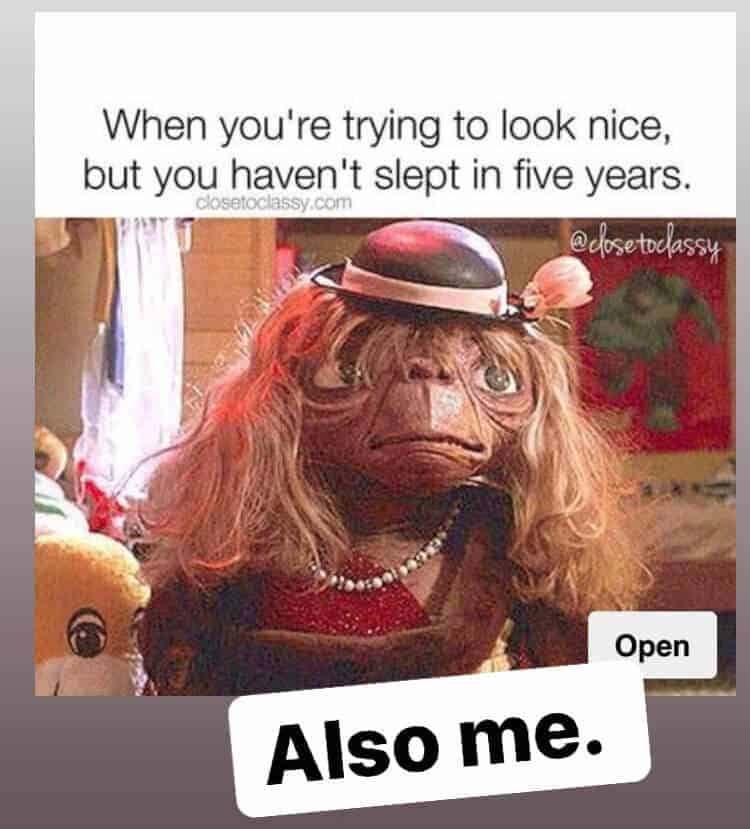 It took a good motivational speech from my mentor and my husband for me to buy the ticket and book the hotel.
Now, there was no turning back.
#DeepBreath
#ICanDoThis
Prepping to Attend Your First Conference:
As the weekend approached, I started preparing. I asked friends, I read tips online, and I did the best I could to prep in advance to attend my first women in leadership conference.
The hardest part was finding an outfit that was comfortable for sitting and walking all day and also professional without trying too hard.
I mean, I'm not a fashion blogger.
But, once I got in the car and went – I decided to own it. And, the experience was 100% worth it.
In fact, I am already thinking about how I can sign up for more blogging conferences in the future.
So, after thriving at my first conference ever, I am now sharing the 10 must-read tips for how to attend a conference alone with you.
Go get 'em, girl.
1. Boost Your Confidence: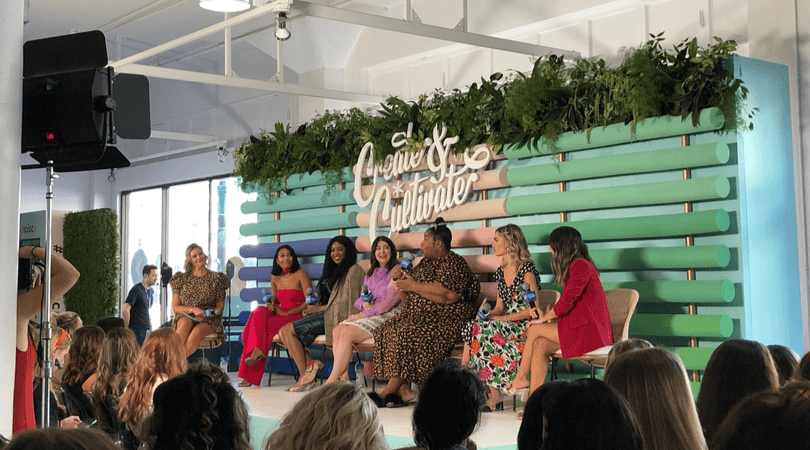 It feels bigger than it is to sign up and go to these things alone. But, it also sends a big message to everyone there that you are confident enough to do that.
Sure, there will be other people alone, too, and you will NOT stick out like you think you will.
But, most people do tend to go with a friend or in a group.
It takes some chutzpah to waltz in there alone with your head held high.
So, read my other post on 10 Confidence Tips I Learned from Influencers with Millions of Followers.
This was inspired by a panel of influencers at this conference who's messages really struck a chord with me.
2. Pad The Trip:
Because you'll probably be anxious, pad the trip.
Give yourself something else to look forward to before or after (or both) so that you have a distraction.
For me, this was staying in a hotel I've always wanted to stay in – The Palace Hotel in SF.
Then, the night before the conference, going to the delicious Ghirardelli's Ice Cream Shop for a sundae.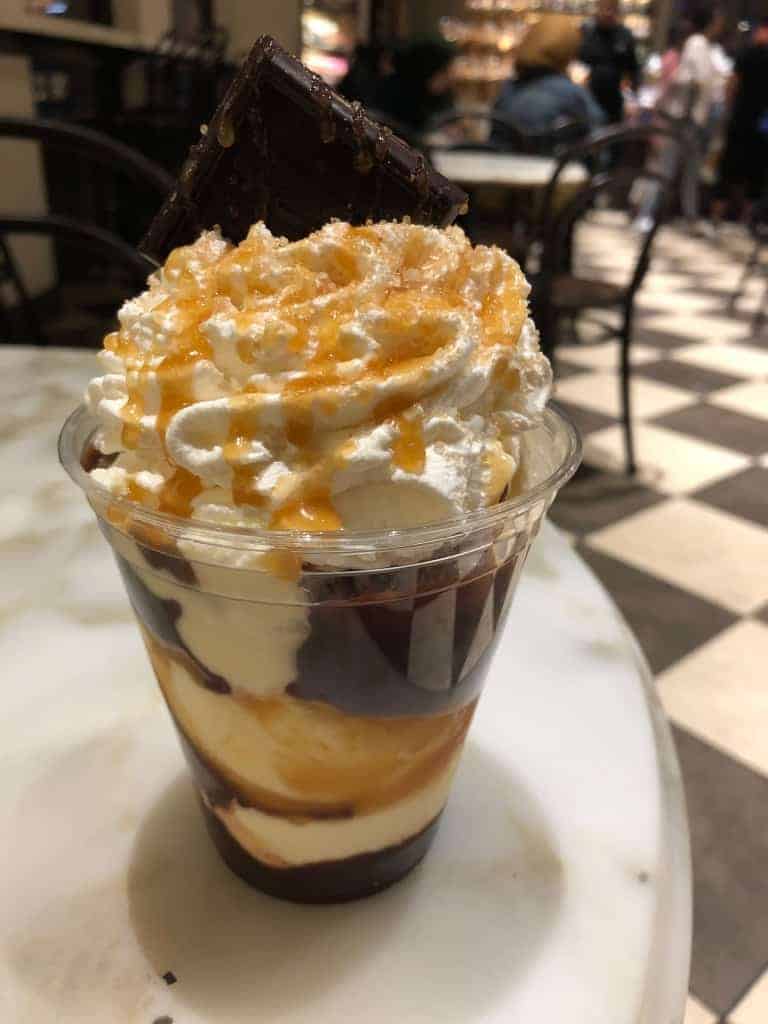 Oh yes. That happened.
#GetInMyBelly
And, I stayed the night after the conference, too, to rest, relax, order room service, and decompress.
By turning it into a little self-care weekend, and the only time I've done this since having kids, made it exciting and special.
So, pad your conference trip with other things. Is there a great coffee shop you want to visit? Is there a restaurant with amazing review? A hike nearby you have to do?
3. Pack Light:
Take whatever you want to the hotel, but pack light to the event.
A small crossbody bag is all you need.
Pack that bag with the following:
Pen
Business cards
Mints/gum
Wallet
Keys
Lip balm
Phone
Hair tie
Hand lotion
Snack bar
Your conference ticket/lanyard
You're done. That's it.
When I went, I overpacked a larger bag with a notebook and other things.
Then, when I walked in, they handed me a free notebook and pen, and then there were bags around to hold swag, and I had way too much to carry around.
So, travel light.
4. Business Cards:
You'll need to bring some business cards. For me, I had some made just for the event.
While some people have told me they gave away 100 or more business cards at a single event, the one I went to I only gave out and received about 20.
Still, I made sure to order enough. Plus, I ordered business cards that would stand out in a stack.
Think about what it looks like when you have all your business cards from the event.
Will your card make an impact?
Don't be afraid to go bold and memorable.
I love ordering cards from VistaPrint and Moo.
5. Dress Smart:
You'll be standing, sitting, climbing stairs, moving around, all day.
Dress accordingly.
I was surprised to see so many women even wearing sneakers!
I wore dark jeans, a camisole, a cute cardigan and some comfy mules and that was almost perfect.
When I go again, I will likely wear a blouse that I can wear comfortably without another layer and a much lighter weight cardigan that I can easily take off and tuck in a bag or tie around my waist, because it got HOT HOT HOT in there.
The combination of body heat, anxiety and the fact that the event space had no AC and very little ventilation, meant that we were all sweating.
Seriously, in the heat of the day, people were mopping their brows.
At one point, I saw a girl standing in front of a small window near the restrooms. I knew she'd found some air flow, so I immediately went over and asked her to share.
Standing there in front of a small window fanning ourselves was one of the best conversations I'd had all day.
This leads me to my next point:
6. Be Bold:
You're there for a reason. You are there to make connections, build relationships, increase awareness of your brand or make valuable connections that will lead to your next gig.
Get in there and be bold.
Everybody feels the same way as you do. Very few people have no anxiety at all.
So, find the girl eating alone and sit with her. Start talking to whoever is in front or behind you in line. Ask them what brought them to the conference, what they do for a day job, talk about the food you're eating, anything.
People love to talk about themselves and you just might be surprised what you learn about the person you are eating with!
For me, I was shocked that so many people I talked to were interested in my story.
Sure, it's cool that I transitioned from teaching to freelancing, but I just didn't expect so many women to have questions on how I did it and what my advice would be.
It really made me realize that I have more to share about how to freelance – so I plan to write a whole series on the blog about it.
But, I would never have known that was so interesting to people if I hadn't gone to the conference and started chatting with whoever was near me.
Then, make sure you follow up after the event to keep the relationships going.
7. Have an Elevator Pitch:
This is something I did not have prepared and I realized how important it actually is.
You will sometimes have just a few minutes to chat with someone and make an impact before you're both off to the next thing.
When asked what your business does or your brand is focusing on or your blog is about, you want a snappy, memorable one-liner that will be so compelling they have to immediately look you up.
I found myself just mumbling a few things, almost embarrassed to hear myself saying it, and then would change the subject.
Although I did still get a lot of interest in this blog and what I do, I could have been a lot more impactful.
Plus, having that line ready to go in advance would've also helped with my confidence in sharing it!
Here's a template to get you started:
My [insert business, blog, brand] is the go-to [site, blog, store, multi-vitamin, product] for the [insert ideal customer here] who needs [insert what problem you/your product solve]. You can find us at [website, store, etc.]"
It might look like this:
My blog, I Spy Fabulous, is the modern woman's survival guide for the woman on the go, who is doing all the things and needs quick, helpful tips, hacks and tricks served with a side of sass and gifs. You can find it at ISpyFabulous.com and on social media.
Boom.
There it is!
8. Take Notes:
Take notes. Take pictures. Information is going to be coming at you so fast and our brains are wired to remember what happens first and last more than anything in the middle.
Take notes about the middle.
Walk around and take pictures of things that are cool, beautiful, or memorable.
You'll be surprised by all the ways you can use that content or just how often you'll go back to it to refresh your memory later.
9. Prepare a Few Lines:
To help make things less awkward when you do start talking to someone, have a few lines prepared that go over well with most people.
There's no reason to exhaust yourself all day when you can reuse the same one-liners, jokes, or explanations.
In fact, this is just a smart way to save energy and keep going all day.
Plus, having a funny one-liner will make you memorable when people reflect on the day.
10. Be Helpful:
One of the fastest ways to make friends and build relationships is to be helpful.
Find ways to make the experience easier on other people.
Can you hold a door if their hands are full? Offer to help someone who looks a little lost? Talk to someone who looks lonely? Offer guidance to someone who seems confused? Move your seat so someone can sit with a friend? Tell someone where to find some great swag? Hold a place in a long food line so someone can go do some last minute networking?
These are the things people will remember about you.
I love the quote by Maya Angelou, "I've learned that people will forget what you said, people will forget what you did, but people will never forget how you made them feel."
Find more girl power quotes like this to fire you up in this post.
****
Man, I wish I had this post before I went to my first conference alone!
Next time you're thinking about putting yourself out there and try something new, like attending a networking event, conference, or other group, just go for it.
The worst that can happen is you have an awkward day and get a funny story about it to tell friends.
The best thing is you can build relationships with people you can work with, be friends with and go cultivate your dreams with.
This whole job thing is a heckuva lot more fun with other people who are passionate about it, too.
Plus, you don't need to reinvent the wheel all the time if you can learn from others who have already blazed the trail a little.
One thing I really learned from listening to all of these super successful women talk is that you can think you are being aggressive and really putting yourself out there, but then you'll hear what Brandy Pham did to build Planoly or Cindy Eckert is doing for women's health with The Pink Ceiling and you realize – wow, I can really turn up the heat a lot more.
I hope you are encouraged to put yourself out there.
The best things in life lie outside our comfort zone.
Go get 'em.
Have a fabulous day,
E