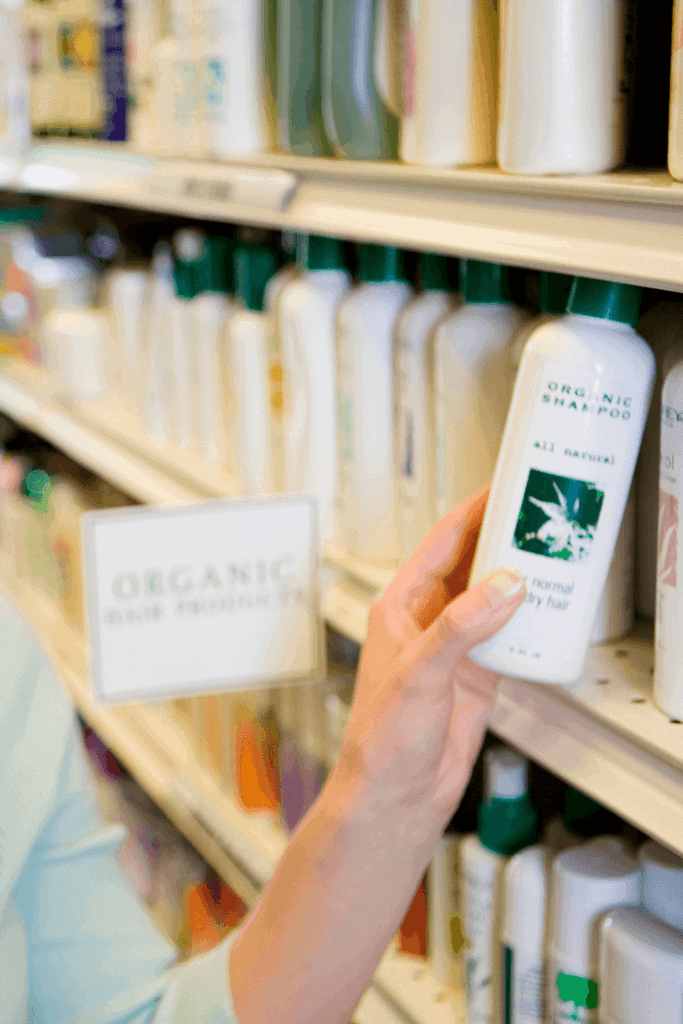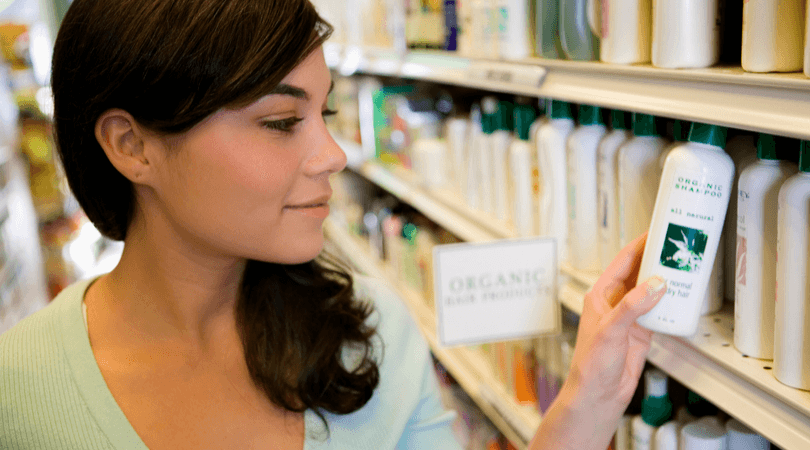 I'll never forget how I started learning about the chemicals and ingredients in everything around us, from the water supply, indoor air, and all of those lovely products we use on our skin, hair, and children.
I was huge pregnant with my first child and I was researching baby gear and products for our baby registry and ended up reading about how unregulated the cosmetics industry actually is.
I was shocked to learn that other countries have stricter laws than we do in the U.S., and there are companies that will actually make different version of their products, a safer one for them and an alternate full of more junk for us here.
I mean, come on.
The Easy Way to Check Ingredients in Cosmetics:
I don't have any more time than you do to do this, trust me.
And, I didn't have the money to throw out everything in my house, either.
I started one product at a time.
Whenever I would run out of something, I would just replace it with something that had a lower rating on the EWG.
So, today I'm going to share with you the easy way to check the safety of your products and the ingredients in your cosmetics using the EWG.
How To Check Products on the EWG:
The easiest way to check the safety of ingredients in products is by using the EWG site, which is short for the Environmental Working Group.
They have a vast database of information, too, so you can go far beyond just cosmetics and do a deep dive into your water filters, sunscreen, etc.
All you do is go to the EWG website and click on the Skin Deep image.
Once here, you put in the name of the company or product you want to research.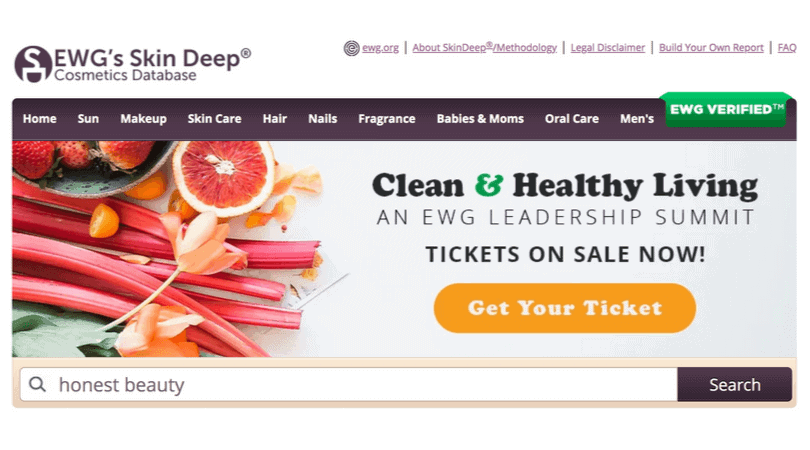 As an example, I'm using a clean home and beauty product line that I have used for years and find is a really good affordable, effective, cleaner line than most. You'll get the quality of a more expensive product with the price of a drugstore product.
Can't beat that.
So, you can see that I put in the name of the skin care line.
But, if you don't have a specific idea, you can always search using the tabs at the top based on what kin of product you are looking for.
When I hit search for Honest Beauty, you see all of the products that have been ranked.
If your product doesn't show up, it's your choice to decide if you want to still use it or just find another one that is willing to be ranked by the EWG.
Once you click on the product, it takes you to a page that gives you an overall score for the product and the hazard concern.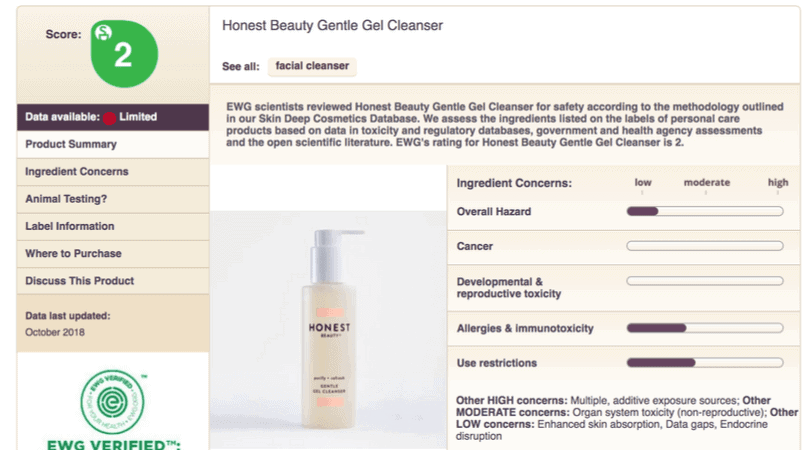 On the top left, you'll see an overall score for the product.
The EWG uses a scale from 1 to 10, with 10 being the most hazardous and 0 or 1 being the safest.
For me, I like 2s and under. I don't love seeing 3s and up.
But, you really want to consider the overall score and what ingredients were ranked a 3 or up.
Then, as you scroll down, you will see every single ingredient and the toxicity ranking of that product, starting with the highest rated ingredients first.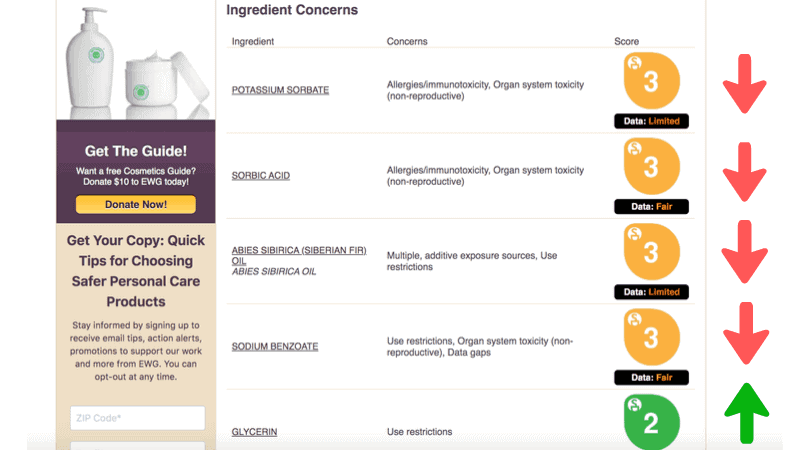 Then, you can click on the individual ingredients to get more info.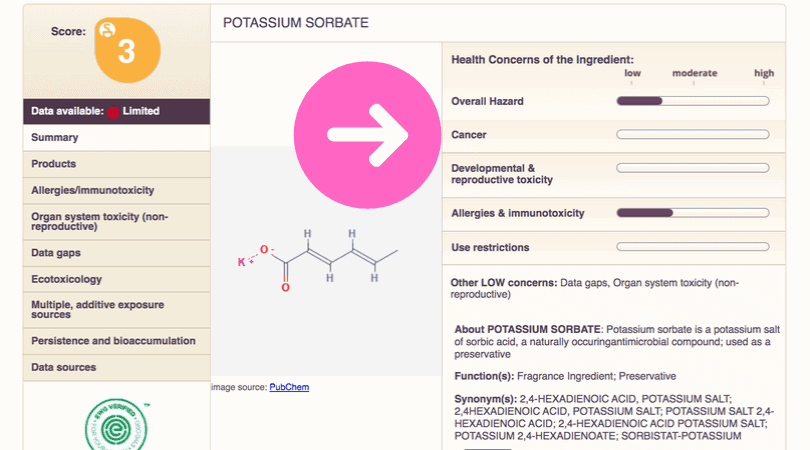 Not only that, it'll tell you WHY that ingredient has that rating – such as what type of issues it could cause for the human body.
Setting the Standard:
Even though a rating of 0 or 1 is the ideal number here, a face wash that ranks an overall 2 and works great is a solid find!
I have better luck finding baby and kid products that rank really lowly and everybody loves.
Typically, when it comes to skincare, makeup and hair care products for me, I like to see scores of 2 and under.
I look for a balance between the result and the integrity of the ingredients.
It's a Marathon, Not a Sprint:
If this sounds a bit exhausting, just remember that the more you do it, the more you know, and the quicker and better you will get at knowing what to look for without having to dig into the database.
There are so many clean beauty brands available even at Target and the drugstore.
And, if you are like me and order a lot of your products online, you can have the EWG page open in a separate tab and check the safety of products right as you are (or aren't) putting them in your cart.
What will astound you is how high some of the ratings will be for products that claim to be natural, organic and safer.
I mean, once you start looking at laundry detergent and dryer sheets you will be totally blown away.
The Benefits of Cleaner Products:
Once you start to see the potential risks of the ingredients in common products, you really see the benefits of going cleaner.
Now, that doesn't mean all clean products are safe.
There are plenty of unregulated "natural" ingredients that we actually know very little about in terms of toxicity.
So, always err on the side of caution.
Patch test new products before rubbing it all over.
Try kids products on yourself before your kids.
Note any changes in your skin, breathing, digestion, anything.
Take back anything that makes you even slightly concerned. Most stores have a very generous return policy for cosmetics, simply because they do not want to be liable for a reaction.
If you're looking for some easy wins, here are 18 of my favorite clean beauty products under $20.
I also really love products by Honest Beauty, 100% Pure, Acure, Burt's Bees, Pacifica, Physician's Formula, Au Naturale, and several more.
Or, you can try a bunch of them through subscription boxes, like Petit Vour, and the Allure Beauty Box, and then buy full sizes of what you love.
The Allure Beauty Box is not 100% clean beauty, but they are pretty close and I have discovered some of my absolute favorite clean beauty products from this box, such as the incredible Acure Blue Tansy Oil and the Becca Hydra-Mist Set & Refresh Powder, which I am obsessed with!
Just Start:
If you're not sure where to start, just start with the next product you run out of.
Check it on the EWG.
Try it, see if you love it. If you don't, try another one next.
Read reviews on sites like mine and other reputable clean beauty blogs.
Each product you replace gets you one step closer to a cleaner beauty and lifestyle routine.
Because when it comes to your body – you only get one. Take care of it.
Health is wealth, baby.
You only really understand that when your health becomes compromised.
****
Have you tried looking up your products on the EWG? What did you think?
Or, share your favorite clean beauty swap in the comments below.
Have a fabulous day,
E