Awww, babies! Is there anything more adorable? Puppies and kittens are a close second, but nothing beats that newborn baby smell. (I bet you wish this screen was scratch 'n sniff right now, don't you?)
But, despite the cuteness, babies require a lot of baby stuff!
While this list won't tell you everything you'll need to take care of your baby, it will set you up with 10 non-toxic, organic, effective bath and body products – that both you and your kids will love!
Why Does It Matter?
Before I had my son, I started researching products and reading more about what is in all of them.
We absorb up to 60% of what is put on our skin and even more of what is put on our teeth and in our eyes.
When I started researching the products I was using for myself and our home on the EWG, I was shocked to see all of the potential side effects, carcinogens, and toxicity levels.
That's when I started the process of transitioning all of our home and body care products to clean, non-toxic products.
With websites like the EWG, which rates the toxicity level of a product based on the ingredients, as well as tons of online research, and blogs like Wellness Mama and Mommypotamus, it's easier than ever to learn about this.
I am not perfect, by any means, but I just try to make better decisions with the options available to me and when I run out of a product, I look at what I can replace it that's better.
Let's start with the basics!
Baby Shampoo & Body Wash:
This is one of the cleanest companies on the market – which means non-toxic, organic, natural, you name it. While their whole line is amazing, the Raw Shea Chamomile & Argan Oil line is one of our favorites.
I particularly like how this one contains the essential oils frankincense and myrrh, as both have incredible health benefits.
This is another one of our favorite bath and body care lines.
If you're curious, a lice repel spray can be used on hair whenever they go places with lots of kids or people – such as school, indoor playspaces, etc. This may seem neurotic, but I'll do anything I can to eliminate risk. You just spray this on like a detangler or a finishing spray. There is a faint essential oil smell that fades and that's all.
For the other products, the Moisturizing Baby Shampoo & Wash smells so good and leaves their skin so soft. I just switched my daughter to the Smoothing Shampoo & Wash because it'll help with detangling her hair. The Swim & Sport is great for before or after being in a pool. I even use this on myself. Chlorine is no joke.
It's no secret that I love Honest Company products. They work great, smell super delicious (with only essential oil fragrances – no perfumes) and their EWG ratings are just slightly higher than Babo or Shea Moisture. The Almond scented one smells SO GOOD.
I wrote about how much we love it in my post on 25 Must-Have Baby Essentials, too.
4. Kiss My Face Shampoo + Conditioner: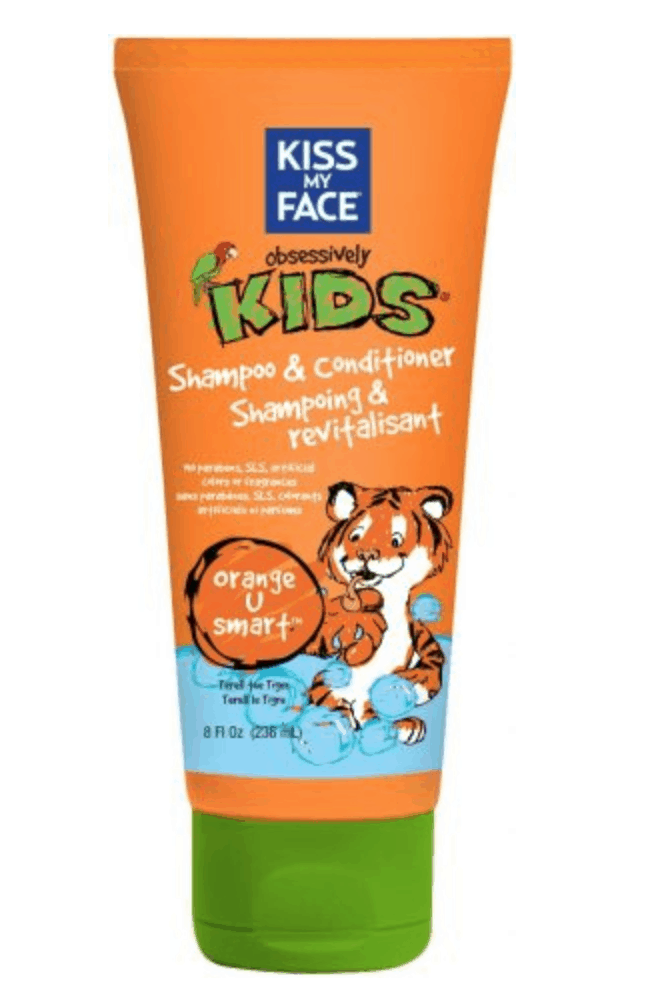 I picked this up at my local grocery store recently because the KMF line is another really good, clean line. My daughter's hair was getting too tangled with just shampoo and this worked really well. I would definitely buy it again.
Alright, this is starting to sound like an Honest infomercial. Not intended, I just use a lot of their products. Love that this comes in 3 scents and a fragrance-free option. Mile-high bubbles with clean ingredients like chamomile, calendula, jojoba protein and quinoa extract.
Vegan, tear-free, ph-balanced and hypoallergenic.
Baby Body Care Products:
This is the best diaper balm around. Just check out the reviews on Amazon. Sure, I balked at the price, until my daughter had a rash we couldn't get rid of. Now, we just buy this.
It works on every baby I have known. Plus, it lasts a long time because a little goes a long way.
I don't really use lotion on my kids. When they were little I did, but now that they are older, they really don't like to sit still while it soaks in and my son just hates the texture. This body oil works great, soaks right in, and isn't sticky. The ingredients are a win, too, with organic jojoba, tamanu, olive, avocado, and sunflower oils.
Hair Styling Products: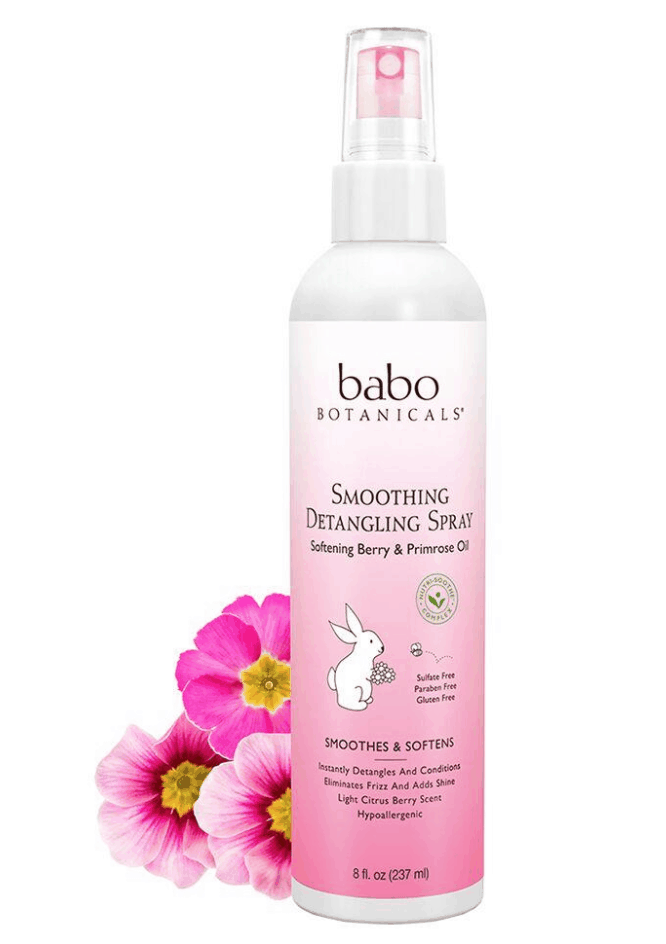 Another solid product from Babo! I am picky about detanglers because I always feel like I end up breathing it in somehow and I'm sure my kids do, too.
I heart Honest! I stash detanglers all over the house.
Seriously, I have a kids hair brush and detangler upstairs, downstairs, in my car, and in my husband's car.
You never know when you need to use it!
10. FairyTales Rosemary Repel Hair Spray:
Okay, more with the lice repelling, I know. But, this one acts as a light hold hair spray. It is a bit sticky and the smell is strong at first. This helps repel lice with their "proprietary blend of organic Rosemary, Citronella, Peppermint, Lavender, Tea Tree and Geranium oils helps prevent lice." (source)
We use this everyday to hold their styles and also protect them from little hair critters. #Gross
***
There you have it! Our favorite 10 Bath & Body Products for Babies!
All of these pass stringent product requirements and score very low with the EWG, if not the lowest you can get!
By the way, are you still picking a baby name? After writing some very successful baby name posts on the blog, I took my love for baby names and wrote a baby name ebook – available on Amazon or click below – for less than the price of two coffees!

If you're pregnant or know someone who is, also check out the other posts in my baby series:
I hope you found something useful. I'd also love to hear your favorites in the comments below!
Have a fabulous day,
E