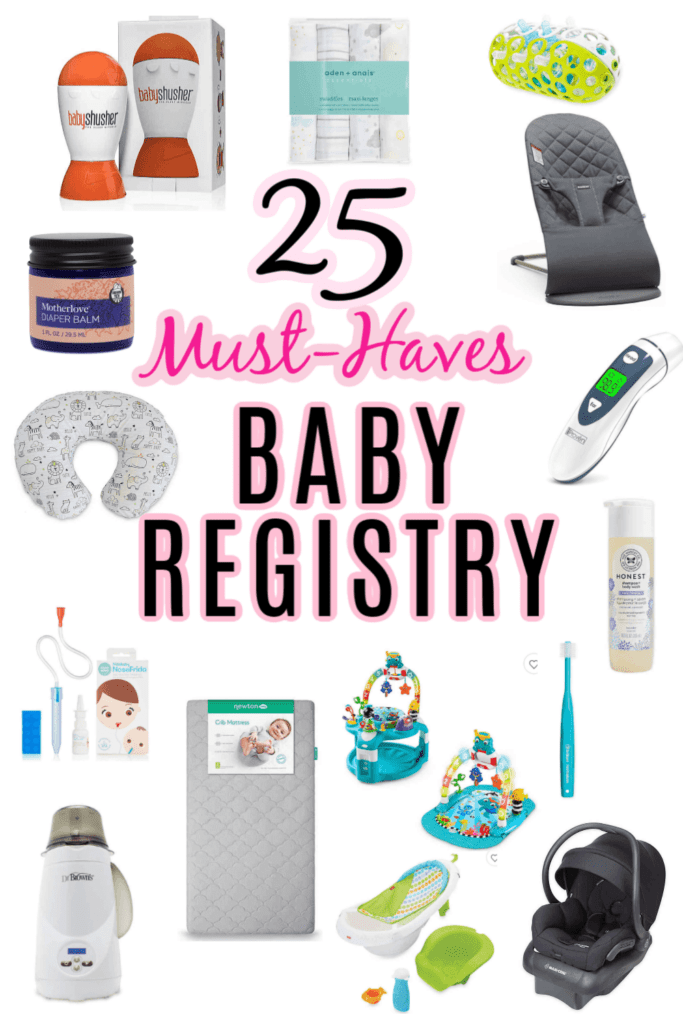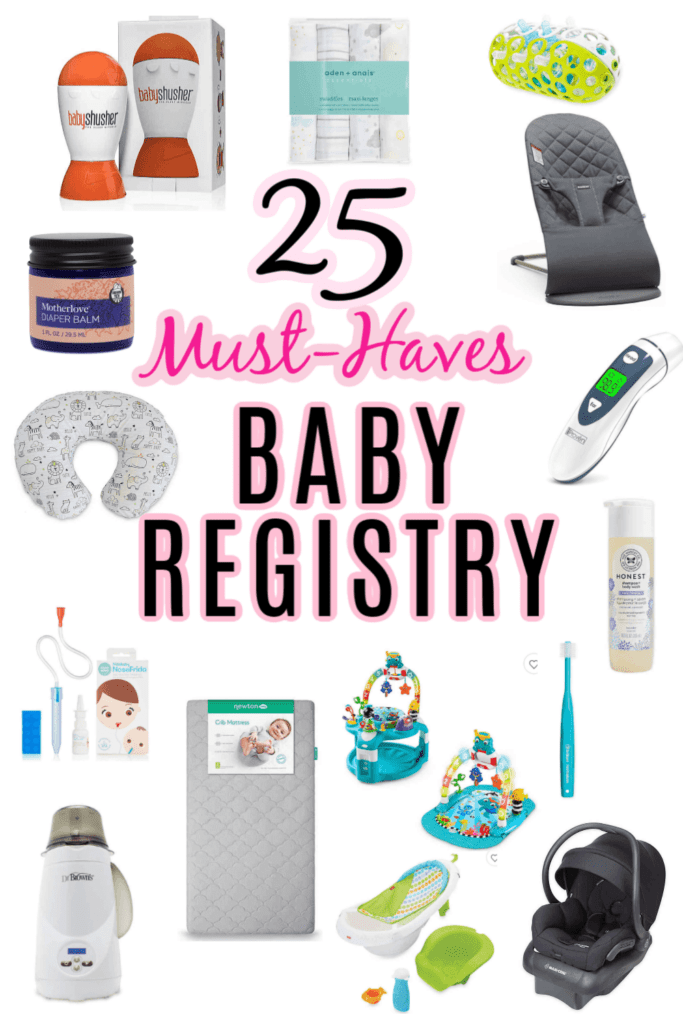 So, you're going to have a baby! Congratulations!
I absolutely love babies, baby showers, baby registries, shopping for babies, and anything involving – BABIES!
I get asked a lot by friends and family for my must-have baby items list – especially since I now have 3 kids myself and have been sent a lot of products by baby companies over the years.
I figured it's about time some of these recommendations hit the blog!
The Must-Have New Baby Items:
For the items I share below, I'll be explaining why the item is on the list, rather than just the product itself – because I think it's important to understand why that item will provide value to your life as a new parent.
You can take that knowledge and then go shopping for the right item for you, because the specific item that we love may not be offered in a price point or color combo that you are looking for.
I firmly believe every baby and every parent combo is different and unique – so the most important thing is to find what works for you and your baby.
Also, affiliate links are used below! Gracias!
The Newborn Items Every New Parent Needs:
Product That Help Baby Sleep: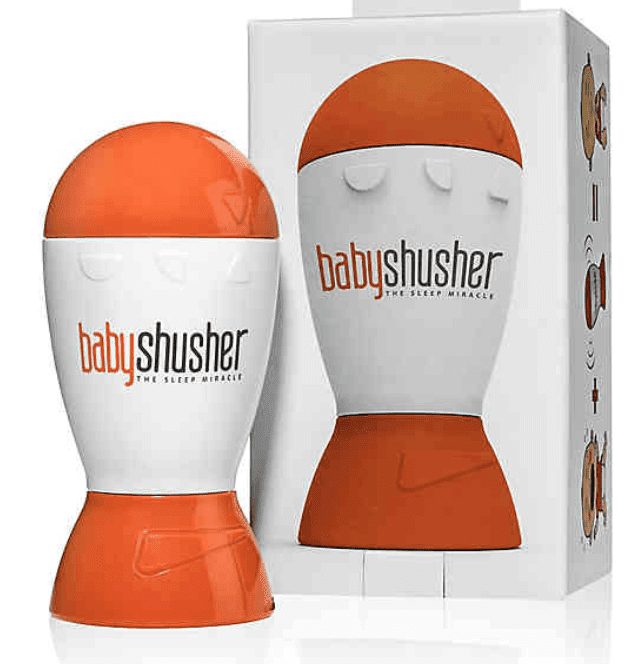 This is so important.
Sound machines create white noise that drowns out any other sounds. Infants are brand new and everything they are experiencing is happening for the first time – so that sound you are totally used to could wake them from a deep sleep and leave you confused and them crying for hours.
This sound machine is the newest, hottest sound machine on the market with tons of great reviews. We have also had this sound machine for over 6 years and still use it and love it.
Our kids are no longer infants, but we still have sound machines in all of their rooms and I see a noticeable difference when we don't have them. We even travel with one!
What I would avoid is a sound machine that shuts off after awhile. You don't just want them to go to sleep – you want them to stay asleep... so something that shuts off in an hour is not so helpful.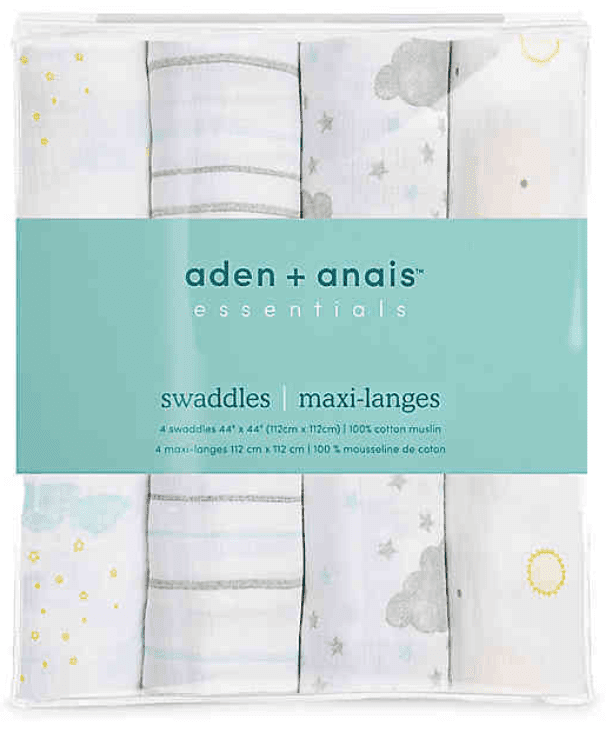 Swaddles are so useful. Aden & Anais were our favorites by far. They get softer with use and literally last for years. There are so many beautiful patterns, too.
A note on swaddling – always make sure there is room for hips and legs to have natural movement. Also, not all babies sleep well with their hands down by their sides. None of my babies would sleep that way, but were comforted by being wrapped under the arms and down.
Find what works for your baby and do that.
You'll need a mattress that is the correct size for your baby bed. We used Newton mattresses – the most breathable mattress on the planet.
I am amazed how long they have lasted. They look the same now as they did when they were new. The cover is so soft and breathable and you can wash it in your washer.
The insert can be washed in the bath, too, if needed. So great.
Products That Help Feed Baby:
We have tried quite a few bottle warmers and this was our all-time favorite. The idea with a bottle warmer is that it helps the formula dissolve a bit better and the warmth mimics the temperature of breastmilk.
Or, if you are pre-making bottles or pumping formula and storing it in the fridge, the warmer returns it to the temperature the baby is most accustomed to.
You figure out the right temp for your bottles (start low and work up according to the directions) and then you can leave the warmer set at that time. Then, you just put the bottle in, hit the timer, change the baby's diaper while the bottle is warming, and then voila! Perfect temp bottle every time.
We got really good at pre-mixing a day of bottles, storing them in the fridge, and then just having to pop them in the warmer when needed. So easy.
Everyone will tell you their favorite bottle. I think the most universally loved is the Dr. Brown's collection and that was true for all of our babies, too.
But, if you'd like to try others, I recommend buying or registering for a small pack of each type you want to try and then buy more after baby shows a preference. It'll save you a lot of money and agony.
The Boon bottle drying rack is so great. It is easy to clean and holds a lot of pieces. There are plenty of drying racks out there, though.
The idea is that once you have sterilized them, you don't want them mixing with other dishes or things. It's a lot of work keeping those bottle parts clean – so keep them separate!
Same goes for the dishwasher, although you are also wanting to protect the bottle parts from getting down in the bottom of the dishwasher and getting damaged.
We liked the Boon again, but your bottle parts and your dishwasher type might be better suited to a different dishwasher pod.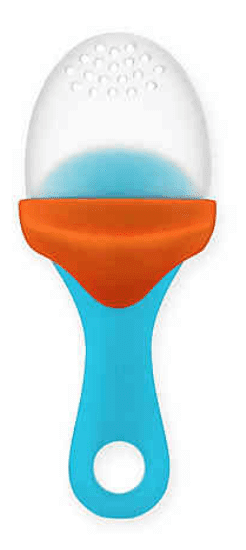 Not too far in the future, you'll be wanting to try some fresh foods with your little one. When your pediatrician says they're ready, and you've read up a bit on how to introduce foods safely, these Boon feeders are amazing!
They double as great teethers, too, and babies are inclined to keep gnawing on them because it is so soothing.
Mine loved these filled with fresh banana and other things.
I loved our Boppy. We had it for a long time. You can buy new covers too, when needed, so they can really go the distance.
Boppy is one of many feeding pillows on the market now. The idea is the same: support for your arms for the hours you'll spend feeding and will provide comfort and protection, too, if you've had a c-section.
Products for Bathing Baby: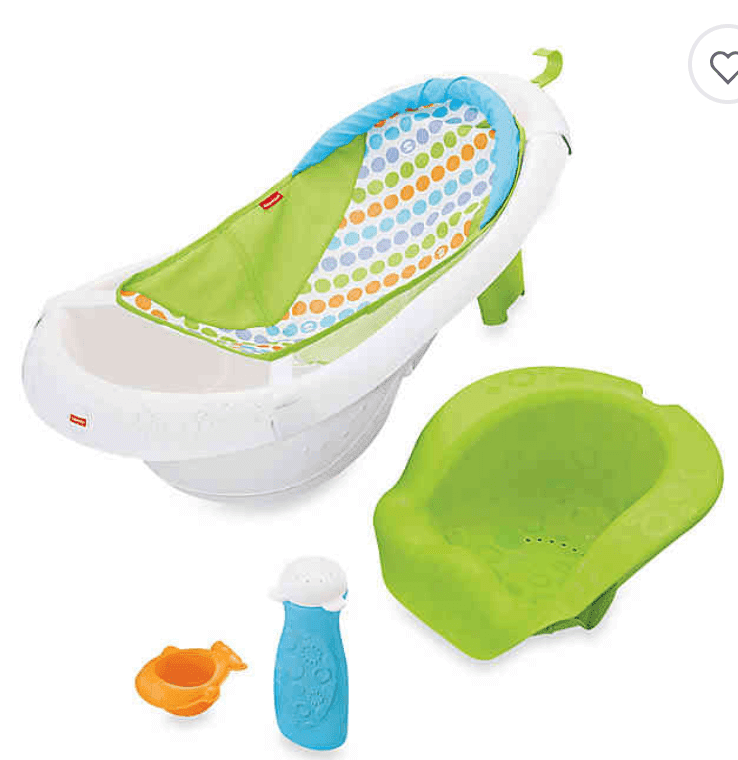 It's awhile before baby can support their own head or sit up and handle a bigger bath tub. Plenty of people use a sink, but I found it easier to use a baby bath, especially as the kids get older.
This bath grows with baby and lasts a long time.
By the way, are you still picking a baby name? After writing some very successful baby name posts on the blog, I took my love for baby names and wrote a baby name ebook – available on Amazon or click below – for less than the price of two coffees!


We have used Honest Shampoo & Body Wash since the beginning. Less toxic than most and fragranced with safe essential oils, they smell delicious and work great.
The lavender and almond are amazing, but you can get unscented at first, too.
What's most important is you choose a gentle one that doesn't have added perfumes. Many say they are safe, but they aren't. I wrote a whole post on the top 10 safest, most non-toxic baby body washes and shampoos.
This innovative silicone body scrubber is so soft and gentle, but feels like a massage on babies tender skin.
You can always use baby wash cloths, too, no worries, but these little gadgets can be so fun.
You won't need to brush their teeth at first, but pretty soon, those little teeth buds start forming. Getting a baby to brush their teeth can be challenging, particularly when they can bite down.
These 360 baby toothbrushes are godsends for infants and toddlers! With a 360 bristle brush, you will be able to brush top and bottom at the same time or basically guarantee that you are brushing something no matter how much they are moving!
In fact, these brushes make it so comfortable and fun, my kids love getting their teeth brushed now. Woohoo.
Products for Baby Health:
When the baby gets the sniffles – and they will – you'll literally be willing to suck it out if you have to.
Don't worry, this is the next best thing. The Nosefrida allows you to safely clean their noses and a filter keeps (most of it) from getting in your mouth.
So much safer and more effective than the type our parents had when we were babies.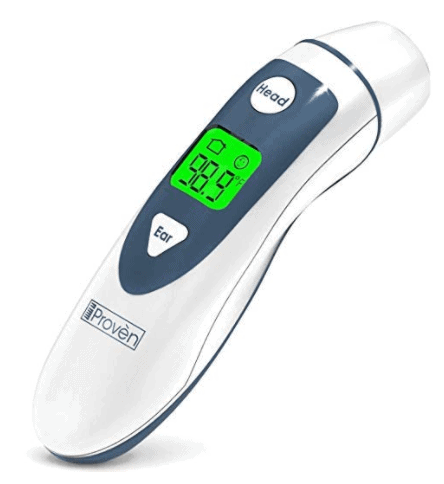 No doubt about it, rectal thermometers are much more accurate when they are little. However, not all of us are comfortable with it and would rather default to something safer until we can get them to a doctor.
The forehead thermometers also age well and work great when they are toddlers and kids, too.
This one has a reader that will light up at night, so you can check temps without turning on any lights.
Just know that these are typically off by a degree or so. Not an issue with older kids, but during that first 6 months, every degree counts.
Products for Diapering Baby:
Whether you use disposable or reusable is really your choice. Also, the type of wipes will often be decided by what your baby's skin responds best to. Every baby is different.
However, I can recommend two diapering products that will be a great resource for you: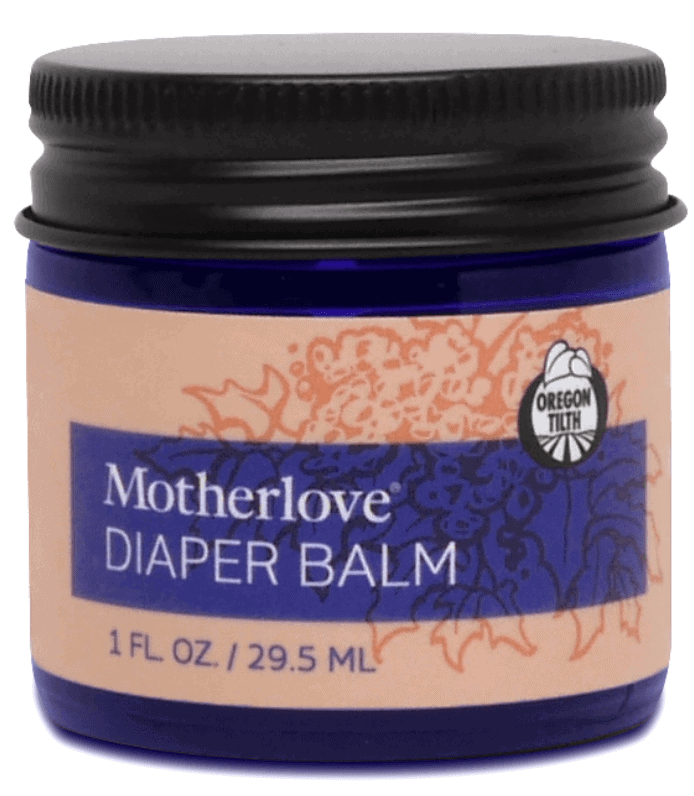 This is the HOLY GRAIL of diaper balms. I have never seen a rash it can't take down. It's natural, gentle, and super effective.
I wrote a whole post on how this diaper balm is amazing. Stock up. Use it. You'll love it.
You don't want those diapers in your regular trash all day and you won't want to jog outside every time you change them.
A diaper pail is a dedicated space to confine the smell and gross factor of poopy diapers.
This Diaper Dekor was our fave because it effectively contained the smell, but then converts to a regular trash can after kids are out of diapers.
Plus, they hold a lot more than other diaper pails we tried.
Products to Entertain Baby:
Pretty quickly baby will be more awake and looking for stimulation! Just a kind note: I am not including things like baby swings or jumperoos, because I didn't find any we loved with our kids. Not every baby likes the feeling of constantly moving.
I would recommend waiting on those big, expensive items until after baby is here. You can take the baby to a friend's house to try theirs or to a baby store to lay them in different ones. The baby will tell you what they like (or don't) and could save you the expense.
This Bjorn Baby Bouncer is so sleek, has an optional toy bar, and is super comfortable. It doesn't require batteries or plugs and is lightweight and portable.
There are so many options for baby bouncers, though, many with cute prints, vibrations, light up toy bars, you name it!
The idea is a safe place where you can put baby down, while they are still able to sit up a little and play, so you can get things done.
Pretty soon you'll be laying baby down so they can start building muscle control and start to build skills like holding up their head, rolling over and crawling!
Across the board, the Baby Einstein play mats are the best. I have even tried buying others because they were so cute, but we always come back to the Baby Einstein ones.
This one is so cool, because it converts into a play saucer chair when they are older and have the leg strength! 2 for 1!
Remember that babies should not be put in any toy that requires them to put weight on their legs prior to them developing that strength and ability naturally. Putting them in saucers, bouncers and walkers too soon can cause a variety of issues, such as putting unnecessary strain on their back, calf muscles or hips.
You may decide to wear the baby! Some babies prefer this to being in a bouncer. There are a lot of options, but these two carriers are the most loved across the board: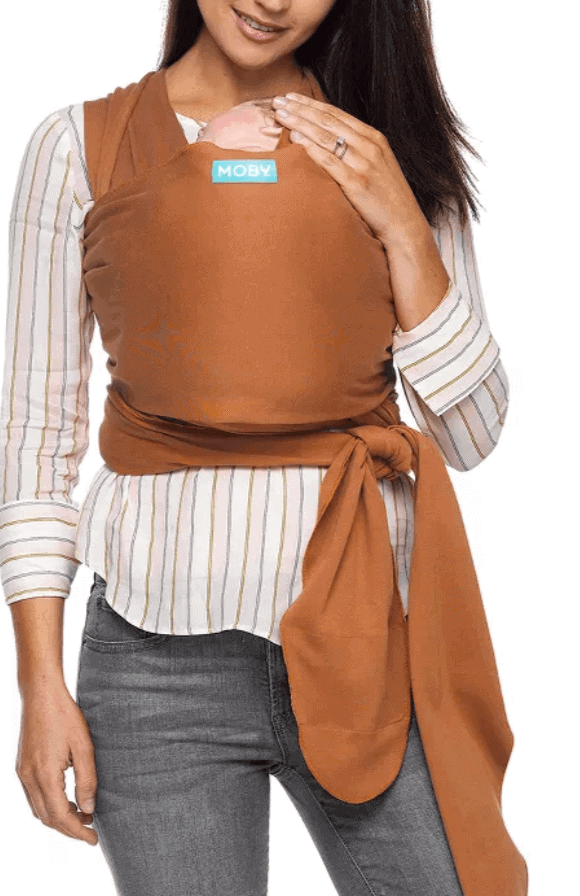 Takes a minute to learn how to tie it, but then you'll have a lot of flexibility to wear them how you are both comfortable.
Just tie it tight – don't want that baby falling out.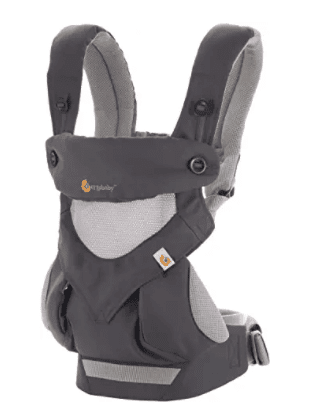 Love the Ergo! Designed to be super hip-healthy for babies, supportive and comfortable for the parent, Ergo has thought of everything.
Several style options and lots of colors make it easy to blend it with your style.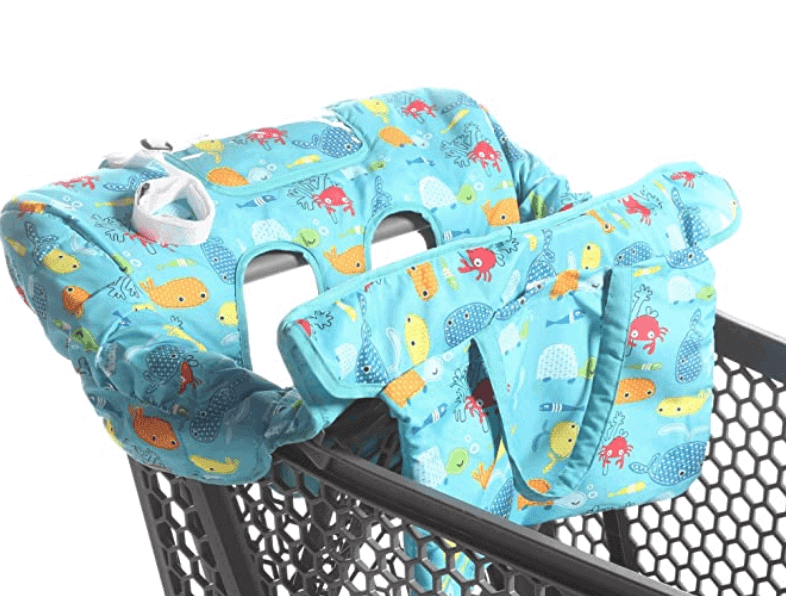 This used to be a nice thing first-time moms had, but in today's current climate, the need to protect against potential infections is paramount.
Shopping carts are known to be one of the grossest things we touch in our daily lives, so having a shopping car cover is important.
This Claro Baby shopping cart cover is my total favorite and here's why: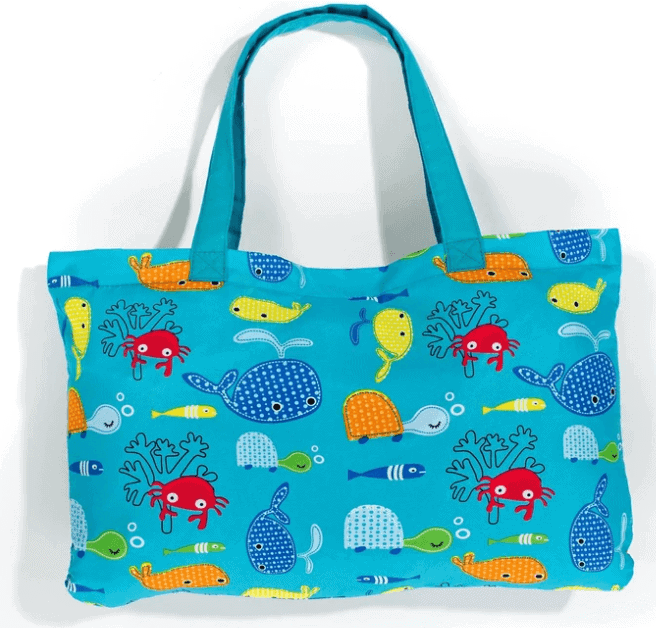 Folds up into a little bag you can carry
Bright colors and soft fabric
Has a sippy cup holder
Has a thing to attach toys
Has a clear pocket for your phone so you can play cartoons for baby or just safely store your phone
Has safety straps for baby
Completely covers the top of the cart
It is seriously so cute and by far the best shopping cart cover I have ever come across.
Products to Transport Baby:
23. Car Seat: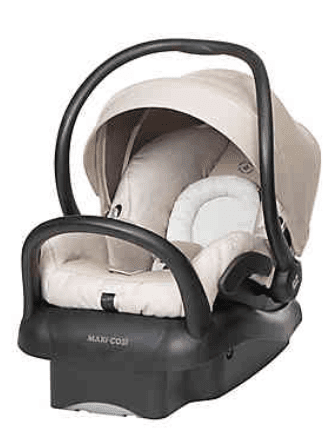 You'll need a car seat to leave the hospital. Across the board, our favorite was the Maxi Cosi, for both the infant seat and the toddler seat.
There is a huge movement to design all-in-one car seats that will last from birth until they are out of car seats. We have a couple of these in my husband's car, too, and see the value.
Here's a few things to consider as you make your choice:
Infant carriers will often click into a matching stroller base. This allows you to move a sleeping baby from car to stroller and back to car while running errands, without waking them up.
Car seats have expiration dates
If you are in a car accident, car seats must be replaced, even if they don't appear damaged.
Car seats get gross. Even if you strip off the covers to clean them often, they will wear down over time. Some car seats sell cover replacements, but many car seats won't even let you pull the entire cover off for cleaning.
With this in mind, it's not always realistic to have a car seat for years and years. Make the decision on the car seat that is right for you right now, with the baby you have, and worry about the next car seat when you get there. Car seats really aren't that expensive if you think you might buy 2-3 in a child's lifetime.
Or, buy the forever car seat for a car they are not in all the time – such as a grandparent, caregiver or spouse's car – and get the more specific seat for their current stage for the car used most.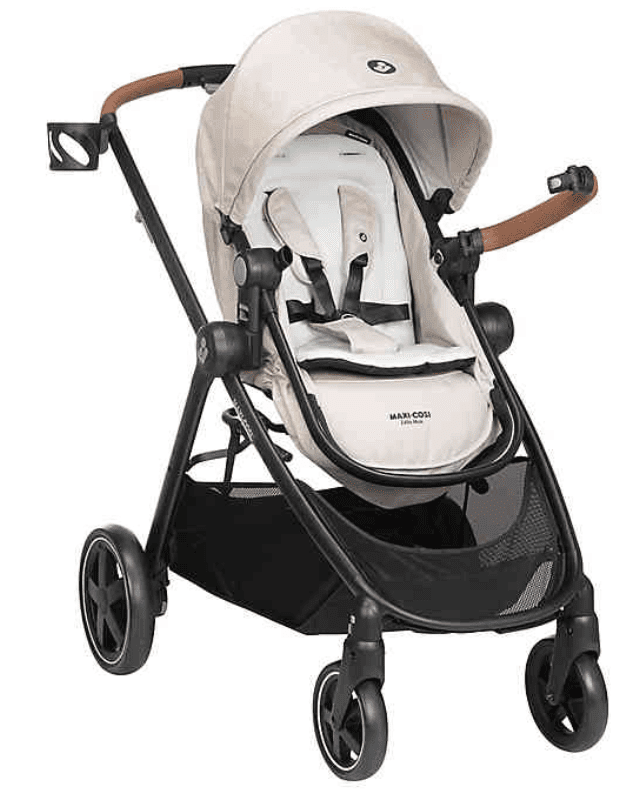 I love strollers. Like, LOVE strollers. We have had over 6 strollers, from single to double, umbrella, and even a stroller with an attached skateboard!
The best tip is to buy the matching stroller to your infant seat – unless you don't like the matching stroller, in which case I have a hot, hot tip from a parent who has been there:
Buy a stroller that will grow with your family.
Is it possible you'll have more kids? Like – a tiny, tiny maybe? Then, get a stroller that can be converted into a double or even a triple.
You will save yourself so much time and money having that option.
25. Baby Bag: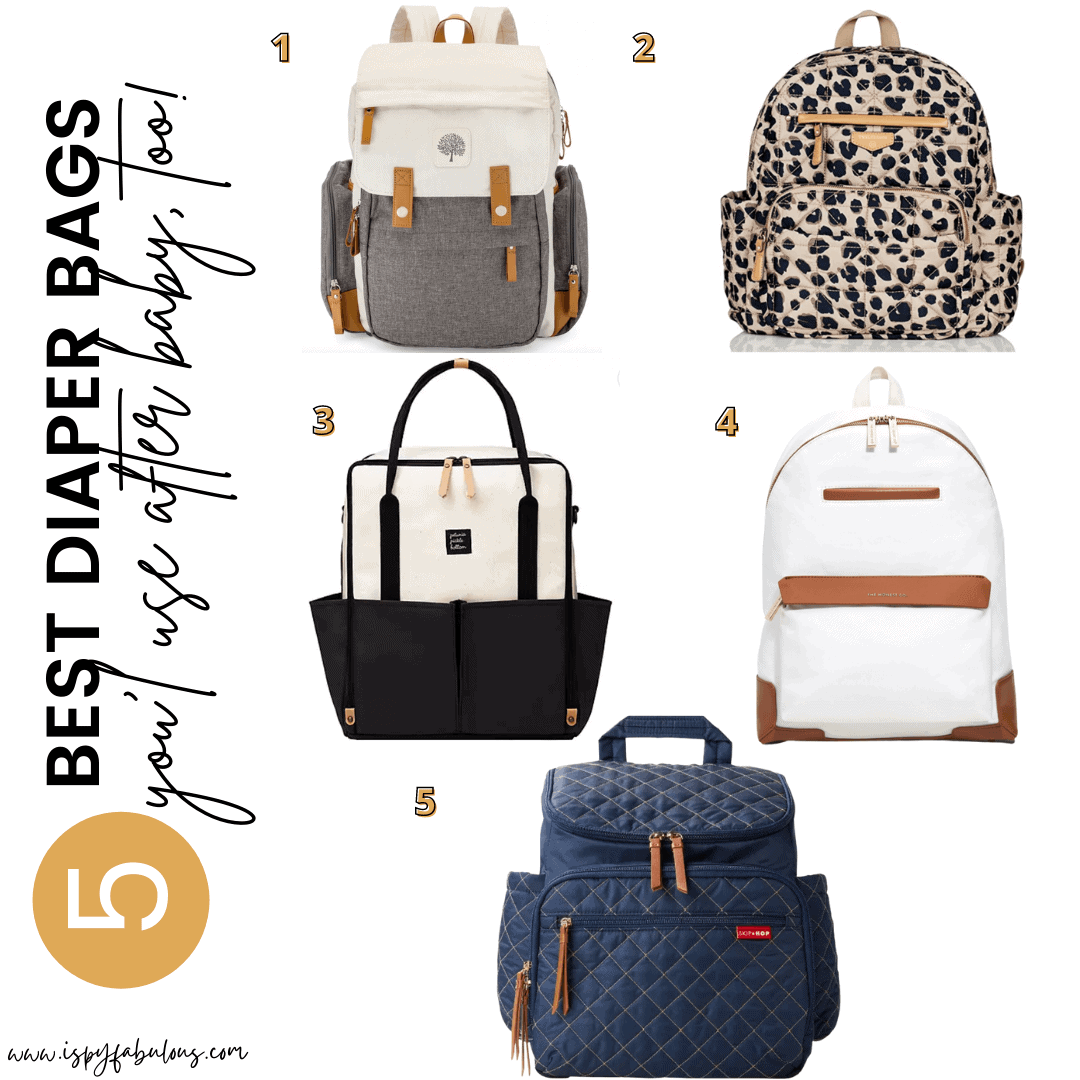 A few months after I published this post, I wrote an entire post dedicated to the baby baby diaper bags. We have had so many over the years and I learned a lot. Check it out here.
When choosing a bag, we will each have our own list of the must-haves, but here were mine:
Comfy straps
Holds a lot of things
Has insulated pockets for bottles
Has lots of interior pockets
Has a good-sized, padded diaper changer pad (you'll be shocked how small some of them are – just not sanitary in public bathrooms, or they'll have buttons or zippers right on the back of the part where baby lays. No thanks)
Easy to clean!!!!!
*****
There are some things I haven't mentioned in this post, such as clothes. I don't recommend registering for clothes, because your baby will grow at their own pace. Plus, some babies have preferences to certain fabrics and you won't know that until they are here. So, stock up for the first couple of months and then grab clothes as you go.
And, when it comes to things like cribs and baby bedding – that is really just a personal choice. I can't tell you which bassinet or crib to buy. I can tell you what I loved (a Baby Bedside Sleeper), but I'm seeing people get bassinets that cost thousands of dollars now – and that would never have been in my budget.
Some things you will need to figure out as you go! If you get the most important items, you'll be ready.
If you are looking for more newborn ideas, you might also love these posts:
I'd love to hear what you think of this post! Leave a comment below!
Have a fabulous day,
E