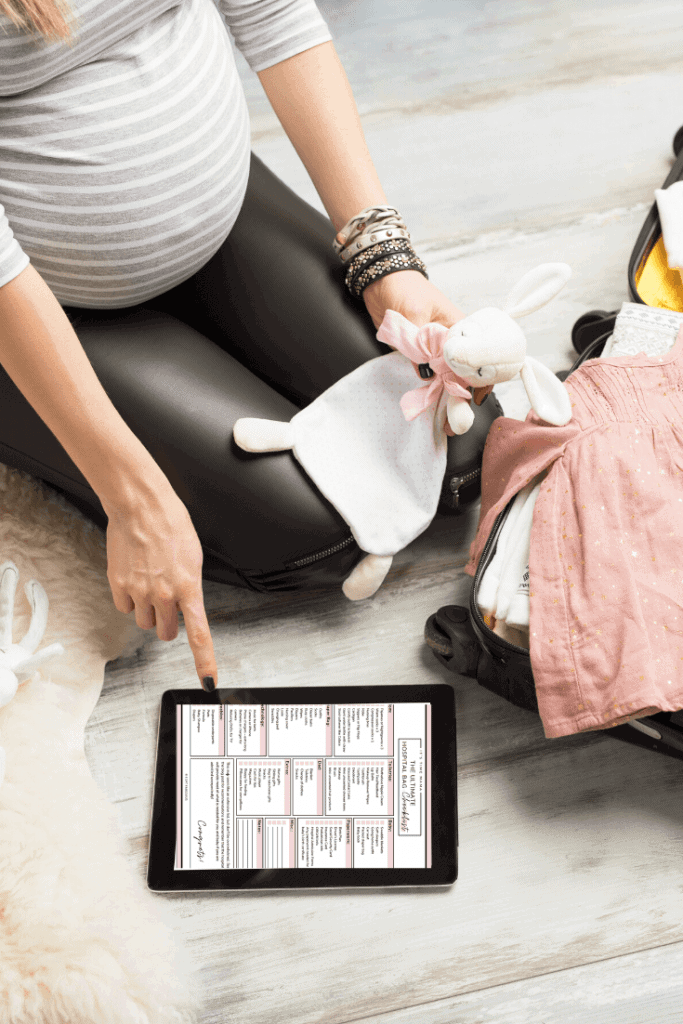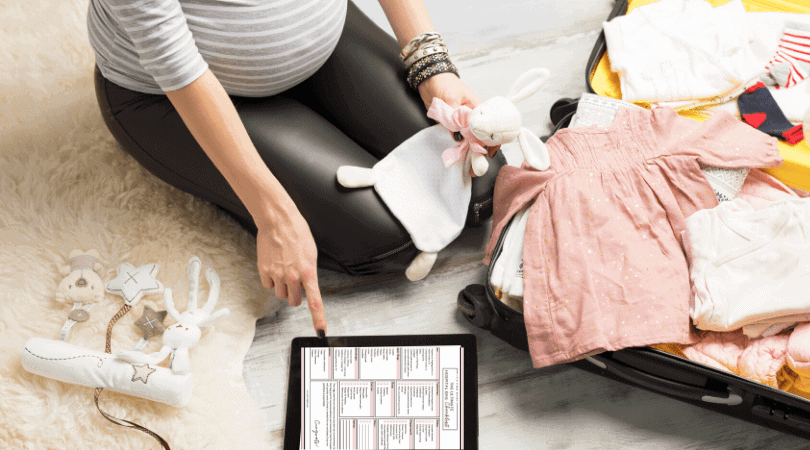 So, you're preggo and you're going to have a baby.
Congratulations!
There's nothing quite like having your first child.
Or, maybe you've already been through it, but didn't feel like you were as prepared as you could be.
Don't fret, my pet. I'm about to give you the ultimate hospital bag checklist, with anything and everything you could need.
What You Need to Pack in Your Hospital Bag:
This is the list I created when I was packing for the hospital and found all these lists with different things on them. I consolidated those lists into one master list with everything I could possibly need.
I'm nothing if not prepared.
Of course, nothing can prepare you for actually becoming a mom.
There's no list for that 😉
Where To Buy Items for My Hospital Bag:
Having had a few kids of my own, I am also linking some products that you could consider if you don't have something on the list.
But, you can also use this to fit your needs. Only grab the things you think you will use. Or, grab nothing at all. I mean, sometimes you go into labor unexpectedly or have a baby faster than you can pack a bag.
I'm looking at you Jade Roper.
#BachelorNation #TheBachelorette #BIP
That wasn't me. I had scheduled, medically necessary c-sections, so this list is also everything you would need if you had an extended stay at your local hospital.
How To Use The Hospital Bag Checklist:
I've made this as easy as possible for you. All you have to do is click on the images below.
I actually made two versions for you, a gray one and a pink one.
You can even print both.
You're welcome.

By the way, are you still picking a baby name? After writing some very successful baby name posts on the blog, I took my love for baby names and wrote a baby name ebook – available on Amazon or click below – for less than the price of two coffees!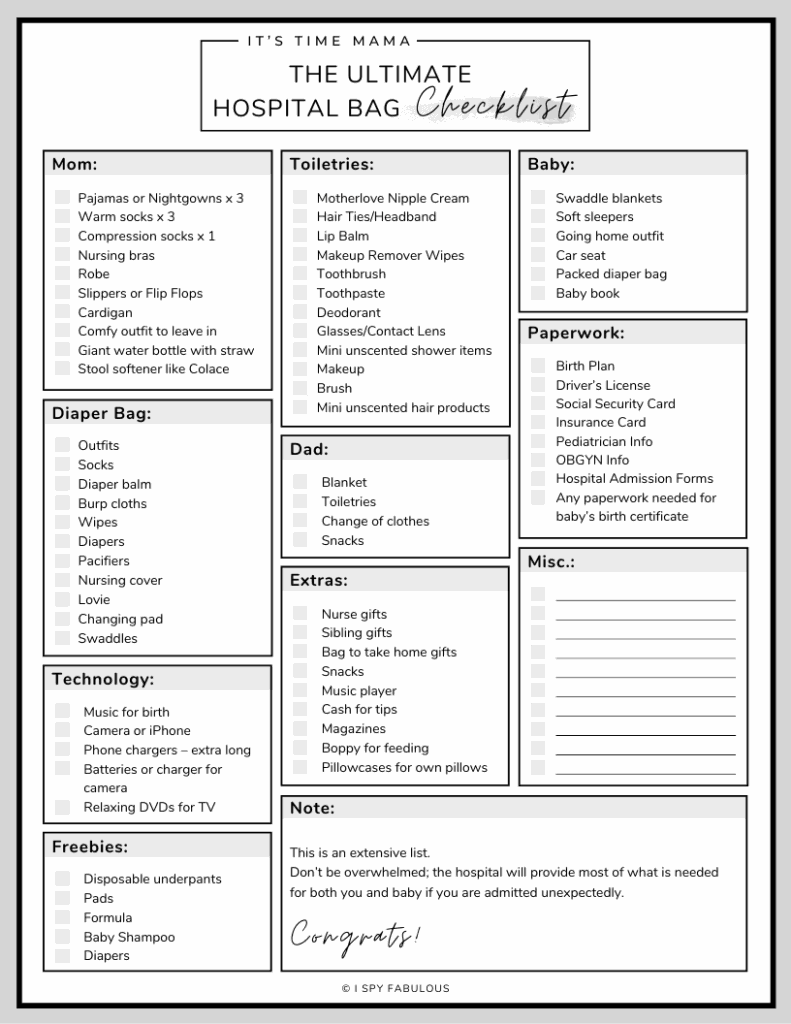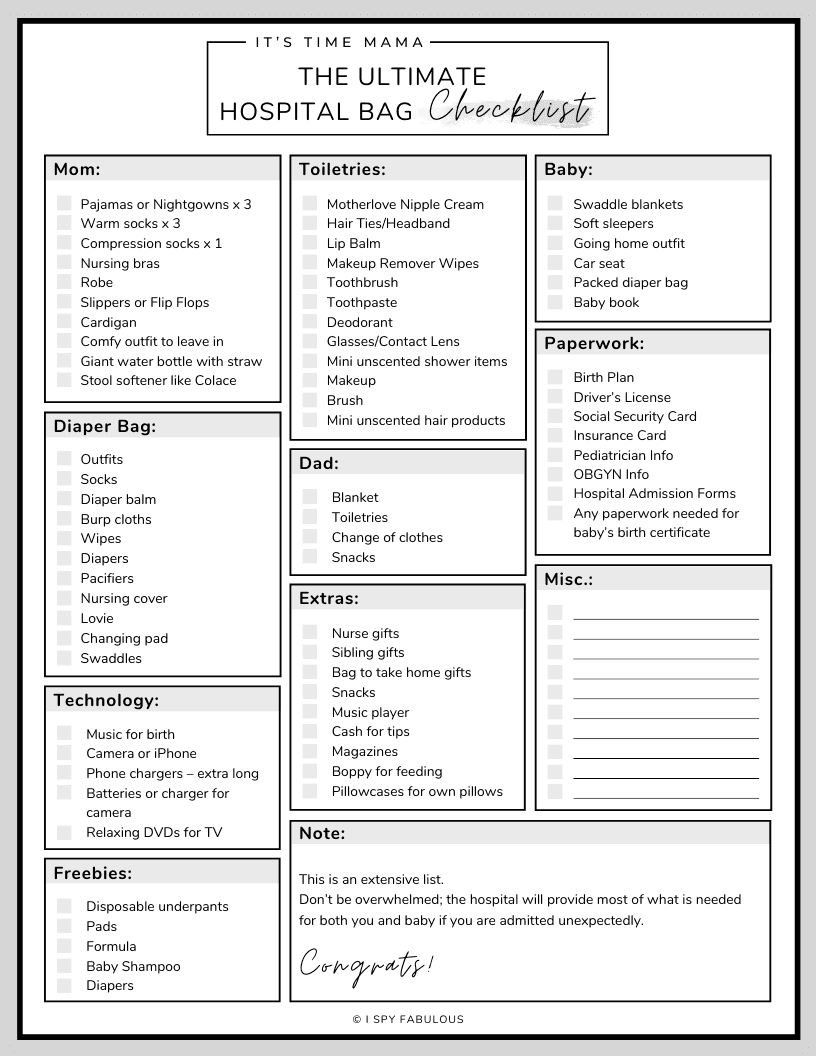 Recommended Items for Your Hospital Bag:
I'll be updating this list over time as I remember all of the best products for each of the categories. But, to get started, here are some of the items I used and know other moms used and loved.
Know that affiliate links are used here. This means that at no cost to you, I'll receive a small comish for taking the time to share all of this with you. Win win.
Let's start with the new mom, shall we?
Things for New Mom:
Pajamas: You'll either want a button down nightgown or fully button down pajamas. Go as soft as possible.
Warm Socks: These are so fun.
Compression Socks: I liked these.
Nursing Bras: Best reviews on Amazon and super affordable.
Robe: Even if you just sport the free hospital garb (no judgement), you'll want a robe for when visitors come. This one was my favorite.
Slippers/Flip Flops: Slippers for the room, flip-flops for the shower.
Cardigan: Treat yourself. There is nothing softer than this cardigan.
Comfy Outfit: This one is on you, but I would recommend a loose maxi dress or a super comfy maternity outfit. You'll still look 6 months pregnant. Embrace it.
Giant Water Bottle: Some hospitals have these, others give you tiny little plastic cups. Come prepared with this bad boy that won't need to be refilled every 5 minutes.
Stool Softener: To be fair, you'll probably need this at home, but that first 1 or 2 trips to the potty might be worse than giving birth. Be prepared.
Toiletries for Mom:
Motherlove Nipple Cream: THE. ABSOLUTE. BEST. The Diaper Balm is amazing, too. I wrote about it here.
Hair Ties/Headband: Can't beat these and here's a cute headband. Rawr.
Mini Unscented Shower Items: You won't know if the baby has any kind of respiratory issues or allergies, so don't risk it. Go unscented.
Brush: This one is my new favorite. It's like a little massage for your scalp.
Mini Unscented Hair Products: You probably won't be styling your hair, but if you need to use something, go unscented.
Items for Baby:
The hospital will provide everything you need while there, but if you'd like to pack your own, either because you'll be there for a few days or you want them for pictures, here are some suggestions. These are also my favorites for things you can register for on your baby registry and would be on any newborn shopping list I might ever create.
Diaper Bag Items:
Outfits: See sleepers above.
Socks: Their little feet are so tiny. Plus, strangers like to touch them. Cover them up, folks.
Diaper Balm: Again, this is a miracle cream.
Burp Cloths: I never used mine too much, but liked these.
Wipes: Hospital will provide, but you can pack your own, too.
Diapers: Softest for newborns ever.
Nursing Cover: If you like privacy.
Lovie: Something small and soft.
Changing Pad: Should come with your diaper bag.
Swaddles: See above.
Things for Dad:
Blanket: This blanket is super soft and will pack away nicely.
Toiletries: His choice, no cologne and no scented products.
Change of Clothes: His choice
Snacks: His choice
Technology:
Music: Load it on your phone or bring a little bluetooth speaker.
Extra Long Phone Chargers: These extra long chargers will allow you to charge your phone for all those pictures without having to leave your bed. Make sure you buy one that fits your type of phone.
Extras:
Nurse Gifts: We bought a few boxes of See's Candies and put one in the room and some at the nurses station.
Sibling Gifts: Something for older children who may be feeling jealous. Will also keep them occupied if they are in the room for awhile.
Bag: You'll have gifts and hospital freebies to take home.
Pillowcases: I read this somewhere and was so grateful. If you bring your own obvious pillowcases on your own pillows, the nurses won't accidentally switch yours out when making the bed. And, we still have these cases years later and they always make me think of when my babies were new.
Freebies:
These are the items the hospital will provide for you. The nurses are your friends and if you have a special connection with one of them, they will likely throw you some freebies to take home. These are the things that you should try to take with you.
Disposable Underpants: Sure, you can buy your own for home, but nothing beats the free, mesh underpants from the hospital.
Pads: Again, you can buy your own (and you will and these pads are great), but why not grab some to save some bucks?
Formula: They may send you home with some free formula. Yay. Also, I highly recommend the Kirkland formula from Costco. Every baby I know has tolerated it well (that doesn't mean every baby will, though). In fact, babies that were majorly constipated, gassy, etc., would do so much better when switched over to this formula. Worth a try.
Baby Shampoo: Whatever they use is so great. I could never find it at a store. We also have used the Honest Shampoo & Body Wash on all our kids since birth and love it. The almond scented one is divine.
Diapers: They'll usually give you the leftover diapers from the room, too.
******
Whew! What a list!
Don't be nervous – just pick away at this list as you have time for it.
Remember that if something happens and you don't have the bag, you can hand this list to a partner to pack for you or just relax and know the hospital will have you covered.
Also, read my other posts in this series to help you get super prepared:
Do you have a favorite hospital bag item that isn't on this list? Share it in the comments below!
Have a fabulous day,
E
PS. Know someone who needs to see this? Pin it!