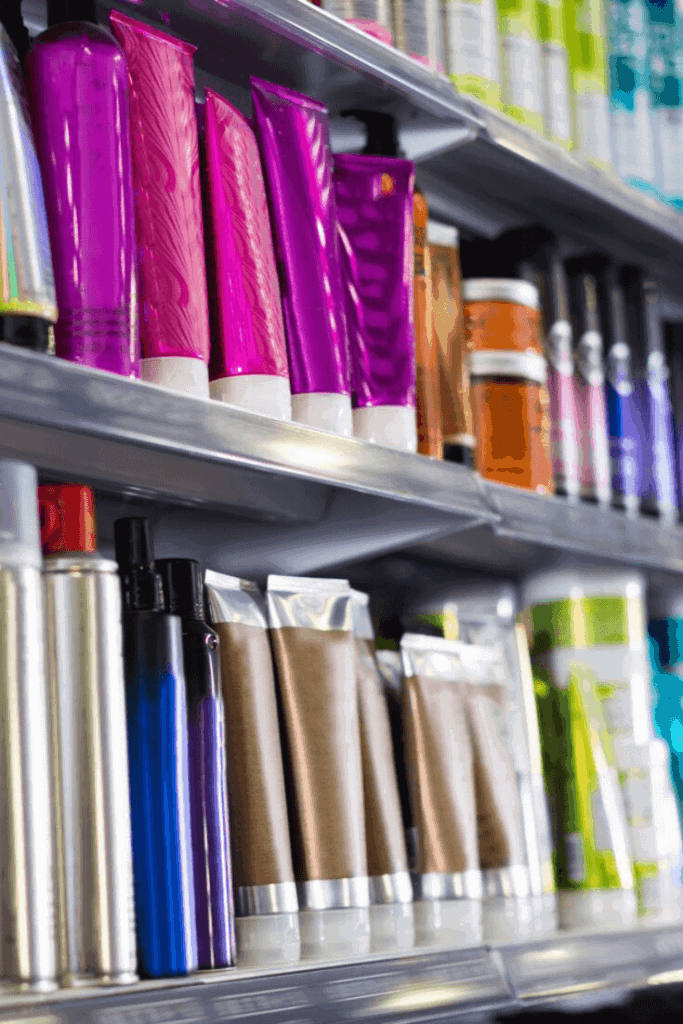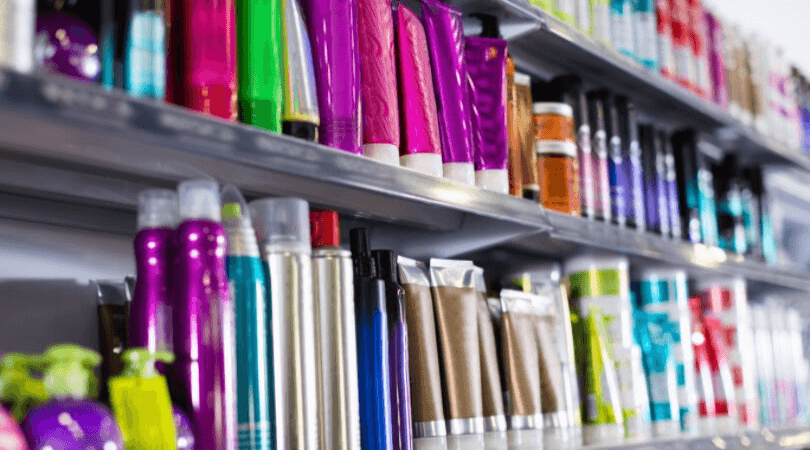 Drugstore beauty products have been getting better and better. But, it's not just killer bronzer and concealer dupes that would rival any high-end product at Sephora.
Nope, drugstore hair products are upping their game, too.
So, not only are there the tried and true faves that we should't forget about, but there are more new and improved drugstore hair products than ever before – and they are here to get noticed.
The Best Drugstore Hair Products You'll Love:
From award-winning dry shampoos that will save you the big bucks to sulfate-free, color-safe shampoos and conditioners that'll give you that perfect Barbie hair, the drugstore hair care aisle shouldn't be ignored.
That's why I took a little trip to my local CVS and walked up and down the aisle far longer than any customer should ever be there, took lots of pictures despite the awkward glances of both workers and shoppers, and walked out with a whole bag of products and didn't crack $100.
That's a shopping haul I can get behind.
Let's take a look at these awesome drugstore hair products, broken into categories for easy shopping. Oh, and affiliate links are used, although none of these companies are paying me to write this post.
Drugstore Shampoo & Conditioners That Rock!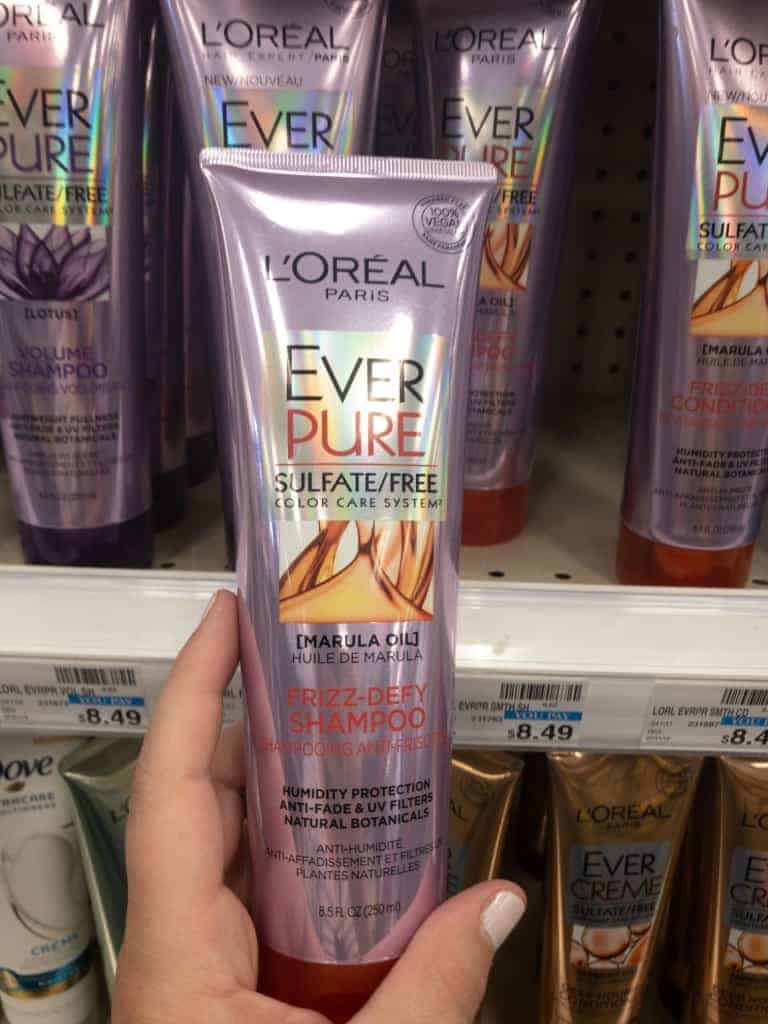 This line just keeps growing and growing. I remember trying it years ago when it first came out and I liked it more than the Aveda products I was using at the time.
Since then, they've expanded the line, improved on the products, and it's better than ever.
These products are free from a lot of the chemicals you don't want, particularly on color treated hair, and chock full of delicious, essential oil based fragrances and hair improving ingredients.
This one, the Frizz Defy with Marula Oil has humidity protection, anti-fade, UV filters and natural botanicals.
#ADDTOCART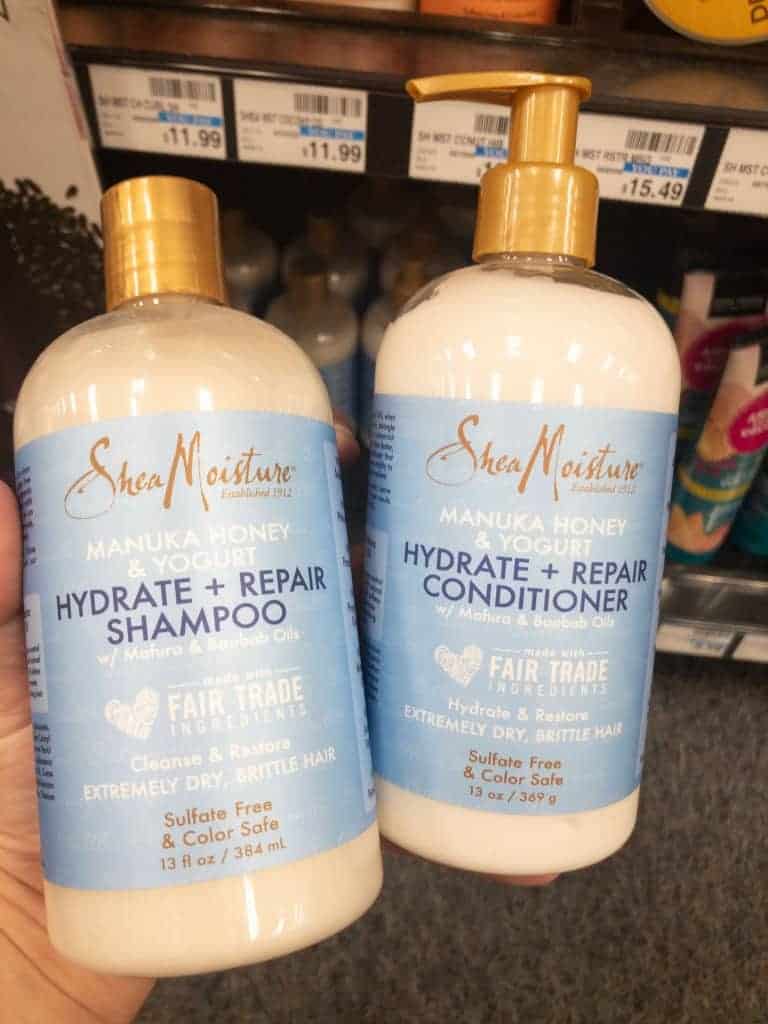 That's a long name for a great product.
Shea Moisture has long been one of my favorite drugstore hair care lines for both adults and children. Their products are super clean, fair trade, made to the highest standards, color safe, baby safe, and full of incredible ingredients.
You get so much more than what these are priced at. They could sell them for triple the price.
Luckily, they don't, and you can grab them for a steal.
Check out my review of the kid bath products I love from them.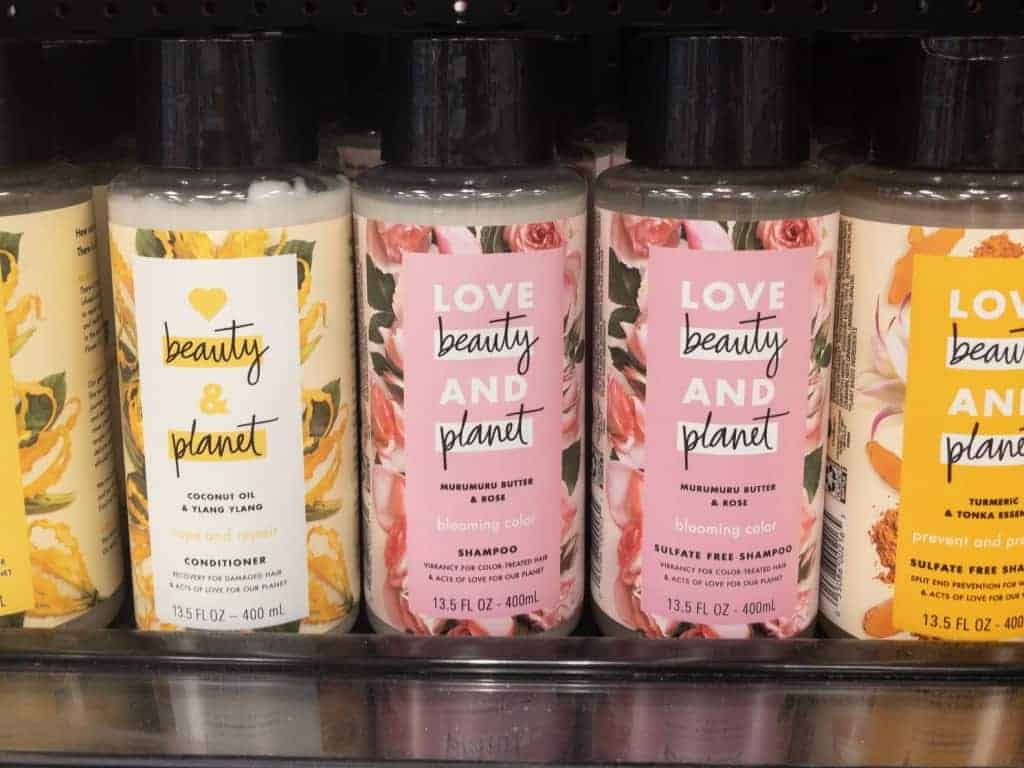 I think the packaging on these products are just an A+ job.
But, the fragrances and formulations really back them up, too.
They just look adorable sitting in your shower.
Originally, I bought the pink set for my guest bathroom. My sister couldn't stop raving about them, so I had to try them, too.
I will tell you that they do look like a clean beauty line, but they do have SLS and other chemicals in them. They do some recycling and are cruelty-free, which is awesome. However, if you are looking for less of the chemicals that are in traditional hair care products, you'll probably want to stick with the Shea Moisture line above.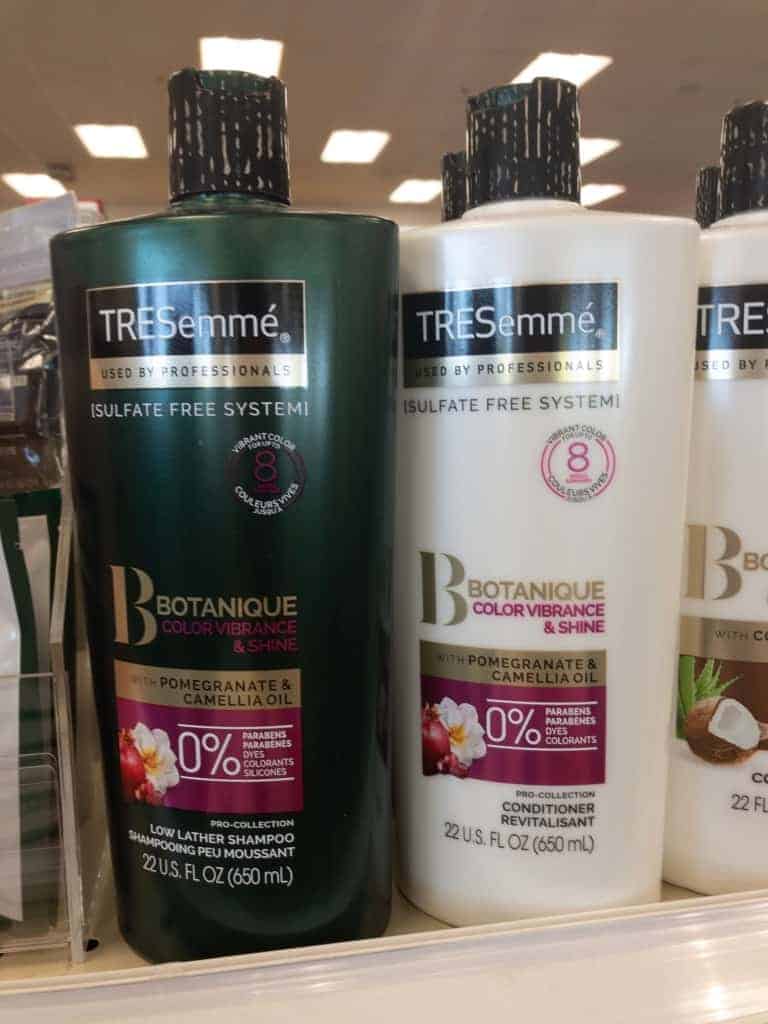 My husband has been a loyal Tresemme user since I've known him. No matter what else I buy or try, he remains steadfast in his support of the Tresemme hair care line.
Can't blame him – sometimes you need to stick with what works. Tresemme works.
It uses less chemicals than most, but it's not a total clean beauty pick, and you're going to get really solid – if not salon product similar- results with their lines. This Botanique collection is designed for color treated hair and has 0% parabens, dyes or sulfates.
#SCORE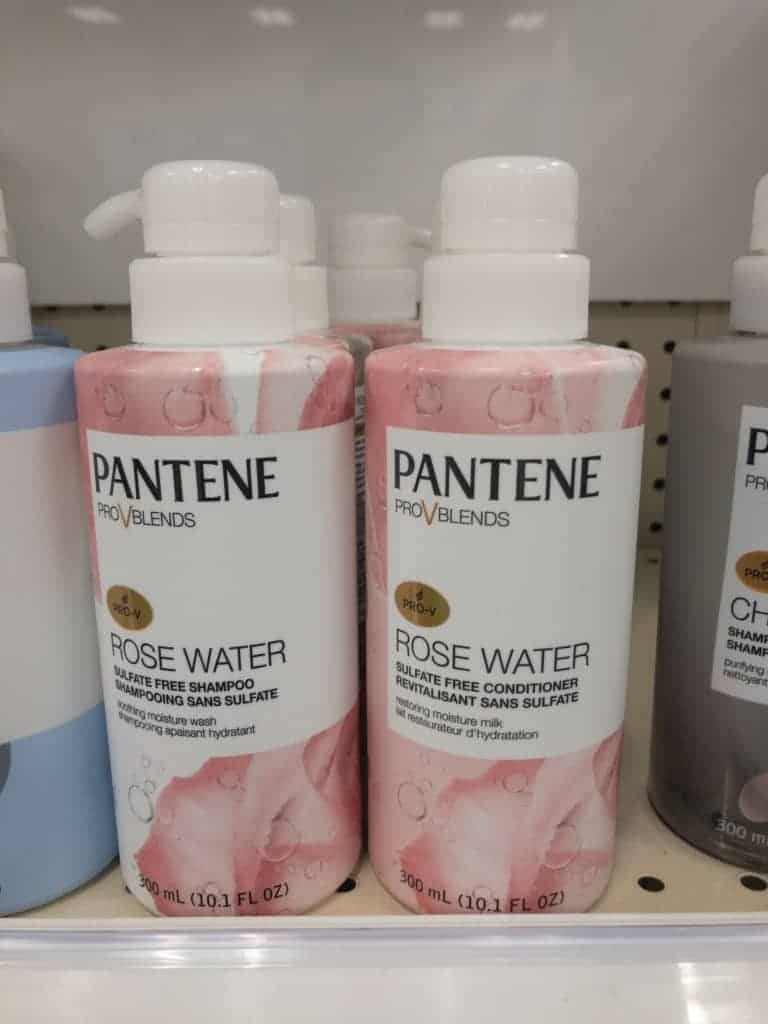 Listen, I know there are some strong feelings regarding some of the ingredients in some Pantene Pro-V products.
I also know many women who will not use anything else, because these products make your hair look and smell divine.
There have certainly been many years where I've been a Pantene girl, too.
I LOVED seeing this rose water, sulfate free collection. First, less sulfates = less chemicals = better overall. Second, rose water is one of my FAVORITE beauty ingredients, for both skin care and body care.
I haven't seen too many hair care lines that have harnessed the incredible benefits of rose water, so to see this here was exciting.
I may or may not have put these right in my cart.
#IDid
#SorryNotSorry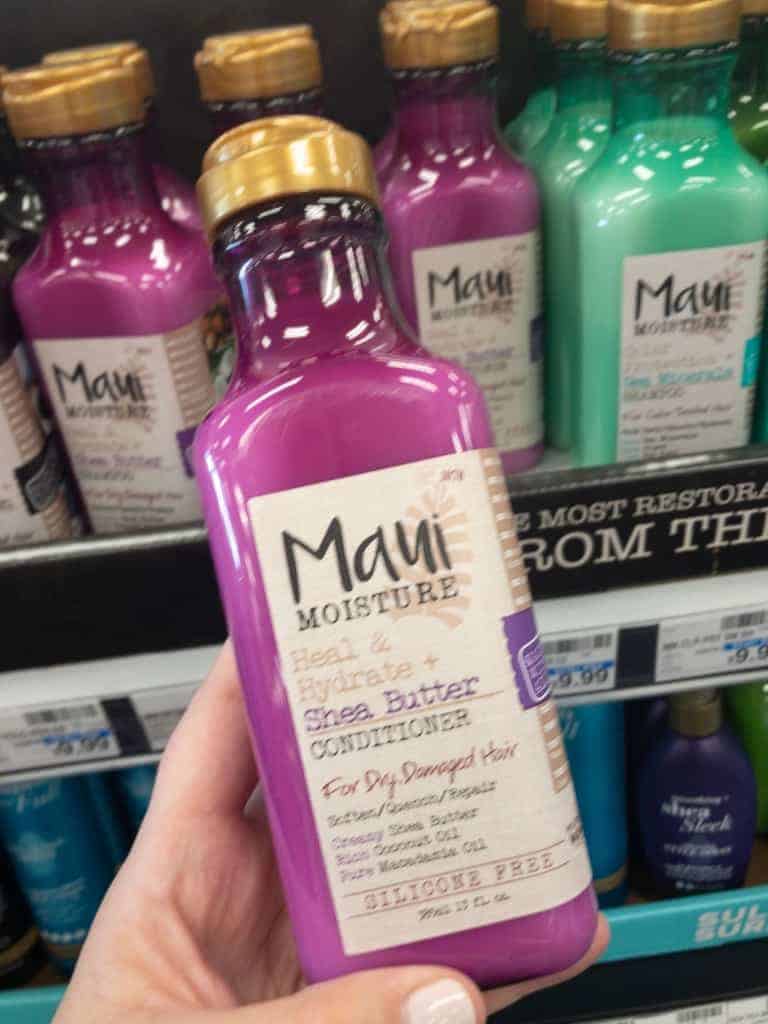 I already shared my love for this drugstore hair care line in a post on the best clean beauty products under $20, but I'm sharing it here, too.
These products SMELL AMAZING – OHMIGOD.
You literally stand in your share and feel like, wow, I could be in Hawaii right now.
And that, my friends, is ALWAYS a good thing.
They are cleaner than most, smell more amazing than more, are more affordable than most – I mean, why just, why wouldn't you buy them all?
Drugstore Dry Shampoo:
If you don't have time to wash and style, you're probably reaching for some dry shampoo.
Have no fear, you don't have to spend a small fortune to get a dry shampoo that works great and improves the condition of your hair.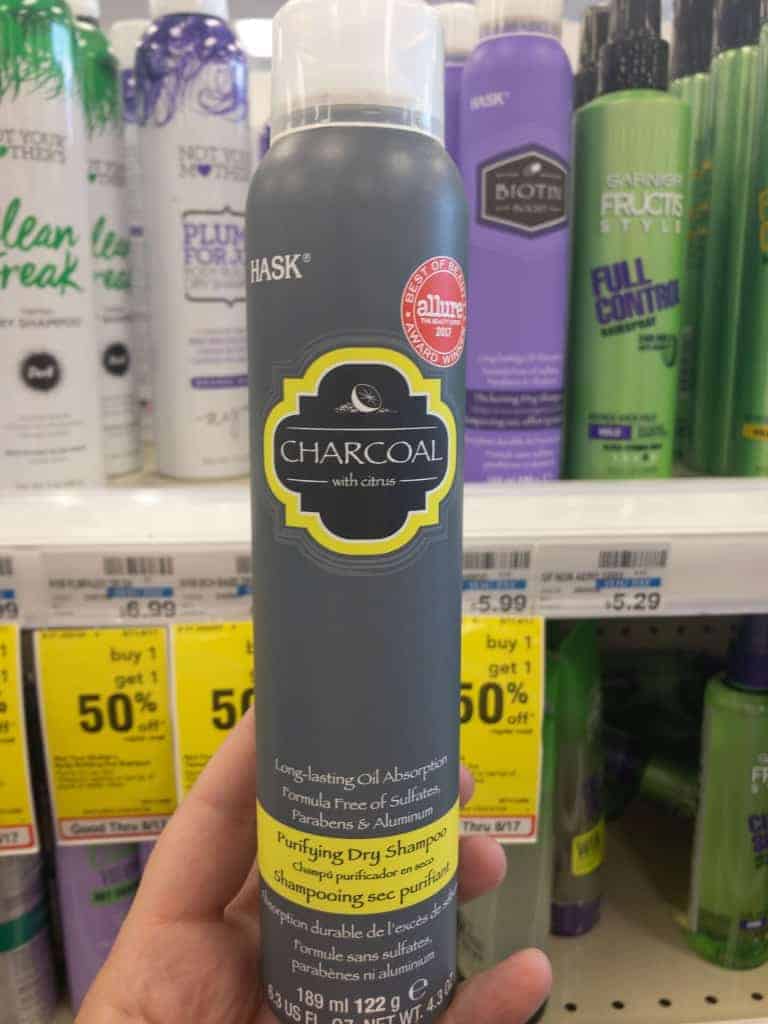 This one is actually an Allure award-winner! They try ALL. THE. PRODUCTS., so if Allure says this is gold, then it's gold, baby.
I'm not a huge dry shampoo fanatic, but I do like products with charcoal, so I feel partial to this one already.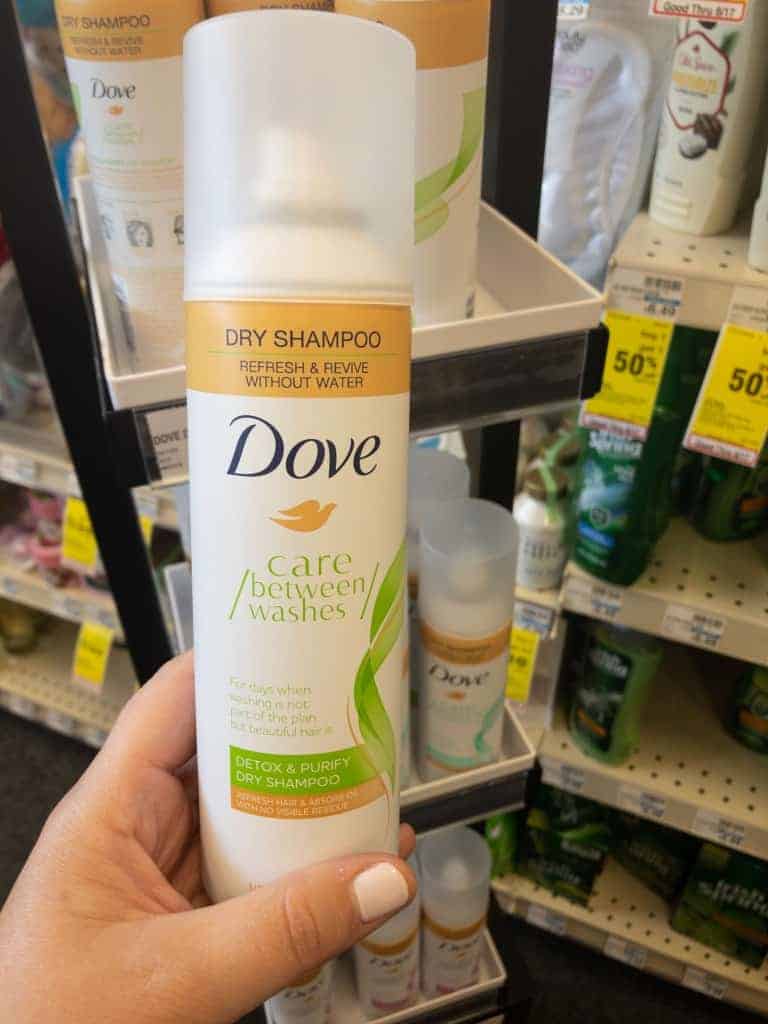 Dove has great body and hair care products. I could've put a lot of products from them on this list, but I feel like most people already know how great they are.
I mean, I used their hair spray for a looooong time.
This dry shampoo is part of a new collection of dry shampoos. Each one targets a particular need. I feel like the detox and purify is up my alley, but you might prefer one of the other concoctions.
Plus, all of the Dove products smell divine.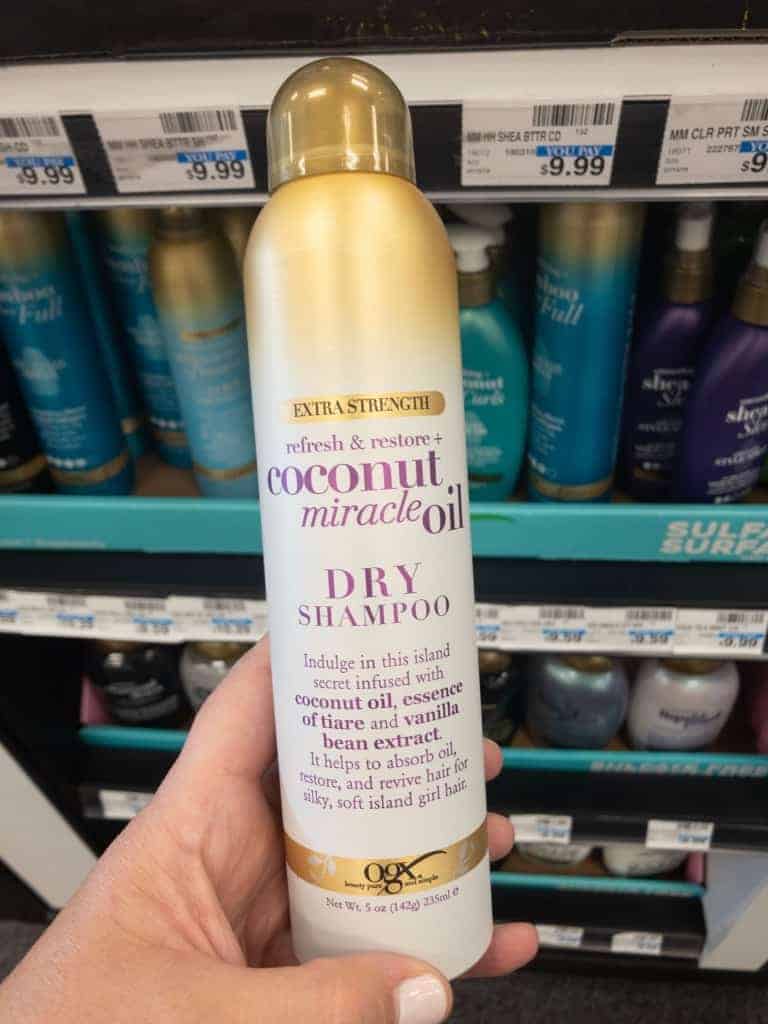 Well, this one just seems like everything good in one super affordable bottle.
Coconut oil, vanilla bean extract, dry shampoo – boom.
Where do I sign?
#WANT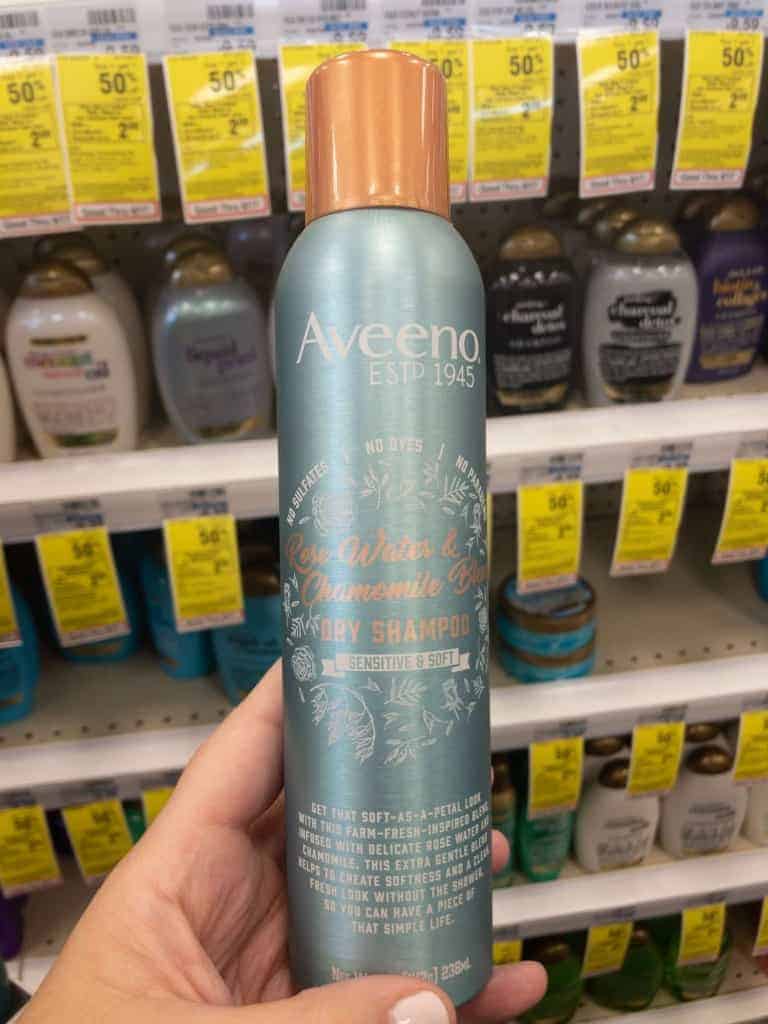 Aveeno had me at rose water. This new formulation by Aveeno just sounds luxurious. And, it smells like heaven.
Designed to be super sensitive and leave your hair extra soft, I finally feel like I found the dry shampoo made for me.
Plus, no sulfates, dyes or parabens, you won't have to compromise for your dry shampoo.
Drugstore Hair Leave-In Treatments:
I use a leave-in every time I wash my hair. I have just always felt that it leaves my hair softer, less tangled and preps it for whatever else I put in it.
In the past, I've really gotten attached to the Honest Moisture Milk, but that's primarily a mail-order product. Super affordable, but you can't grab it at the drugstore.
So, I decided to try some other leave-in treatments at the drugstore – and waddya know – two of them jumped in my cart and came home with me.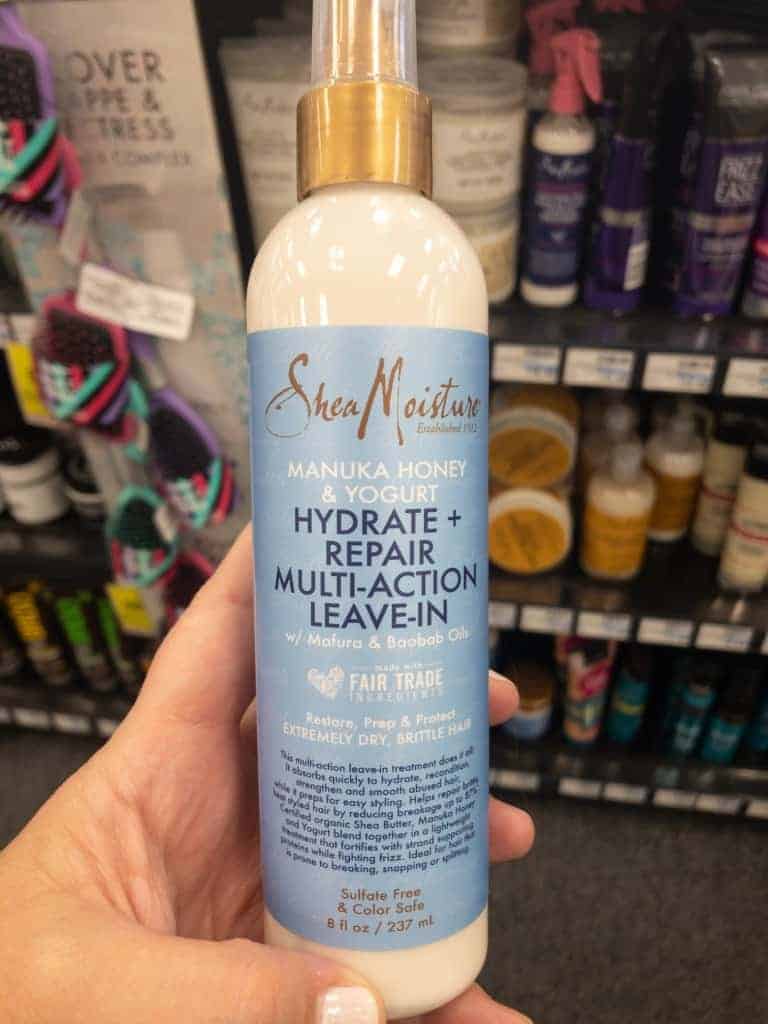 This leave-in is part of the Manuka Honey and Yogurt line from above. The leave-in has a milky look to it, which I've had the best results with in the past.
Plus, I love how clean their products are. Here's the long list of what Shea Moisture products don't have: No sulfates, phthalates, parabens, propylene glycol, mineral oil, animal testing, and petrolatum.
I am excited to try this and see how it compares to other leave-ins.
This one has kind of a cool spray bottle look to it and contains an active ingredient they call Procapil designed to strengthen hair and protect from breakage.
In the past, I've found a number of Not Your Mother's products that have been very good, especially for the price. Their dry shampoos, for example, are cult favorites and I write about them in my dry shampoo post.
Going to guess this is a solid product, too.
Who didn't use Aussie 3-Minute Miracle as a teenager?
I feel like when we are younger and have less money, we have our finger on the pulse of what's a great buy, but then as we make more money, we get lured into thinking that spending more = more – when oftentimes, it doesn't.
The Aussie line is still every bit as affordable and effective as it always has been.
I'm excited to revisit this old favorite, now packed with jojoba oil and avocado! Yum!
I recently super lightened my hair with a blonde bayalage look and it's been struggling since. Maybe this Aussie miracle will bring my locks back to life.
Okay, tell me you've heard about the benefits of rinsing your hair in apple cider vinegar? I remember reading a lot of posts about this on clean beauty blogs I follow awhile back.
But, I just couldn't bring myself to do it because the smell of ACV is so bad!!
This Aveeno hair rinse is such a brilliant idea! You know they've created a concoction that will give your hair the value of an ACV rinse, without the awful smell.
If you're curious why you should do an ACV hair rinse, check out this post on the benefits of apple cider vinegar and here's a recipe you can make at home, if you prefer to DIY.
Personally, I like to make things easy whenever possible and love that Aveeno is creating this easy, better smelling option.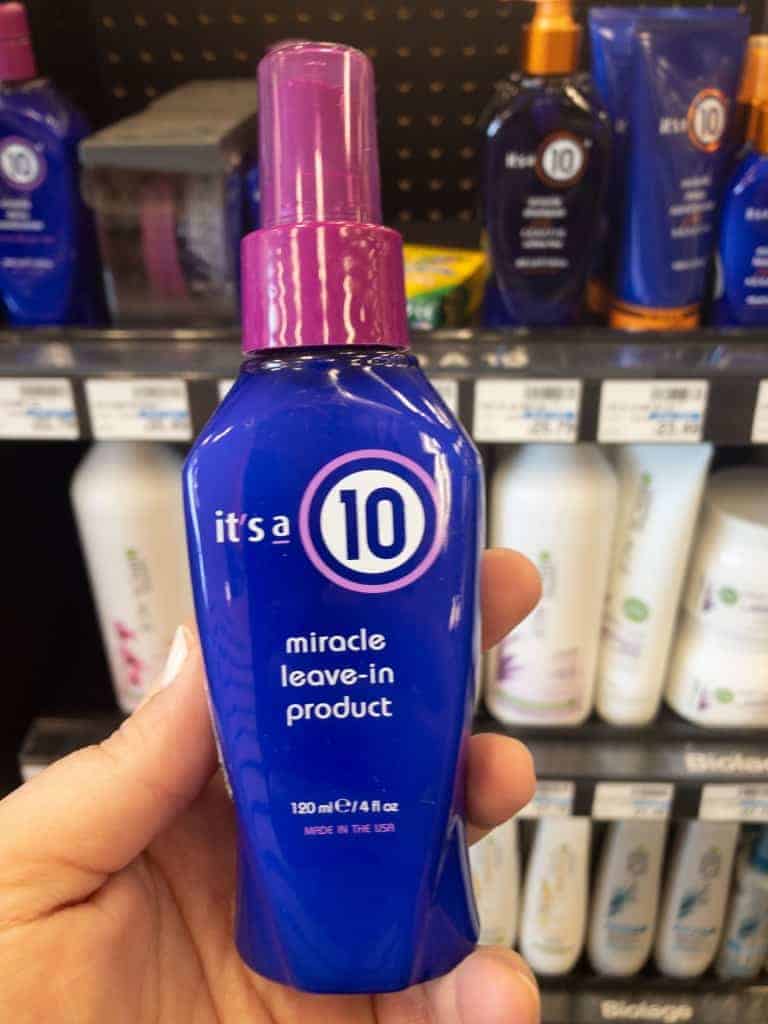 This product makes an appearance in one of my most popular posts on how to air dry your hair without looking like a chia pet.
Although I am pretty sure everyone has heard about this product by now, I feel justified in including it, because it really is a classic.
A very good leave-in that'll leave your hair soft, manageable, and easy primed for styling or air drying, without the crazy price tag.
However, it is more expensive than leave-ins by Honest or Shea Moisture and I'm not sure you get that much more in return. Also, the fragrance is very strong. Some people absolutely love it and can smell it a mile away, but I have slight fragrance allergies and do find that this bothers me a little.
Drugstore Hair Oil:
I love a good hair oil. If you haven't tried them before, a good hair oil will soak right in, not leave any oily residue, and will make your hair healthier and shinier than ever.
It's a great way to restore dry or colored hair, too, or even just hair that's been dried out from chlorine or salt water. #SUMMER #POOLS
While I've written about a few pricier hair oils I use almost every day in my post on the best products for air drying your hair, I was super impressed to find several that looks like incredible, affordable dupes.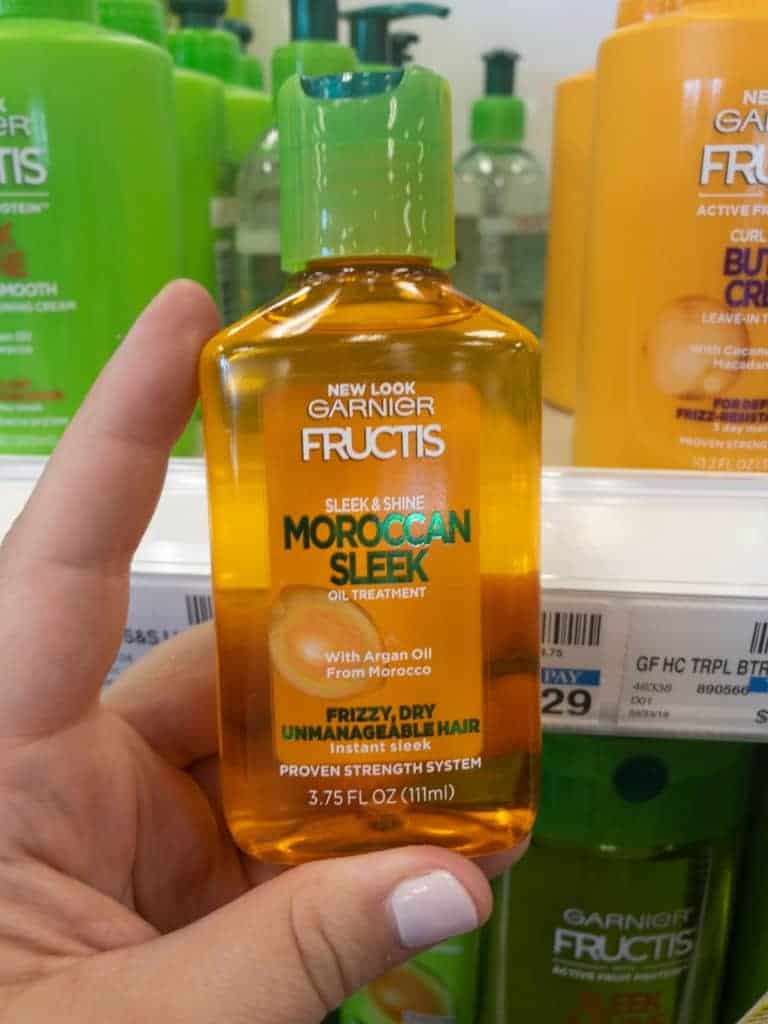 Loaded with argan oil from morocco, you might just get to have your cake and eat it, too, with this hair oil.
A generous size for a super affordable price and backed by the reputable Garnier line, this is a hair oil absolutely worth a try.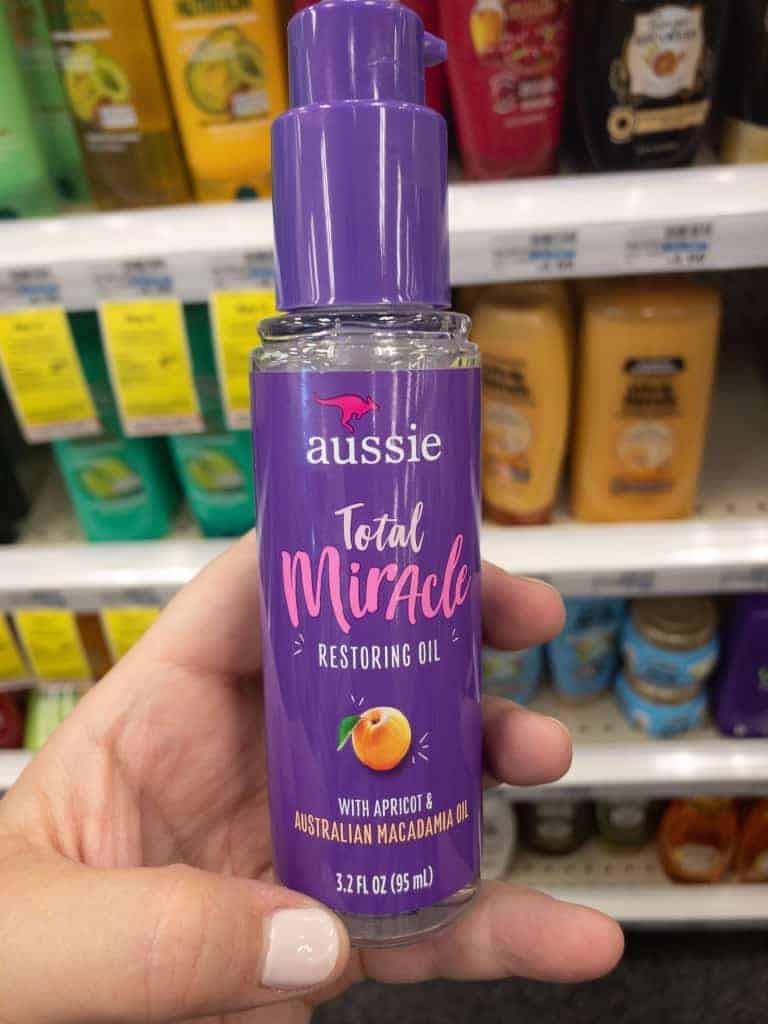 This went home with me, too. I'll about trying the affordable hair oils.
It had me at apricot and Australian macadamia oil – which smells just as delightful as you might imagine.
I'm a sucker for anything that smells like a vacation.
**Price is not cheaper on Amazon for this one. Try to find it in store.
Drugstore Hair Products for Curly Hair: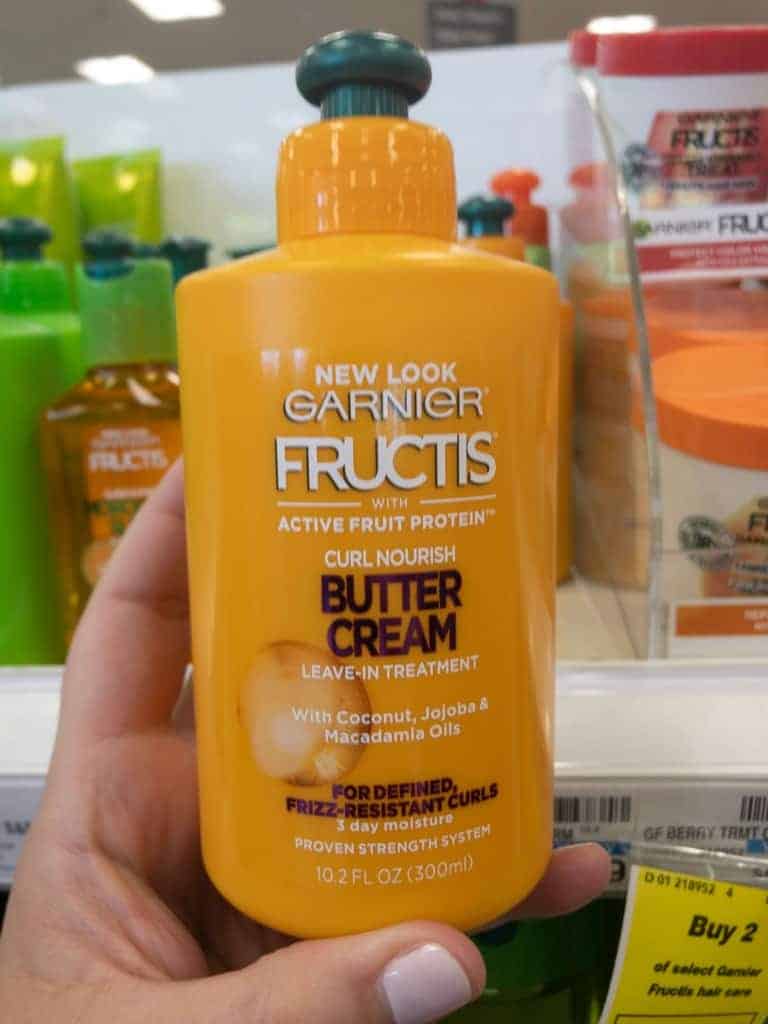 God, I wish I had curly hair.
I tried a perm in the 80s and it made my hair look even worse, so I just pine away for curly hair from afar.
If you have curly hair, you'll have to try this butter cream and let me know what you think. It looks fantastic.
Loaded with coconut, jojoba and macadamia oils, you'll get a little trip to Hawaii with your curl cream.
Can't argue with that.
**Bottle has been updated and Amazon carries the new bottle design.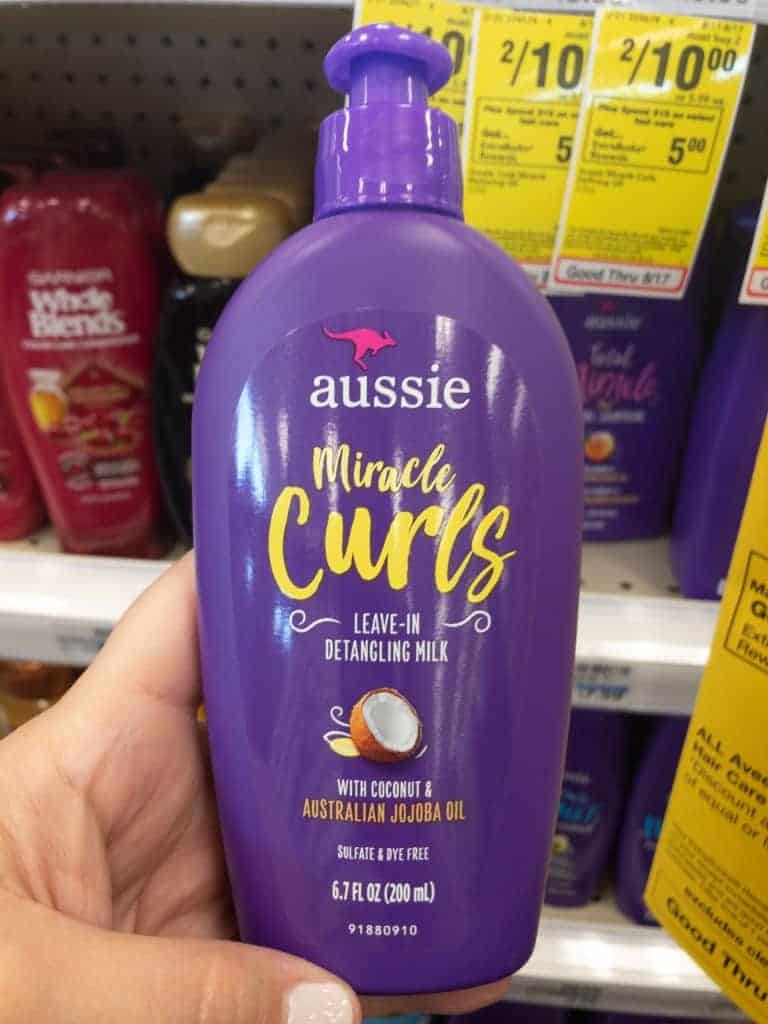 Aussie has been busy up in this list! But, sulfate and dye-free, plus full of curl nourishing ingredients like coconut and jojoba oil, this seems like a seriously good drugstore hair product for curly hair.
Drugstore Hair Styling Products: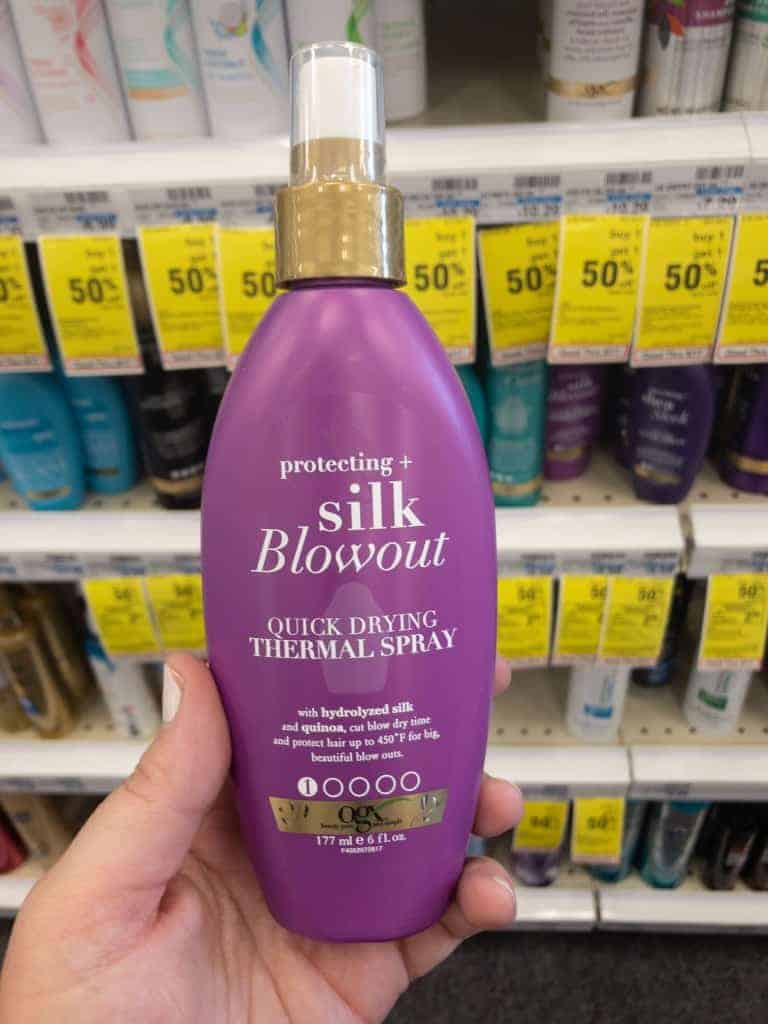 I love that this smooth style spray is designed to protect hair from hot tools, while shortening drying time.
When it comes to styling, I don't want to stand there any longer than I have to – you feel me?
After all, I'm sporting the messy bun more days than most.
This heat styling, faster drying styling spray is right up my alley.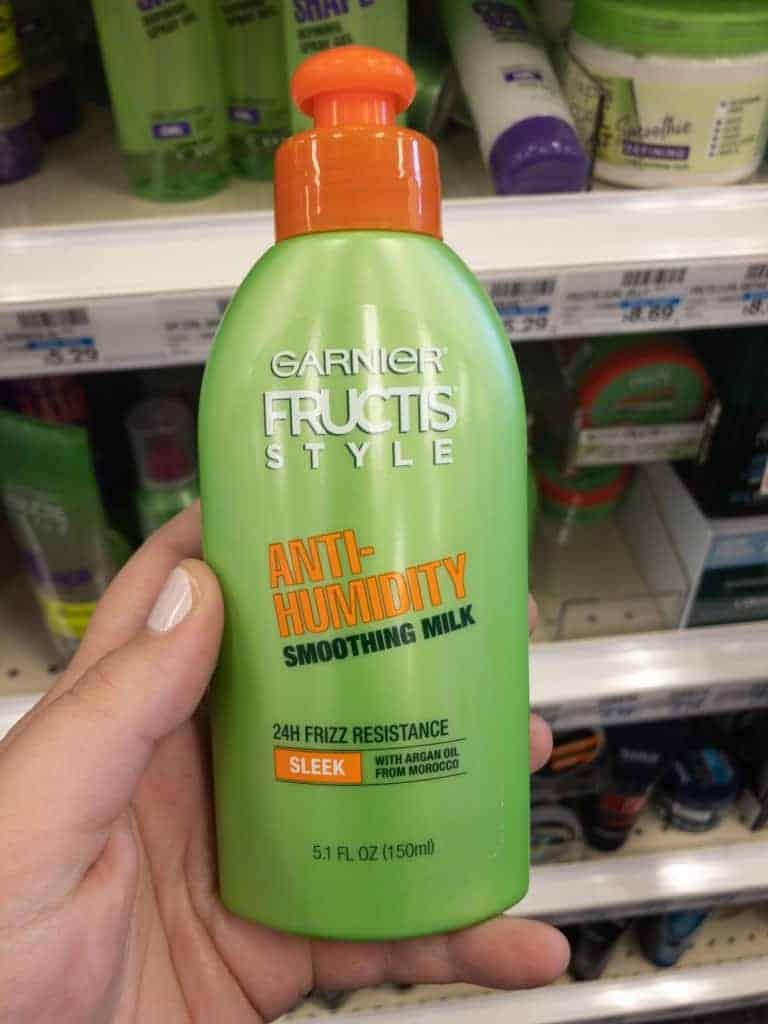 Who isn't looking for ways to tame the frizz in this hot, humid summer? An anti-humidity smoothing milk sounds like a dream come true.
With 24-hour frizz resistance and loaded with argan oil, I feel like this smoothing milk would fill a needed spot in every person's hair product arsenal.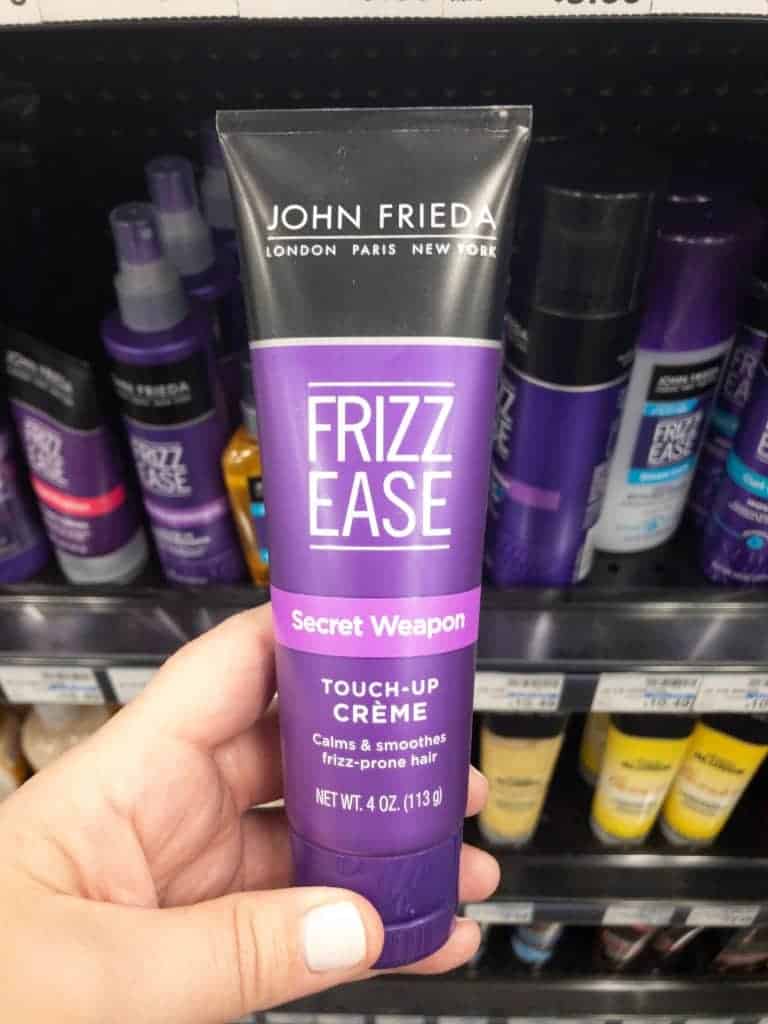 If you haven't tried this beloved touch-up creme, you are missing out! I jumped on the Secret Weapon train way too late and now I am addicted.
Once you've finished styling your hair and you just need to run something through your hair to tame any flyaways and settle the style – grab your secret weapon.
If you don't have time to do your hair and need to extend your style – secret weapon to the rescue.
A go-to styling creme you'll reach for again and again.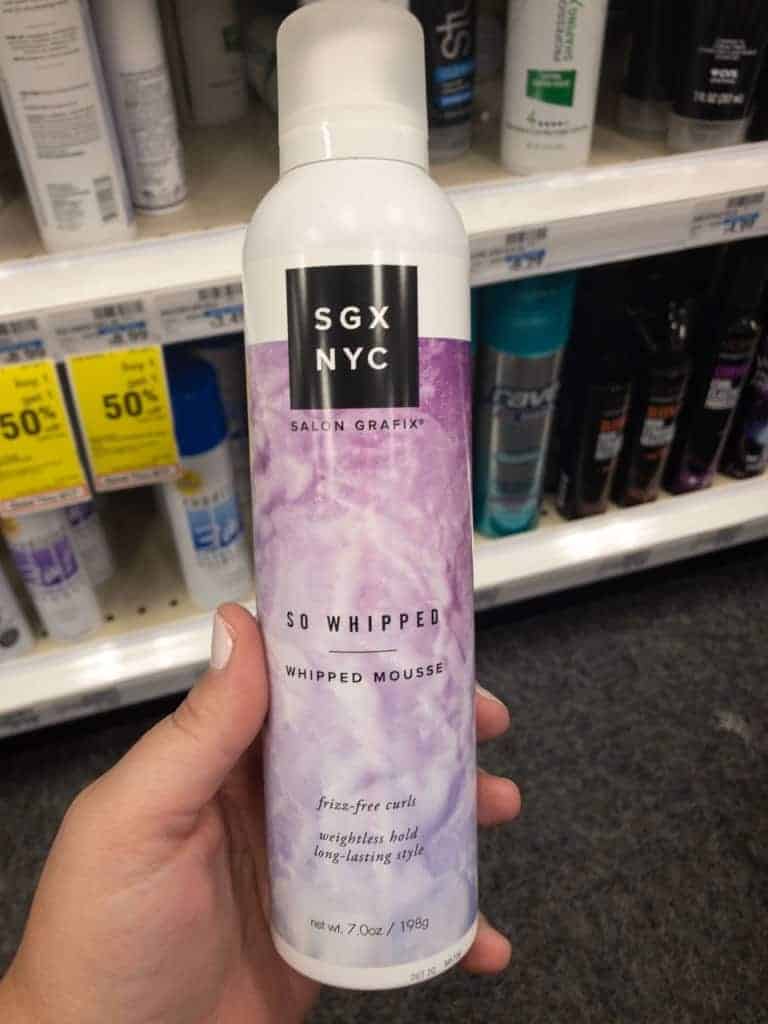 A good mousse is an important product that belongs in every medicine cabinet. This ultra affordable whipped mousse will give you a light, weightless hold for an easy style that stays.
My hair looks noticeably different when I use mousse vs. when I don't. I think it's an underrated hair styling product.
So, you've heard of Drybar, the blow dry styling bar, right? I have been going to Drybar before special events for years.
And long before they created their own product line, they used these products that were also incredible – and they had this root lift spray that was divine.
I loved it so much and bought it every time I went there. When they started selling their own line, I could never find that root lifting spray anywhere and I've been without it for far too long.
When I saw this root lifting spray by Garnier, I was stoked. We could all use a good root lift spray in our lives.
Trust me.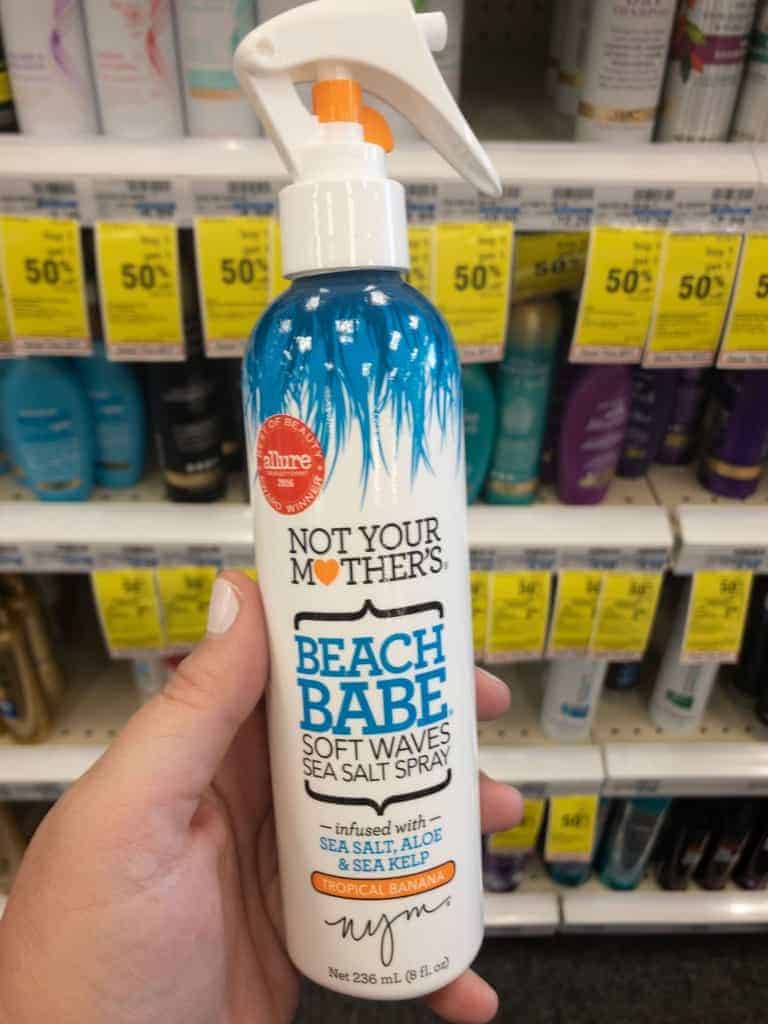 When I featured this sea salt spray in my post on the 25 best sea salt sprays, I knew I had to try it.
I pretty much love all Allure award-winning products. This one gets the stamp of honor, which means it was only a matter of time before I had to snatch it up.
This one went home with me today. It smells exactly like it says – like a tropical banana – and it is a little more banana-y than tropical, but still reminds me of drinking a smoothie while swaying in a hammock with an ocean view.
Can't get much better than that.
Drugstore Hair Accessories: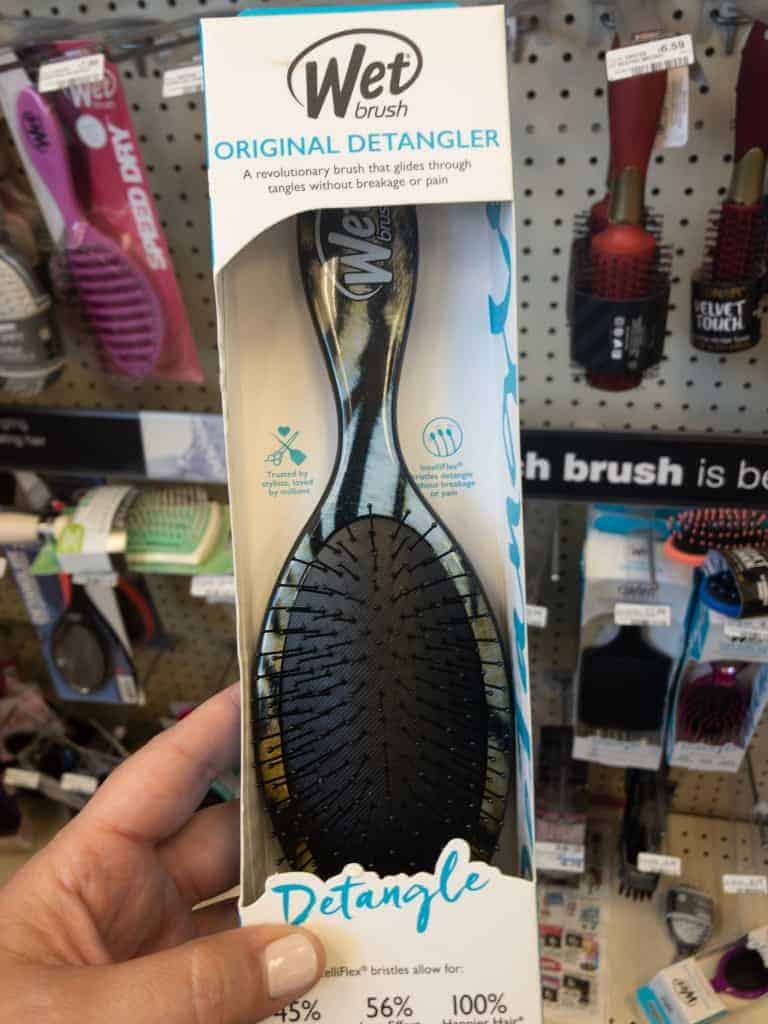 This is all we use. We have the kids Wet brush, the mini for travel, the full-size. We have them stashed all over the house.
These get the tangles out without ripping or damaging hair. I feel like they smooth out my kids hair without hurting.
Highly recommend.
27. Invisi-Bobble & Scunci Gentle Hair Ties: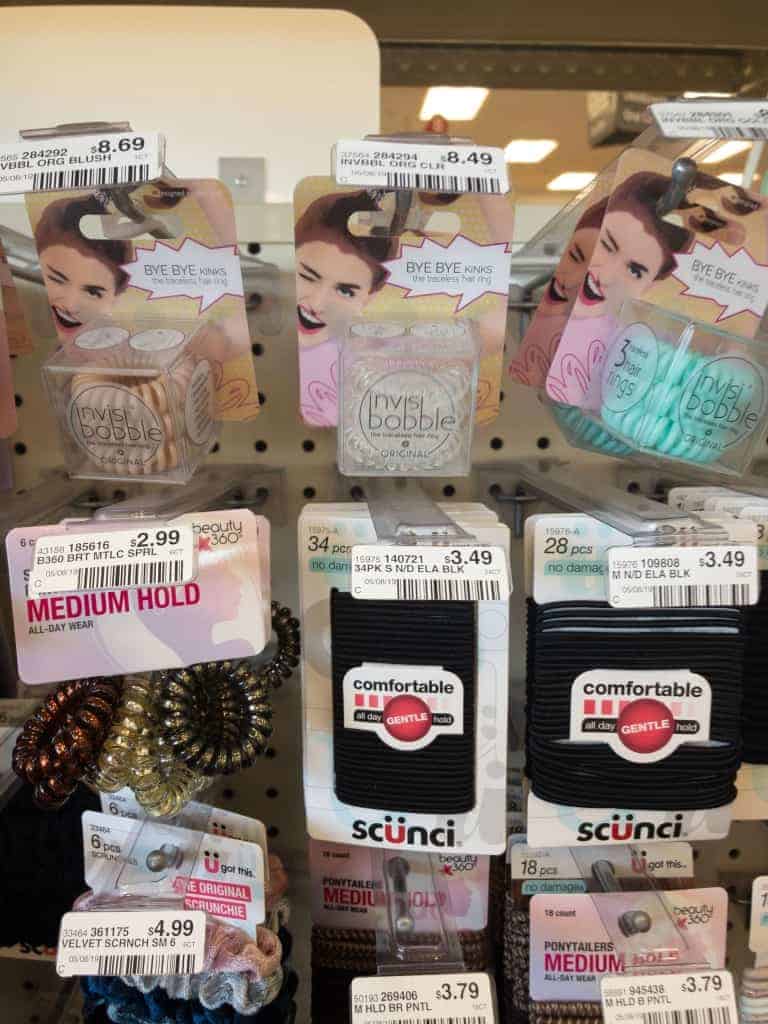 When you need to get your hair up, you don't want to use a hair tie that damages hair.
The invisi-bobble and Scunci hair ties should always be in stock. I have them everywhere.
Like all hair ties, they do eventually get stretched out and have to be replaced, but I feel like the Invisi-Bobbles have a longer lifespan than any other hair ties I've tried.
****
Wow – did you even know there was so much drugstore hair goodness just waiting for you?
Stop dropping the big bucks and get great hair care for less!
I had so much fun wandering around and looking at all of the products in search of the best.
Do you have a favorite drugstore hair product not shared here? Tell us all in the comments below.
Oh, and if you love drugstore posts, you might also like these:
Have a fabulous day,
E