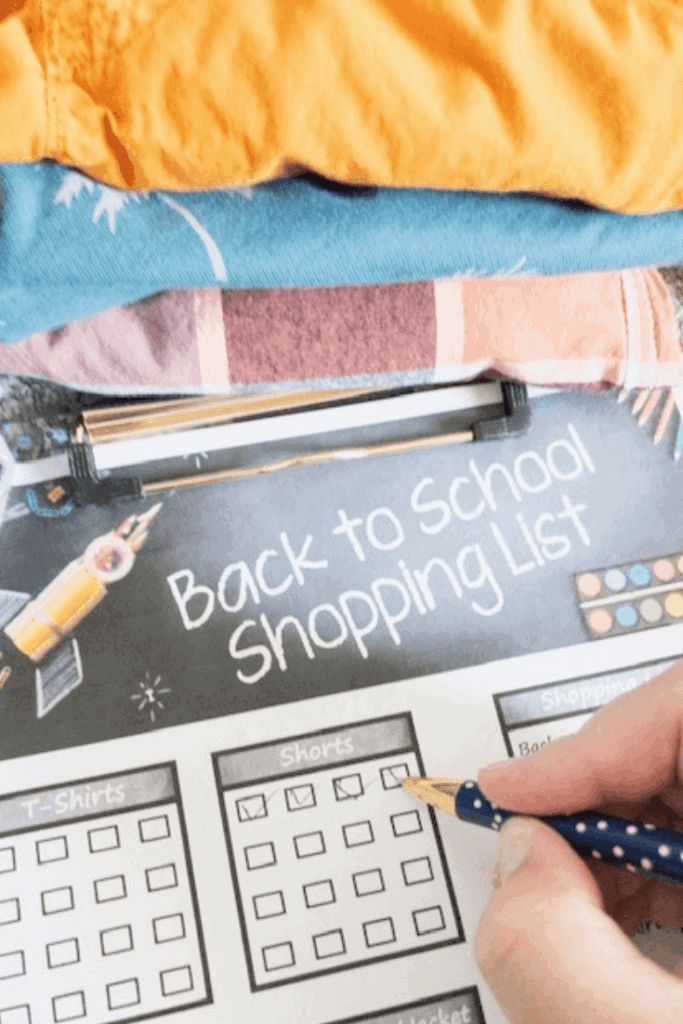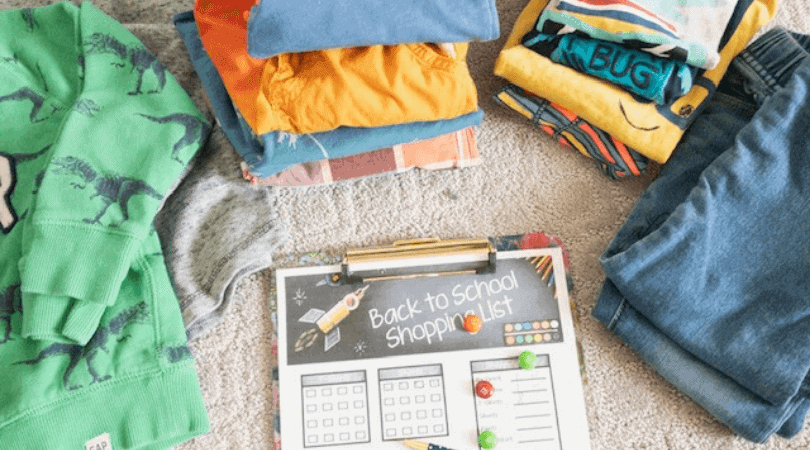 It's that time again, folks! Back-to-School shopping is here! Can you even believe it?
Back-to-school clothings shopping can be a lot of fun – but also, a bit stressful and confusing, too.
I am already starting to see families stressing out in the clothes sections and little arguments breaking out over whether or not kids can have that t-shirt with a giant monkey face on it.
Ahhh, parenting.
How To Prepare for Back-to-School Clothes Shopping:
So, in honor of all of us slogging through shopping with very little clue as to what we are doing, I thought I'd help out with an easy way to figure out what you have, what you need, and how to keep it organized.
Plus, I've got a totally FREE PRINTABLE you can download right now and start using TODAY.
No email required. No hoops to jump through. No reason to wait.
It's all yours.
That's the kind of friend I am.
Did anyone else just sing that gif?
You are my people.
So, this is how this is going to work!
How To Use The Back-to-School Shopping Printable: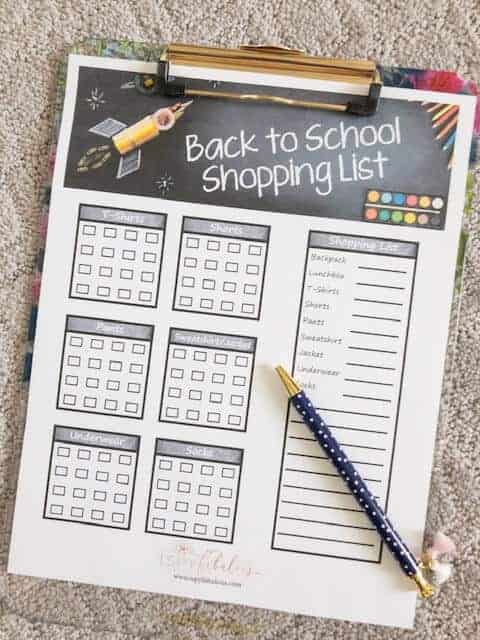 1. Print The Download:
I made this gorgeous printable for you (or actually, my graphic design genius cousin did). You can download it right here.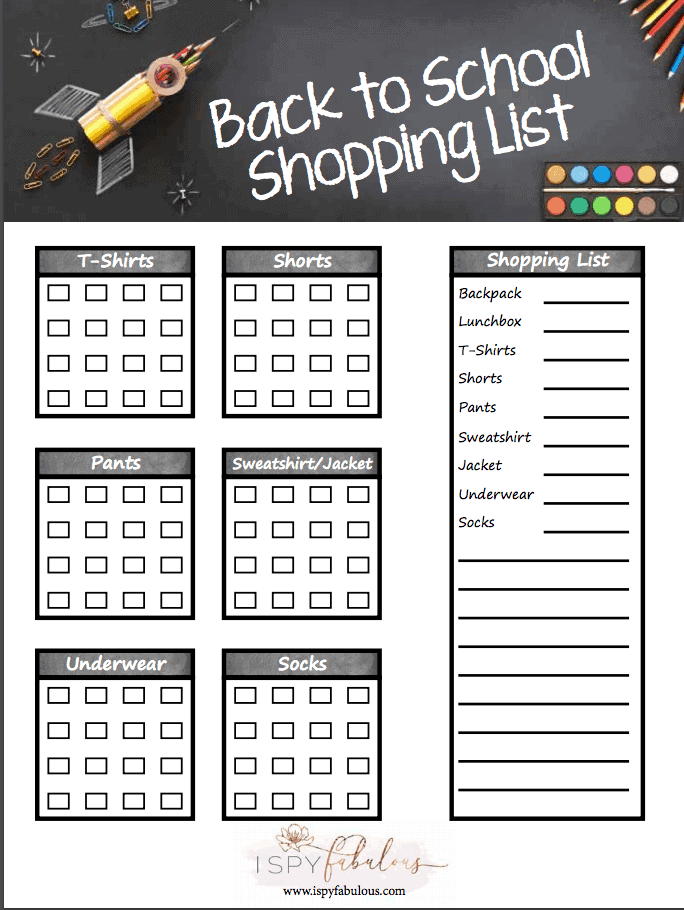 Then, take it with you to your kid's room. You could probably do a few kids at the same time, but you'll need a fresh chart for each one.
This chart is going to help you organize a couple very important things:
The Clothing You Have
The Clothing You Need
Yeah, that's it. Seriously.
2. The Clothing Assessment:
Start by taking out all of your kids clothes. Preferably after doing laundry and most of it is clean.
The goal here is to figure out what you already have, so you don't wander the aisles of Target aimlessly throwing clothes in your cart, only to realize you have 32 graphic t-shirts and no socks.
Take out everything that could be worn to school.
Shirts, pants, sweatshirts, socks, undies, everything.
Make This Fun:
Then, you're going to bribe your sweet little angel to try them allllll on for you (except maybe the socks and undies – we all know how those fit).
I usually have some water and a snack nearby. For example, he gets one M&M per outfit.
Pick your poison, here, people. This isn't sponsored by Mars, we just like M&Ms.
Sue me.
*But don't. Please, God, don't.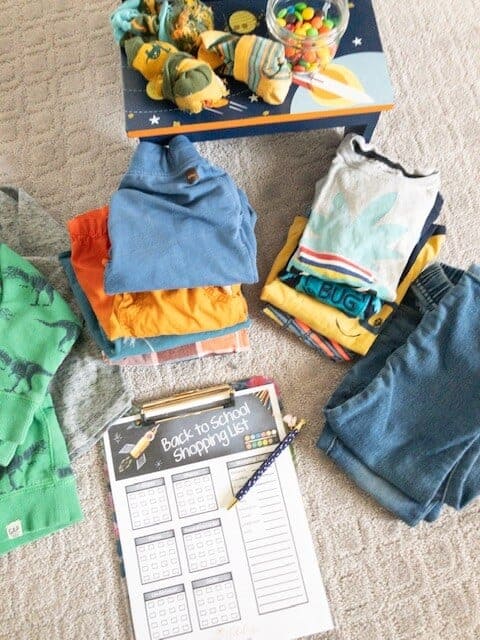 Snack Ideas:
Popcorn
Gummy bears
Fruit snacks.
Basically, something that isn't very messy and won't stain clothes or leave crumbs everywhere.
The idea here is to make it fun so it's something you will both be willing to do every school year.
And, whenever they try something on that fits and they can still use for school, you're going to just check it off in one of the boxes on the left: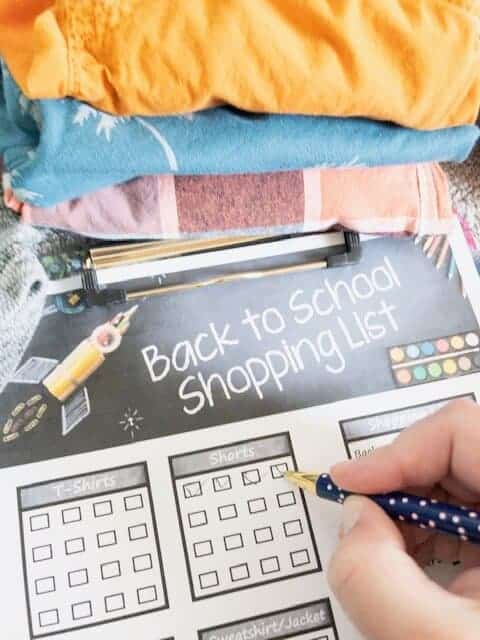 Set those clothes aside so you can see what you have.
Put what doesn't work in a giveaway bag or bin for a younger child.
3. The Shopping List:
The shopping list on the right is for you to decide how many you need of the items when you go to the store.
How many items you ultimately want for each thing on the list is a personal choice here.
You have to do what works for your child, your budget, your school dress code, etc.
But, to try to make it easier for you, here is a sample shopping list for a child from kindergarten to early middle school.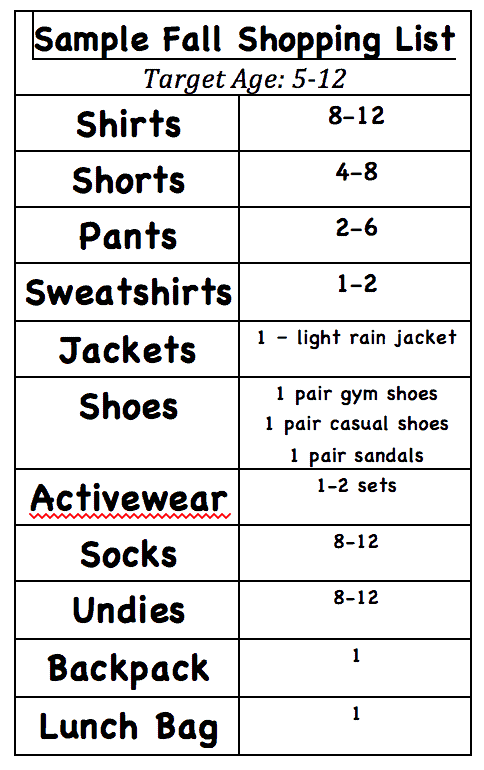 This may work for middle and high school, too, but I feel like at that age, they have more refined ideas of what they are looking for and how they want to allocate whatever shopping budget they have.
But, I digress – I personally like to aim for about 2-3 weeks of outfits.
This helps cut back on how often you run into your laundry room in a panic, throwing clothes in the washer in the middle of the night, because your kid has nothing clean to wear.
Am I speaking from experience?
#MAYBE
4. Figure Out The Deficit: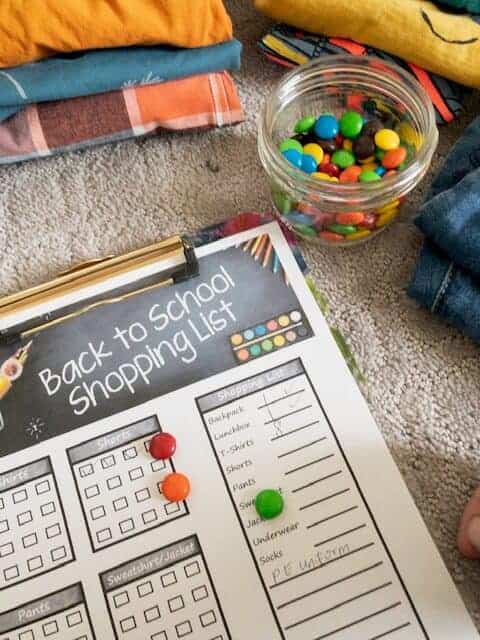 How many shirts do you still need after considering what you have?
Does your child need a new backpack or does the old one work?
There are some blank lines, too, for your school specific requirements.
Things to consider adding based on your need:
Heavier winter items for colder climates – unless you prefer to buy these later in the year when you are sure what size they will be
Uniforms
Specific attire for a sport or dance class at school
More shoes for a shoe enthusiast
Hair bows or accessories
Gym clothes
Dresses
Swimsuits – for a swim class
etc…
5. Take That List With You!
We offset it to the side so you can easily cut this list out and take it with you.
Boom.
You're ready to roll, baby.
Then, just start checking off amounts while you're shopping.
Tell your kid, "You are getting [X] amount of shirts, so choose what you want." etc.
*****
Back-to-School shopping should be fun, whether you have $20 or $200 to spend.
This is such a great time to set the tone for the beginning of the year and go into it with anticipation and preparation.
Plus, I hope this little method will help you stay organized and cut back on any arguments over whether or not your child can get 6 t-shirts with images of sloths on them.
Do you have a favorite way to do back-to-school clothes shopping? Tell us all in the comments below.
Have a fabulous day,
E