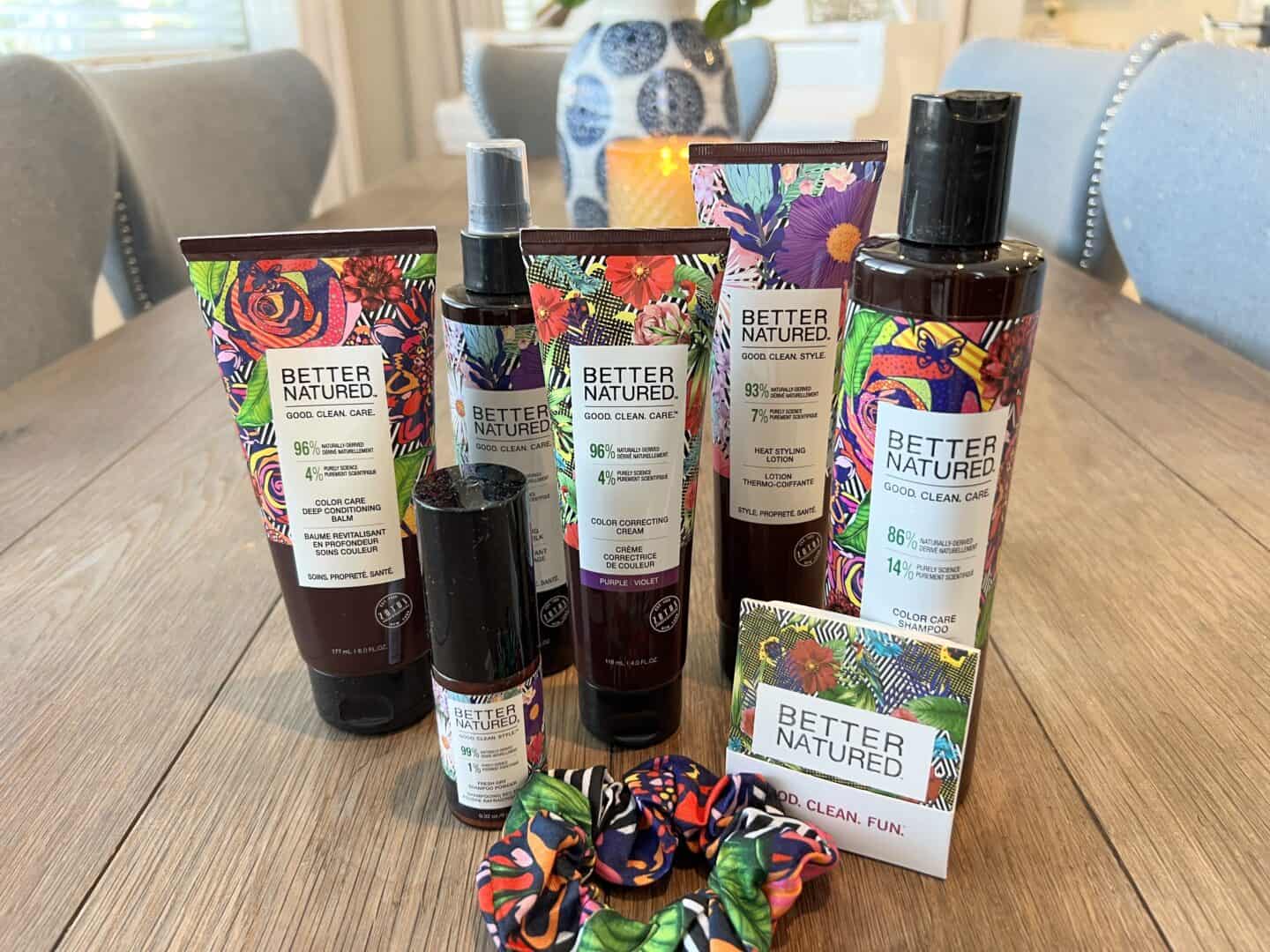 My hair has been on the struggle bus for awhile. I've been coloring it since I was 16, but over the last few years, I've been highlighting it to help hide the little gray hairs starting to peek through and it has begun to take its toll. My hair has been looking more dry and damaged than I would like.
But, since not coloring my hair is not an option – I needed to find uber-hydrating products that are going to be super gentle on my dry, color treated hair.
Better Natured may be known for their salon quality at-home hair color, but it was their line of vegan, intensely hydrating hair care products that got my interest.
I have been using their shampoo, conditioner, color care conditioner balm, heat styling lotion, leave-in conditioner and dry shampoo for the best couple of weeks and my hair looks SO much better. In fact, I just saw my hair stylist yesterday and she said that my hair looks so much better, she didn't even think it needed a trim (hallelujah!).
So, let's take a look at these affordable hair care products that more than lived up to the hype. I posted a quick video to my Instagram sharing what came in my box. You can watch that here:
View this post on Instagram
Affiliate links are used below for products I have been using and really like. If you make a purchase through my links, I may receive a commission at no cost to you.
Better Natured Color Care Shampoo & Conditioner: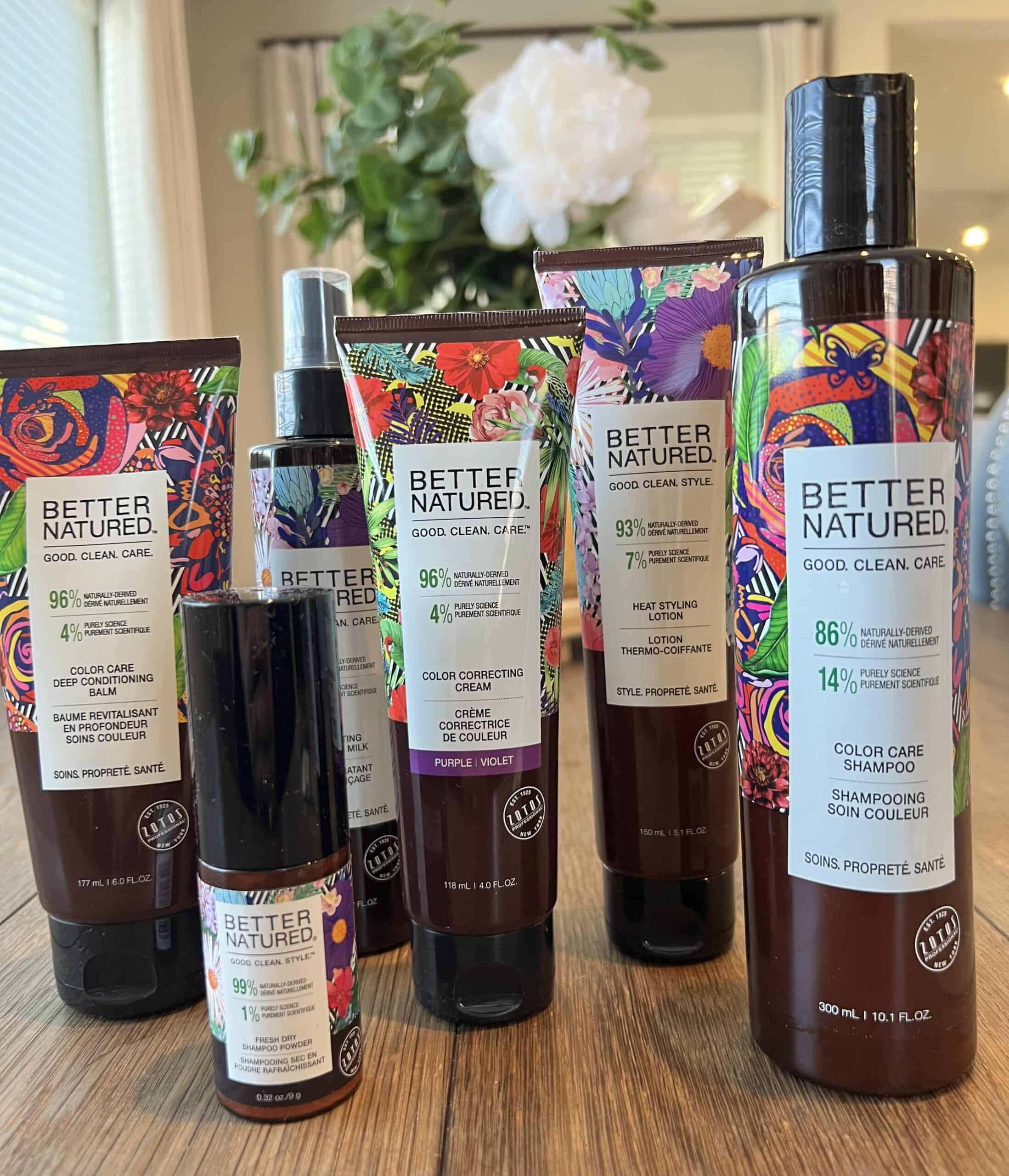 The main players of this suite of products is the moisturizing shampoo and conditioner. They smell amazing, without packing in inflammatory fragrances that flare up my allergies. The color care shampoo lather is rich and creamy. You can literally feel how hydrating and moisturizing it is. It's made with their signature Triple Plant Milk blend, which contains coconut, Tahitian palm and white orchid. It is also designed to keep color vibrant for up to 9 weeks. I definitely noticed my color lasting longer than usual this time, so I think it works. It's magic in a bottle free from sodium lauryl sulfate, sodium laureth sulfate and other harsh salts.
The color care deep conditioning balm is thick, almost like a hair mask, and really coats the hair. It has the same signature Triple Plant Milk blend and an equally intoxicating fragrance that didn't irritate my sinuses. Both products rinse clean without any weird residue left behind.
The shampoo and conditioner get an A++ for hydrating my dry hair and bringing it back to life, while protecting my color.
I use a leave-in conditioner every day to help detangle my tresses and smooth out my hair. I am really picky about which ones I like and tend to rotate through a few that check all the boxes, so I wasn't totally sure how I would like this one.
Let me tell you: I love it. I would rank it up there with how I feel about Davines All In One Milk and Aveda Nutriplenish, which are my usual go-tos.
This leave-in also has the signature Triple Plant Milk blend as well and left my hair smooth and detangled, without being sticky or limp.
Heat styling lotions are a must for me. I didn't use them for many years, but after my hair getting so fried I had to go dark for awhile to let my hair heal, I will not heat style my hair without one.
Not all heat styling lotions are created equal. Some give your hair a gummy texture and it never styles right. Others can leave the hair greasy and heavy.
This heat styling lotion is the Goldilocks of styling lotions – it leaves the hair soft, smooth and ready for styling. A quarter sized amount was just right for my below shoulder-length hair.
I stopped using dry shampoos when I read that their aerosol can actually damage hair over time. If you think about it, most dry shampoos do come out of the can with a velocity that is unlike any other hair product, even hair spray.
Now, when I really need to make my hair last longer without shampooing, I use dry shampoo powders only.
This one is a great example of a non-aerosol dry shampoo powder that will abosrb oil, without leaving a pasty residue behind.
Blonde highlights on brown hair like mine can get brassy really quick. I don't have time to go in for a toner between appointments, so in the past, I would just wait it out until I could get my color freshened up.
This is like having a toner at home that I can use to keep my blonde and caramely highlights vibrant all the time. I should've started using something like this a long time ago, but I'm glad I have it now. The longer I can keep my hair looking fresh, the more I can space out my hair appointments, which prevents unnecessary damage to my hair (and saves me money – let's just be real).
*****
Overall, I am loving this new line of products. They are absolutely living up to the great reviews and I feel they are comparable in quality and results to much more expensive brands.
If you're also dealing with color treated hair damage and/or dry hair, these moisturizing, vegan hair products might be exactly what you need.
Have a fabulous day,
E