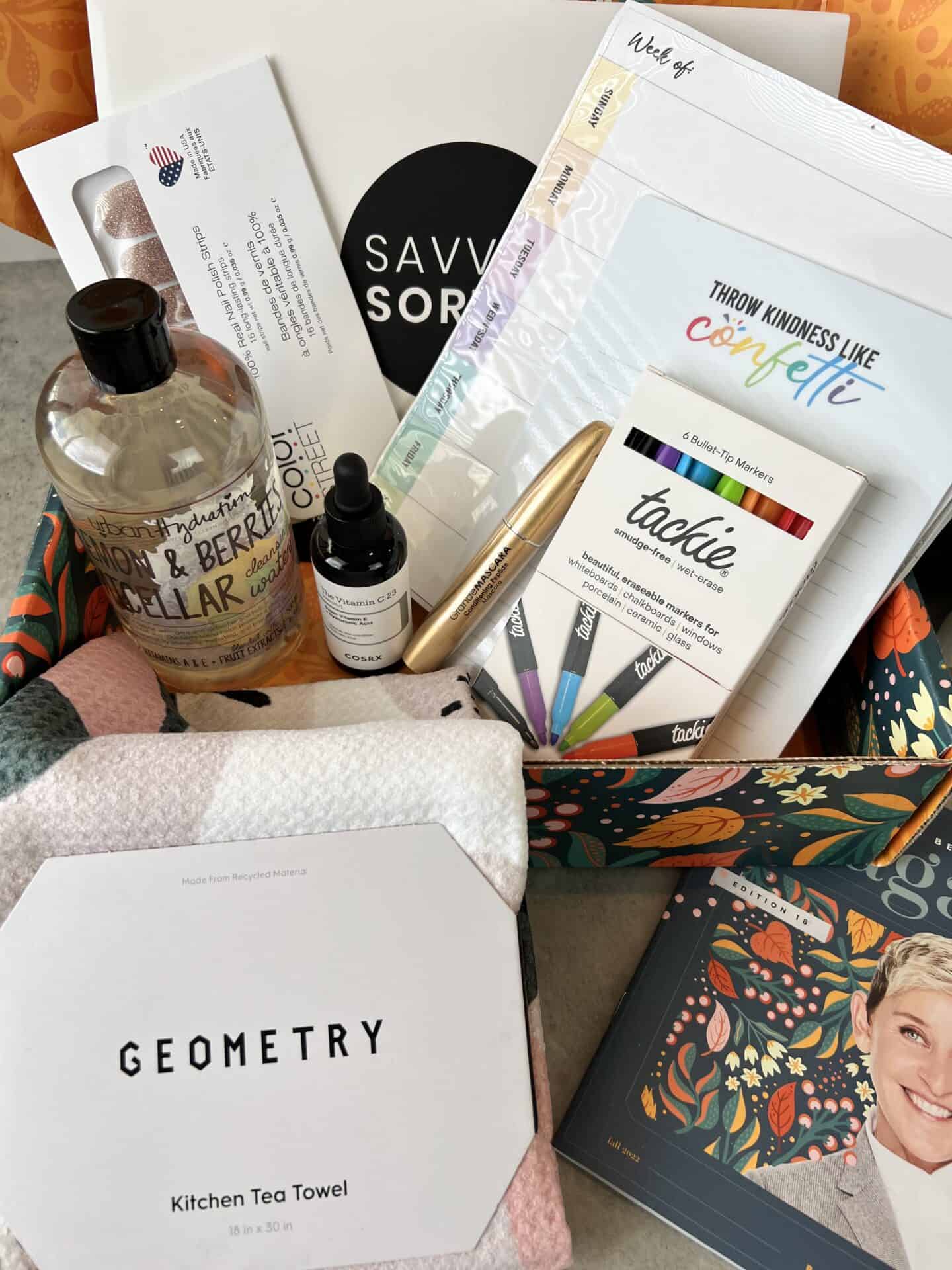 I love the Ellen box, not only because it has a unique collection of ideas, but because they are all also socially conscious companies that are making an impact. I love knowing that something I'm buying is also giving back and making the world a better place.
The fall Ellen box is another winner, full of everything from skin care to a cohesive set of jar labels. So, let's take a deep dive into the box and look at all the goodies you can get for under $50 (a $200 value!).
Be Kind is a quarterly subscription box curated by Ellen Degeneres. She chooses 6 products with a purpose and they are delivered 4 times a year. This one is being sold for under $50. The box has an estimated value of $200 or more.
You can cancel anytime and shipping is free in the US.
Also, I love the transparency of this box – you see what you're getting in each box, with no surprises, so you know what you're investing in. If you've ever bought a subscription box because of a couple spoilers that got you excited, only to find a whole box full of stuff you'd never actually buy (or worse, repeats from items in an earlier box) then you will love the Be Kind box, because every single one has unique items and you always know exactly what you're getting.
I made a little video that I shared on my Instagram of the fall box. Take a look at this here to see a close up of all the items. Affiliate links are used in this post for products I use and recommend. This means if you choose to make a purchase through my links, I may receive a commission at no cost to you.
View this post on Instagram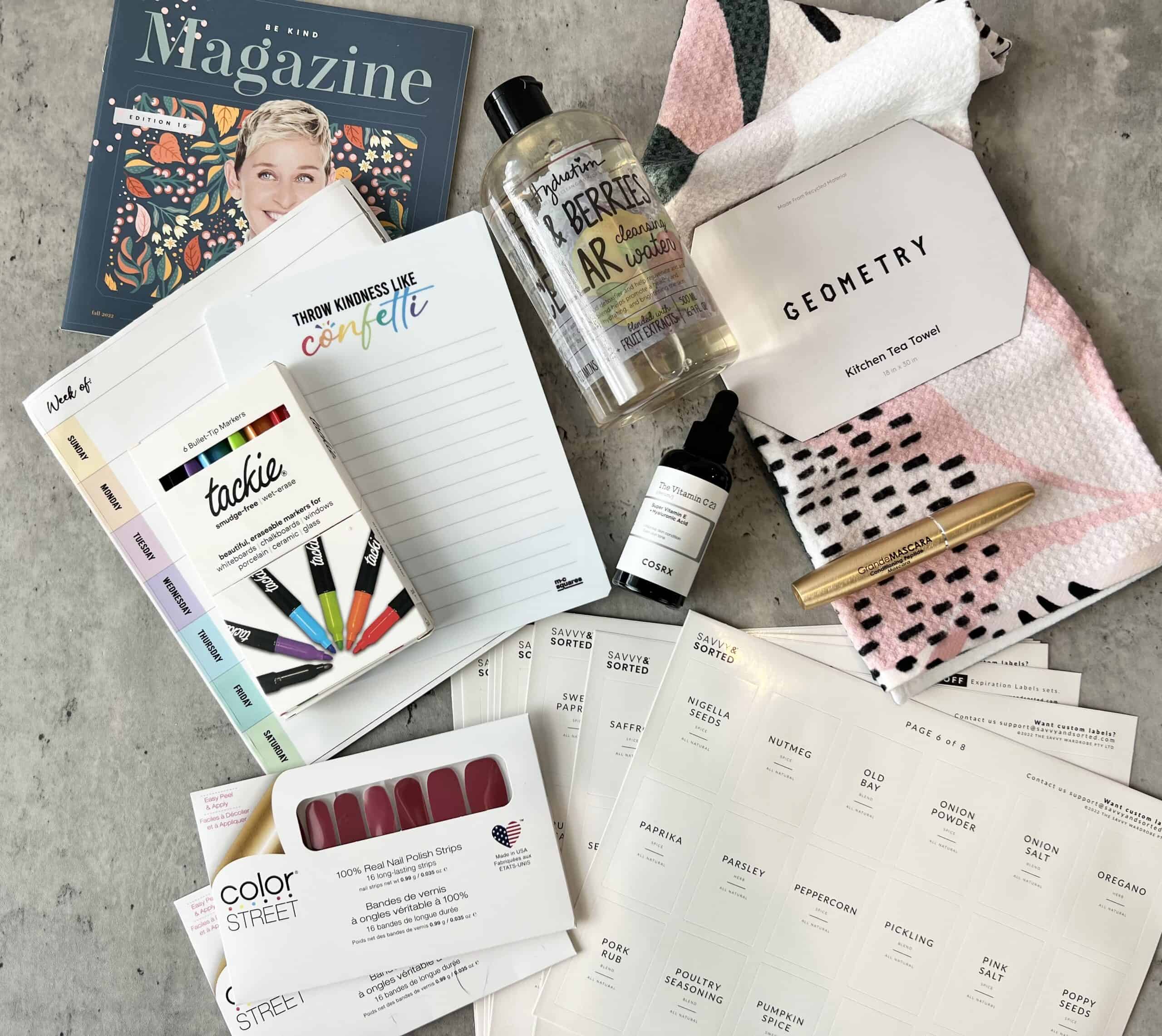 Let's take a closer look at each item in the box!
This is – hands down – the best kitchen towel we've ever had. Period. End of story. We love it so much, we went online and ordered more using the coupon code in the little magazine. This thing absorbs water, dries the counters completely in one pass and then will dry out pretty quickly if you lay it out or hang it. Never had a better (or a prettier) tea towel.
I love COSRX, so I was excited to see this inclusion. It feels great on the skin and will help even skin tone and plump skin, thanks to the powerhouse ingredients.
This pre-printed label pack is gorgeous and ready to use on little spice jars to make any pantry prettier and more organized. I love this set so much, now I need their matching bamboo spice jars. After organizing my pantry and my spice drawer and seeing what a huge difference it made in functionality and how I feel about the spaces, I've gone all in on organizing.
I love a good mascara. I am extremely picky with my mascaras, though, and expect a lot from them. Since I have Sjogren's, my eyes are extremely sensitive and my tiny, baby lashes need more than just a few coats of color. Luckily, this one is loaded with conditioning peptides to improve hair health and encourage growth over time. For more mascaras I use and recommend, read this post.
This generously sized micellar water is a must-have on hand for those nights (or mornings) when you just need to get your face clean in a flash. I used this last night, actually, because I was exhausted and it got my face clean (but not stripped) in seconds. I had never actually heard of this brand and now it's on my radar, I want to try more of their products.
These nail polish strips are everywhere and people go gaga for them. I have never had success getting them on and looking good, but I know people that use them all the time and they look great. They don't chip as quickly as traditional polish, either. These ones are difficult to get your hands on without attending a hosted Color Street party, so if you like them – this could be a big win.
It's difficult to find the exact set from M.C. Squared, because I think this is a partially custom set made for Ellen. But, it has a weekly reusable whiteboard, a wipeable notepad and some other goodies you can write on and wipe clean. I love the positive messages and vibe of the whole set. The Tackie markers are a new find for me and I LOVE them. Once upon a time, I was a teacher and you know our sincere love for Expo markers, so to find a new brand of smudge-free whiteboard markers? Yeah, I'm in.
8. $40 OFF at Be Kind Marketplace:
They're also including a coupon for $40 off your purchase of $100 or more at the Be Kind Marketplace. I don't think this counts as an item, but as an extra.
Estimated Total Value: Around $154.
Be Kind estimates the value at just under $200. This must be including the $40 coupon and the extra costs for the custom mini-whiteboards, etc.
Cost: $49.49.
So, you'll pay 1/3 of the price of the value of the box this fall with the Be Kind box!
More Subscription Box Review:
I love a good subscription box. The value can't be beat, plus it's fun to try new brands and products I never would've heard about before.
And, if there's something in the box that isn't a good fit for you, put it away and use it as a gift in the future.
Here are some more subscription boxes that I love and have also reviewed:
******
What's YOUR favorite subscription box? I'd love to know!
Do you want to try the Be Kind by Ellen box? Check it out here!
Have a fabulous day,
E