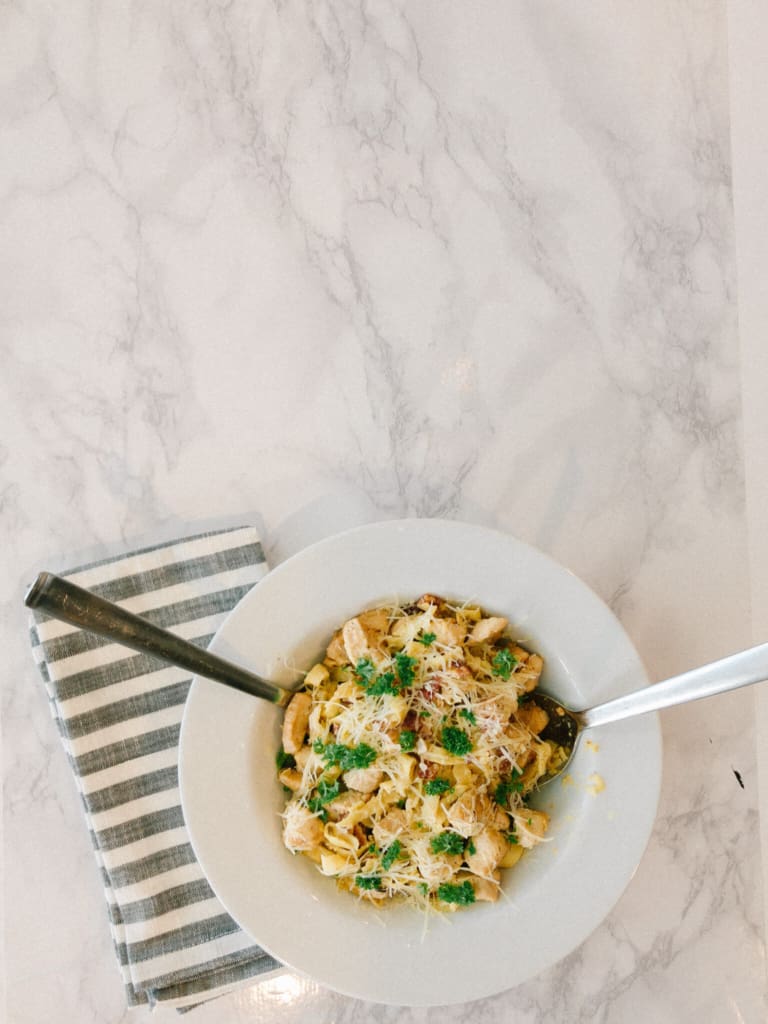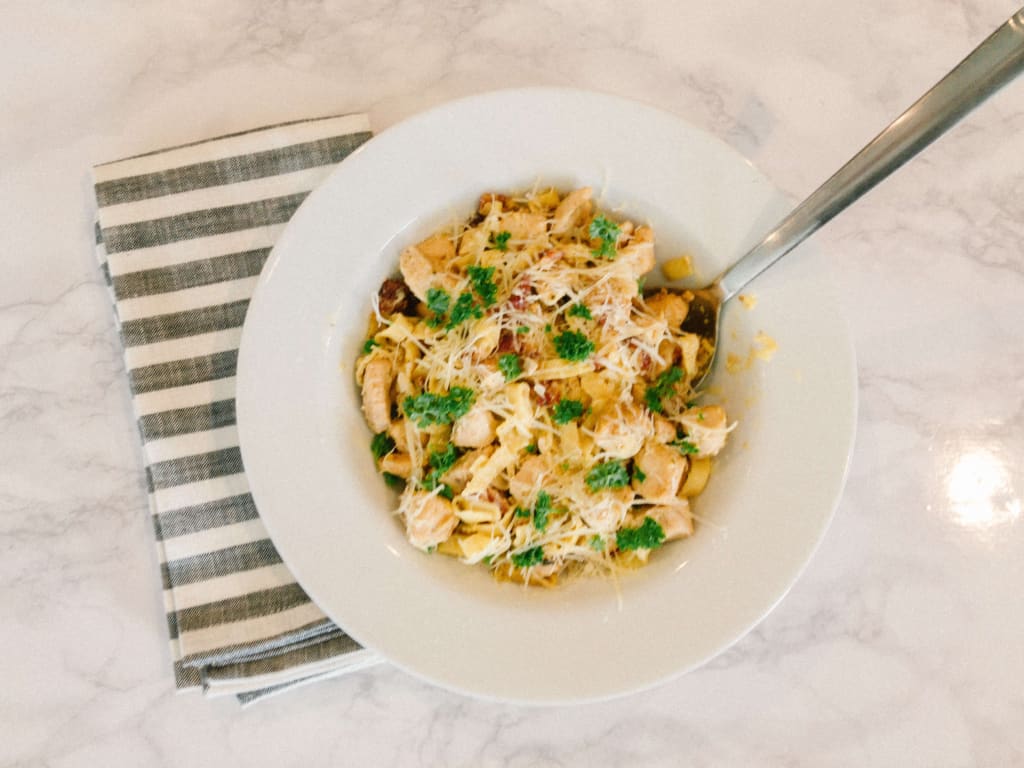 Listen, it's not every day that we try a new recipe and are truly impressed with the results.
If I'm cooking, it's usually due to user error.
If the hubs is in charge, the results are usually better, but he mostly prefers his own cooking.
Since he's a classically trained chef, we don't often disagree on that.
But this – this one pot wonder – was muy delicioso.
And we weren't mad about having less dishes to clean, either.
Why You Should Make Chicken-Bacon-Ranch Carbonara:
This uber comforting pasta dish from Megan Marlowe's new cookbook, "Incredible One Pot Cooking", is good eats, people, with bacon, chicken, and lots of other goodies. It was slightly reminiscent of a pasta dish I've been ordering for years at the Cheesecake Factory.
Except, this one might be even better.
It's less greasy, which makes it easier on the tummy, so you can just keep eating… and eating.
Nobody would blame you if you licked the bowl clean.
The process is very clearly explained in the recipe, too, which walks you through how to use one pan to cook the entire thing.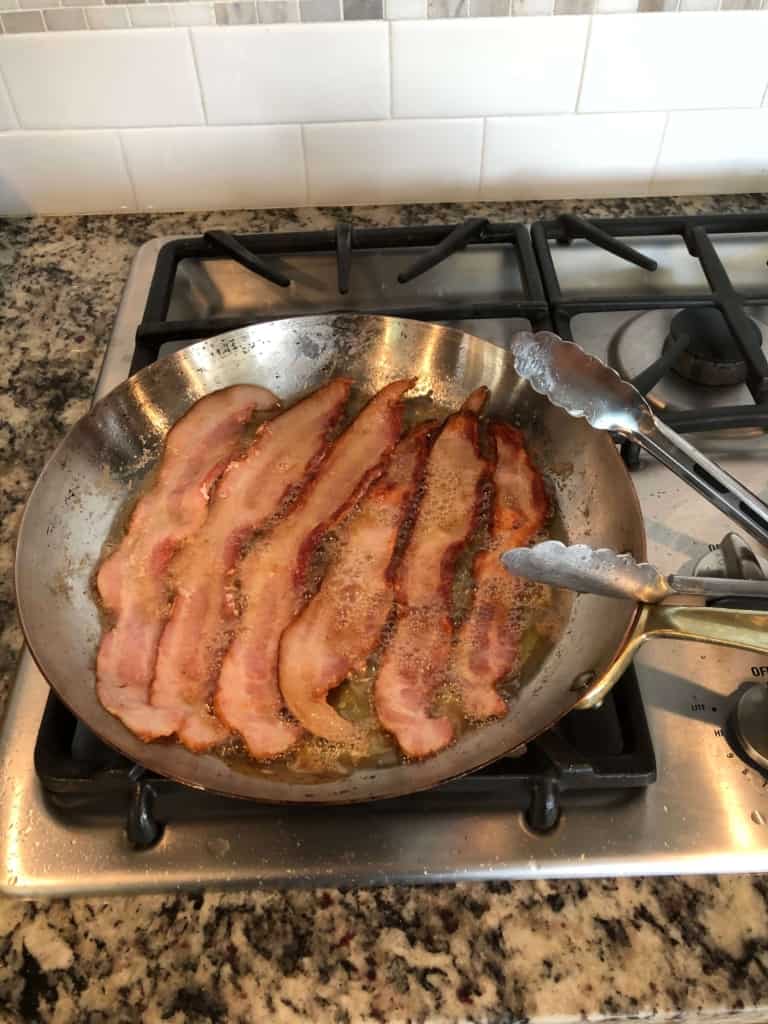 Sure, there's some moving of things in an out of the pan as you go, but the end result…. well, the end results is worth a lot more work than is actually required.
#YUM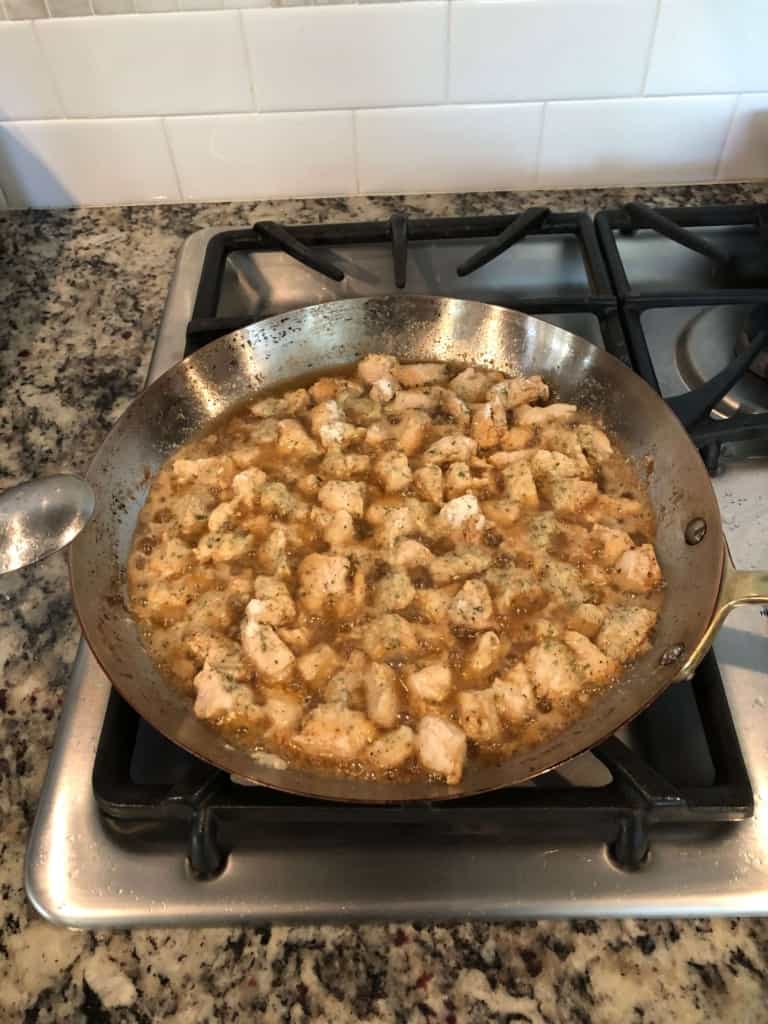 If you're looking for something really great, without a lot of fuss, to whip up in your kitchen these days – highly recommend trying this one out.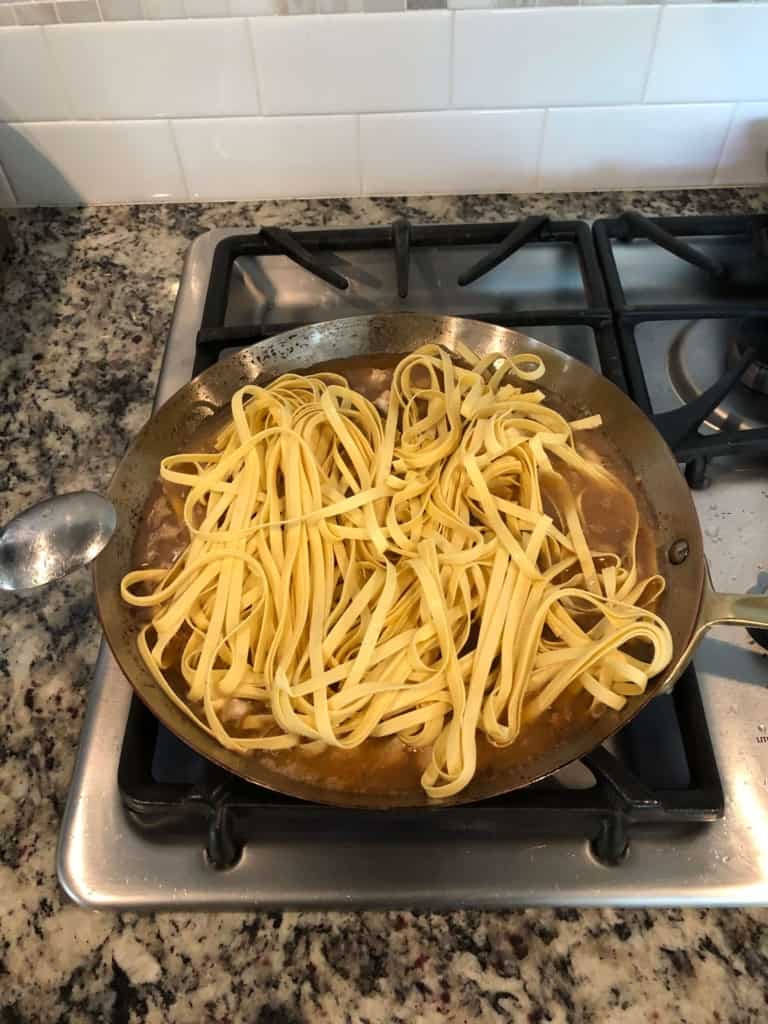 Then, pick up a copy of this cookbook for a lot more recipes that look just as scrumptious as this one.
#GETINMAHBELLY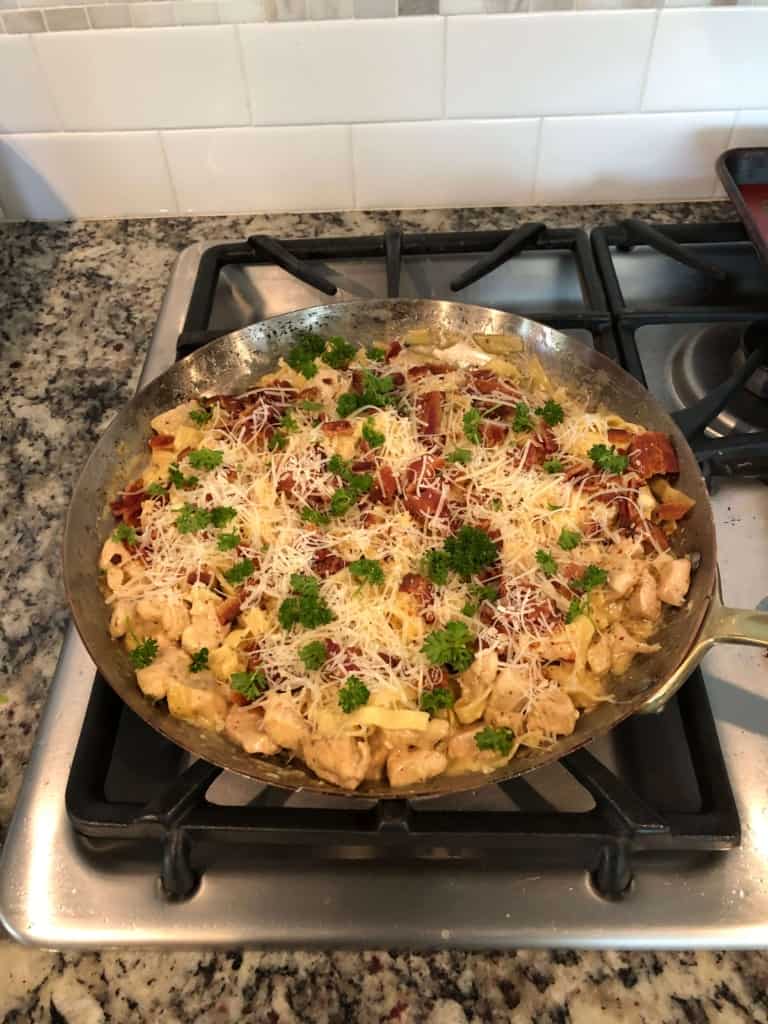 How To Make Chicken-Bacon-Ranch Carbonara:
This recipe is reprinted with permission from Incredible One-Pot Cooking by Megan Marlowe, Page Street Publishing Co. 2020.
Ingredients:
3 tsp olive oil, divided
6 slices bacon, chopped
1.5 lbs boneless, skinless chicken breast, diced
2 tbs ranch seasoning
2 cups chicken stock
1 8.8 oz. box of fettucine pasta
2 large egg yolks, beaten
1/2 cup shredded Parmigiano-Reggiano cheese
1/2 tsp black pepper
Coarsely chopped fresh parsley
Directions:
Heat 2 tbsp of oil in the skillet over medium heat. Add bacon and cook until brown and crispy, about 5 minutes. Transfer to a plate lined with paper towels. Do not drain the skillet. Crumble bacon when cool.
Add remaining olive oil to bacon grease. Add the chicken and cook until no longer pink, 8 to 10 minutes. Sprinkle chicken with ranch seasoning.
Add stock and pasta. Bring to a boil. Reduce heat to medium-low and cook for 8 minutes, until pasta is cooked.
Pour in the egg yolks and stir so they coat pasta.
To serve, sprinkle with crumbled bacon, shredded cheese and black pepper, tossing to combine. Garnish with parsley.
Eat your your heart out.
Okay, okay, I added #6.
But you will.
You will eat your heart out.
****
Have you ever made carbonara? I'm a big fan now.
If you love recipes, there's a few more on the blog you might like:
Have a fabulous day,
E