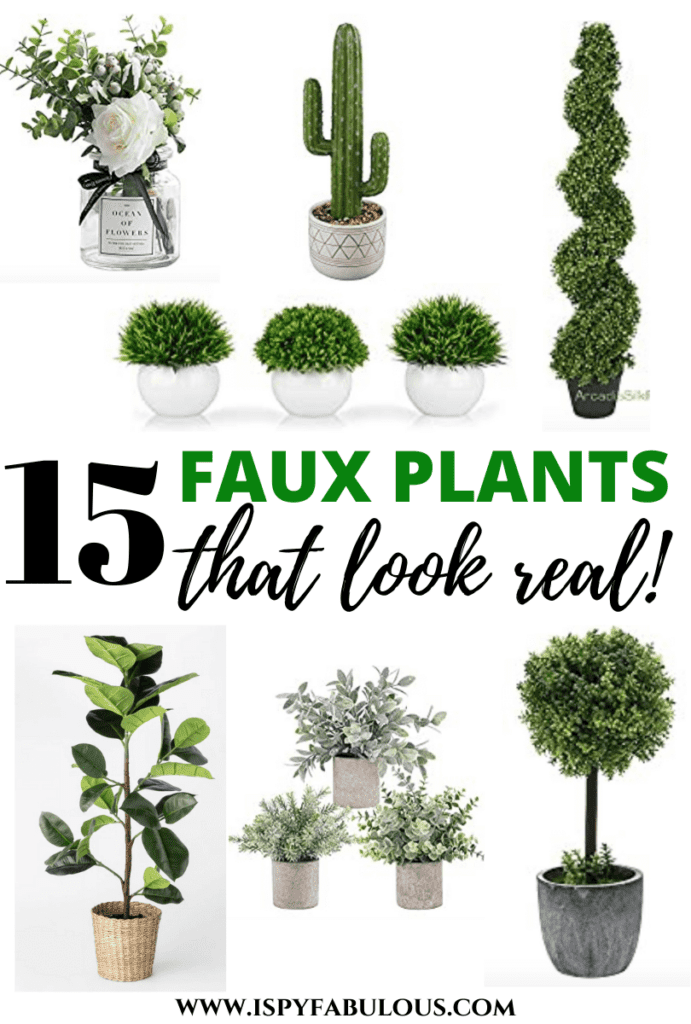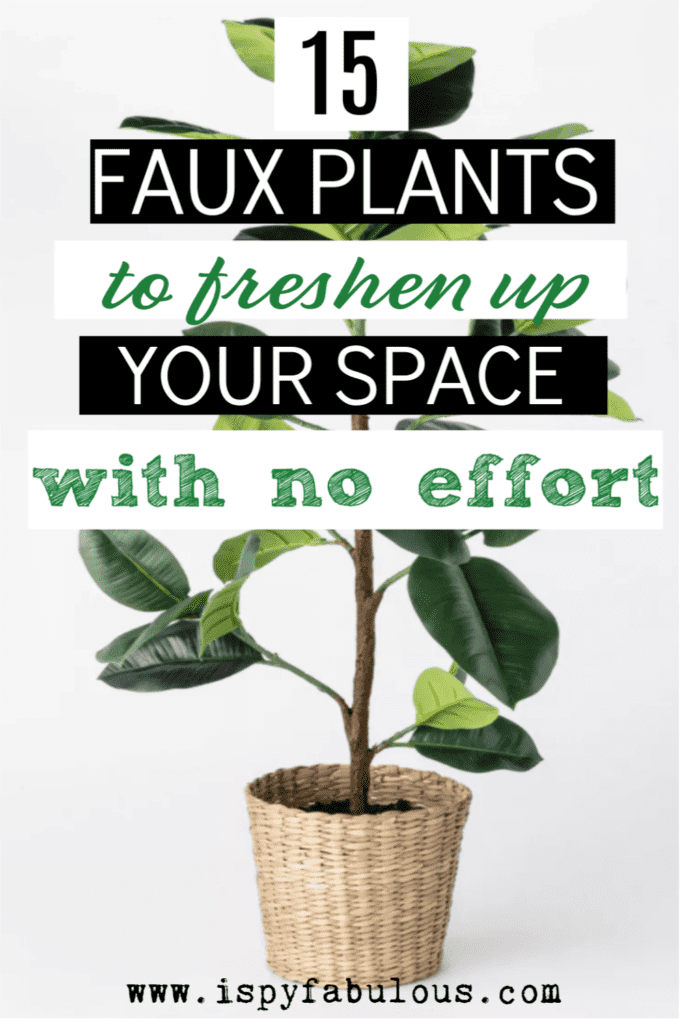 In my imagination, I'm a total plant lady who walks around watering my precious plants while sipping iced coffee and listening to the sound of ocean waves through my window.
But, I don't have a green thumb… and I don't live by the beach.
Luckily, faux plants can give me the lush, green indoor look I love without the maintenance.
And I'll just keeping working towards that goal of a beach house.
The Best Faux Plants that Look Real:
The trick to the best faux plants is you want there to be a nice variation, either in leaf shape and size, or in a slight variation of color. Textured stems and veining can add dimension too, which will help give them a more realistic look.
I'm also a big fan of pre-potted faux plants, because that just makes it even easier, but sometimes I find faux stems so good – I'm willing to break that rule.
Let's take a look at some of the best, super affordable, faux plants to bring the outdoors in – without the work.
This one is taking Amazon by storm. There are usually several different pots and plant designs, but they keep selling out, so you'll have to just see what's available when you go or you can watch and wait for them to come back in stock.
I think all the pot options are really cute, so it just comes down to what kind of greenery you want.
These are perfect for sitting on a stack of side table books or on a shelf. I even like them on the side of a fireplace mantel, too.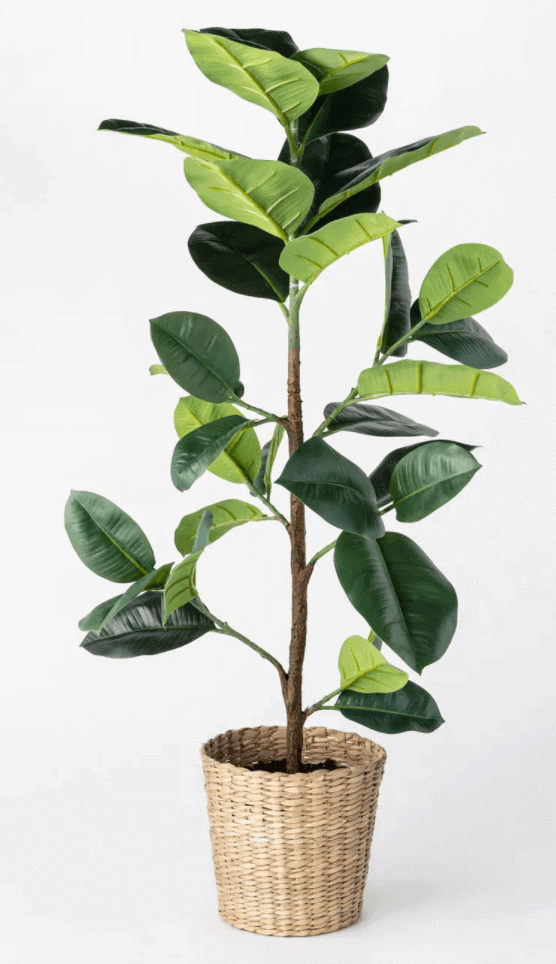 So, so good, people. This is part of the brand new Threshold & Studio Mcgee with Target collection. Their uber chic look is available for less, which is exactly the way I like to decorate.
This faux fern in a cute little basket is ready to go. Plop it in a corner that just feels empty or use it to add some nice separation between a larger room that has several different areas.
So good.
I'm not sure why, but I have recently become more interested in little faux cactus. I just think they are so cute an they add a little sass to the whole faux plant situation.
This one is the perfect size and also comes with the adorable pot.
These are adorable and you get 3 for a super affordable price. The consistency in the pot and similarities in the faux greenery means you can spread these out around your home and still have cohesion in your design.
Or, you can just space them out down the center of a long dinner table, add some tea lights to the mix and BAM – you've got table decor, baby.
And nobody would believe how much you paid for it…
These are SO cute. This little pack would be cutest clustered together or spread out on a shelfie.
Or, anywhere, really, because they are little, cute, mini, green plants in little white pots!
I'll be honest, I'm not totally sure what makes them "farmhouse" style, but hey – I still like 'em.
6. Vase with Flower Set

This little vase and flower set feels a bit more glam. I could see it in a cute bathroom or on a makeup vanity table.
Would also be so cute as a gift!
There are a few options and I also love this pink one that has a bit more grandeur:

I love these blue hydrangeas from Butterfly Craze. You get 3 per bundle, which is a good deal given the price.
I also think silk faux flowers look more realistic. The fullness and softness of hydrangeas make them an excellent choice for filling vases and adding warmth to your space.
Someday I hope to plant some real hydrangeas outside… so long as I am not the one in charge of taking care of them…
Ahhh, I love peonies. They are my MOST favorite flower. Ever.
These silk peonies come in a bright, beautiful pink and a cream. I have also seen some other colors pop up on the listing from time to time.
You can get a smaller bundle of 5 stems or 10 stems. The 10 stems is such a great deal, it's the best way to go, because then you can separate them into smaller vases to create several smaller bouquets or use them all together to make a big statement!
The bright pink with a black and white vase would be just a very Kate Spade moment, you know what I mean?
#CHIC

Want to make a bigger statement or fill a space? This highly-rated ficus comes in a variety of sizes and looks very realistic!
Set it in a cool pot and you're good to go!
Who doesn't love the look of matching topiaries framing front or back doors? Yes, please!
These are prelit – which will make them ready to go for the holidays or an evening party outdoors.
Don't forget to invite me 😉
This set of four is just decor that is ready to go!
You could even split them up and gift them as teacher gifts or housewarming gifts!
I'm a big fan of anything tropical. These large, luscious monstera leaves fall just perfectly from a tall, thinner vase.
Lots of options, too.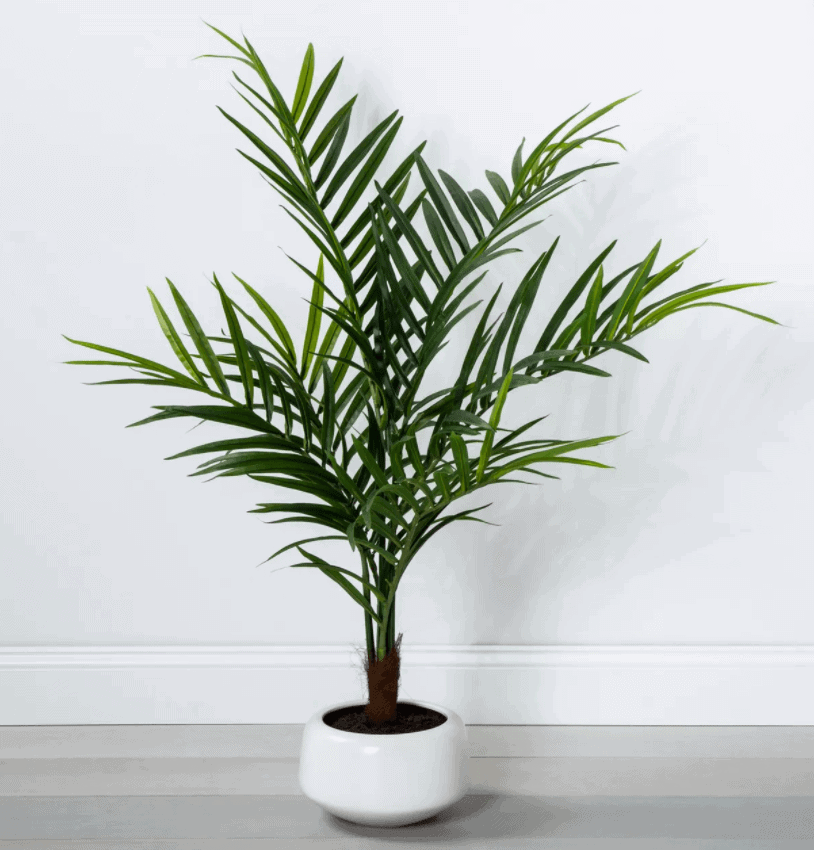 The Opalhouse line is one of my faves at Target and this large palm in a modern white pot is perfect.
Great filler for a corner or to add some greenery and texture to a space.
While this one doesn't come with a pot, the amount that comes in this bundle will give you a similar look with whatever wide, short vase you have at home.
Although I will say that I miss the smell of fresh lavender when I use faux.
Have you ever been to a lavender farm?
It's amaaaazing.
I have a set of boxwood topiaries that I picked up years ago and I am constantly rotating them all over the house.
I probably should buy more.
I just love a box topiary.
Highly recommend.
****
Do you have any faux plants? While I'll definitely agree that real plants are always preferable, you can't deny the ease of faux.
If you love home decor posts, you might also like these:
Have a fabulous day,
E