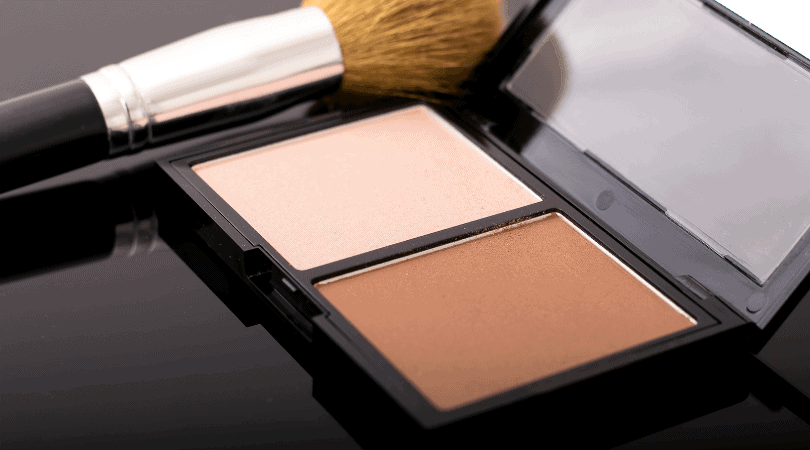 I can't think of one person in my life right now that doesn't wish they could snap their fingers and drop ten pounds or ten years. Who knows why most of us never feel "just right", even though we are, but the good news is, you can fake it until you feel it with incredible makeup hacks, like contouring.
Sometimes, we just need immediate gratification, am I right?
The Power of Contouring: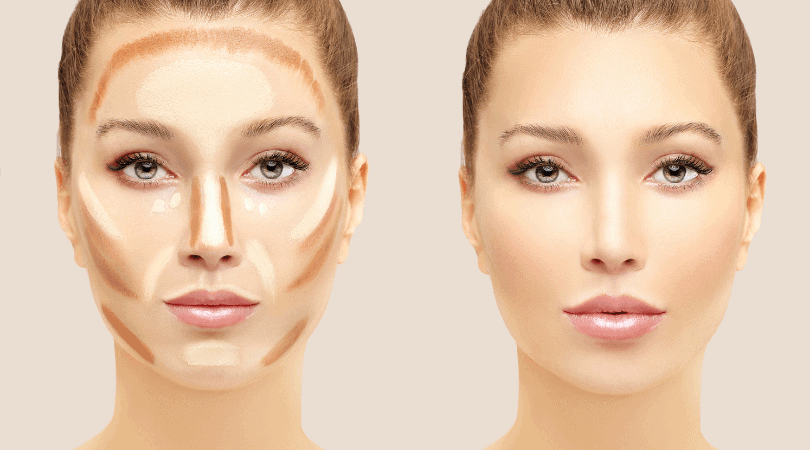 The beauty of contouring is that it's just a little shadow and highlight trick to accentuate your natural bone structure, but it can instantly takes years and pounds off of your face.
So, if you're looking for a quick pick-me-up, these simple contouring tricks can help you slim down those cheekbones, tighten up that jawline, and tone that face – giving you the boost of confidence you might be looking for to strut your sexy stuff.
Something I love about contouring, too, is just how easy it is. You don't need a ton of products or years of makeup artistry experience to pull this off. All you need is a good bronzer or a foundation slightly darker than your skin tone and something to blend them with. Easy.
I'm recommending products I personally like and these are affiliate links, but you can always walk in to Ulta or Sephora and ask an employee to help you find a bronzer or contour color perfect for your skin. Don't go too dark when you're a newbie. Start with something subtle while you get the hang of it.
How To Tips for Contouring:
Remember that contouring is going to go right in your natural bone structure. If you have a round face or don't feel like you have any definition in you face at the moment (even though you do), get your fingers involved and feel for the bones in your face.
Then, after you place the contour, blend blend blend. Seriously – just keep blending. The fade will happen in stages and it usually takes a couple of passes to get it really seamless. When in doubt – keep blending.
Now, let's talk about the 4 places where contour is going to go and why! I even made you a little infographic to make it even easier: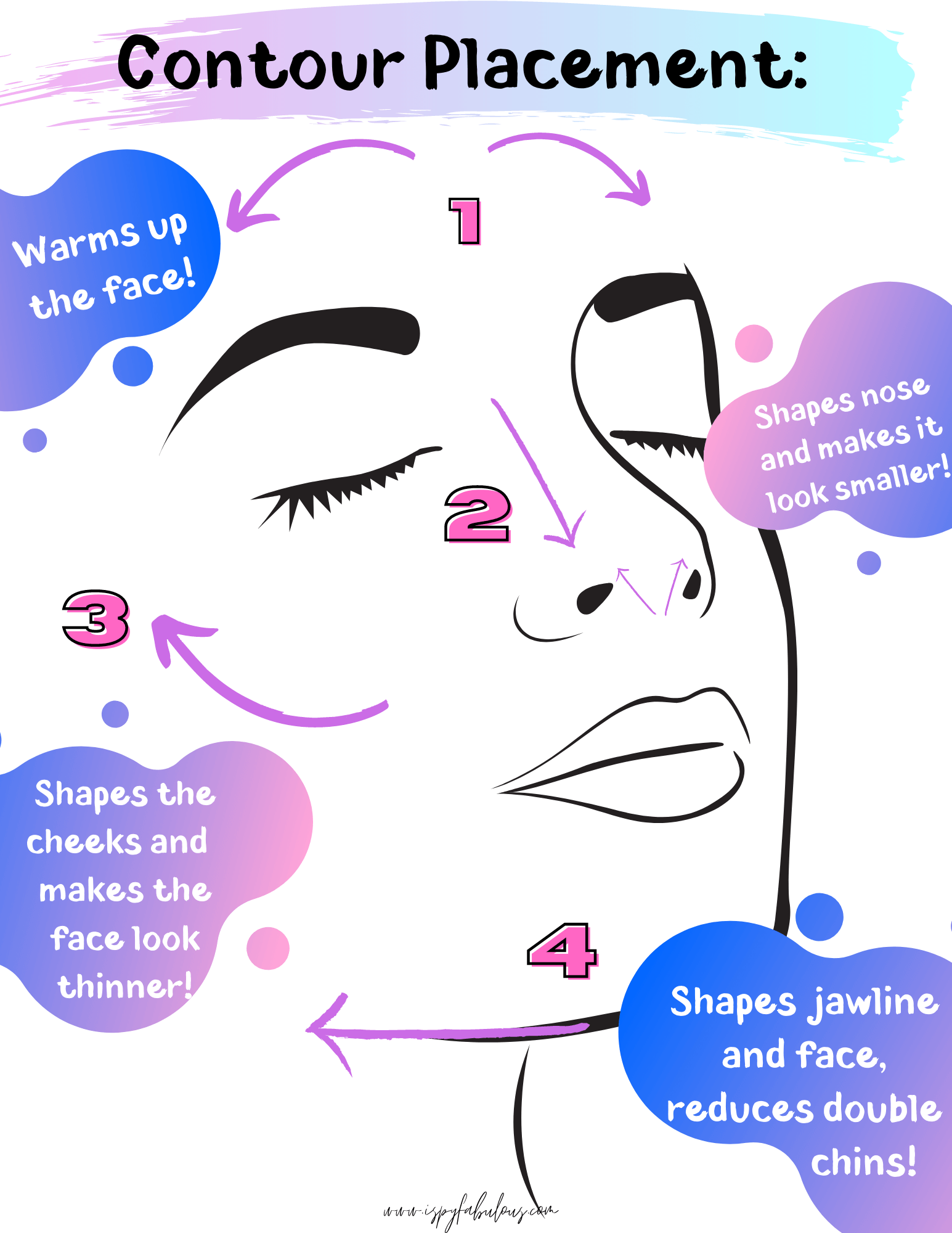 1. How To Contour Your Hairline:
Adding some color along the hairline on your forehead and going down to your temples does a couple of things: first, it helps shrink your forehead a little, and slims the side of your face, which helps draw attention to your beautiful eyes. Plus, it adds warmth to the face. If you're super fair like me, this is an easy, quick win.
The trick here is not to go too heavy and start a little bit to the side of the center. Then, do the other side, leaving a little pocket right in the center that is very light or doesn't have any. Then, blend, blend, blend (seeing a theme here?).
2. How To Contour Your Cheekbones:
Ah, my personal favorite. I loooove contouring under the cheekbone, because this is where the ultimate face shaping happens. You'll get the biggest bang for your buck on this one.
Simply swipe from mid-cheek out towards your ear, placing the contour directly under your cheekbone where your cheek naturally starts to sink a little. If you are blessed with full cheeks (trust me, you'll miss that as you age) go ahead and get handsy with your face. Feel where the bones are with your fingers and then you'll know exactly where the contour goes: underneath those bones.
Then, don't forget – blend, blend, blend!
3. How To Contour Your Nose:
Okay, this is trickiest one. It's verrrrry easy to overbake your nose and start to look like skeletor. Really play it cool here.
You want to contour along the sides of your nose, avoiding the top and the tip. Then, you do a little v-shaped contour along the front of your nose, if you want it to appear smaller/shorter. If you don't, skip this part.
The contour lines or the brush you use for the bronzer will be smaller here and you want to apply with a light hand. Over-contouring the nose happens fast and is not a very flattering look.
Practice and just keep blending if you feel it's shaping your nose too much.
4. How To Contour Your Jawline:
I love this one. It's like instant cosmetic surgery right here. You look like you did 500 facial exercises or got a facelift, but all you do is swipe a little contour right on/underneath your jawbone and it literally takes years off your face.
With the right application, you can help hide those double chins, camouflage slightly dropping jowls, accentuate your gorgeous bone structure and warm up the face.
Honestly, if you do anything on this list with gusto – let it be this one. It's so good.
All you do is add contour right under/behind your jawbone, starting under your chin and moving to one side and then doing the other. Then, you guessed it, blend, blend, blend.
******
Contouring is not a complicated makeup hack, but it packs a serious punch! You can look immediately slimmer and younger with the right placement and blending of a color slightly darker than your natural color!
Then, once you've perfected this look, you can start adding in a slight highlight color, and don't forget a little bit of a blush on your cheeks. Seriously, it looks good on everyone.
For more great makeup tips, check out these posts:
I'll be back soon with more makeup hacks. Let me know in the comments below what you'd like me to cover!
Have a fabulous day,
E