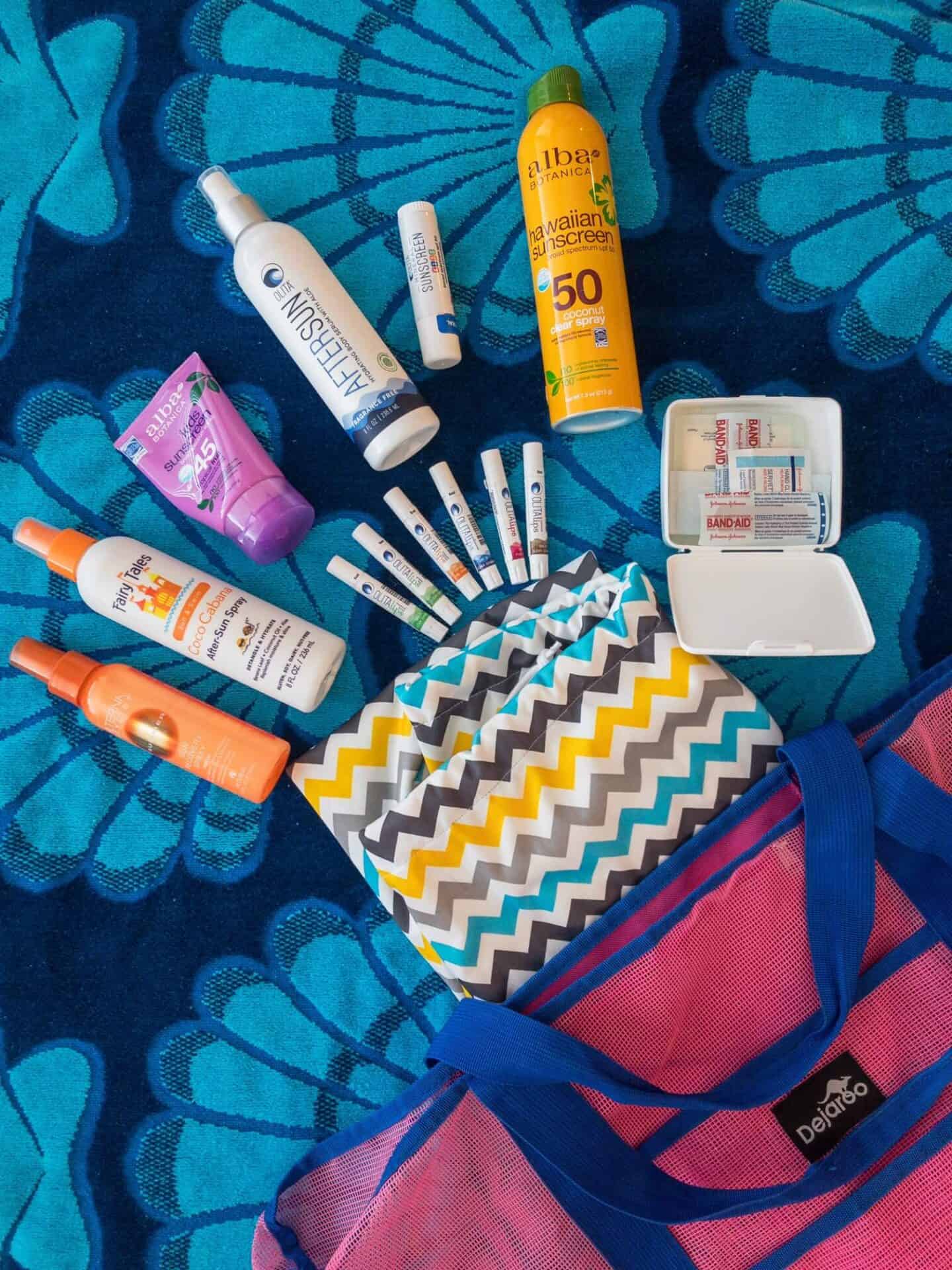 The sun is shining, the temps are rising, and that means one thing over here – time to pack the pool bag and go have some fun! It always super exciting for kids when they finally reopen the neighborhood pool and they get to suit up and go for a swim.
I spend a lot of time sourcing products that are as clean and safe as possible, not just for us, but for the environment, too. And, especially when we visit Hawaii and the beach, I really look for reef safe sunscreen that doesn't have any of the harmful chemicals found in the dirtiest sunscreens.
So, since I've been packing the pool bag a lot lately, I thought I'd empty it out for you today to share our favorite products for the whole family!
Reef Safe vs. Reef Friendly:
Reef safe formulas avoid chemicals that can be harmful to marine life, while reef friendly may not be as safe, but avoid the worst ones.
If we're in pools, I'm fine sticking with reef friendly formulas that don't have oxybenzone or the worst offenders on the no list, but if we are at the beach, I crank it up a notch and go for reef safe formulas only.
I recently found a new line of reef safe, non-toxic products that are amazing and I can't wait to share them with you!
My Favorite Reef Safe, Non-Toxic Sunscreens: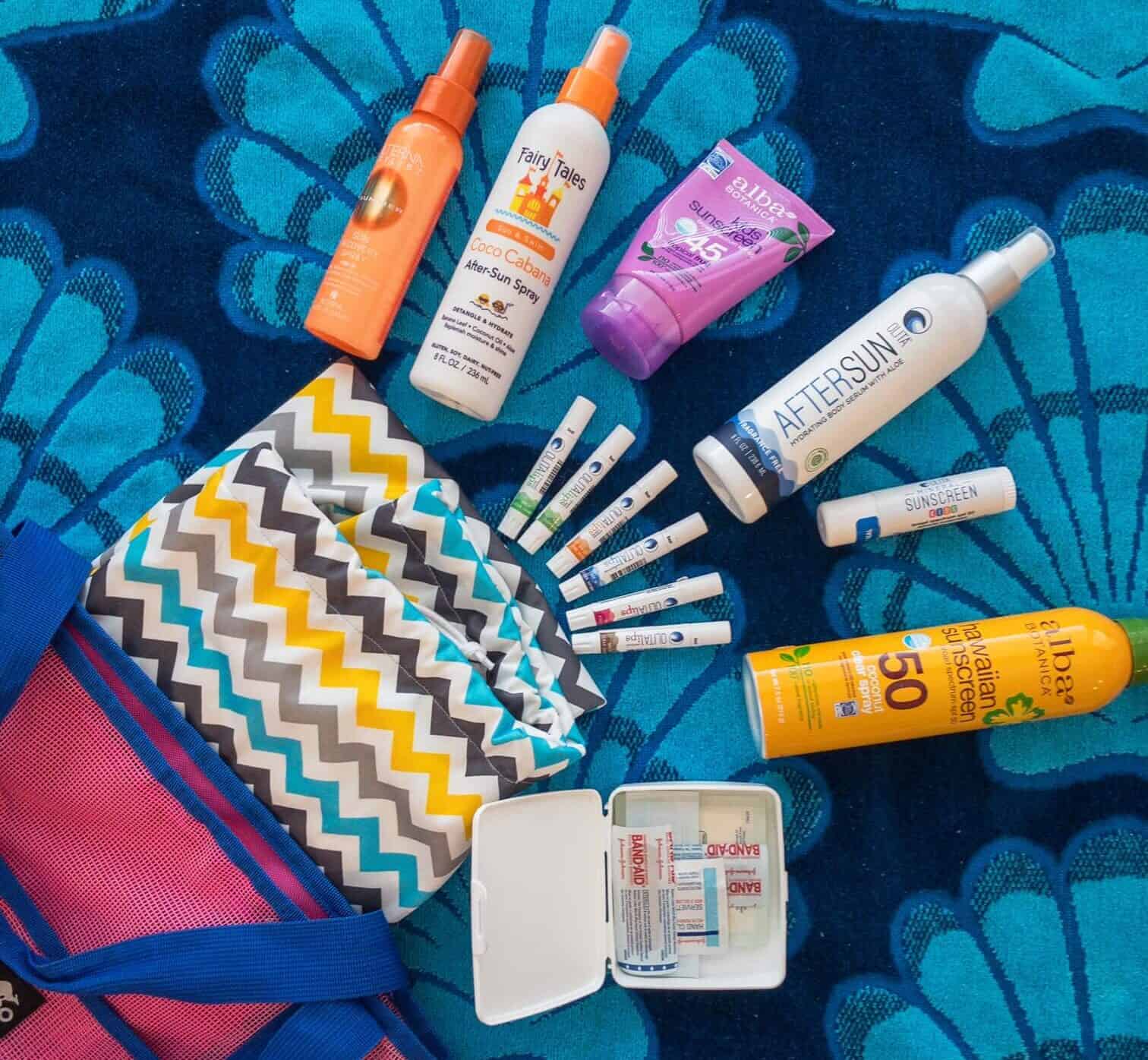 Let's start with a new line I have recently heard about and absolutely love, Olita! They're 100% made in the US and are based right here in sunny California! They work hard to create high performing, clean products that are as safe for humans as marine life and donate 15% to the Coral Reef Alliance. I love a company that gives back!
I have recently found a few products from them that we are all loving and have become staples in our pool bag: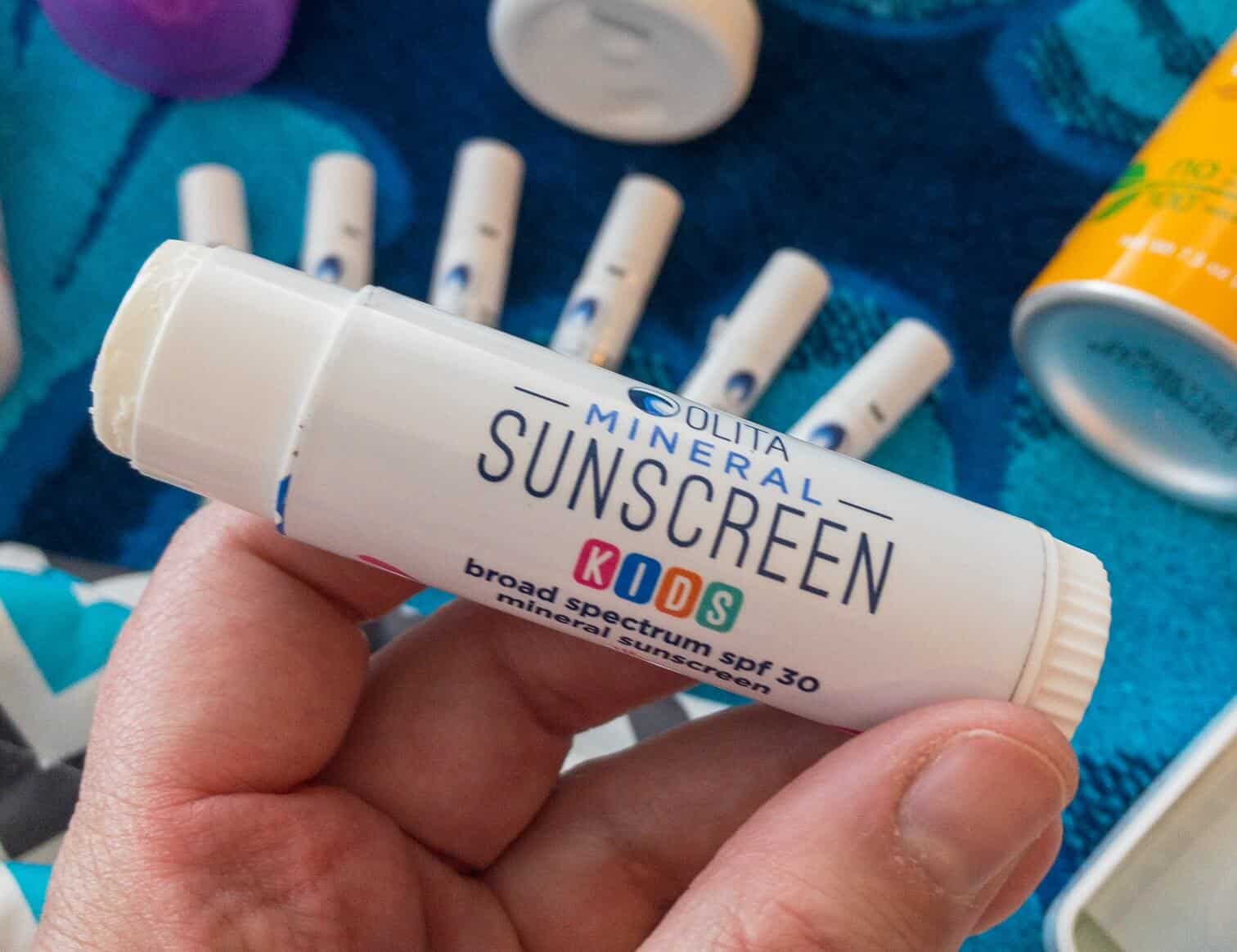 I love this stick. This makes applying sunscreen to my kids faces so much faster and easier. I just swipe a few stripes all around their face until they look a little like white tigers and then use a clean beauty blender sponge to help smooth it around, so I don't miss any area!
Seriously, if you're not using a blender sponge to apply sunscreen – you are MISSING OUT #MomHack!
The ingredient list is short and sweet, just the way I like it: Zinc Oxide 18.0%, other ingredients: Sunflower seed oil, beeswax, olive oil, tocopherol, aloe vera leaf extract, canola oil.
Aloe vera leaf extract is so soothing and great for skin, so I love that they include that here. Plus, this sunscreen rates a 1 on the EWG – awesome!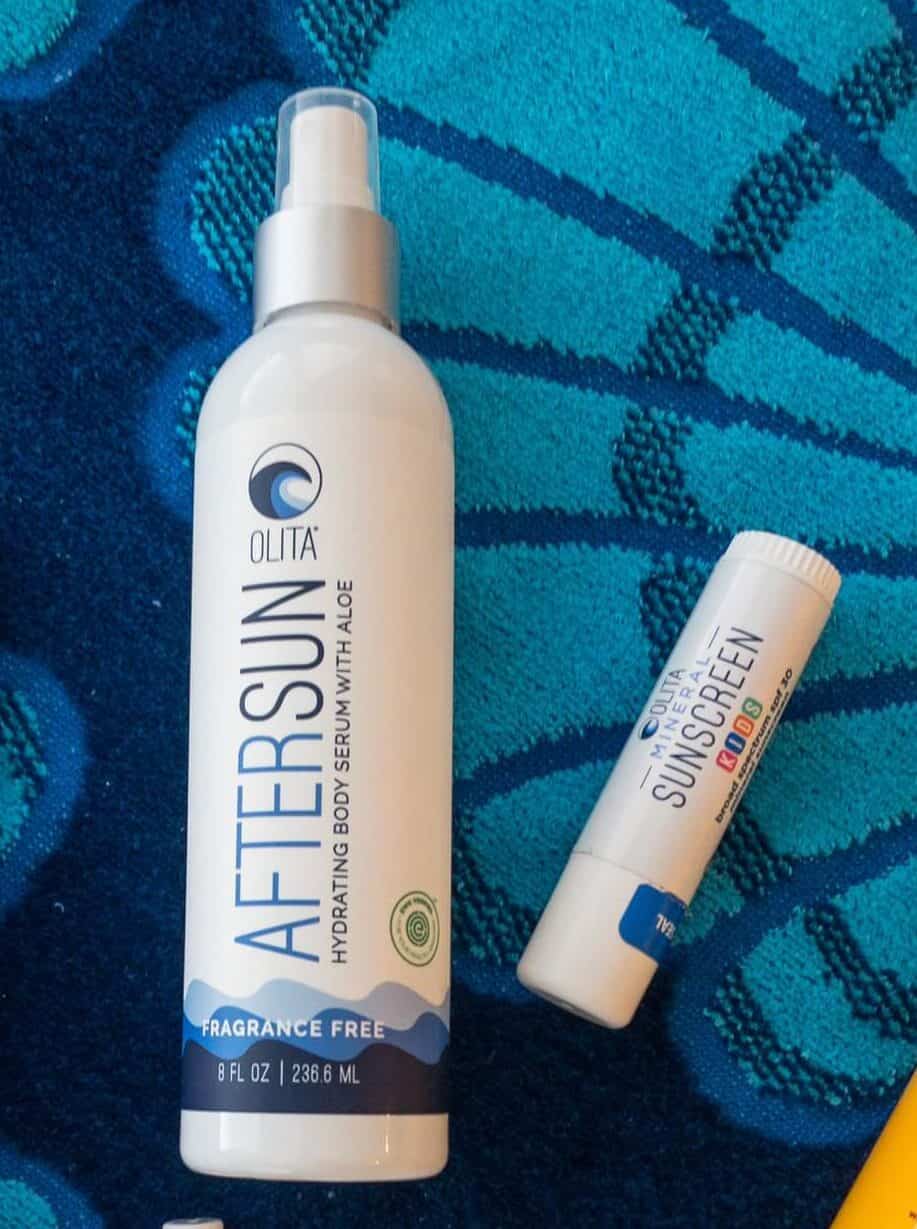 Okay, I absolutely LOVE this serum. Some of my kids got my super fair, prone to burning in 15 minutes, skin – while luckily the others got a bit more tan from their dad. Either way, we always apply sunscreen and reapply every 45-60 minutes of being in the water.
But, for my son and I, we still end up with warm, pink skin at the end of a pool day. This serum is a godsend. Last week, we both had that warm, almost burnt, skin. I applied this serum, which felt so good after being in the sun for hours, and then we went to bed. When we woke up – neither of us were burned at all.
Packed with coconut oil, aloe vera, apricot kernel oil, safflower seed oil and more, it's calming, hydrating, but soaks right in. I absolutely love this product and will definitely be keeping it stocked from here on out!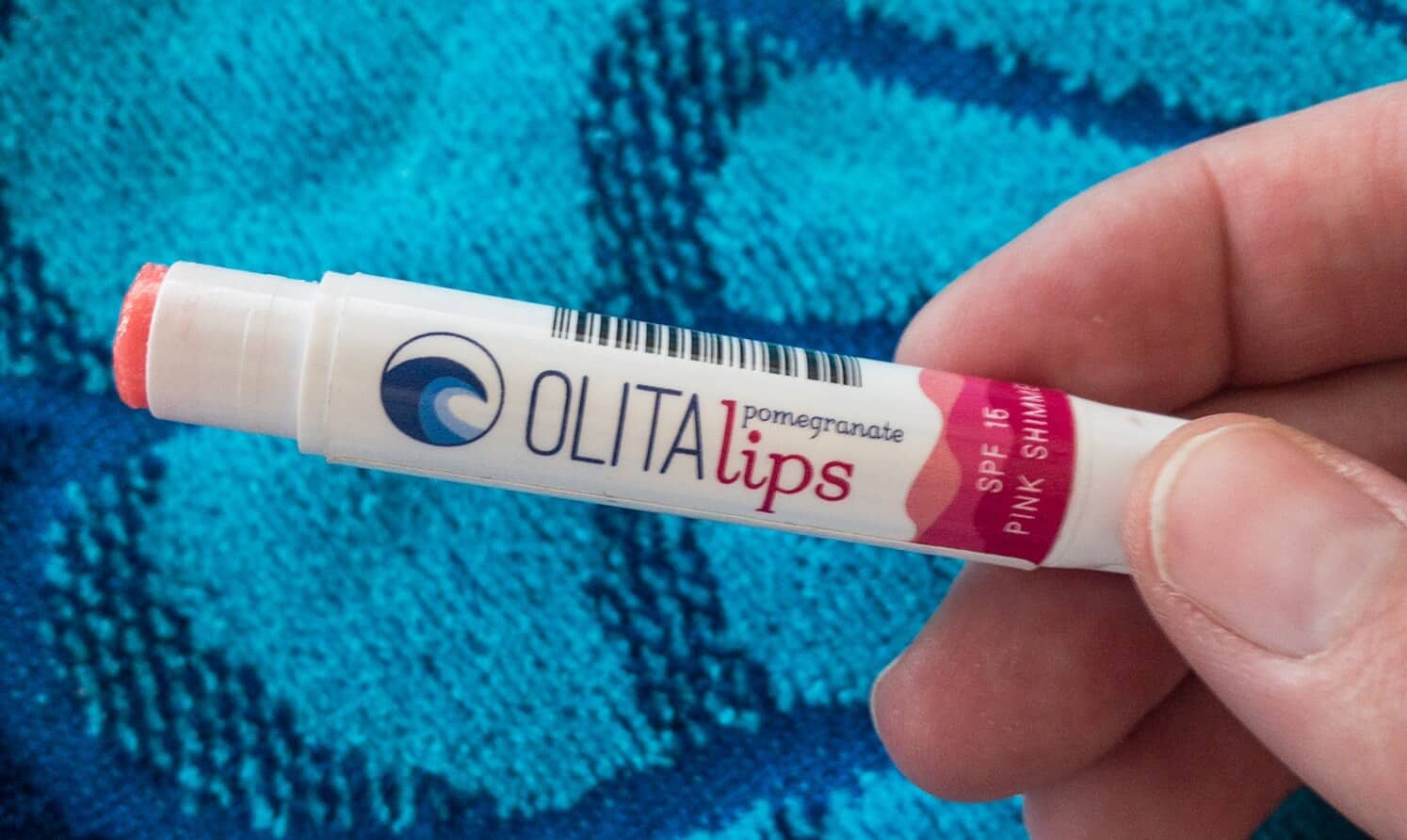 Ever get burned lips? Yeah, that happens. And, once it happens to you – you never forget it! That's why I make sure we all get our sun protection on our lips, too.
The Olita Lips are such great formulas, didn't melt in the sun, and are easy to apply on little lips. Plus, they have different flavors to choose from.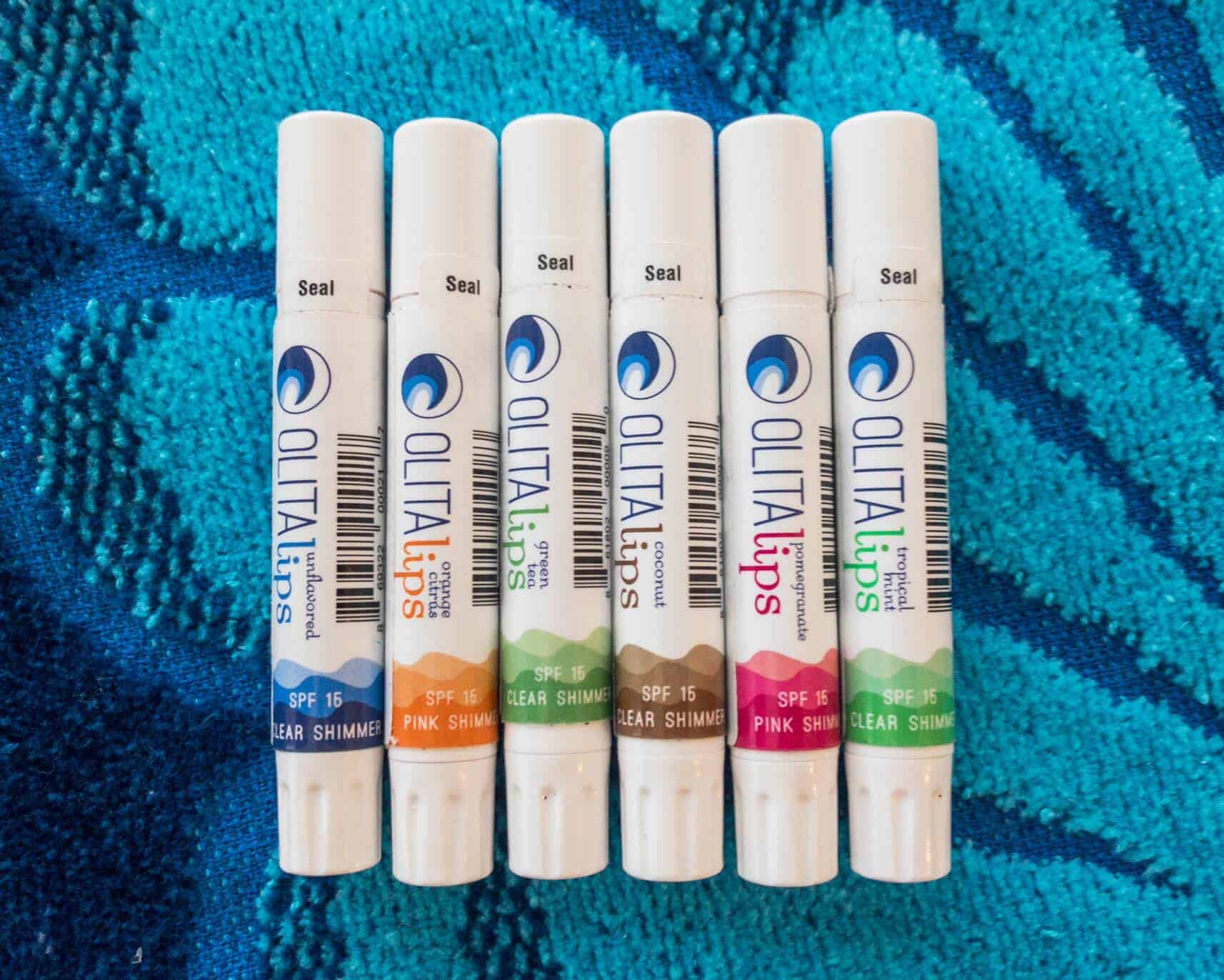 Yeah, I might have a problem. What can I say? I hate dry, chapped lips!
Plus, we all have our favorite flavors (I like the pink shimmer!).
Reef-Friendly, Non-Toxic Sunscreen Options:
Some more options that we really love for non-beach days are the Alba Botanicals sunscreens. The Hawaiian Sunscreen Coconut Clear Spray is great for when you want to spray down, stay sun safe, and avoid the worst chemicals like oxybenzone and octinoxate. This does rank a 3 on the EWG, so not as clean as the Olita.
Plus, the Alba Botanicals face sunscreen is my favorite for my own face. I burn quite easily and the SPF 45 gives me extra protection. Like the spray, this also ranks a 3 on the EWG.
Sun Products for Hair: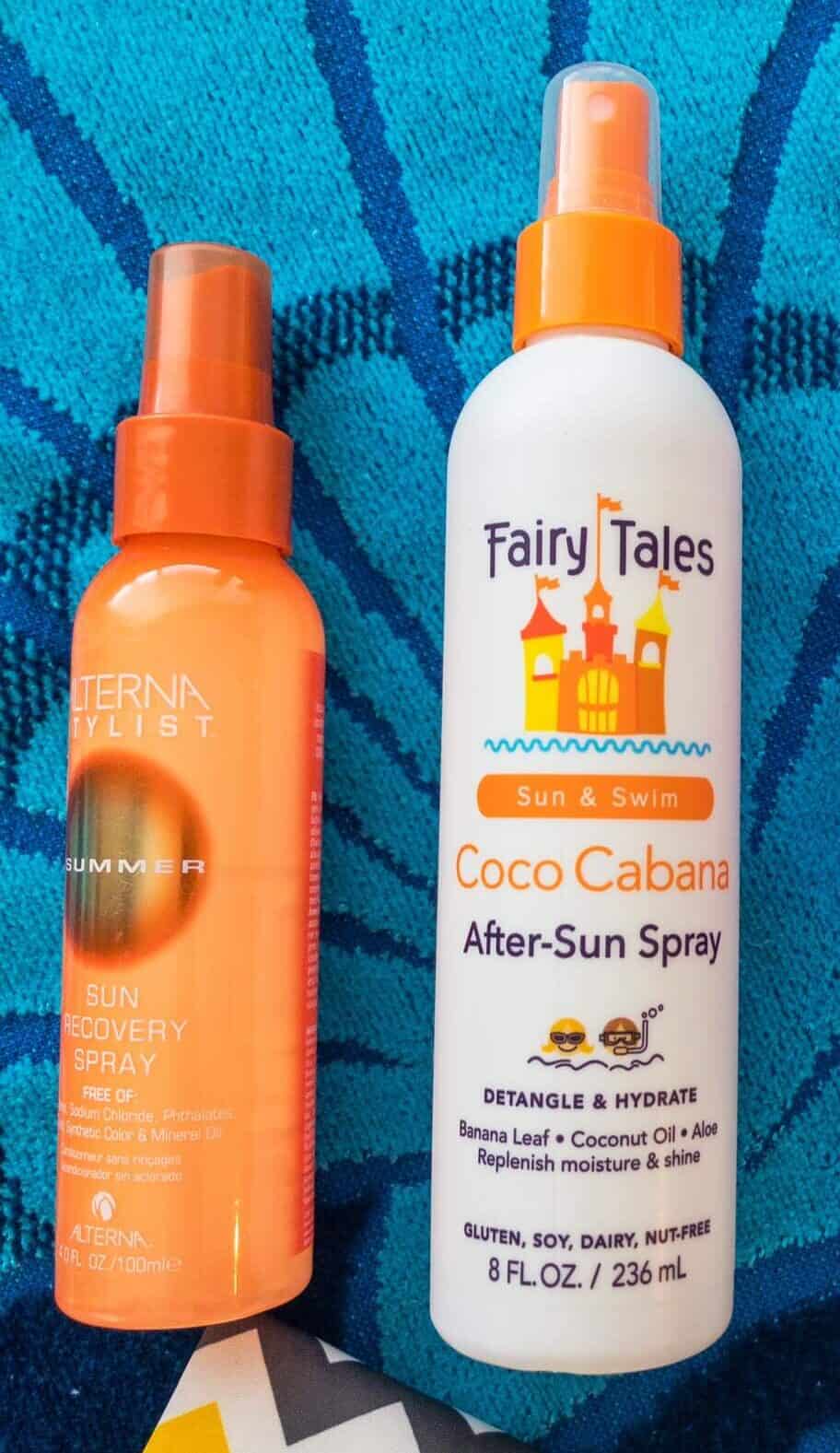 Don't forget your hair! I have two different after sun sprays, one for me and one for the kids. My hair is color treated and gets damaged easily, so I make sure to squeeze out extra water with a towel and spray my favorite after pool spray all over with this, before sticking my hair in a bun.
For the kids, I love this spray for neutralizing chlorine, keeping hair hydrated and getting rid of tangles.
My Favorite Pool Bag:
I went through a LOT of different pool bags before finding this one on Amazon. It is so great, because the design doesn't hold on to any sand – it literally just falls out of it. Plus, it has a generous size. Just check out how much this bag can hold: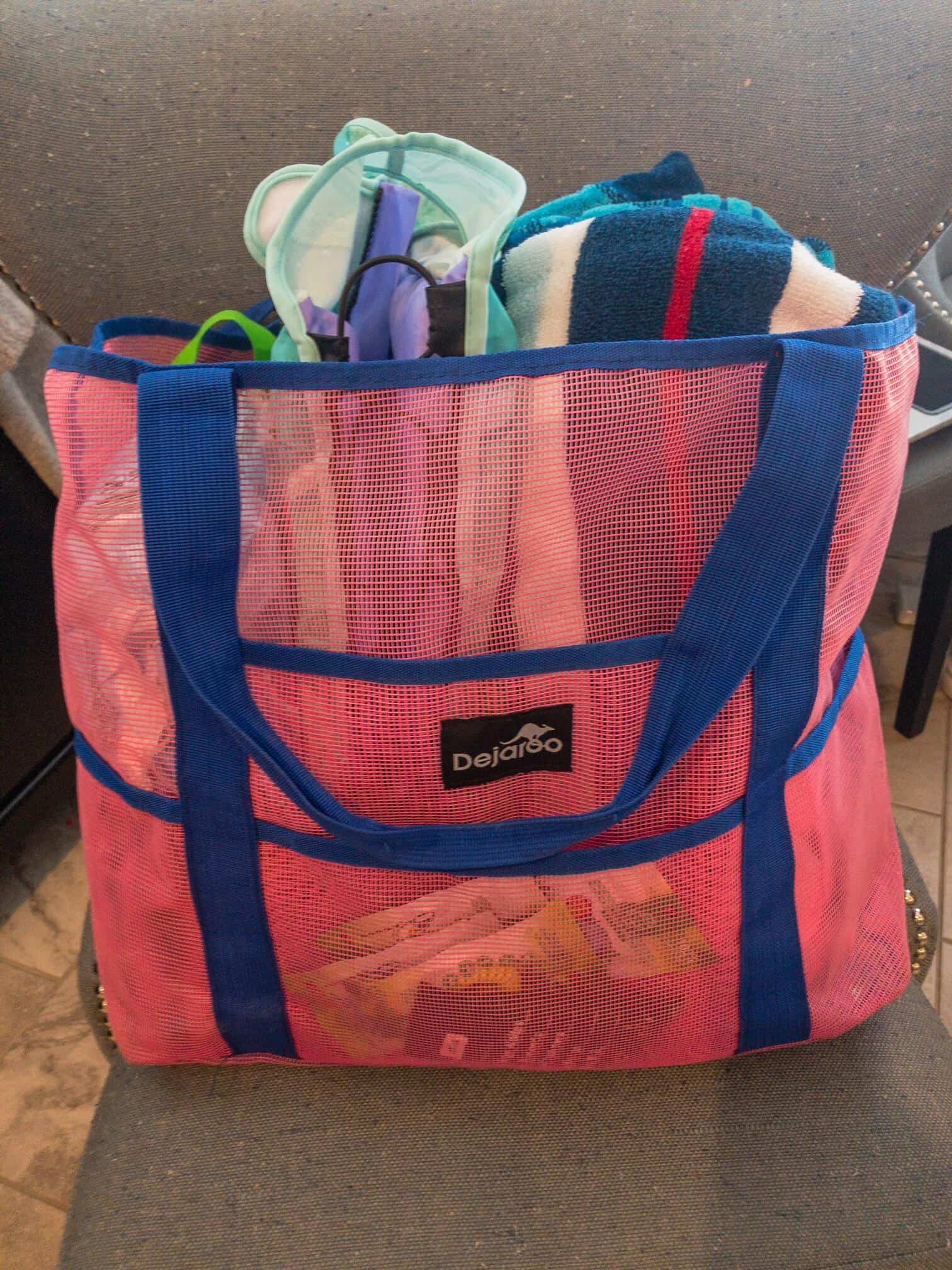 I will say there's a bit of a strange smell initially, but it does go away after you use it for a bit. Since I'm not sticking my face into it, it didn't really bother me, so long as it got the job done (and it's super affordable).
I've actually had this one for 2 years and it's still going strong. Score!
More Pool Bag Essentials:
And, because I have kids – I always pack a first aid kit and a wet bag to hold all those wet clothes when they change, bug spray, a brush, snacks and plenty of towels!
*****
There you go! My favorite reef safe, non-toxic sunscreens and pool bag for long summer days hanging out by the water.
I'd love to know what your favorite non-toxic sunscreens are and if you've tried Olita!
Have a fabulous day,
E