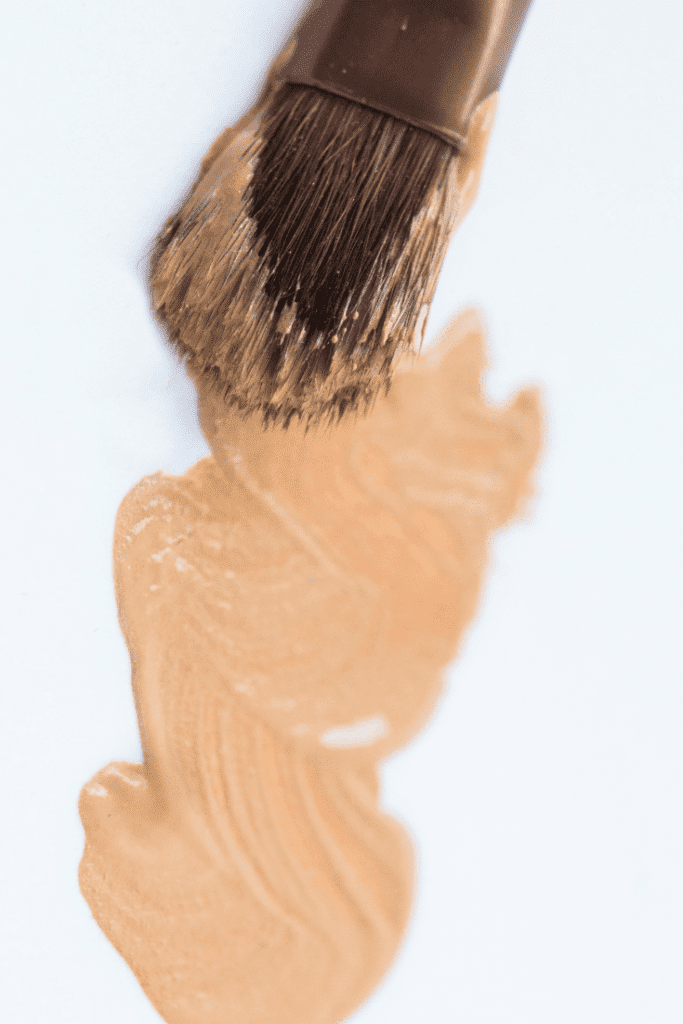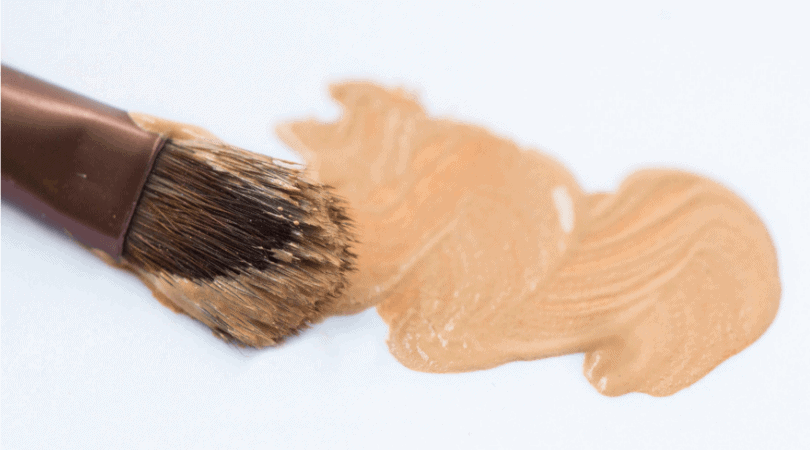 Foundation is usually pretty self-explanatory. You apply creams and powders with a sponge or brush, you apply liquids with your fingers or a sponge, but how do you apply stick foundations?
This Beauty Class is doing a deep dive into stick foundations: why use them, what makes them unique, and, most importantly, how exactly do you apply them?
Let's get started:
Why Use a Stick Foundation?
Stick foundations are a cake foundation stored in a tube. Typically, they offer more coverage than a liquid foundation, but it depends on the stick foundation and brand that you choose.
Also, because of the consistency of stick foundations, they can also serve as a concealer. Just use a concealer brush to tape the foundation and then apply like a concealer.
And, lastly, they travel exceptionally well, so if you are struck with wanderlust, a stick foundation may be the easiest foundation to travel with.
Stick Foundation Benefits
Stick foundations often contain skin care ingredients as well, similar to a BB cream, so you'll get the benefits of active skin care ingredients with your coverage – potentially improving your skin with each use.
Also, stick foundations can be very quick to apply – and much less messy than working with liquids or powders. Great for when you're getting ready quickly or even doing your makeup in the car (safety first – make sure you're not trying to drive and apply makeup, please).
Stick Foundation Concerns
Because stick foundations are often applied direct to skin, some concerns include bacteria growth in the foundation. I have never had an issue with this and usually you would know because of breakouts or changes in your skin.
Also, if you are very concerned with this, you can just use a brush to apply, but this will take more time.
Another concern was that they don't last as long as a liquid. Personally, I feel that stick foundations last longer. This could be that I know how to apply them so I'm not wasting product.
Either way, using my easy application method below, you shouldn't have an issue with your stick foundations lasting.
How To Apply Stick Foundations
Similar to other foundations, there are a few application methods that work best, and I'll be showing you a simple way to apply stick foundation quickly.
While stick foundations have earned a reputation for being "cakey" in the past, most of this comes down to how you are applying them and less about the product itself.
Get Ready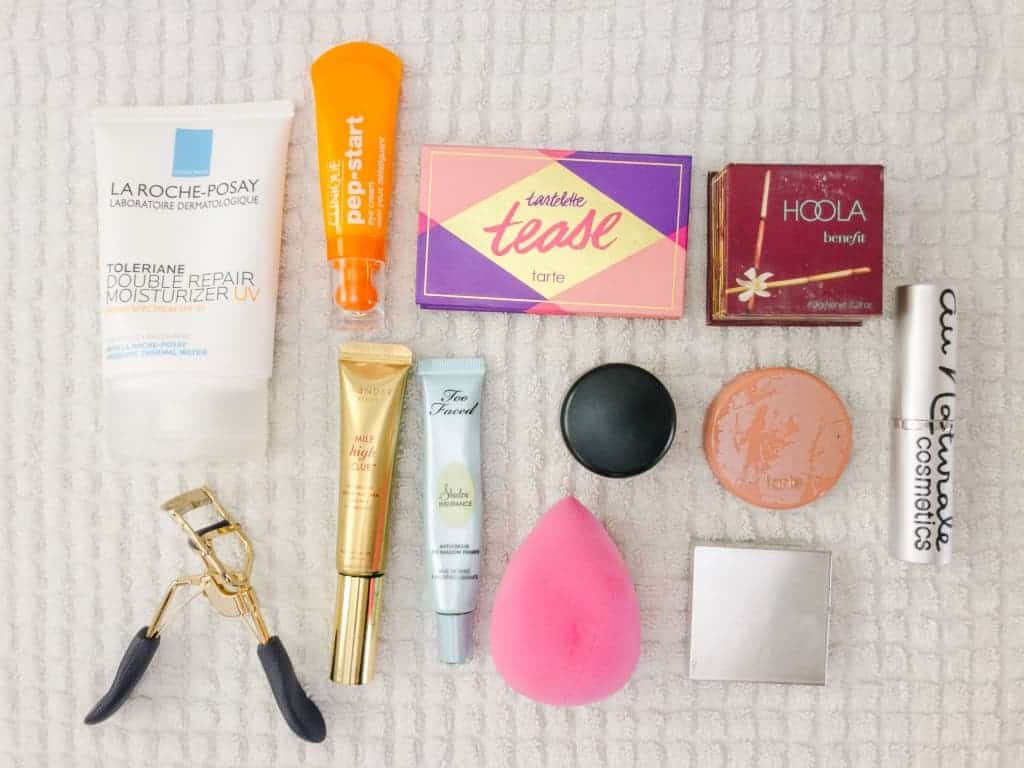 I like to lay out what I'm going to use before I get started. This alleviates fumbling with products while makeup is setting where I don't want it to.
Today we'll be using:
You will need either a foundation brush or a blender sponge and here are some I recommend (affiliate links used). I have recently started using Luxie and am really impressed with them:


I share more highly-rated stick foundation options at the bottom of the post, but here are a few to get you inspired:


How To Apply Stick Foundation:
1. Prep For Foundation:
My lovely cousin is my model for today. We started by adding a layer of daily moisturizer with sunscreen all over her face.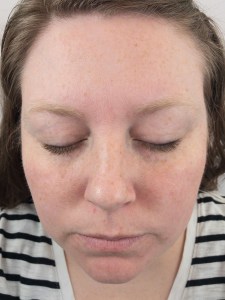 You want to prepare your skin so that you have a nice, blank canvas to work with. I have always used a nice moisturizing sunscreen, so you get sun protection and a nice even layer on your skin. This is the daily sunscreen I use and it's amazing. Read more about the facial sunscreens I recommend in this post.
You can also layer a primer on top of the lotion. Benefits of primer are that they will help keep the makeup from sinking in to your pores – which can magnify fine lines, large pores and even cause breakouts. I am obsessed with primer and wrote an entire guide to the best primers.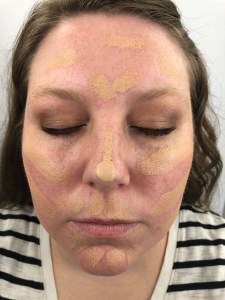 Now, all you have to do is take your stick foundation and gently draw short lines around your face. You can also use dots if you want even less product and lighter application.
Then, take your foundation brush and work from the middle of your face and going out and up. This just trains the skin to go that direction and will help a little bit with aging. Plus, this will take any small facial hairs and move them out and up as well, making them less noticeable. If you'd like a super easy, affordable way to get rid of that peach fuzz – I highly recommend these. Please watch a tutorial before using.
At this point, the foundation may not look like it has become seamless yet. That's okay, just work on getting a nice even application all over your face with no blotches or harsh lines. Blend down below the jawline and the chin. blend all the way up into the hair line.
Blend. Blend. Blend. If there are any noticeable spots or scars, it's time to conceal: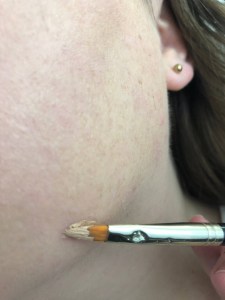 Use a concealer brush or your finger to dab some of the foundation under the eyes, on top of any blemishes or uneven patches of skin where you would like more coverage.
Blend the edges of this additional foundation so that the foundation is seamless.
I wrote a whole post on my favorite drugstore concealers if you're looking for ideas.
Don't forget to blend the makeup down your neck a little and all the way into the hairline around your face.
3. Time To Blend:
Just like we discussed in my post on How To Apply Eyeshadow for Beginners, blending is one of the most important parts of any makeup application. Nothing looks worse than a mask of makeup that looks like it could pop off your face at any time.
Blending is the process of helping the makeup melt into your skin and truly accentuate your natural beauty. There are a couple ways to do this, the easiest being a damp beauty blender sponge. I love these super affordable beauty blenders on Amazon. You get 5 for $10. You can use them multiple times and even was them with makeup brush cleaner to make them last longer.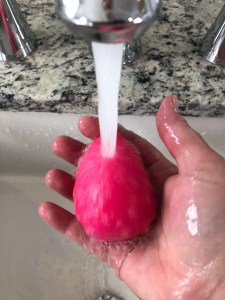 You just wet the sponge under running water until it is soaked all over. Then, squeeze out the excess water so the sponge is just damp.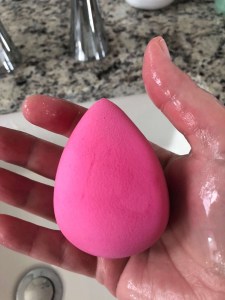 Then, start dabbing the damp sponge all over your face. Just blot blot blot all over your face, undereye area, neck, everything.
I wrote a whole post on how to use beauty blender sponges, so if you need more help with this, check out this post.
This step will literally help your makeup to soak right in and look like your own skin, but better. The difference is pretty remarkable!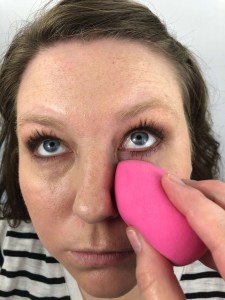 4. Finishing Your Foundation: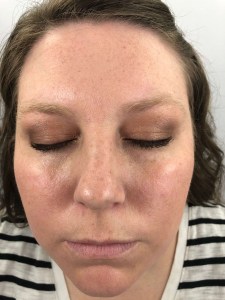 Now, your foundation is applied and you could stop here if you like the glowing look. For a more matte complexion, take a large dusting brush and apply a thin veil of powder. Here I am using this super affordable, drugstore pick from Neutrogena.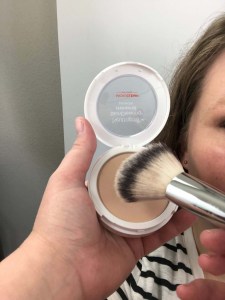 Once you've applied foundation, you may want to add back in a little color only where you want it. This is the purpose of blush and contour.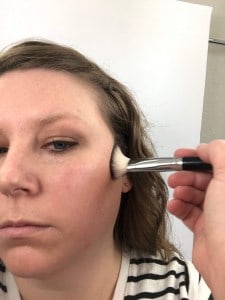 For contour, take an angled foundation brush and brush contour underneath cheekbones, sides of nose, under chin bone and along hairline – unless you have a small forehead. Blend it in so there are no harsh lines.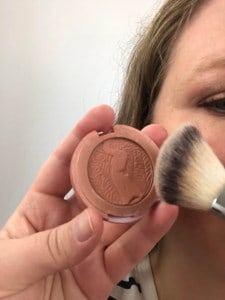 Take your blush, dap with a large blush brush or the angled brush again and dab on the apples of the cheeks and going up the cheekbone, smoothing out any lines with the contour.
There is a big movement to over-contour and highlight the face. I am a bit old school in that I like the face to do the work for us. Your natural bone structure will do this with a little help. If you do love the "baking" look – you can definitely find tutorials on that. For some amazing makeup tutorial books that will go in depth on everything you could want to know, check out my popular post on makeup books.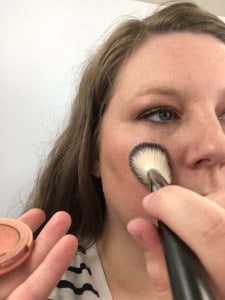 Some opt to add a highlighter as well at this point. This is an extra step that everyday makeup application really doesn't require, but you can do this if you want extra brightness to the face.
Highlighter goes where you want the light to catch the face, such as:
In between eyebrows
Center of the forehead
Top of the nose
Middle of the chin
Tops of your cheekbones.
When you're finished, you should see light definition, but no obvious lines between the different types of makeup and foundation: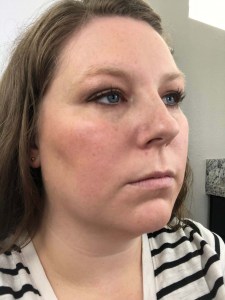 Highly-Rated Stick Foundations To Try!
Ready to try stick foundation for yourself? Check out these highly rated options from drugstore and up!
My favorite, but drugstore foundations are getting realllllly good. See the next one for an option that might just blow you away: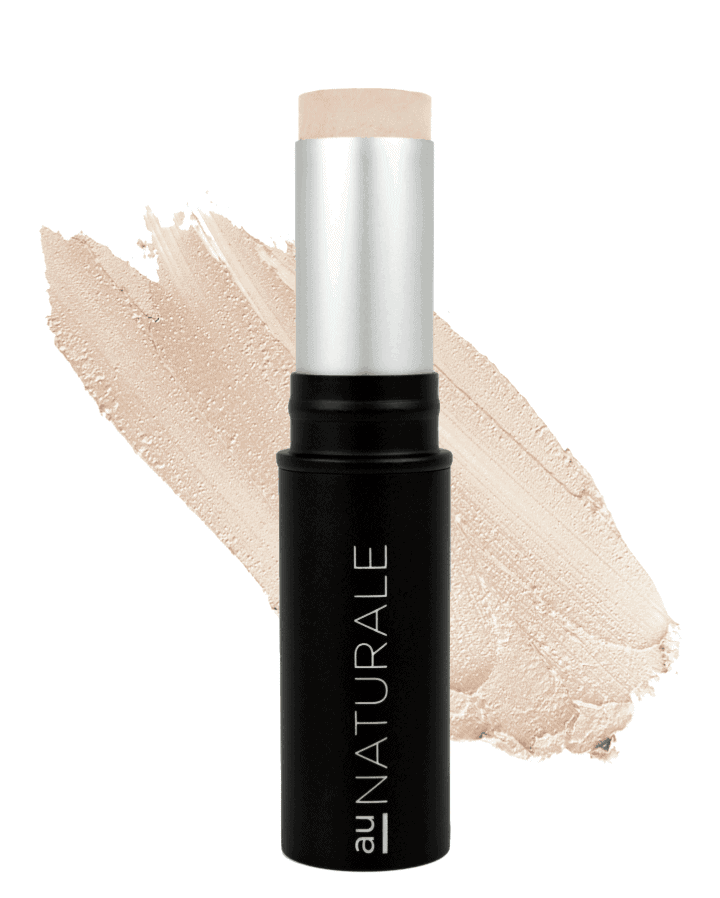 This is a fan fave from my post on sweatproof drugstore foundations – because it comes with a little blender sponge, it makes it even easier.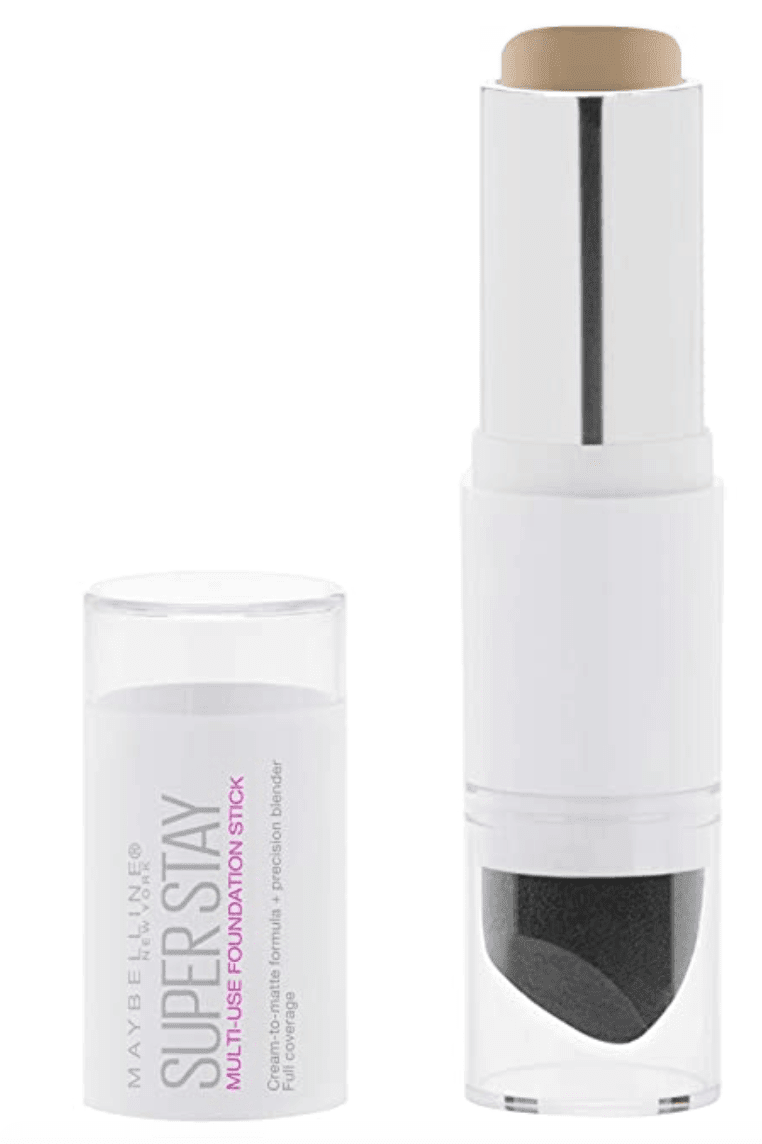 Tarte is such a killer line. Their eyeshadows, eyelid primer, concealer – everything. Gah! So good.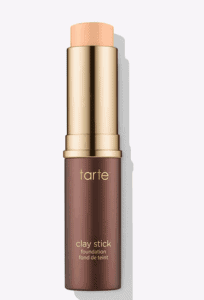 On a budget? Don't be shy. Nobody has to know it's a drugstore foundation if you're applying correctly.
Huge fan of BM – they have really great products. Some of their products I have used since college.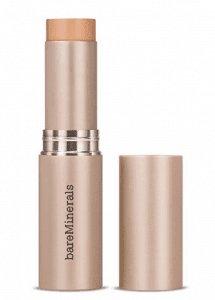 *****
There you have it! Gorgeous, flawless, traceless makeup application using stick foundation.
Stick foundation makes it so quick, easy, and less messy to apply foundation in a flash.
If you'd like to finish the look with eyeshadow, be sure to check out my beauty class on eyeshadow application. Or, read up on the differences between skin serums and skin oils, as well as different foundation types.
Stay tuned for more beauty class posts soon! Also, feel free to comment below with future beauty class posts you'd like to see!
Have a fabulous day,
E