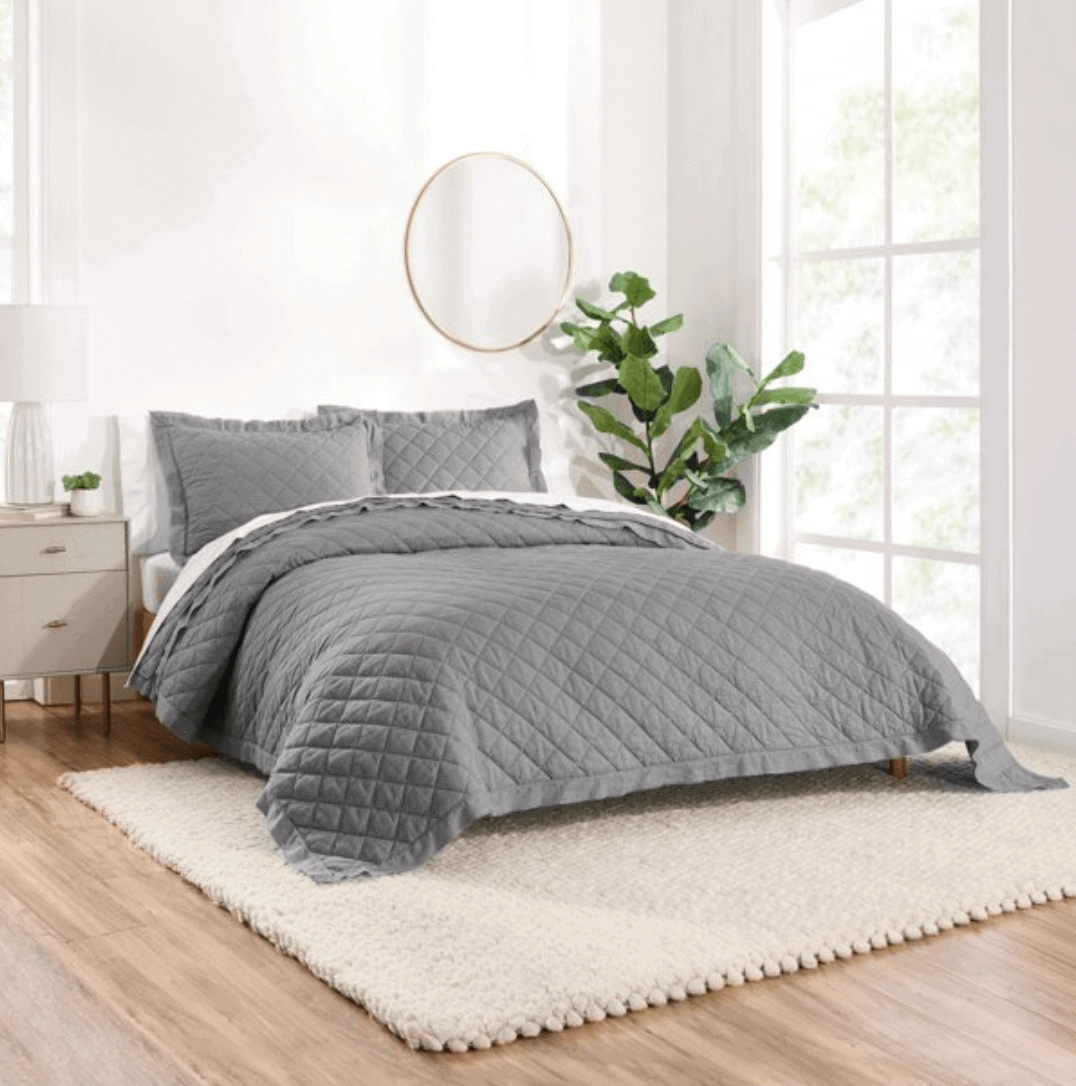 I think Pottery Barn has some of the best bedding collections on the market. Not to mention, their designers and bed makers put things together in a way that literally makes you want to dive right in.
I have admired their linen diamond quilt for a long time and it's been on my list of things to get when my kids are older. While we have had Pottery Barn bedding in the past and loved it, it seems a bit of a splurge when I have little kids and dogs running around.
So, when I spied the new collection of bedding from Gap Home, exclusively at Walmart, with affordable pieces that with a very high-end look – I was ready to click "add to cart".
Let's take a look at some of the ones I picked up, that have a very similar vibe to some PB bedding, and some other pieces from the collection you won't want to miss. OH, and you won't BELIEVE the prices!
*Affiliate links are used in this post, which means at no cost to you, I may receive a commission if you make a purchase through my links. Win win!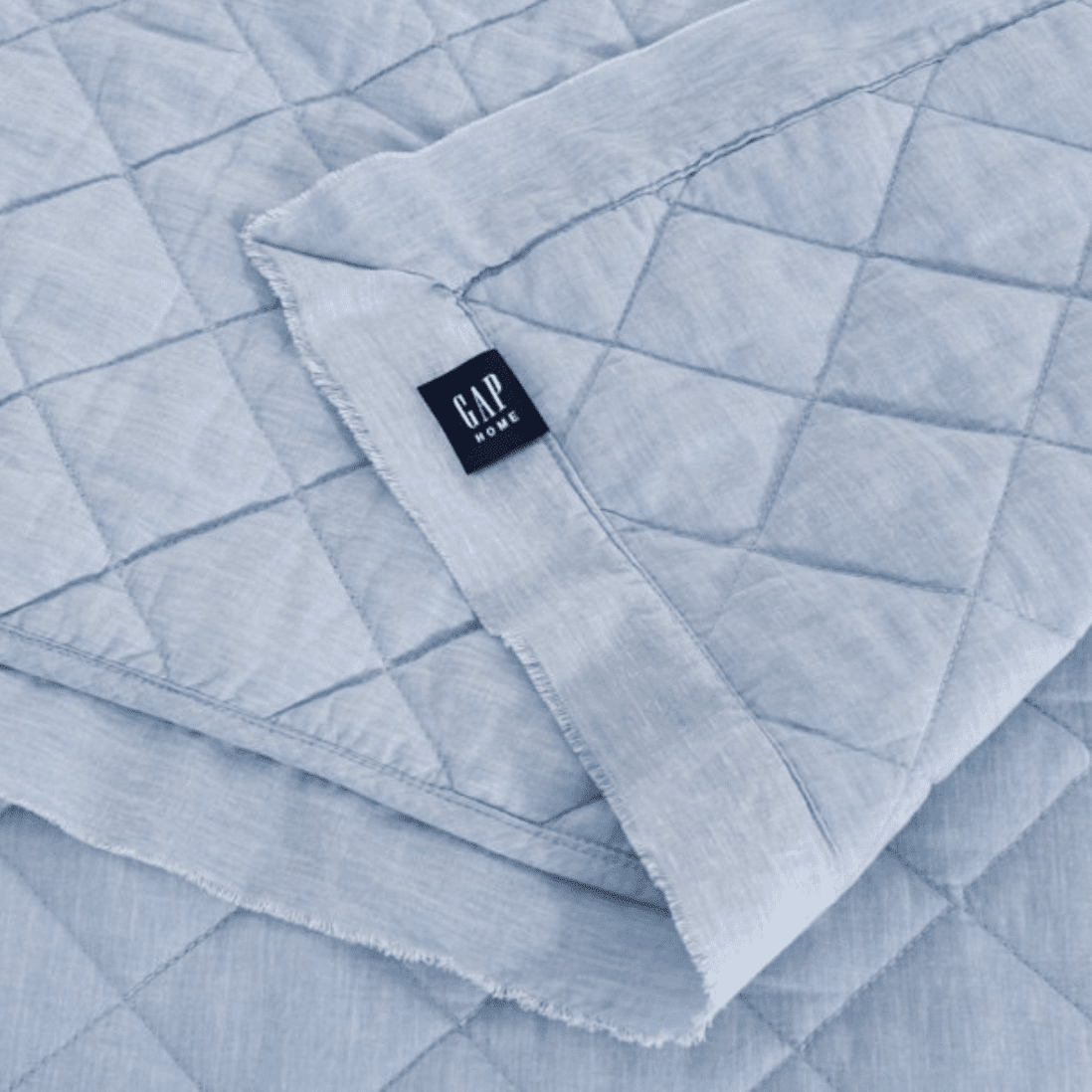 This quilt has features from both the Pottery Barn Belgian Flax Linen Diamond Quilt and the frayed edge quilt.
While the PB versions are available in many colors, the price is around $349 for a king size, with shams costing an additional $139-$159 per sham. Ouch!
The Gap Home version is available in 8 colors, including white, light pink, light gray, dark gray, navy blue, chambray blue, mustard and ivory. It's super soft, looks great, washes well and is only going to set you back $59.98 for a king, with shams an additional $19.99 – $24.98 each. SCORE.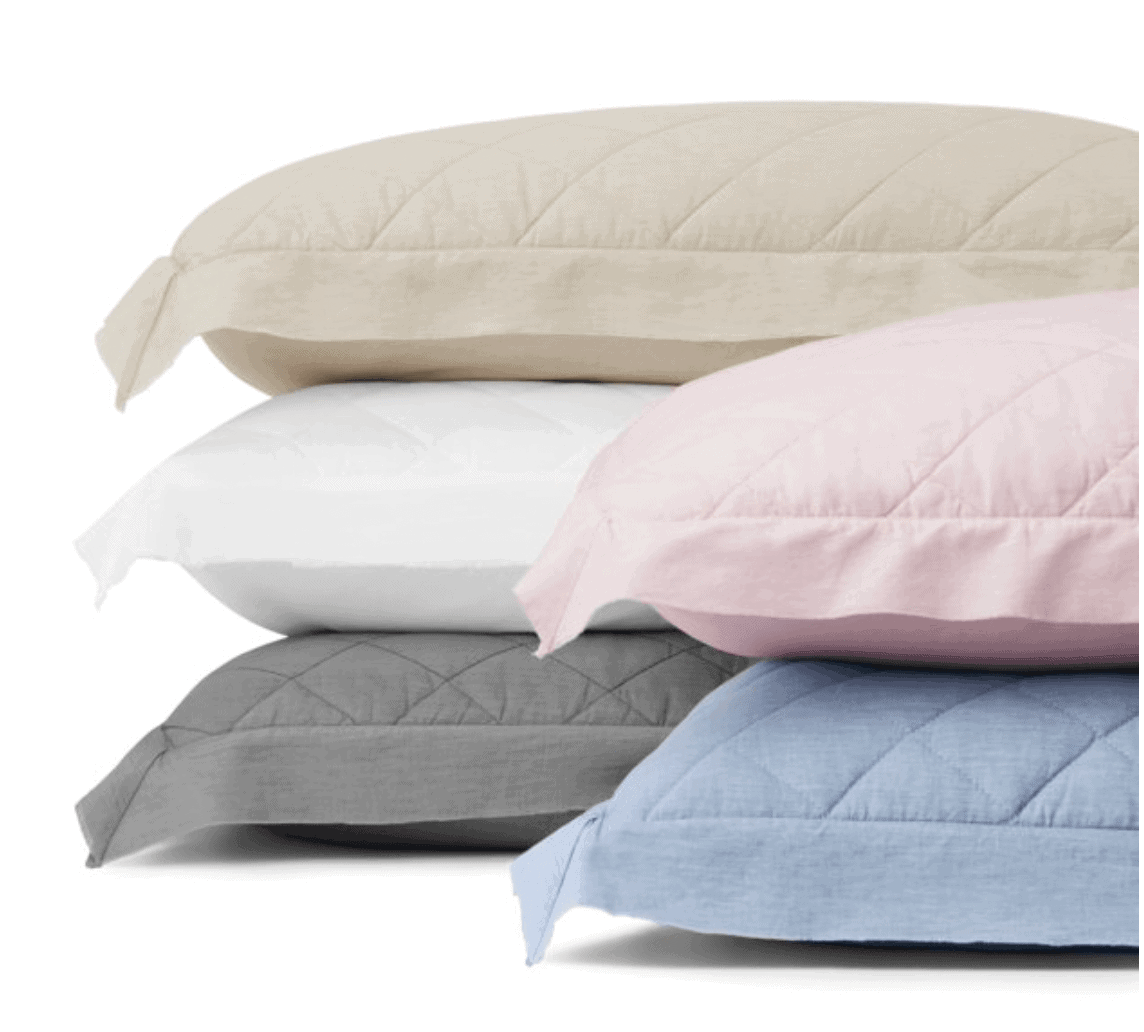 I bought this in the white and I am absolutely obsessed with it. It looks amazing. It is a bit of a warmer white (but NOT a cream) when set next to bright white sheets, just FYI. Here it is on my bed with the GapHome striped duvet, too: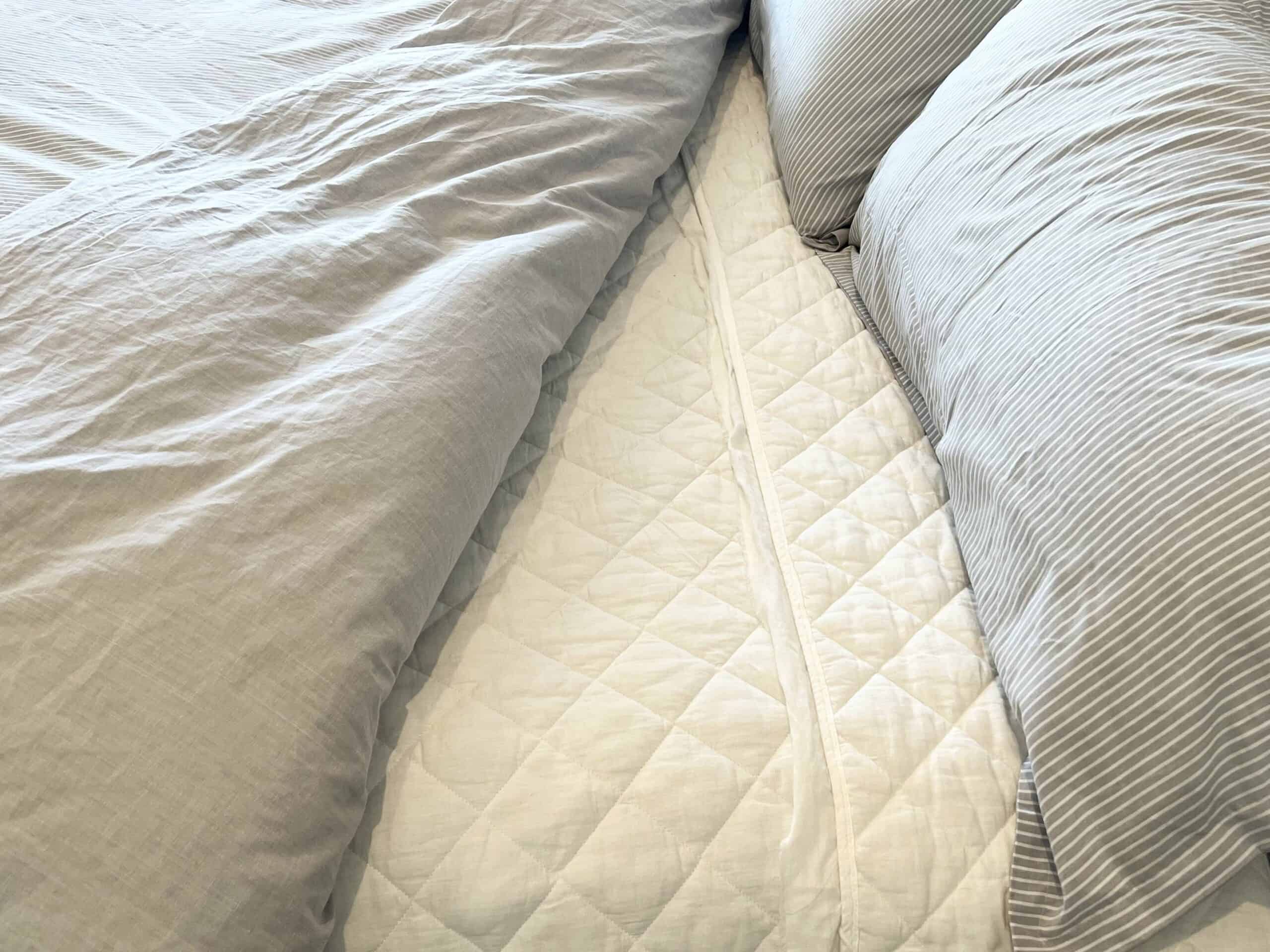 It is seriously so cozy and we love it. Having bought everything from very expensive bedding down to super affordable pieces from Homegoods over the years, we have cast a wide night in the bedding market and this is definitely up there with the nicer quality pieces we have had.
I'll definitely be buying more from their collection for other rooms in the house!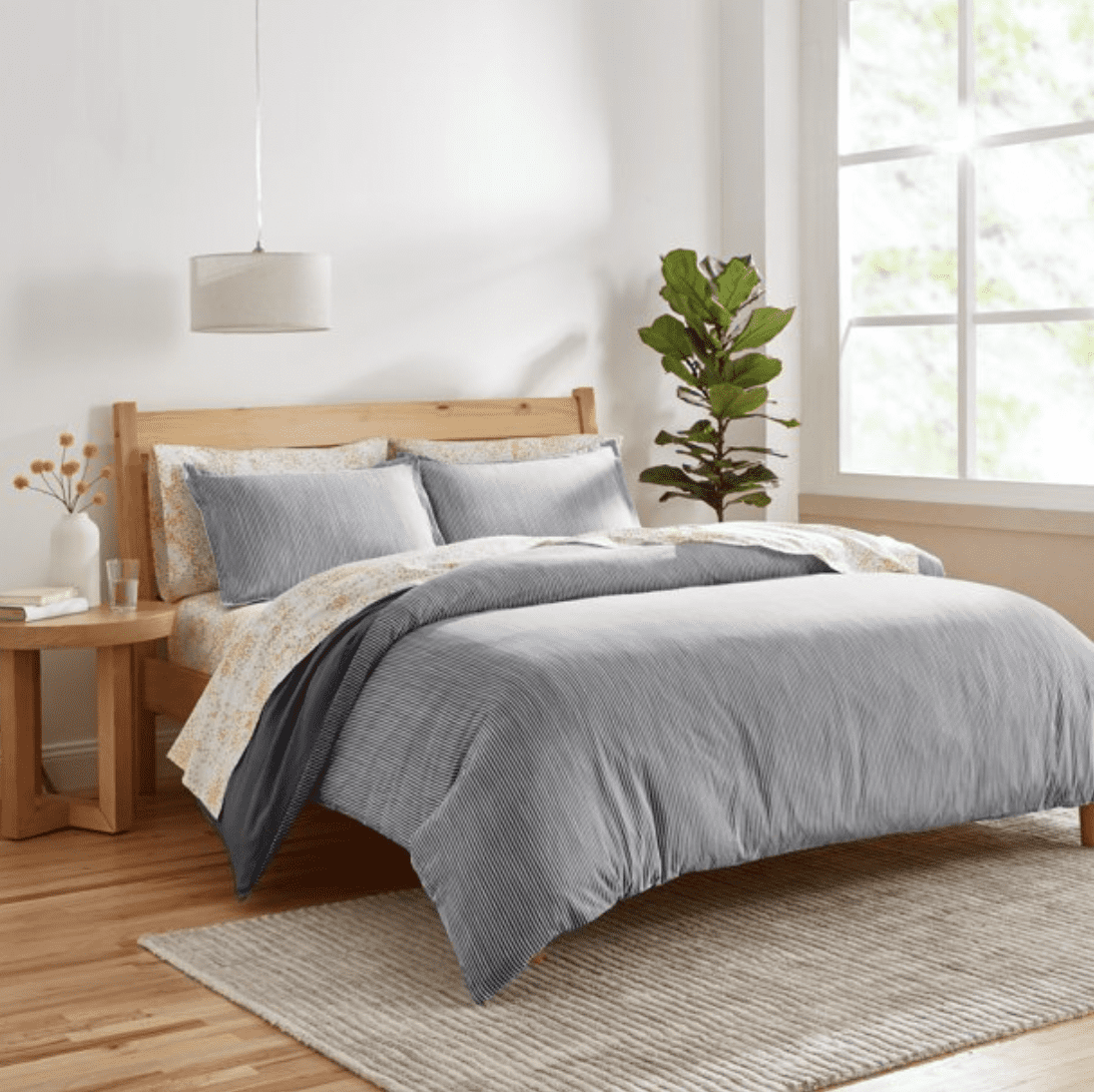 I also picked up this duvet, which comes with 2 shams for the king size, in a light gray that is no longer available, but other colors are still in stock. They may restock the light gray too. It is very nice, so soft and cozy and looks much nicer than what we had before. A great deal, too. I also really like this darker charcoal color.
We are totally in love with this and the two-tone design. The striped side is so good.
King $54.98
More Must-Have Pieces from Gap Home:
Here are some more on my wishlist that I am hoping to add to our collection soon. While they also have shower curtains, drapes and more in the collection, I focused on the bedding here:

*****
What do you think? Do you see the similarities to the PB bedding? If you're nervous about spending a lot, especially in a season of life when you have lots of little hands, feet and furry friends running around – check out the Gap Home collection. It has exceeded our expectations and for a super affordable price.
For more great Walmart finds, check out my favorites from The Home Edit organizer collection!
Have a fabulous day,
E