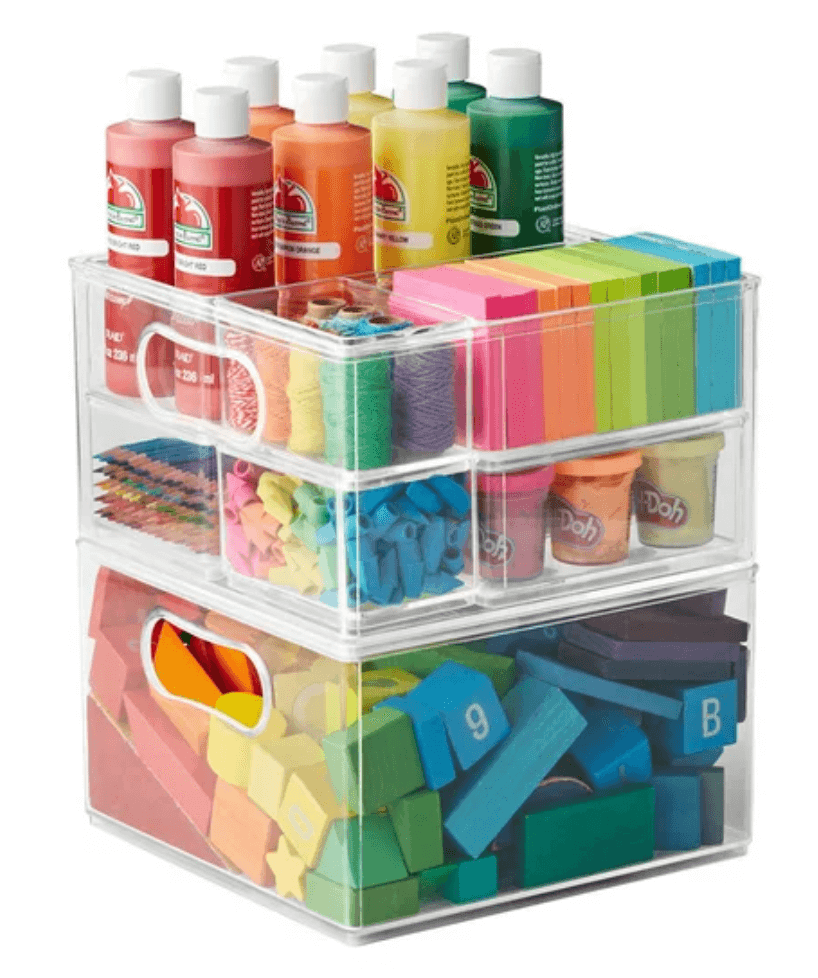 I love organizing spaces. There is something so fulfilling about creating an organized space where you can easily see where things should go. I find that when I set up a space based on how we actually use it, rather than my wish for how we'd use it, it stays organize much better. This sometimes means waiting awhile before investing in the right containers for all the things.
And, with three kids and a couple dogs, it's easy for life to start to pile up on us – especially when I don't have systems in place. I love the phrase, "Outer order, inner calm."
I may not always achieve my goal of outer order, but I try my best. Thanks to organizers like The Home Edit, we have plenty of organizer inspo to keep us motivated. Their affordable line of clear organizers available at Walmart has become one of my go-to lines for organizers. They're well-made, look nice and are super affordable. Plus, if you're looking for some serious organizer candy – follow them on Instagram or watch their show to see how they transform cluttered spaces into rainbow wonderlands.
I've been picking up pieces from their line ever since it hit Walmart.com (and just ordered some more today). So, I thought it would be fun to share some of my favorites:
My Favorite Organizers from the Walmart Home Edit Collection: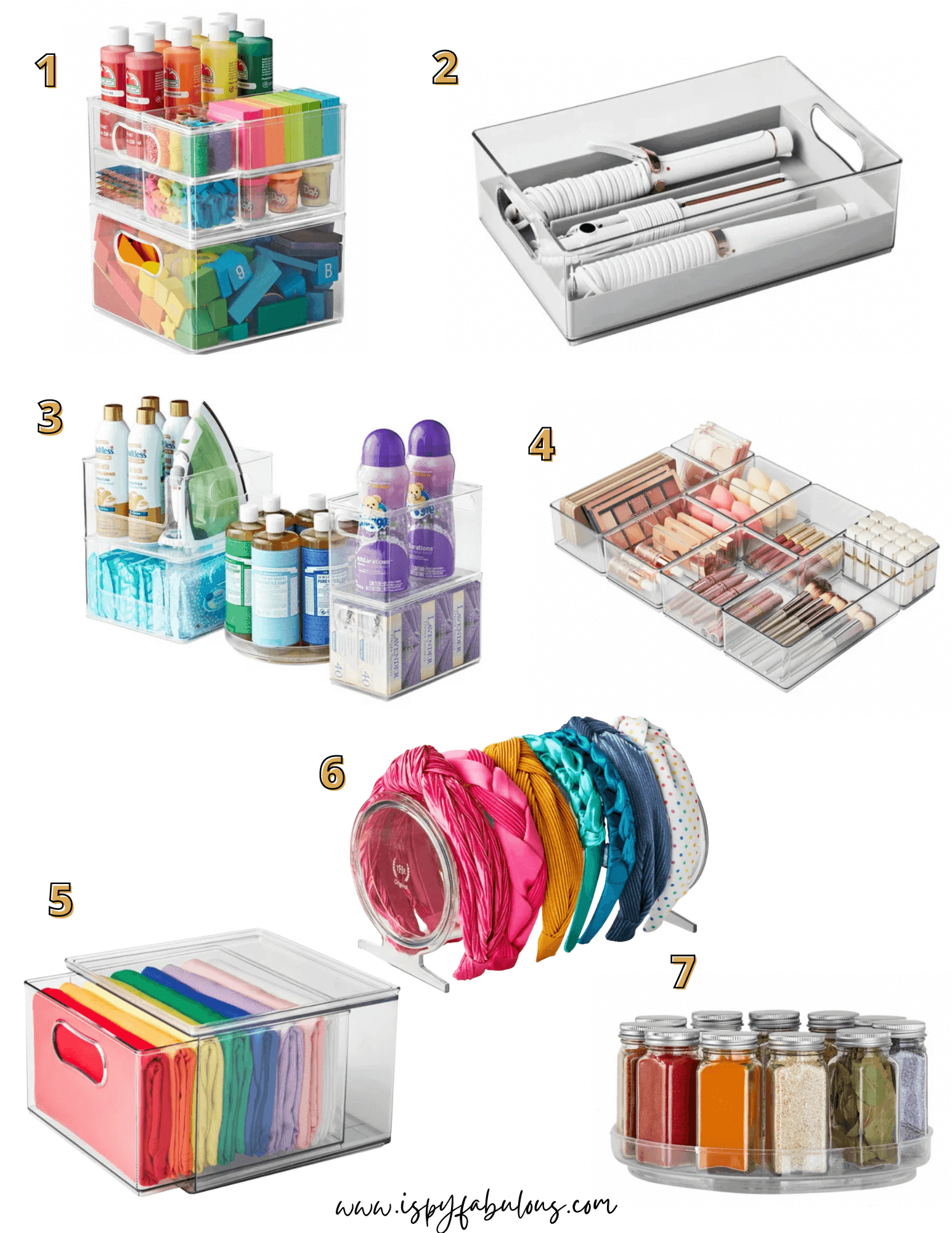 *Affiliate links are used for products I bought with my own money and recommend. If you do make a purchase through my link, I may receive a commission at no cost to you. Cheers!
My favorite piece from this collection is this masterfully designed 8-piece edit. It has transformed my kids' art supply storage. It was such a mess and felt impossible to organize no matter what I tried. I bought two of these and voila! It looks so much better and it's easy to find anything we are looking for. My pictures may not be as beautiful as the rainbow Home Edit ones, but this will give you an idea of how I use them IRL: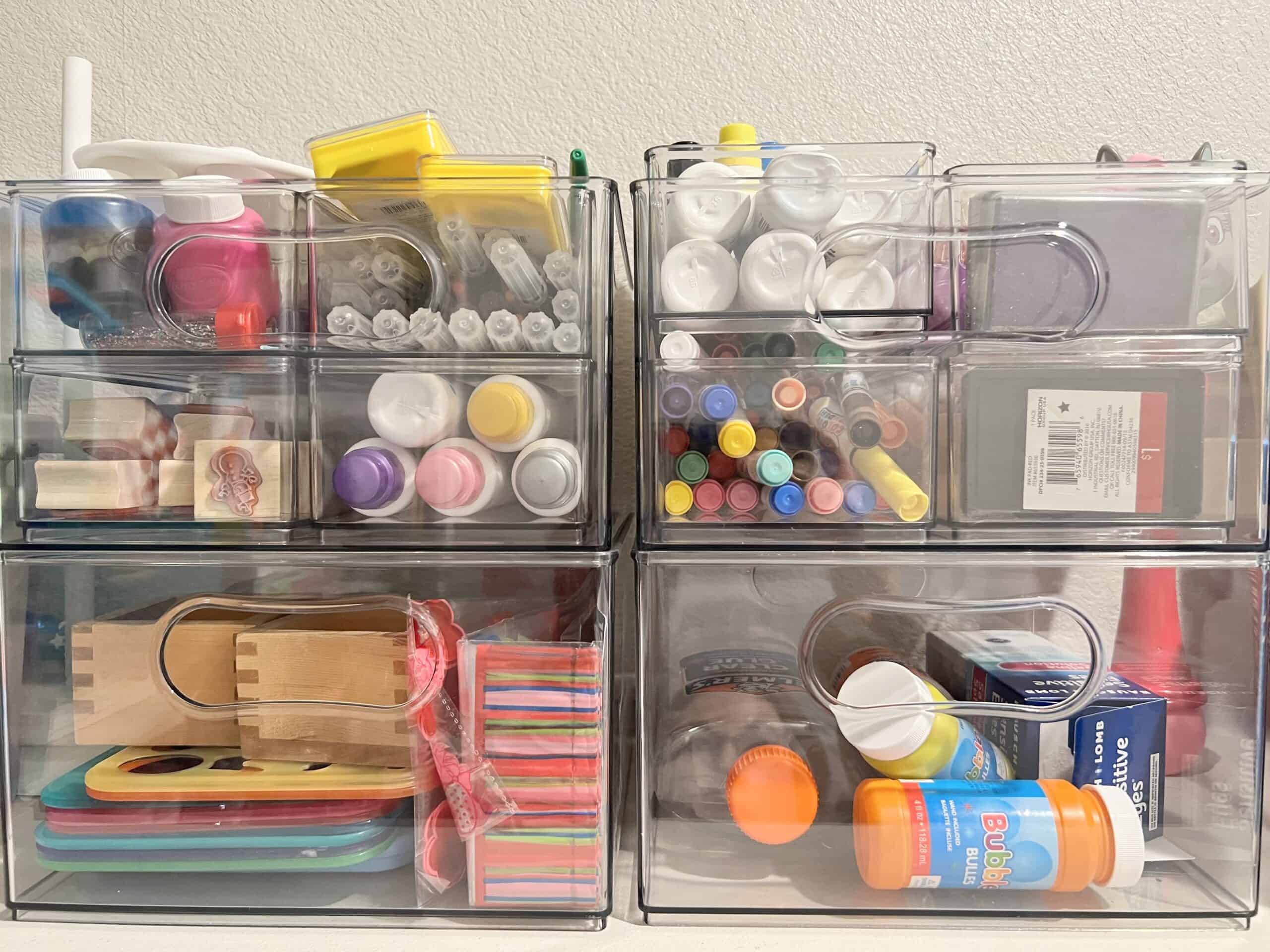 Price: $24.98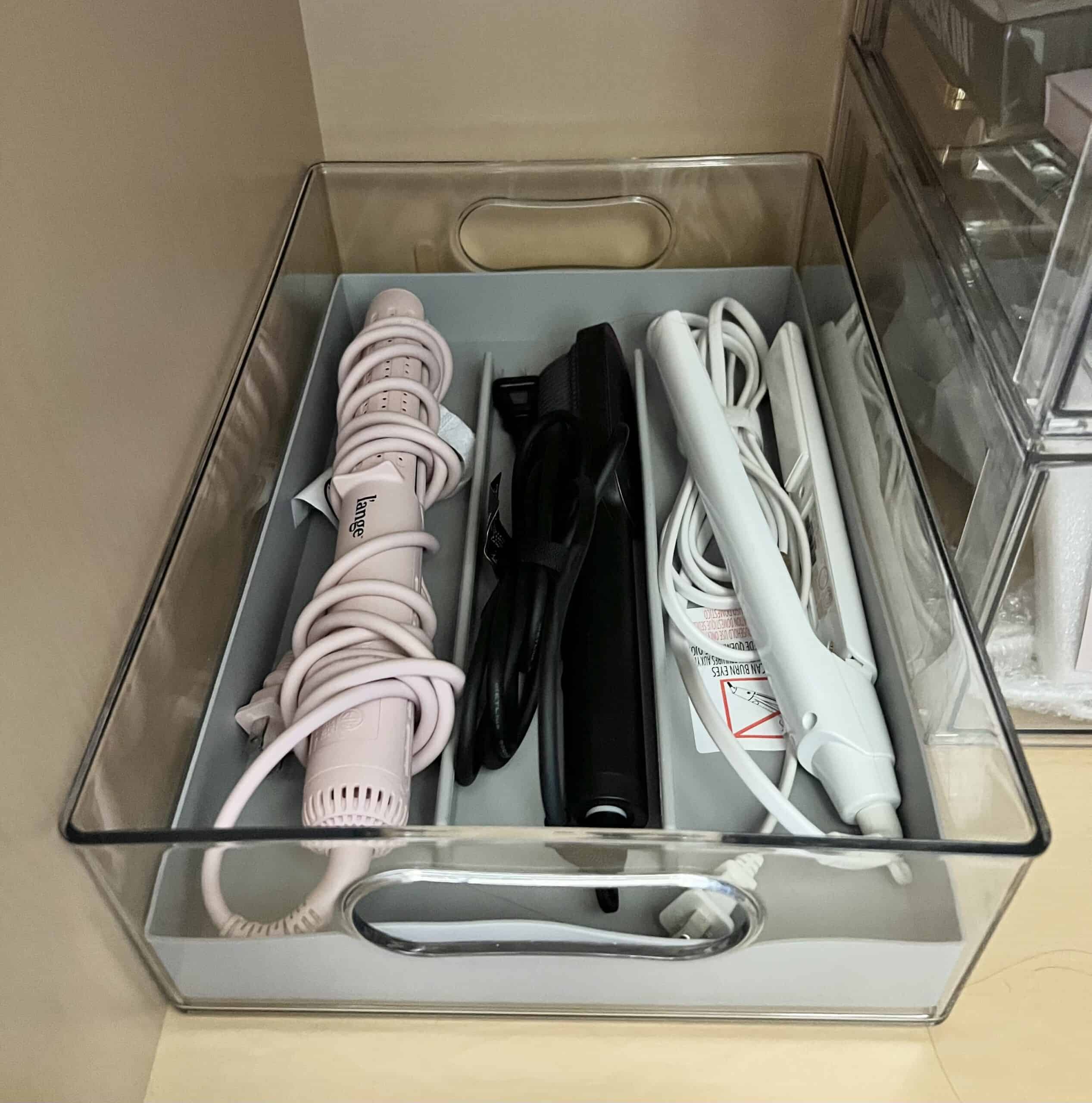 One of my most recent purchases and I am obsessed. I had the standing hot tools organizer for awhile, but it's clunky and took up too much space. I started with one of these and loved it so much, I added a second. By stacking two of these, I can store all of my hot tools in a nice, neat way in my cabinet. Since I mainly use two of my hot tools, I leave those on top where I can easily grab them and put them away and then store the ones I use on special occasions in the bottom one.
Price: $21.98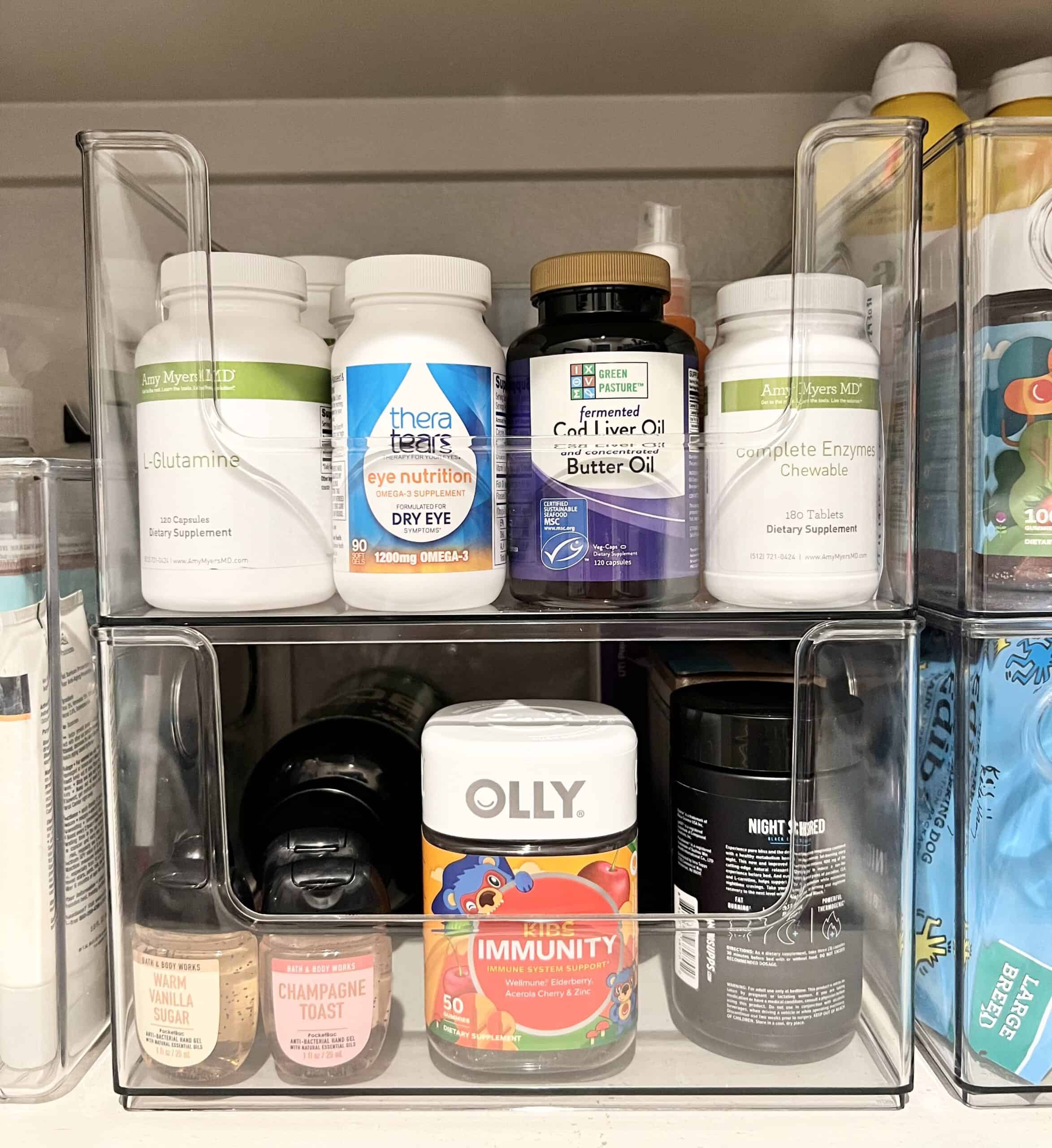 Full disclosure, I don't use this in my laundry room. I use the stacking bins for our supplements, the two stacked narrow bins for sunscreen and dog treats, and the turntable for cooking oils. It's a really versatile set that you can use as pictured or however you need in your home. The value on this one is crazy.
Price: $24.98
I have no upper cabinets in my bathroom at all, not even a medicine cabinet. This was a challenge at first. What do you do with all those little jars and products? Well, drawer organizers to the rescue. I use all acrylic beauty drawer organizers like this set in all my drawers to keep products separate and organized.
Price: $19.98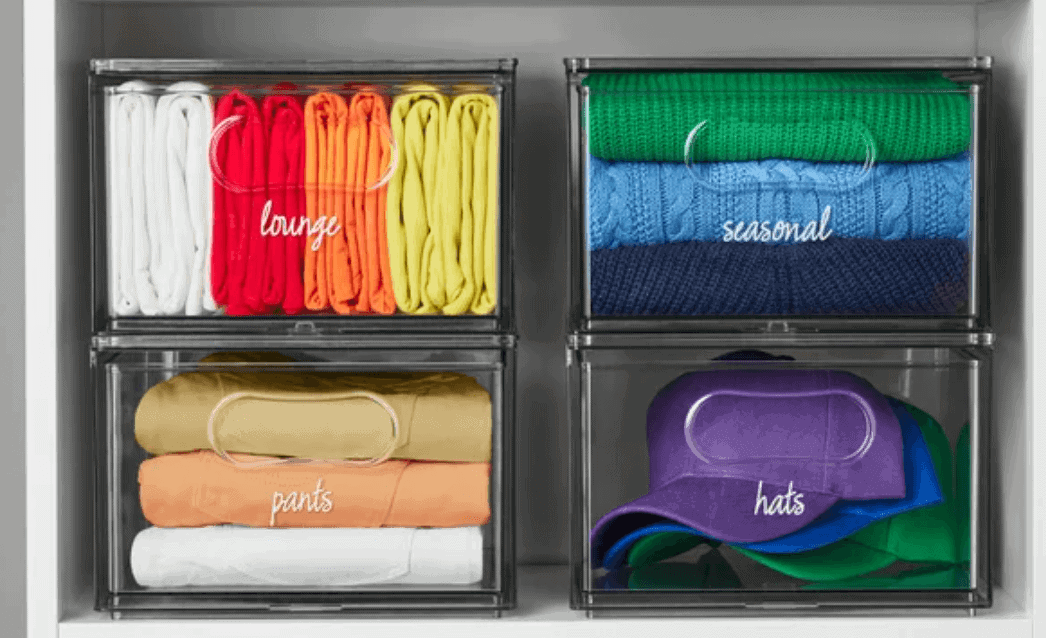 These work great all over the house, from stashing knits and sweaters you don't wear very often in the closet, to housing napkins and linens in the kitchen. They work great in a playroom, too, since kids can see what is in them without digging through everything. I would use them in the pantry, but they're not deep enough for our shelves. Always make sure to measure first.
Price: $33.96
My daughter is big into hair boys and hairbands now. The Home Edit has an adorable line of claw clips, headbands and scrunchies (also at Walmart) that you can pick up, too. I shared a whole post on my daughter's favorite affordable hair bows here, but this hairband organizer was a recent addition to her collection. It's thicker, so the headbands don't fall off like they have been on her previous organizer.
Price: $12.98
I've got a few of these all over the house. There's a couple in the pantry that hold things like cooking oils and sprays. Then, another one in the bathroom that has products I use regularly and need within reach, like toner, lotion, etc. And, I'm even getting one for my coffee bar for the syrups that don't fit on my little acrylic riser. These can work all over the house in any space where you find yourself reaching for items regularly.
Price: $9.98
More Home Organizing Tips:
Want to see some of my other organization projects? Check out these posts:
I'll be back soon with more info on how I organized my bathroom cabinets. They have no shelves and were a big, huge mess.
*****
Do you ever catch the organizing bug? I love seeing what spaces can look like and how much better they can function with a little organizing TLC.
Have a fabulous day,
E